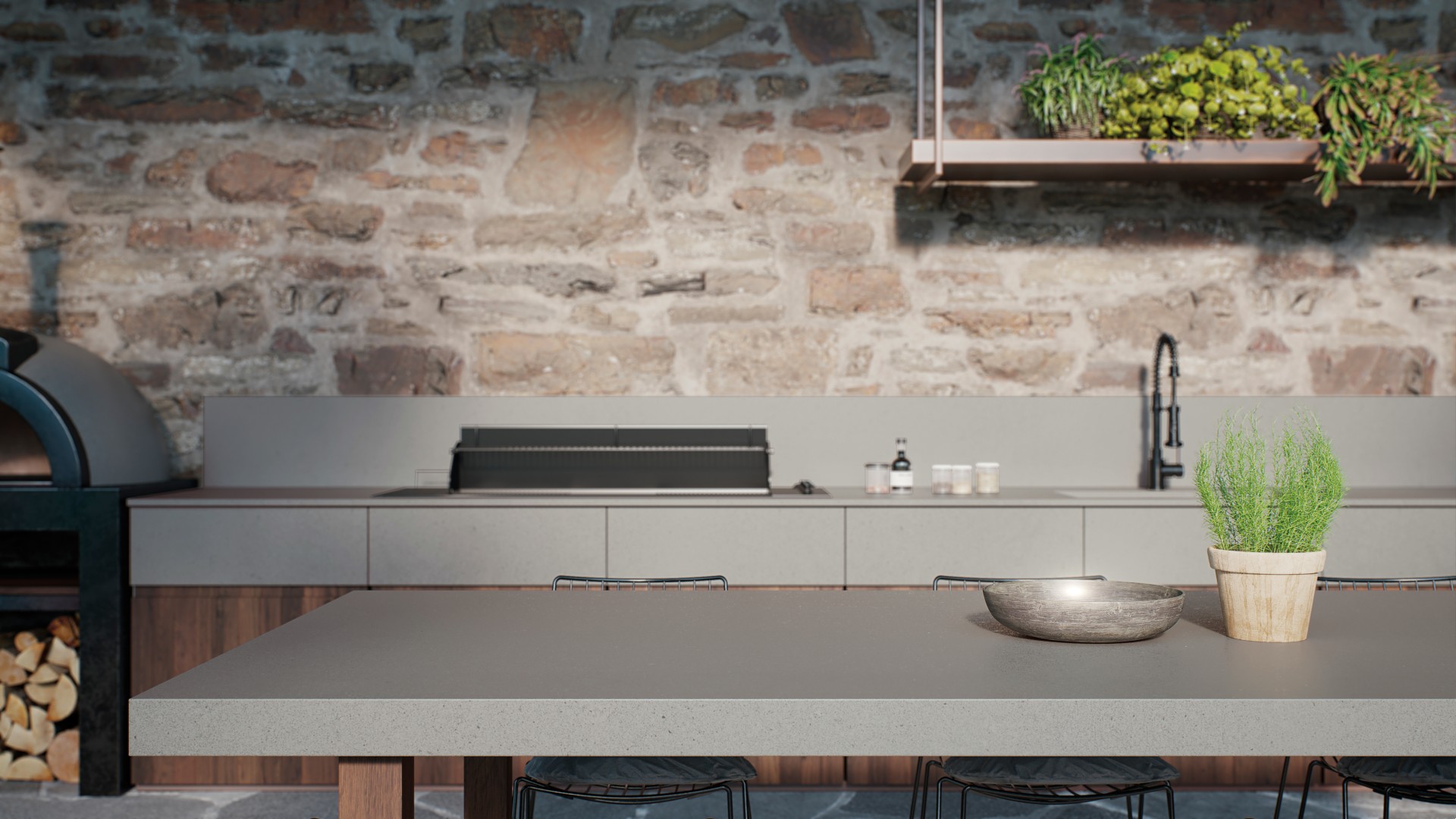 With more of us turning to al fresco dining, we are embracing the expanding desire for outdoor kitchens. The outside cooking experience has become something of an artform, so we take a look at what makes a beautiful outdoor kitchen.


Outdoor Kitchen Layout and Location
The first step in any kitchen transformation is to consider the exact location of your outdoor kitchen. Naturally, many choose to have it flowing out as a continuation from their indoor dining area, to create a connection between the indoors and out. That said, you may have the perfect sheltered nook or secluded corner that provides the ideal spot for an outdoors dining area.
When the situation has been decided, the layout can take shape. Some sites may lend themselves naturally to a galley style or L shaped kitchen. When it comes to layout variations, you want to think about the primary use of your kitchen area. Are you more likely to be making the most of the space for a peaceful coffee and a place to sit and read? This is where a casual lounge area works perfectly. Perhaps you're a budding host and want to use the space for informal dining, BBQs and social gatherings, in which case an outdoor kitchen with a central island or stylish bar would create the perfect hub.


Embracing Your Outdoor Kitchen Style
The flow between inside and out is very important; you don't want to create discord or disconnect, the aim should always be a harmonious creation. Take inspiration from your main kitchen space to draw comparable lines or stylisation. Integrating into the surroundings is also important, so consider the overall feel of the garden to draw elements into your outdoor kitchen design. Whether you're surrounded by rugged countryside and can draw the natural stone into your scheme, or are embracing a more minimalist, chic outdoor kitchen, then selecting the right worksurface materials to accompany will tie it altogether.
The Outdoor Collection by Caesarstone offers a style statement for any setting, with three unique quartz surfaces designed with elevated outdoor living in mind. Whether you're planning a fully inclusive outdoor kitchen-diner, a sleek patio BBQ station or a sophisticated al fresco dining area, choose your favourite surface as the centrepiece to your show-stopping design. 515 Palm Shade is an homage to white marble with subtle veining and ideal for sophisticated, bright yet classic designs. For a more urban feel, 405 Midday offers a take on fresh white concrete, which will set off paving, stone, or decking perfectly. 406 Clearskies, a grey concrete with added depth, is ideal for contemporary gardens and more traditional schemes alike.
Coordinating worktops from inside to out is another good way of creating harmony between your designs. When choosing a surface for outside, it's more important than ever to choose one which is resilient and can withstand the elements. The Caesarstone Outdoor Collection of surfaces offer greater reliability and are less likely to fade in harsh sunlight or be affected by variable temperatures. They are a good choice for outdoors settings, remaining highly UV and weather resistant at all times.

With the foundations of the scheme chosen, moodboarding can take place. Use your kitchen worktop as the base layer for the scheme in which to build up the colour palette and range of textures. In an outdoor setting, the most complementary shades will be centred in earthy tones. Choosing a light fresh base will provide a timelessly elegant and refreshing look and feel to the space. But opting for deeper greys and neutrals can create a more cosy, intimate outdoor environment.

For the all-important finishing touches, kit out your kitchen with high-tech appliances will make al fresco cooking and dining an even more interactive and enjoyable experience. From barbecues to grills, pizza ovens to wine fridges, utilising such appliances will elevate your design and make it an even more enjoyable space to entertain.
Feeling inspired to host your own al fresco dining experience? Check out our Kitchen Trends Lookbook to see what design inspiration you want to infuse into your outdoor kitchen…

Images Source: Caesarstone