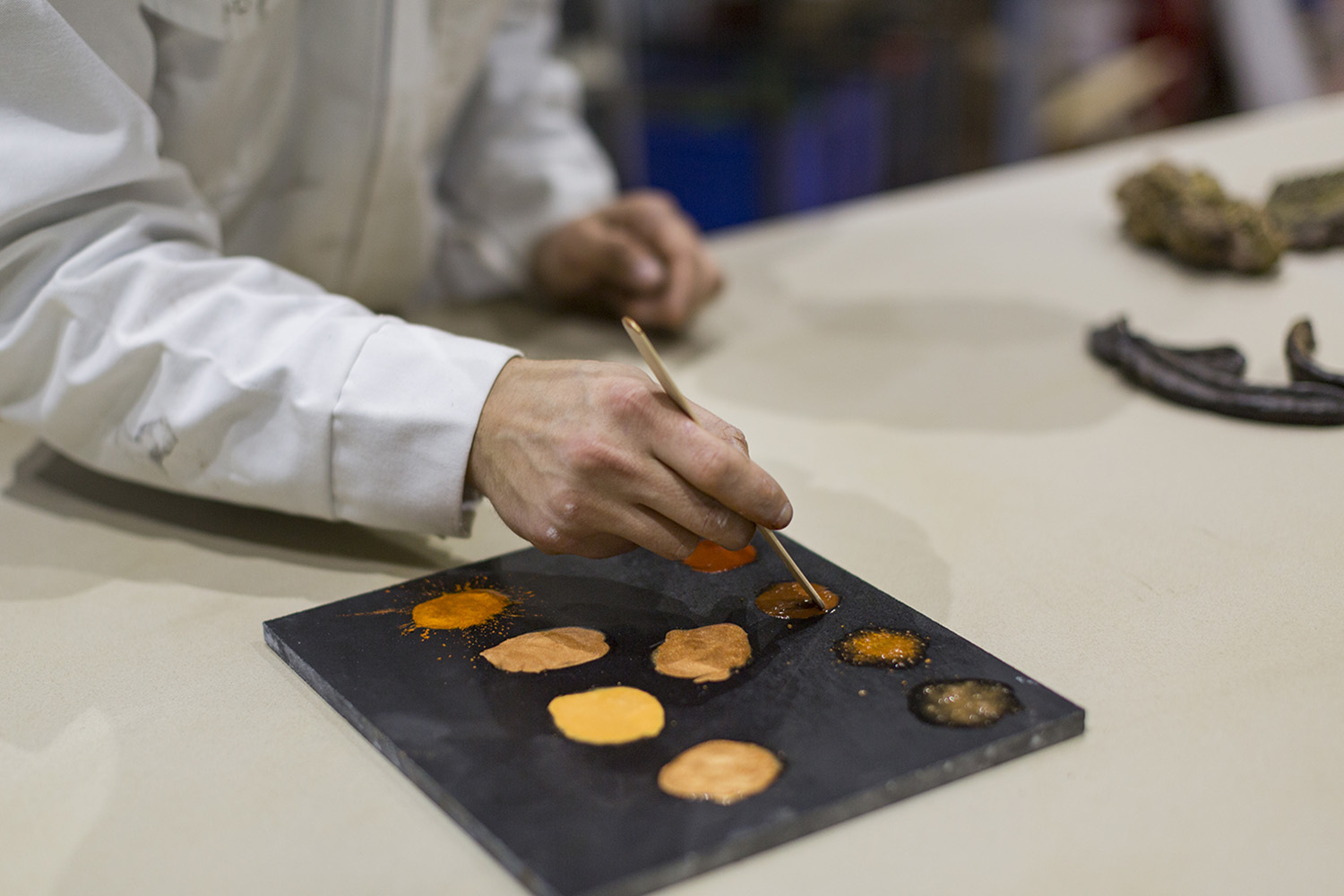 Caesarstone pioneered the idea of quartz work surfaces for the home and has been at the forefront of the industry since the 1980s.
During this time, the company has continually innovated in both aesthetics and performance, but what is the process behind designing an award-winning Caesarstone surface?
In the early development of quartz work surfaces, emphasis was on the technical benefits of quartz worktops over marble or granite. Compared to solid natural stone, engineered stone, particularly quartz, has a much-improved resistance to temperature changes and chemicals, giving it a distinct advantage especially for use in kitchens. It is stable - easier to clean and highly resilient, unlikely to crack, discolour or change in appearance as it ages. This is still an integral part of our core principles today, including with our newest range of outdoor surfaces.
More importantly, as a man-man product, albeit with a high natural component – approximately 90% of a Caesarstone quartz worktop surface is natural quartz aggregate, it offers a myriad of design possibilities. Whilst the early quartz surfaces were generally flat, monochrome colours with little visual appeal, Caesarstone has always looked to leap beyond this uniform approach to kitchen colour inspiration. Investing in both design and research, the brand has been able to continually reinvent the aesthetic qualities of quartz, to realms never before possible within kitchen design.
With the launch of the Supernatural Collection, the difference was stark. Whilst other surfaces may have looked to mimic or imitate a specific stone sample, Caesarstone's approach was revolutionary. Rather than simply copying a natural stone, the brand's design team, led by Mor Krisher, took a far more interpretative approach.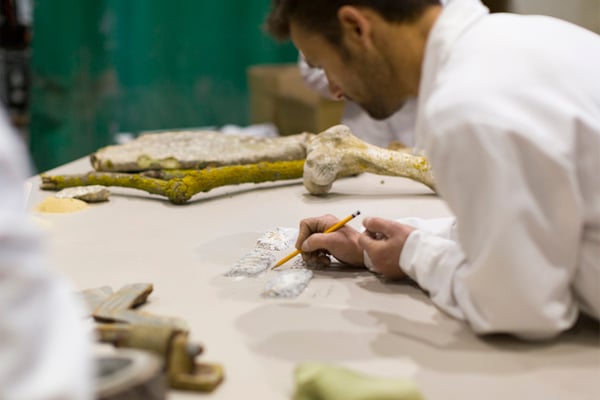 Mor Krisher, head of Caesarstone's design team, explores a range of materials as part of the design process
The Supernatural Collection, now comprising 22 designs, took broader influences than simply stone, pushing the boundaries of kitchen colour inspiration. Whether it is the study of nature, such as the form of a branch or root structures in trees and plants, or an examination of the subtle variations in colour tonality that serve to draw the gazes of the homeowner, and of course any guests they may be hosting, there is a story and design journey behind each Caesarstone surface, as Mor explains:

"When designing a Supernatural product, we explore qualities from different natural stones, as well as wider materials that we are drawn to, combining these features and working on the nuances of the design for many months until we are 100 per cent happy. The result is a beautifully natural-looking product that can't actually be found in nature. My aim is to give homeowners something unique that can't be found anywhere else."
This rich understanding of the subtleties of kitchen design is most obvious in the Whitelight Collection of worktop surfaces, which are eight elegant twists on classic marbles, offering the luxury and elegance one expects from a natural stone, yet each with their own signature look that are unique to Caesarstone.

"We endeavour to absorb ourselves in this external environment wherever possible, as the complexities of our geography provide visual cues and drive us to explore new ways in which we can design surfaces for the home that embody these influences. As we all seek a greater connection with the outside, we see the Whitelight Collection as a beacon of hope, a visual reminder of the world around us and a focal point for the very heart of our homes."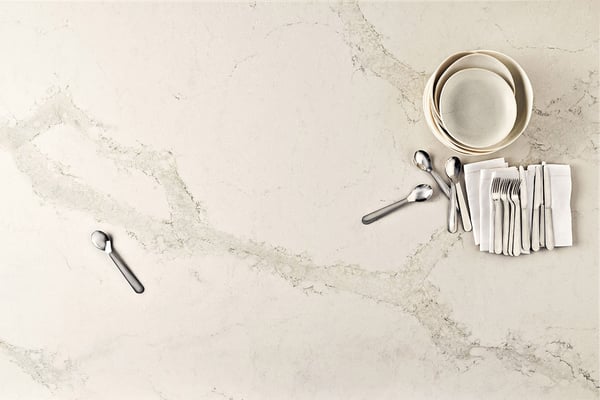 5131 Calacatta Nuvo, from Caesarstone's Whitelight Collection features an organic vein structure that communicates luxury
Caesarstone's kitchen design pedigree was reaffirmed with the launch of the Metropolitan Collection in 2018. Working closely with leading kitchen colour inspiration and trend forecasters, Caesarstone predicted the rise of urban and industrial aesthetics in domestic interiors.

"I love concrete, particularly the blend of colour, tones and texture, yet it is a very impractical surface for a homeowner's kitchen worktop. In contrast, the Metropolitan Collection captures this unique cutting-edge aesthetic and tactility, for the first time in quartz, yet demonstrates the same easy-care qualities found in every Caesarstone surface", explained Mor. The response was overwhelming, with the Collection winning a much-respected FX Award, that rewards the best of interior design products, in 2018.

Much like the Supernatural Collection, inspiration for these ground-breaking surfaces are often broader than may be initially thought, and sometimes surprising. For 4033 Rugged Concrete, the breakthrough product in the Metropolitan Collection, one of the design's team key references was a watercolour painting of the moon.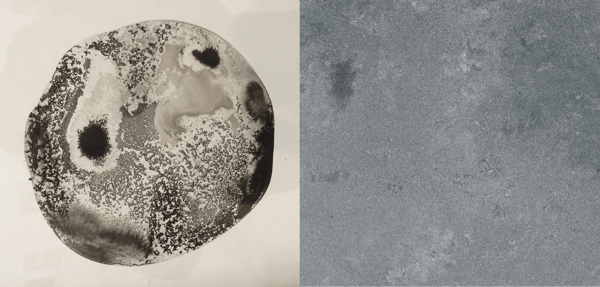 This watercolour painting of the moon, by Idit Goldzweig, was among the inspirations for the unique patina,textural movement and variance of shade that can be found in Caesarstone's 4033 Rugged Concrete
Mor explains, "the painting really captured the rugged nature of the moon's surface. We were looking at a 2D image which the artist had brought to life in 3D through the use of the most wonderful, deft, technical brush strokes. The mix of whites, greys and blacks was so subtle. It really informed our thinking and helped set the benchmark for what we wanted to achieve."

This explorative approach to design, looking for inspiration beyond the obvious, continues with the most recent addition to the brand's Metropolitan Collection, 4735 Oxidian. This unique conceptual design characterises the blurred borders between the natural elements and industrial environments; how natural materials can look industrial, and when man-made materials rust or decay and take on an organic appearance.
It is this continuing dedication to innovation that ensures every Caesarstone design is unique; the product of a long creative journey that results in a surface that acts as a foundation for us to create engaging spaces in our own homes, as Mor puts it, "I think Caesarstone plays a role in creating environments that inspire, that connect us with nature or that provide the tactility that is so important to us as human beings."

With this in mind, we've gone a step further in looking beyond the boundaries of our interiors to truly reconnect with the outdoors. As we look at our homes as a whole, Caesarstone has expanded beyond the realms of the indoors to recognise the growing importance of our outside spaces. A huge significance is placed on the value of outdoor space; our gardens, balconies and terraces are the sanctuaries we escape to for personal reflection and tranquillity, and for entertaining and socialising, too. The Outdoor Collection has been designed with elevated outdoor living in mind and extending the possibilities of kitchen design to our cherished outside spaces. The inspiring outdoors range of quartz work surfaces has been curated to elevate any exterior area and transform it into an environment to be enjoyed all year-round.
For expert advice and ideas, why not take a look at our Swatch Book? It's the ultimate how-to guide for using Caesarstone in your design...
Images Source: Caesarstone
Topics