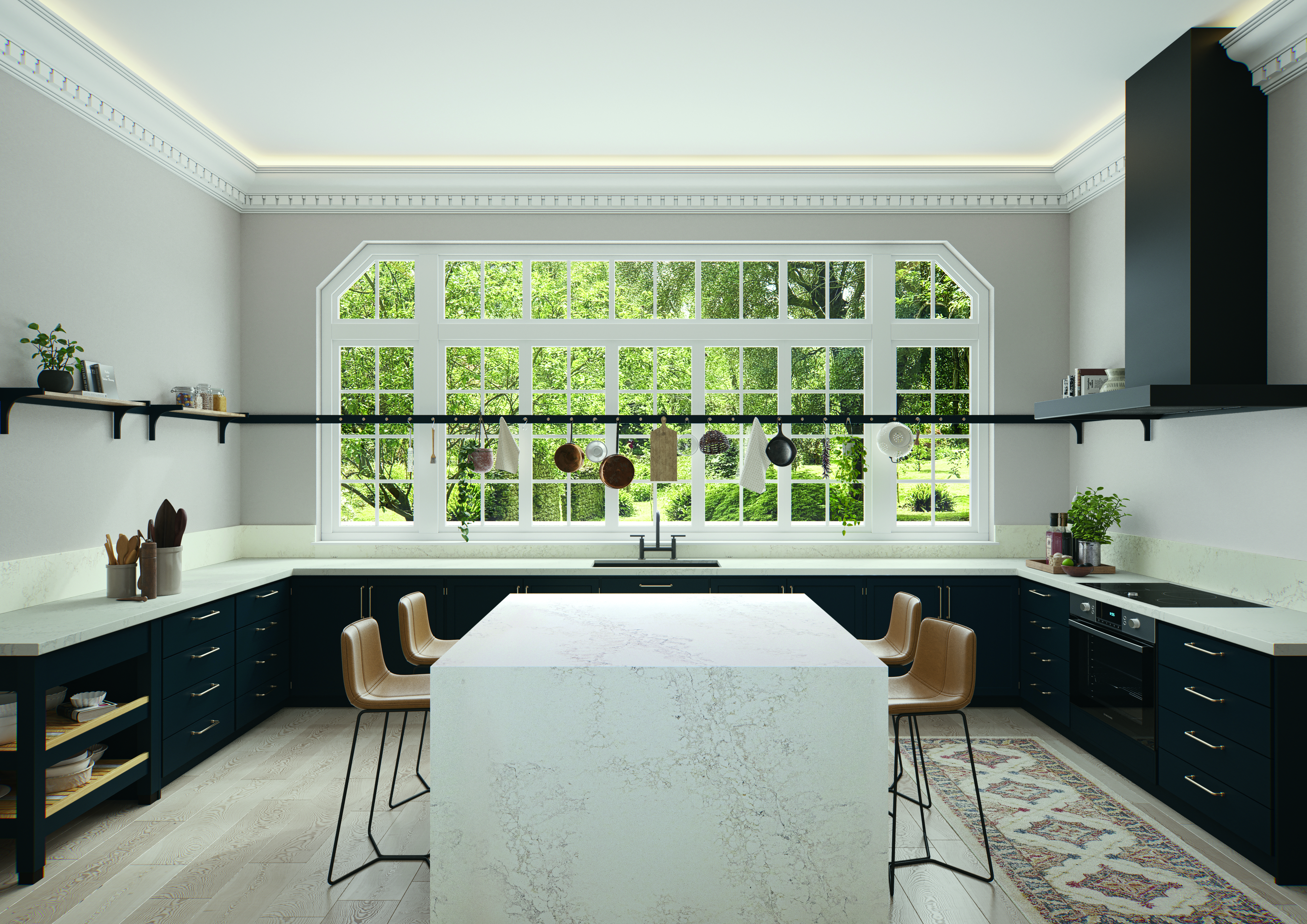 Stylish, sophisticated, spacious. Modern kitchens offer both a practical and beautiful feel that can reflect your personality. From worktops to cabinets to appliances, pairing them perfectly together will help create your dream modern kitchen.
Quite the opposite of a traditional kitchen, a modern design provides a minimalist and open space, a clutter-free area to entertain and relax. Whether you are redesigning your traditional kitchen to a modern one or just refreshing your current modern style, there are a few ways you can achieve the desired look.
Use a subtle colour palette
Singular colour palettes are mostly incorporated in modern kitchens to create a lavish and clean space, instead of bringing in a range of colours, it's a good idea to keep it simple and focus on one or two. A modern space typically has a minimalistic feel, using splashes of colour to inject personality. However, using multiple colourings can tend to make the space look busy and can steer you away from that clean, open design you're looking for. Earthy, more natural colours are particularly on trend this year for contemporary kitchens, think sea blues, forest greens, and hues of velvet and bronze. These colours don't have to take over the whole area, but coloured cabinetry, appliances or a splashback wall can make for a breathtaking feature in a modern design.
To really achieve a timeless space, white is the epitome of a modern kitchen design. The perfect pairing for almost every layout, pattern and texture, white offers a light, bright and airy space. Caesarstone's 5143 White Attica worktop perfectly reflects this style. Part of the Supernatural Collection, this surface comes in fresh white with dark and mild grey veins diagonally exposed, the contrasting colour creates a statement look helping to achieve a modern style.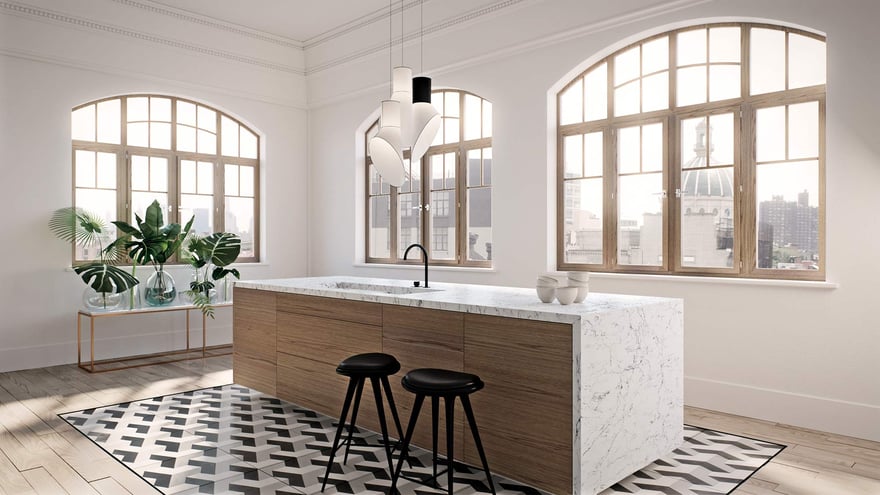 5143 White Attica
Time for textures
The right textures and materials can truly transform a kitchen from dull to divine. For example, metallic is a stylish and practical solution for contemporary spaces. It's durable yet not overpowering and is in keeping with a minimalist design. From appliances to handles and splashbacks, metallic is a popular choice to help introduce industrial elements.

Incorporating the outdoors in a modern kitchen with natural materials helps to add to the contemporary style. Over recent years, people have found joy in utilising natural elements within a home, particularly in the kitchen, the heart of a home. Whether you showcase exposed wooden features or style the space with lush plants, your kitchen will become a relaxing haven, inspired by the natural world.

Polished and glossy surfaces offer a bright, airy feel and can help make a room look bigger. Providing a sleek style to accompany your perfect modern kitchen. 5114 Calacatta Maximus has a polished finish and will instantly captivate the eye, with its white background and bold copper and warm neutral accents.


Perfect patterns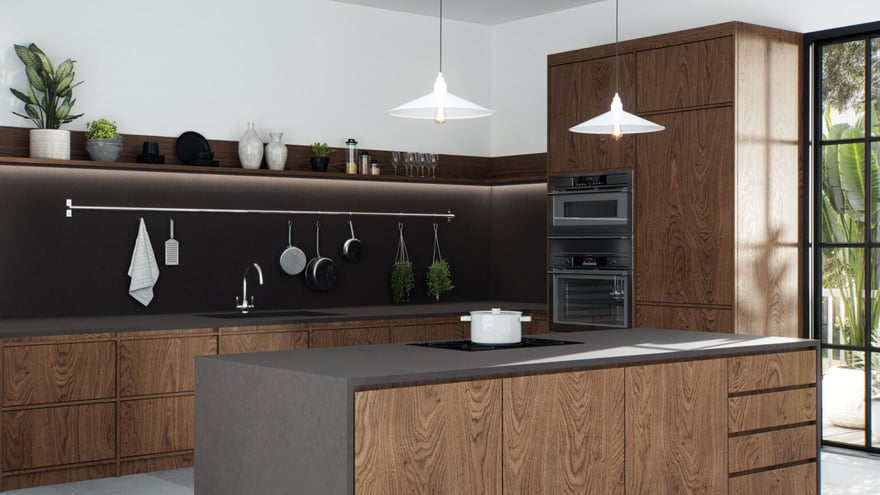 1003 Raindream
Although many modern kitchens are minimalistic, getting creative with patterns is a great way to add your own flair. These can be simple and sleek or slightly more bold and daring. Veined worktops are a beautiful way to add pattern, whilst still keeping a modest and clean look. Caesarstone's 1003 Raindream worktop encompasses slate-greys with dark strokes, offering a natural wet river stone look that is easy to maintain.
Using industrial finishes such as natural wood and a minimal design can accentuate the clean lines of modern cabinetry. For example, the grey scheme of 4044 Airy Concrete adds beautiful depth to a contemporary kitchen. Offering deep texture with swirls of grey and white, reflecting the unique patinas of industrialised material.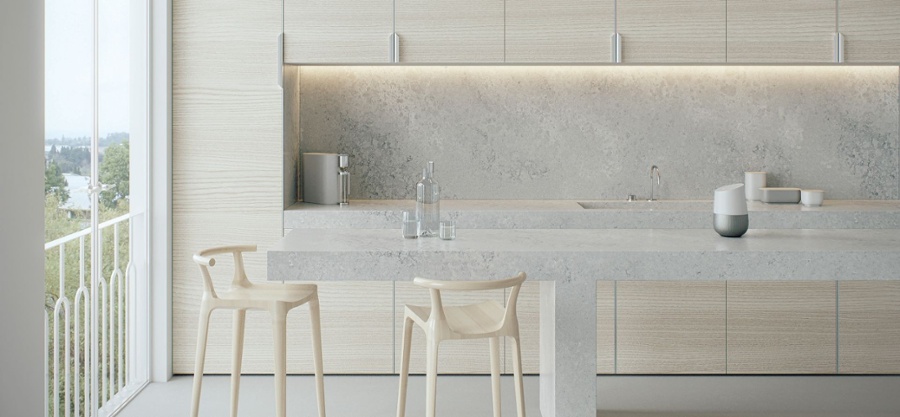 4044 Airy Concrete
Adding a pop of pattern will help transform your modern kitchen into a unique space to bring you joy. Geometric patterns are both understated and eye-catching, whether you decide to incorporate lighter or bolder colours, this will add creativity to your contemporary haven.
A modern kitchen design will add value to any home, not only is it a practical solution, but it also provides a stunning and seamless backdrop to mealtimes, family gatherings and a place to relax. Carefully considering texture, pattern and colour will ensure you achieve the perfect modern kitchen.
Topics