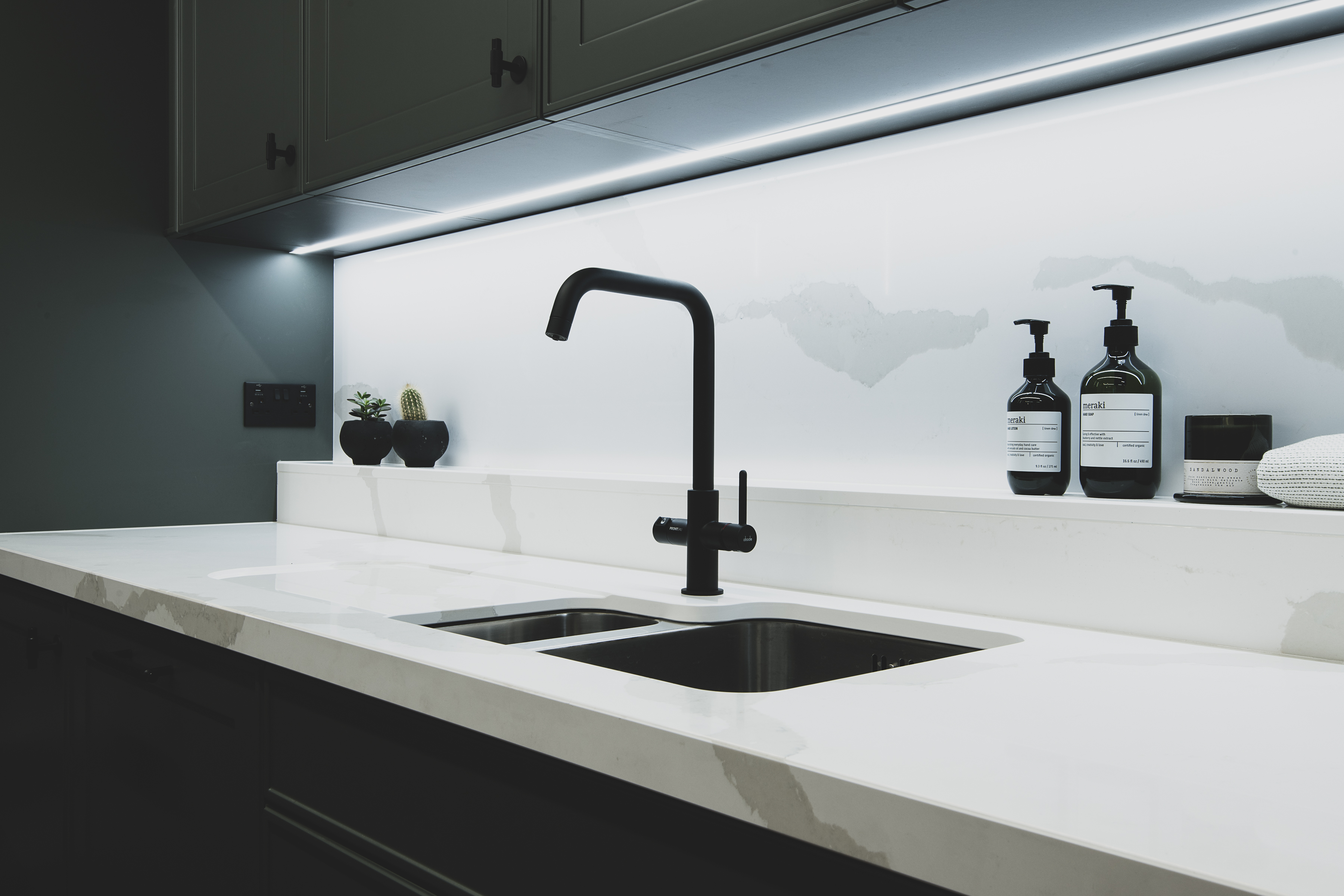 The flagship showroom for Leicht Contracts, located just a few minutes' walk from London Bridge, offers visitors a dedicated contract showroom and features multiple Caesarstone displays.
Leicht Contracts are a direct subsidiary of Leicht Kuchen AG – the global architectural kitchen brand. They supply and install mid to high end kitchens exclusively to the developer market, from small boutique projects right up to large volume sites. As Leicht Contracts work with many of the best-known developers, contractors, architects, and interior designers, relationships with reliable and trusted brands are critical to their operation.

"We have enjoyed a long and fruitful partnership with Caesarstone. They have consistently provided excellent communication and support" says Matt Goddon, Head of Design at Leicht Contracts. "We particularly like their colour palette, as it not only compliments the Leicht product, but also offers something outside of the mainstream decors."
As a business, Caesarstone understands the complexity of the commercial market and continually strives to remove the headaches of pricing and specification, ordering and delivery as well as installation and aftercare. The dedicated UK Commercial team is available to assist at all stages, from offering technical advice or colour consultancy to helping specifiers, gain access to Caesarstone's nationwide network of fabricators.

The London Bridge space is vast with the showroom positioned on the ground floor and further areas including a spacious materials studio, boardroom, staff room and open plan office. The showroom contains the latest in kitchen design trends that you would come to expect from this design-led brand, with all cabinetry supplied from one of four highly advanced and automated manufacturing plants in Germany. The displays are all carefully considered and on trend featuring a range of finishes and materials. All other products come from external suppliers and have been carefully selected by their design team and approved by their procurement team. This ensures the products used are of high quality and pass the correct legislation allowing them to be readily supplied to contractors – potentially in high volume.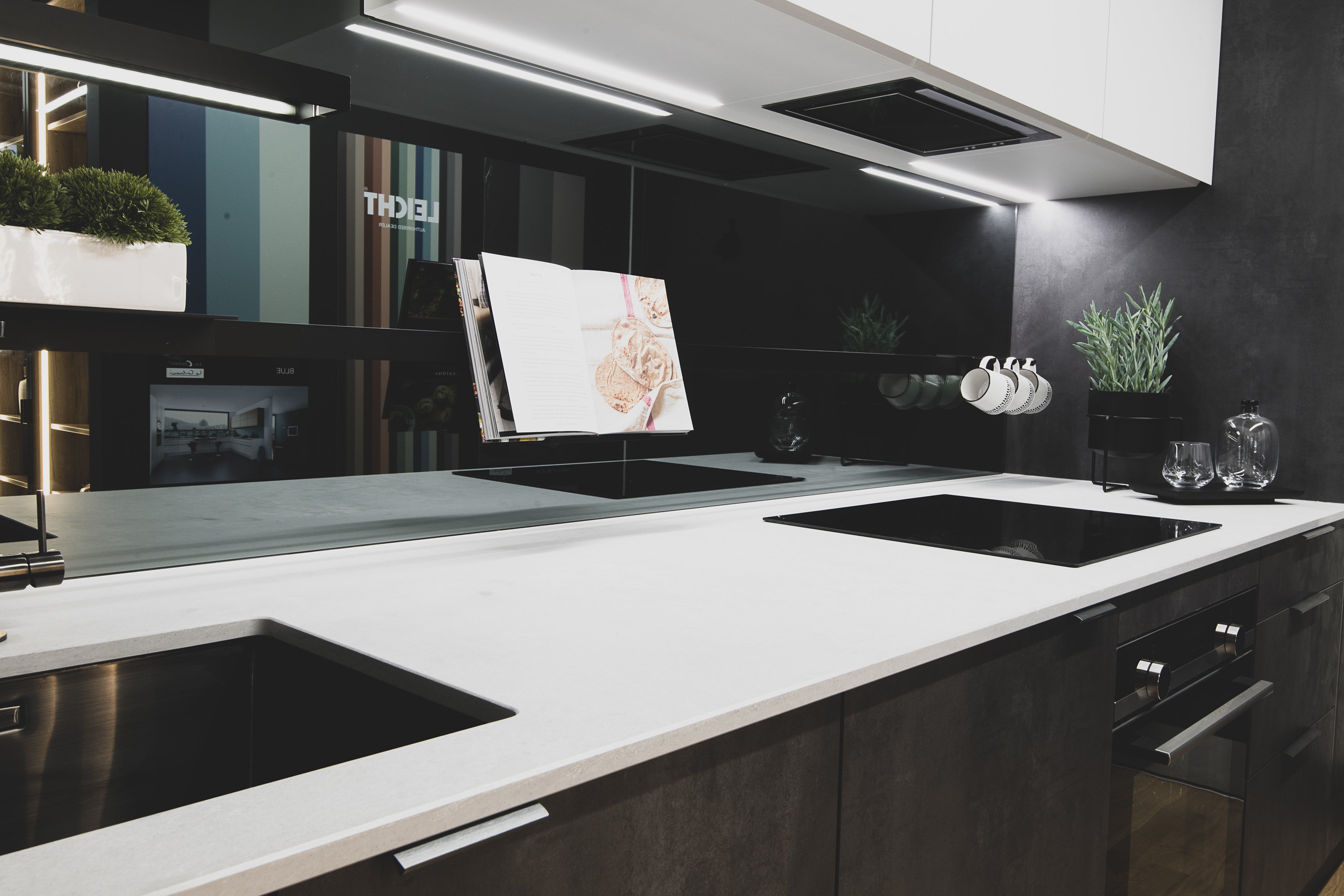 Atop the beautiful kitchens from Leicht's portfolio are multiple Caesarstone displays. Two of which are striking Caesarstone surfaces, 4044 Airy Concrete and 5114 Calacatta Maximus.

4044 Airy Concrete is one of Caesarstone's most in-demand colours from their Metropolitan Collection. Existing homeowners and prospective house buyers love the mid-grey pallet as it offers versatility in design. The authentic texture offering the perfect foundation for industrial schemes, whilst the careful blend of grey tones offers a balanced basis for other contemporary stylings.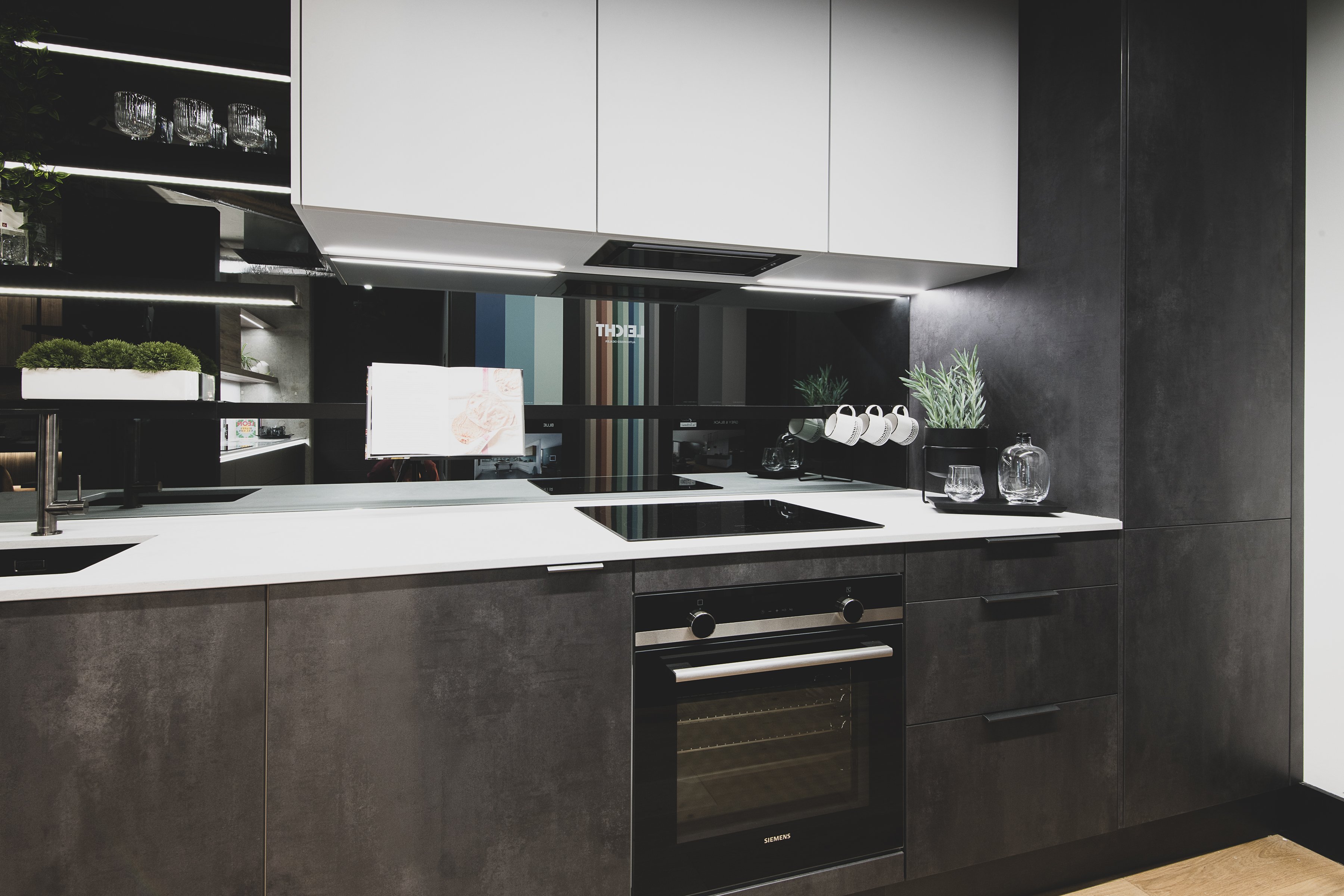 When speaking of Airy Concrete Matt Goddon says, "In our opinion Caesarstone excels at earthy, natural concrete decors and this is our favourite. We have paired with an equally earthy concrete door for a simplistic minimal design. We are soon to be delivering this on an exciting new project in Westminster."

5114 Calacatta Maximus sits in a very different aesthetic space. Inspired by the exquisite calacatta, a natural stone that is imbued with a sense of timeless luxury and refinement. Calacatta Maximus takes on a remarkable and unique organic look giving it a warm sensorial touch that is wrapped in a silky sheen.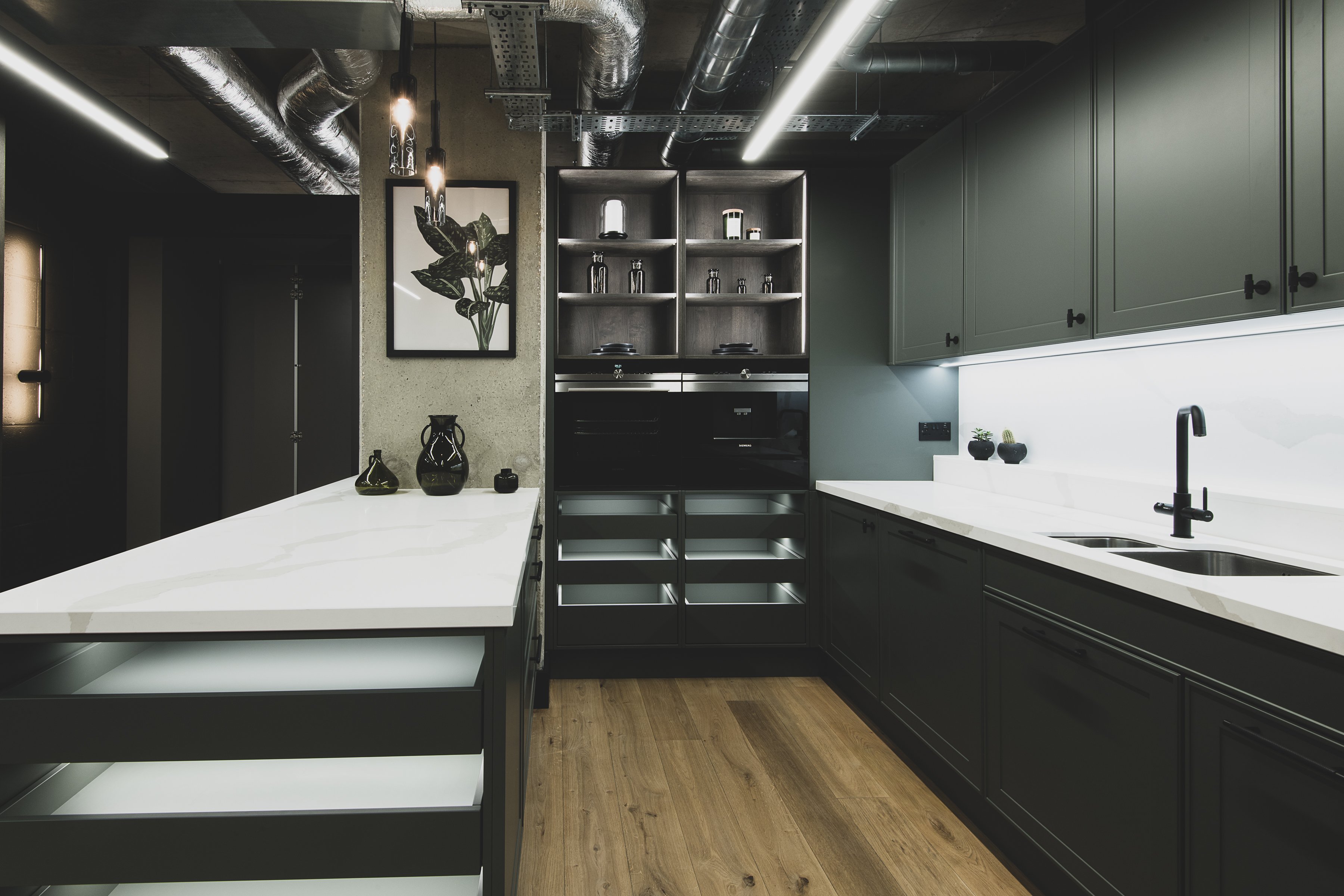 "Set within a timeless classic kitchen design, the whole display radiates an organic and serene feel. We love the striking nature of the veins – even more so we love that the hue is a lot warmer that the more traditional cold grey of calacatta" says Matt Goddon in reference to Calacatta Maximus.

Like all of Caesarstone's products, Airy Concrete and Calacatta Maximus are made from premium engineered quartz stone which is stain, scratch, crack and chip resistant. It is also non-porous, as well as heat and cold resistant making it the ideal material for kitchen and bathroom surfaces.

Speaking of the partnership with Leicht Contracts, Gareth Lowden, Head of Commercial, Caesarstone UK said the following "We are so pleased to have been chosen for the Leicht Contracts flagship showroom. Caesarstone surfaces exude quality and featuring them as part of the showhome acts as a proof point to the potential buyer about the quality of the entire development, which in turn improves conversion. We're excited to see our business continue to grow in the commercial space".

Working alongside the Commercial team is a highly capable operations and logistics operation. Caesarstone operates two large distribution centres in the UK, in London and Manchester, both of which carry thousands of slabs covering the UK core product profile.

Stock is regularly replenished with supplies coming in from multiple Caesarstone production facilities around the world. Peace of mind comes in the form of the Caesarstone warranty and the aftersales support available.
Topics