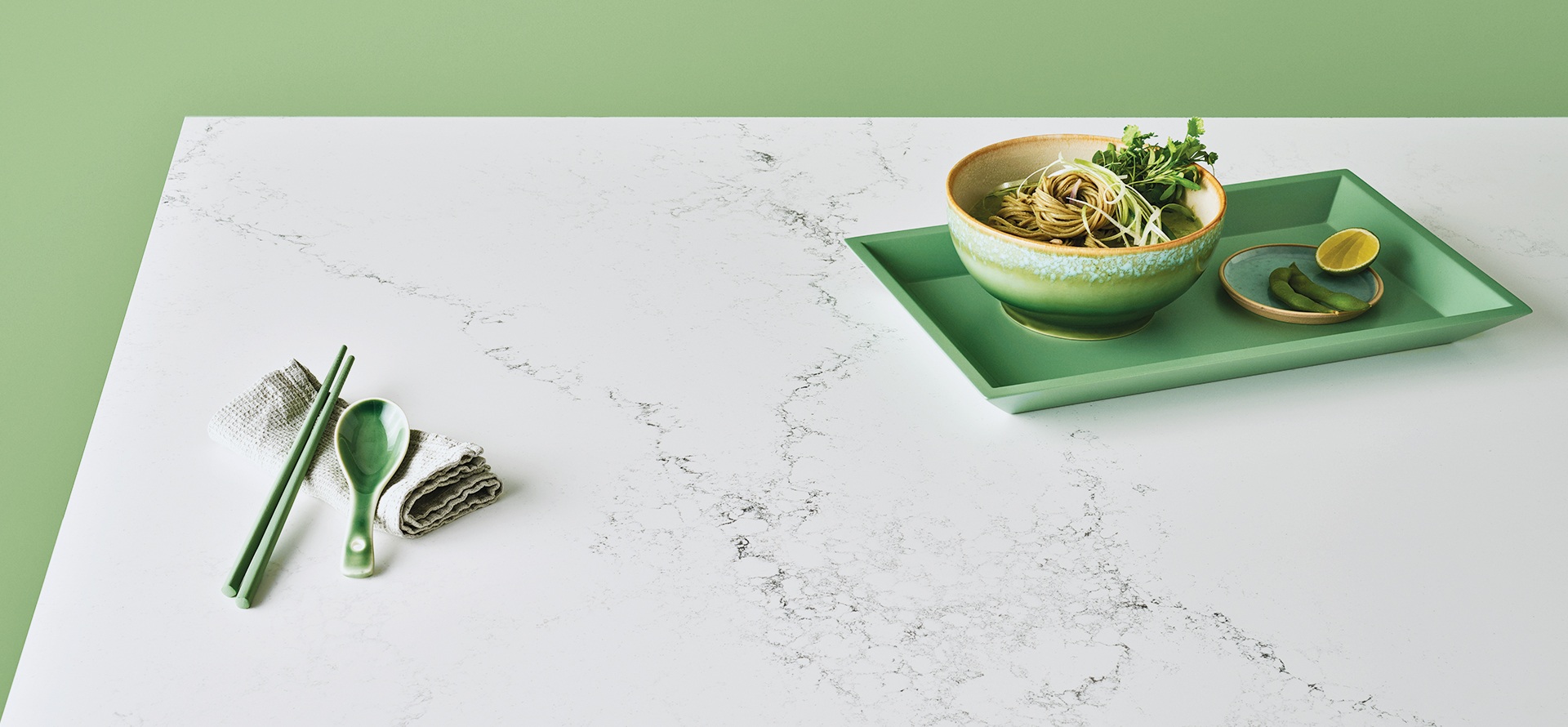 The kitchen has transformed from a private space for only our closest family connections, to the hub of the home and our foundation for hosting and entertaining. This evolution has brought a greater focus on the aesthetics of our kitchens, and whilst some trends, such as white marbles, are long-established, more contemporary finishes such as concretes and dark marbles are more recent looks that have become favourites for style-conscious homeowners aspiring to make a statement.
Based on our latest consumer insights, we take a look at which are the leading trends amongst Caesarstone's surfaces and which worktop you should be seeking for your next design project...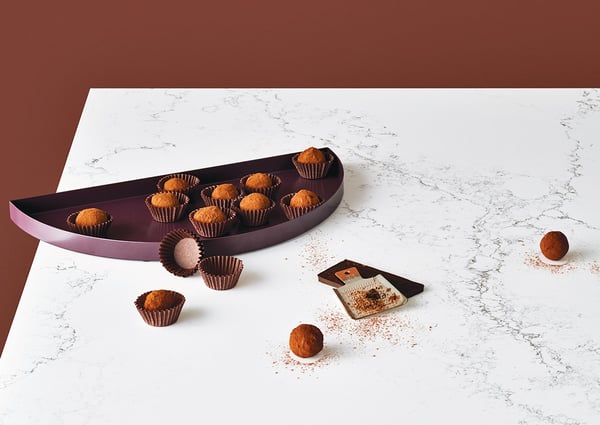 5151 Empira White
On investigating key stylistic influences, our researchers found that "white marble effect" kitchen worktops were the preferred style, and it is clear marble motifs continue to be much sought after by aspirational homeowners. The most popular of all Caesarstone surfaces, the classically opulent, luxury marbles now serve as a more grounded connection to nature, with organic veining and neutral base colours seen as an antidote to the sterility of more uniform surfaces. Caesarstone's offering is inspired by a range of natural marbles, as well as interpreting more esoteric references in their design; such as the form of branch or root structures in trees and plants that continue to reinforce our surfaces' organic qualities. They remain some of the most desirable of all our extensive range of surfaces.
Homeowners looking to capture this trend have a wealth of possibilities from Caesarstone's award-winning selection of quartz surfaces. From our studies, 5151 Empira White takes the lead as most popular of all, with its dramatic grey veining against a brilliant, almost luminescent white base, flowing across the width of the surface. Empira White is perfect for applications combining a horizontal and vertical surface, where the contrasting veins flow across the worktop and onto the full height backsplashes or down the waterfall end of a statement kitchen island. This is closely followed by the dense, interwoven veining of 5143 White Attica, whose chameleonic hue, with nuanced blue, green grey and brown tones, that alongside the light, bright base, makes it ideally suited for a range of complementing kitchen colour schemes. Another favourite is 4141 Misty Carrera - the delicate vein features and slightly off-white base is a more subtle take on the marble trend. Reminiscent of classic Italian marbles, Misty Carrera is perfect for pared back refurbishment schemes.
Products to get the look: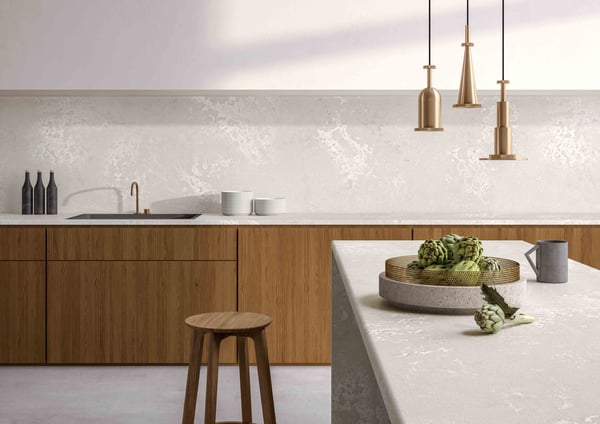 4011 Cloudburst Concrete
Second most desired surfaces are the robust construction finishes inspired by cast concretes, poured plasters, oxidised metals and cements; all of which have become an increasingly popular choice in our homes. Caesarstone's take is inspired by converted urban loft spaces and industrial settings. There is an inherent beauty in the boldness of Caesarstone's Metropolitan Collection of raw finishes, communicating a sturdiness and practicality to the space. The industrial approach can be achieved with sleek polished concrete greys, to more energetically styled designs that have intriguing patinas and enhanced tactility, ideal for statement kitchens.
Favourites include 4046 Excava, inspired by the processes of cast and oxidised metals, with warm copper and rust tones contrasting against earthy greys, reminiscent of geological decay. The aged, weathered aesthetic of Excava is an organic contrast to the artificial for homeowners who would like a more naturalised twist on the concrete look. 4033 Rugged Concrete offers an interpretation of poured concrete, with dynamic textural movement and a rough, authentic concrete tactility. The Rugged Concrete design features an invigorating blend of lighter billowy areas accentuated against dark blue-grey tones, offering a classic urban appeal for the daring. For homeowners looking for a more restrained approach to the concrete trend, 2003 Concrete is a sleek, polished urban mid-dark grey that offers the ease of care and maintenance expected from all Caesarstone surfaces.
Then there is the desire for pared back, lighter concretes, full of nuance, subtlety and accessibility. The white-on-white cloudlike patina of Cloudburst Concrete is a softer, subtle approach to industrial styled design in keeping with more traditional or farmhouse kitchens, as well as ideally suiting a minimalist, yet honest Scandi themed kitchen. The all-round winner who just pips the rest to the post to take the crown of our most popular in this category is 4001 Fresh Concrete. The authentically tactile and refreshing visual appeal of the surface makes it a reliable choice for achieving a brighter take on the industrial kitchen style.
Products to get the look: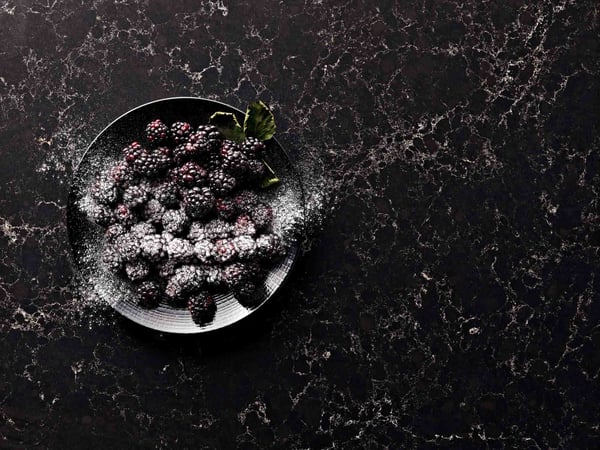 5100 Vanilla Noir
Dark surfaces set a bold tone for home interiors and have seen a surge in interest in recent years. The contrast of an inky surface with lighter and sometimes more clinical colour palettes, dark tones evoke a softer, often unexpected mood. Our senses become alive in the dark, allowing a greater appreciation of space and textures in the home, and darker kitchens bring a comforting sense of calmness and intimacy to often the most frantic room of the house. Today, black has been reconsidered as a modern kitchen design, used as a stark accent or a powerful overall look, and Caesarstone's suite of dark tones offer ideal alternatives as either the basis for the look or a contrasting feature surface.
Highlights among customers include 5810 Black Tempal; a captivating design formed of a charcoal base and a contrasting veil of cloudy whites and greys, reminiscent of dark travertines and slates. The complex organic composition of mineral-like layers provides an industrial aesthetic when paired with brushed steel and gunmetal hardware; whilst warmer materials such as oak, taupe-tinted tiles and russet upholstery help create a sophisticated kitchen. The dense, interwoven veins of 5100 Vanilla Noir are another popular choice, with a dynamic interpretation of black marbles, contrasting against a richly dark base for a grounded appeal. Vanilla Noir is a timeless interpretation of dark marble that has appeal beyond the dark trend, equally at home in monochrome settings against light whites as it's used in stunning all-dark schemes complementing black lacquered cabinets or dark woods such as walnut. 3100 Jet Black is the ultimate dark; designed with versatility in mind: from graphic islands to backsplashes for a grander statement. Its fine granular appearance is complemented by a polished finish; enhancing a deeper, more intense black.
Products to get the look:
For expert advice and ideas, why not take a look at our Swatch Book? It's the ultimate how-to guide for using Caesarstone in your design...
Images Source: Caesarstone