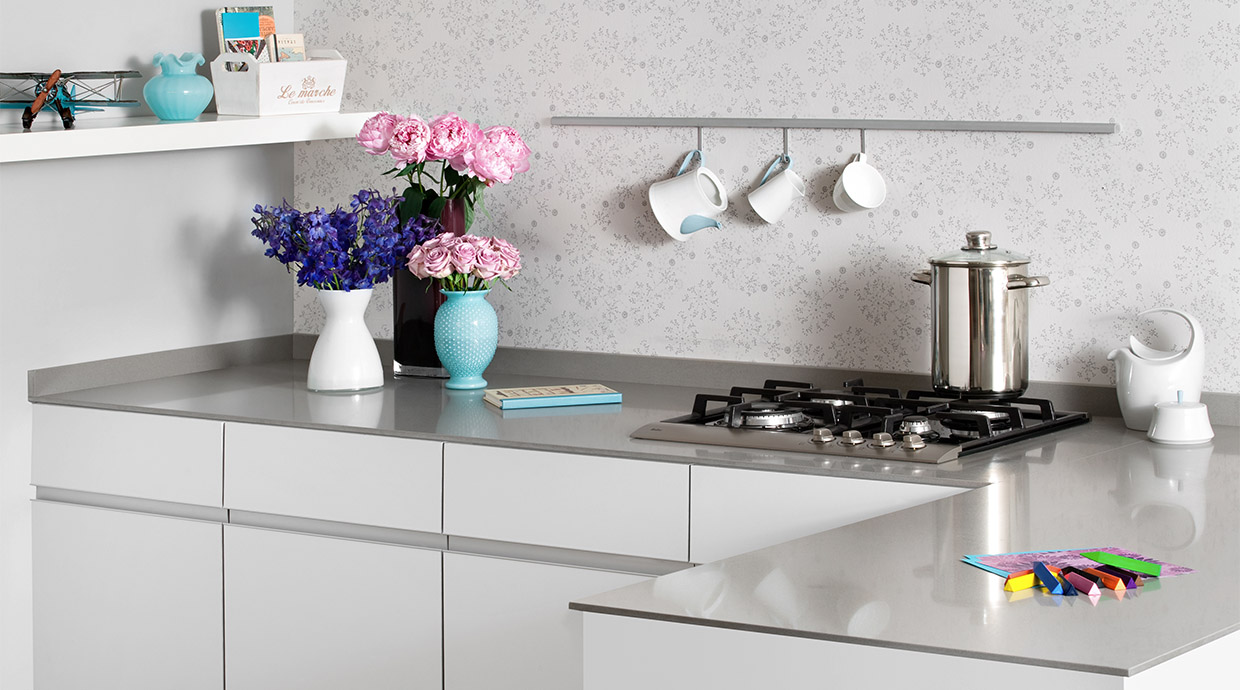 When we read glossy interiors magazines, more often than not, the kitchens within them are vast and spacious. Often open-plan, there's room enough for every kitchen cabinet, storage solution and appliance you can think of. Not to mention the generous islands at their centre, which can be metres long and incorporate everything from hobs and downdraft extractors to fridge drawers, wine cabinets and a breakfast bar for casual dining. For many homeowners however, kitchens can provide a challenge in terms of layout and contents, especially when you are dealing with a limited space. With this in mind, we take a look at some seriously stylish small kitchen ideas, as well as plenty of practical ways to make the most of every inch.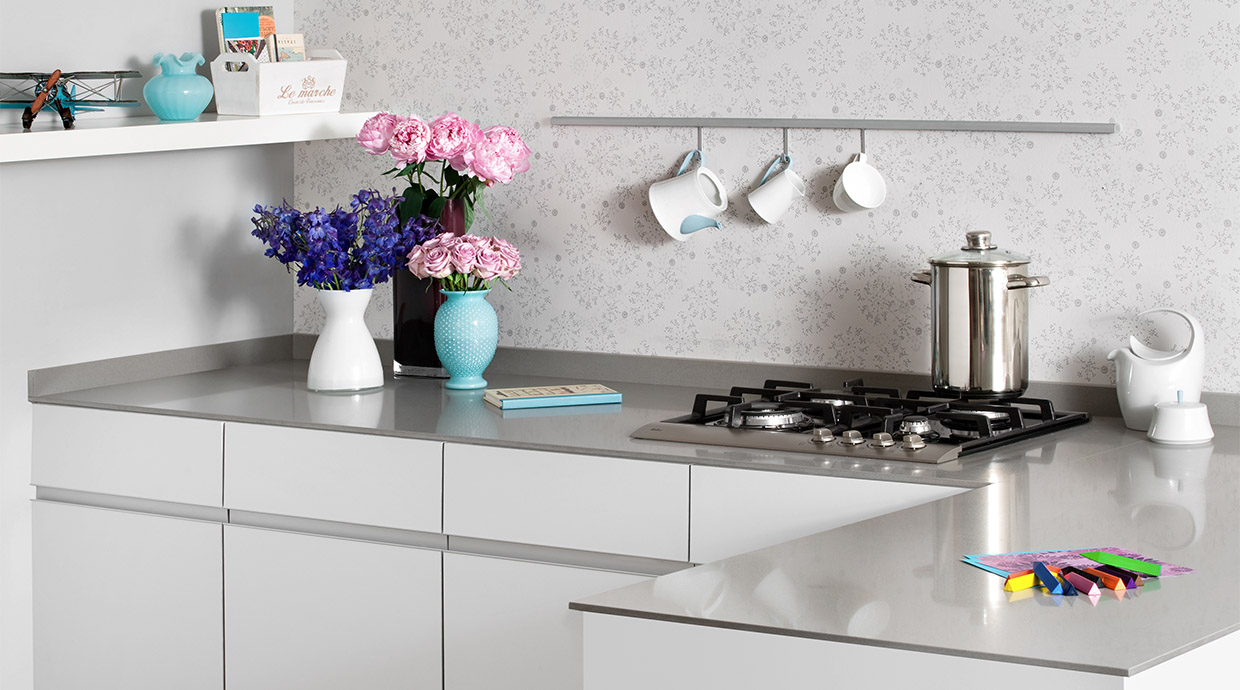 A side return provides a peninsular that can be turned into a breakfast bar by adding a stool or two on the other side.
Love your layout
The most successful schemes work with their surroundings to make the best use of space. Small kitchen ideas include the traditional U-shaped and L-shaped layouts, which often work on the principle of the 'working triangle' with cooker, sink and fridge at the three corners of an imaginary triangular configuration. A good kitchen designer will carefully plan every centimetre, asking questions about your cooking habits, storage needs and lifestyle. This way they can work out what you do and don't need, eliminating anything extraneous and sticking to the basics. Bespoke cabinetry will be tailor made to suit the space so even though it costs more, it's a long-term investment that will enhance your kitchen use.
Single or double galley designs are ideal for long, narrow spaces. Here, either one or two runs of units are installed along the length of the room. Removing wall cabinets will help prevent the kitchen from feeling closed in – open shelving is a better option and you can use it to display your favourite cookery books, crockery, ceramics and glassware.
Store and order
Savvy, space-saving storage is key so take advantage of all the ingenious solutions available including magic corners and corner carousels, deep pan drawers, pull-out larders, freestanding pantries and worktop wonders such as tambour shutters and sliding rails across the splashback. Keeping kitchen worktops clutter-free will help to maintain a feeling of calm and order, which is essential in a small kitchen space. The latest designer kitchens incorporate pocket doors, which are concertina-style panels, either full height or mid-height set atop a dresser or worktop, that slide open to reveal stacks of storage inside. Use to keep breakfast items, dried food and small appliances neatly hidden from view. Easily accessible when needed, it's a quick and easy way to keep the worktops clear and enhance a feeling of space.
Material gains
Natural and neutral colours always work well in tight spaces but sometimes even a darker shade can be used to add a touch of drama. Consider quartz worktops for instance. Caesarstone has a wide and varied colour palette with everything from industrial-style concrete effects to marble styles and granite looks, so there's something to suit every scheme. To add interest, look for textured cabinet doors or to maintain a sleek, seamless finish, go for handless slab doors. Built-in appliances and a flush-fit sink will also keep the finish fuss-free. Make the most of a good ceiling height with floor-to-ceiling furniture and use feature lighting beneath plinths, inside glass-fronted cabinets and underneath shelving to highlight feature areas.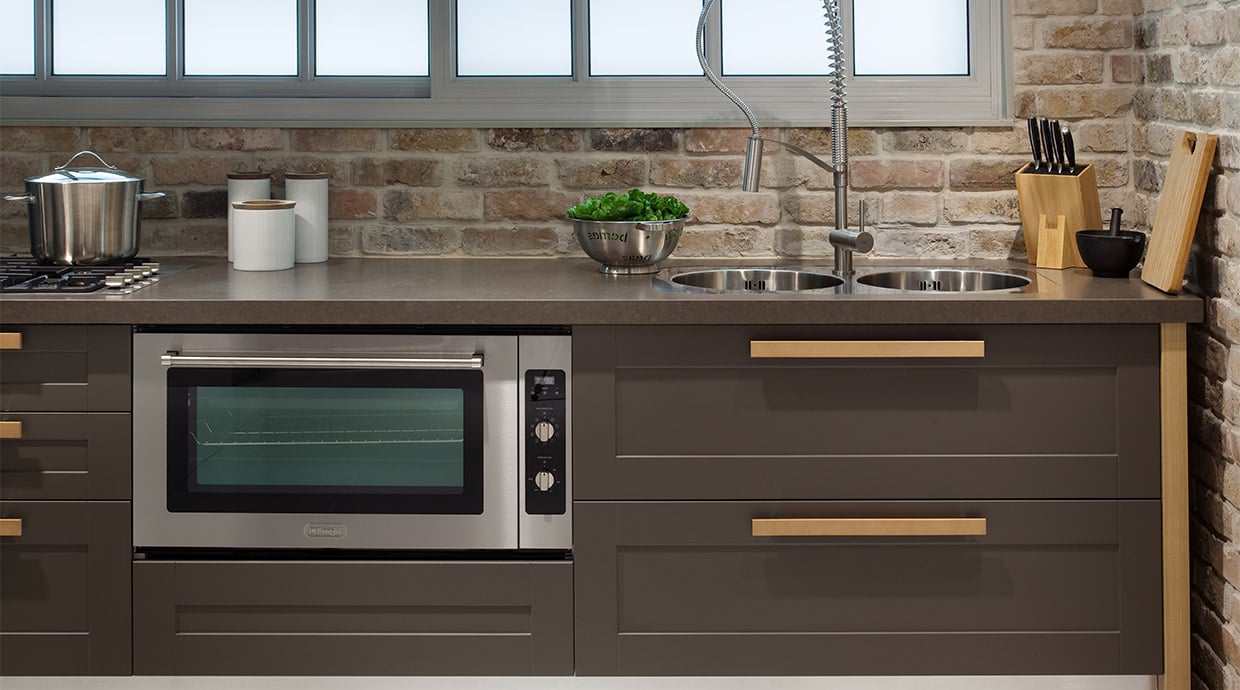 Caesarstone's Mink quartz worktops complement the deep pan drawers of this compact kitchen, which features recessed plinths for added space
Added benefits
While collating your small kitchen ideas, remember that smaller areas are easier to navigate and you can easily update the look with accessories, window dressings and essentials such as chopping boards, knife racks and storage caddies. As well as being more budget-conscious thanks to their smaller size, compact kitchens also have the advantage of being quicker and easier to clean. Choosing an easy-clean worktop such as premium quartz will also free up more of your time, and that's always a good thing!
Topics