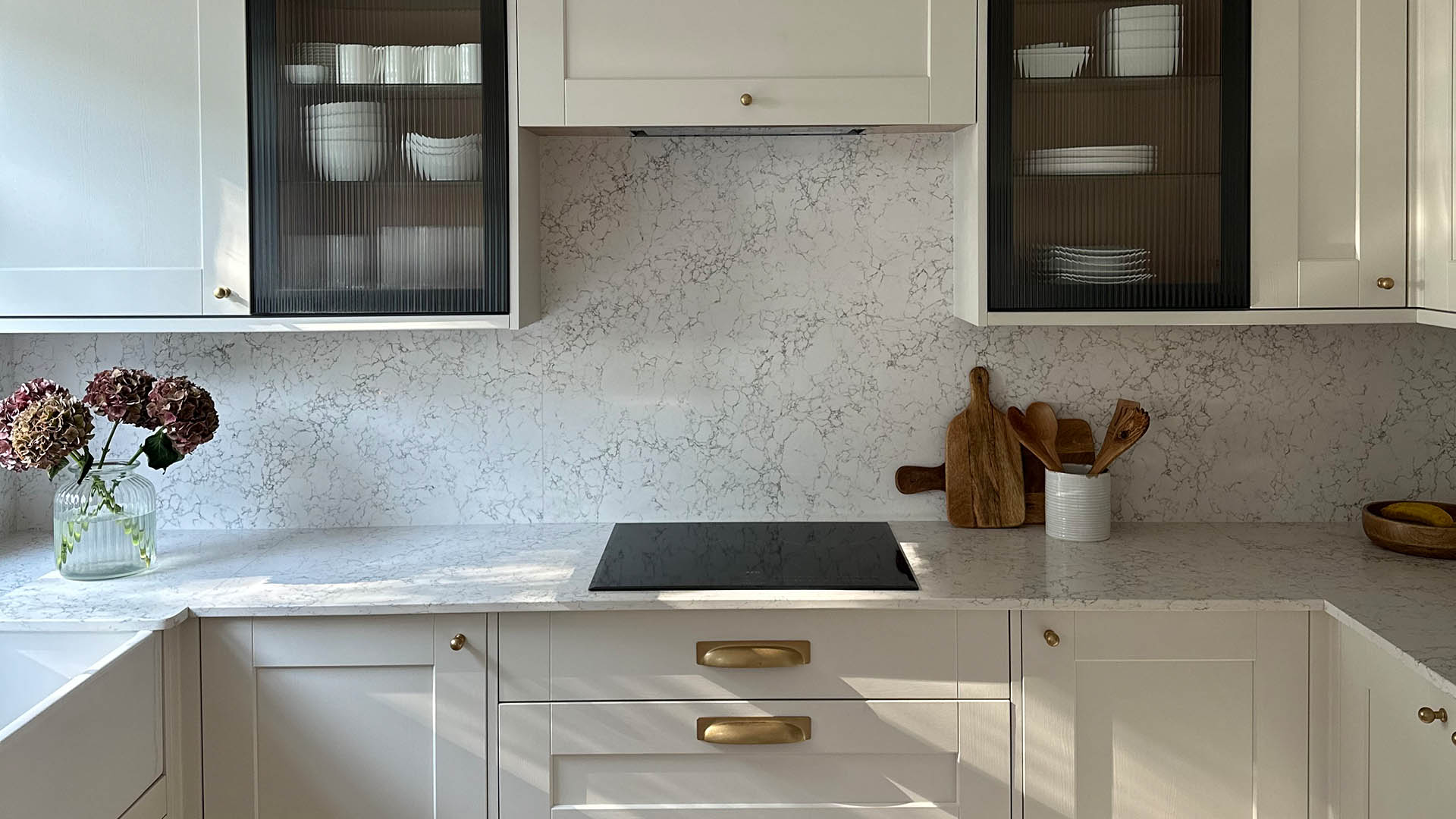 Caesarstone 5171 Arabetto has been chosen for this calming, family kitchen
Fashion and lifestyle content creator, Philippa Bloom (@philippabloom on Instagram) has always had a passion for interior design, so when she and her husband, Alex, found their forever home in North London, she immediately fell in love with it and all the possibilities it offered.

A new kitchen was on top of Philippa's wish list. Knowing an island wouldn't fit in the space, Philippa was keen to have enough clear worksurface to make the whole design more practical. Caesarstone 5171 Arabetto provides the perfect addition to the scheme, with its dynamic design and durable properties.

Inspired by the look of traditional, period homes, Philippa wanted to enhance the original features of her house, maintaining its character and charm whilst adding a contemporary touch. She explains: "Whilst it's so easy to get carried away with what's trending on Pinterest, I love taking snippets of inspiration and adapting them to bring personality and, most importantly for us, practicality to our home. I love discovering the latest trends, but sometimes the chicest designs are not the most practical. Our home is for living and enjoying, and so I made sure that every design feature was thought about for everyday use for the whole family.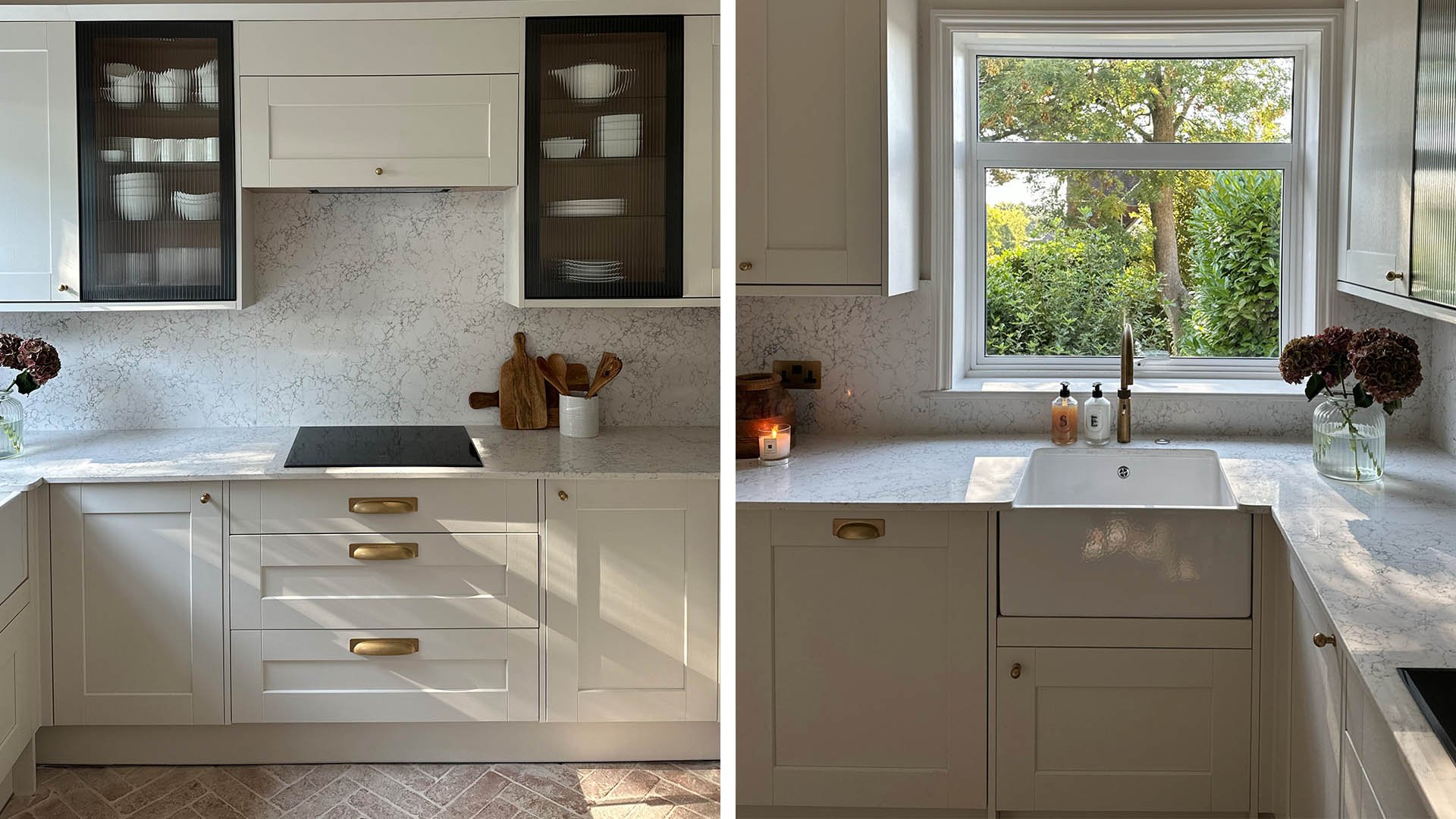 With two young children, Philippa and Alex liked the idea of having the kitchen separate to the rest of the house, in order to create different zones for preparing meals and relaxing. An in-between wall was removed to open up the kitchen, which required careful planning. Philippa says: "The biggest lesson I learnt during my past and current home renovations is that taking time to plan is incredibly important. I spent evening after evening drawing our kitchen layout out to make sure I was happy with it before putting it into action. This made the biggest difference to the workflow once the kitchen redesign started."

Caesarstone 5171 Arabetto plays a big part in the kitchen. "When I look back at our before and after pictures and the installation journey, it really is the worktop and splashback that bring the whole kitchen to life and complete the look", says Philippa. "I knew I wanted a hardwearing worktop and splashback in our kitchen, and there is no better on the market than Caesarstone. The fact that it looks so beautiful but is also non-porous, stain and heat-resistant makes it so practical and such a gamechanger for our kitchen." As the worksurface takes the brunt of the day-to-day activities, it is crucial to opt for a material that is hardworking, durable and will stand the test of time, particularly when it comes to busy family kitchens. Virtually maintenance-free and easy to maintain, Caesarstone surfaces are stronger and safer than other natural materials, making them the perfect choice for family environments.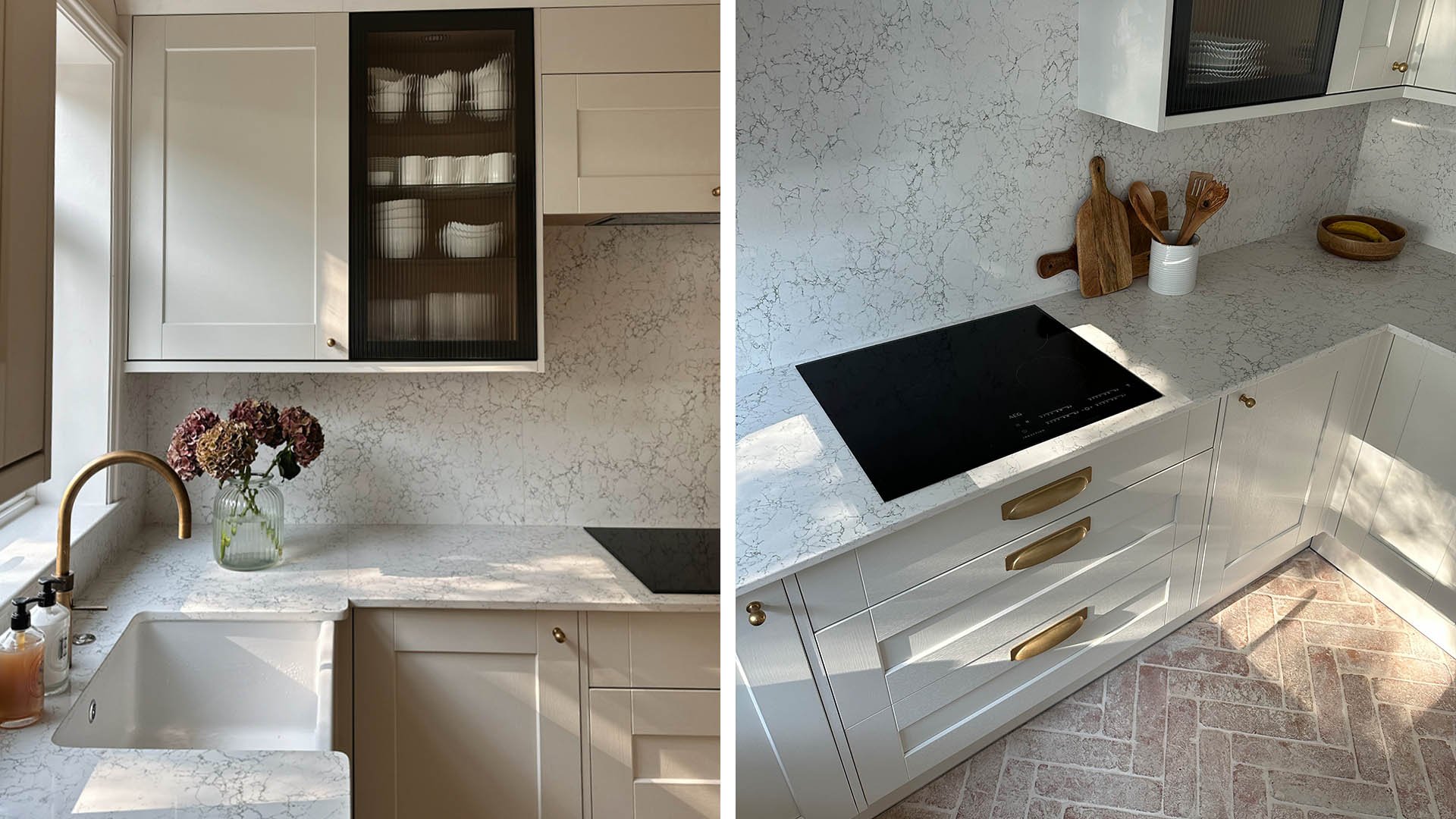 Philippa had a clear idea of the worktop and splashback style that would complement her stone-coloured, shaker kitchen cabinetry from Howdens. Intrigued by the statement look of 5171 Arabetto, she visited Caesarstone's London studio in Enfield to see the colourway in its full size. "The minute I walked around the showroom, I knew we had made the right decision. I could immediately see 5171 Arabetto in our kitchen, with its white tones and hints of jade and copper working perfectly with the rest of the kitchen", says Philippa.

One feature Philippa really wanted to bring to life was a pantry housing a coffee machine, toaster, condiments, cereals and pasta. "This cupboard is definitely my favourite feature in the kitchen and I love how the 5171 Arabetto worktop adds such a stylish touch! I get so much joy every morning when I open up the cupboard to make my coffee. For me, it's little features and design ideas like this that really help make a house feel like a home."

Completing the scheme, fluted glass cabinets, AEG appliances and Ca'Pietra terracotta parquet tiled flooring combine contemporary and traditional touches, helping to create a welcoming and homely feel.

Are you ready to embark on your kitchen renovation? Browse the Caesarstone catalogue to learn more about the latest in surfaces and order your free samples. You can also visit the Caesarstone studios and discover the best-selling designs in large format slabs, for a highly engaging and tactile experience.
Topics