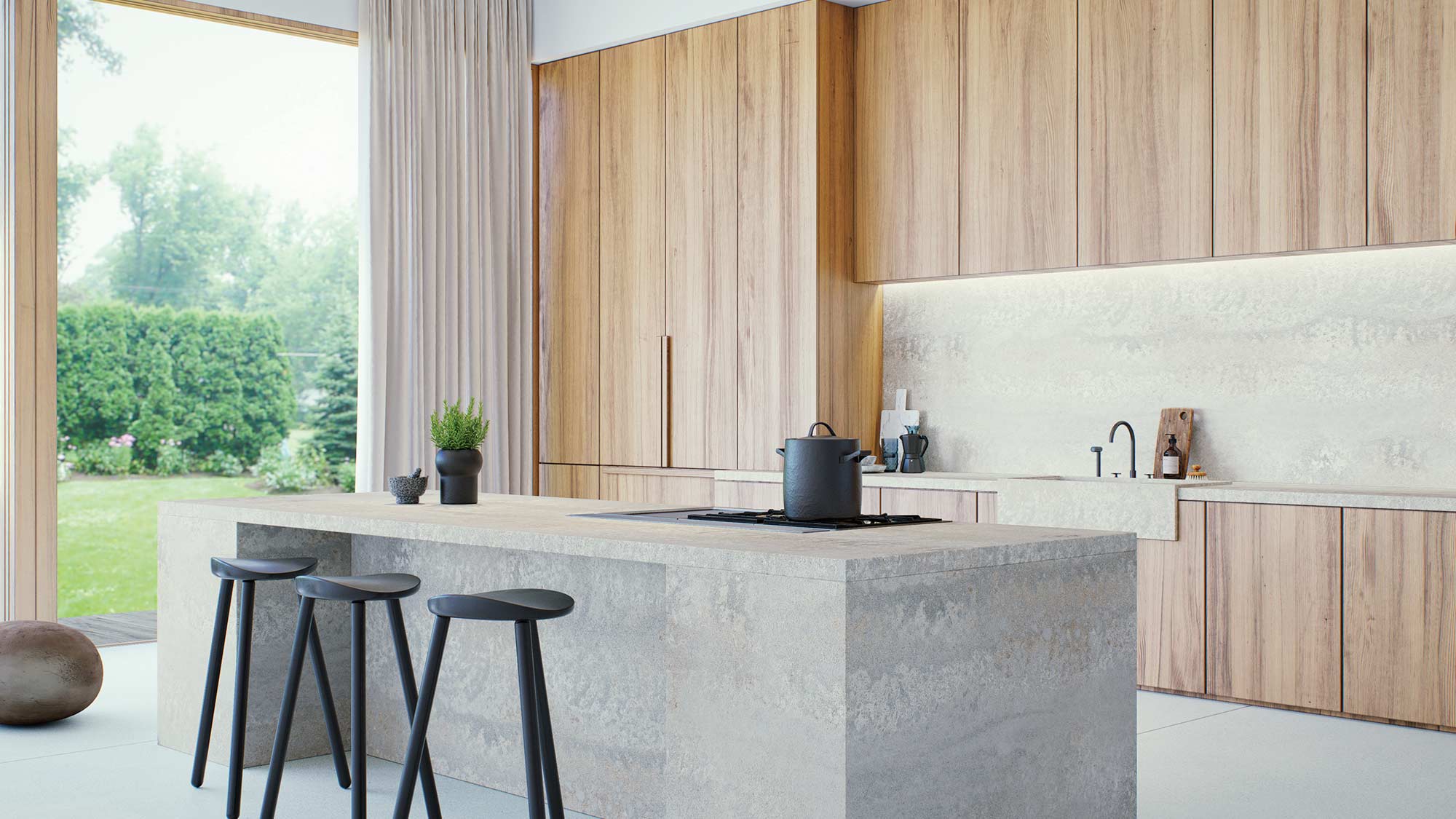 If you're planning to design a light grey kitchen, you're in for a world of timeless elegance and versatility. Light grey kitchens exude a contemporary charm that's easy to style and adapt to various aesthetics.
In this guide, we'll walk you through the best ways to style your light grey kitchen, from choosing complementary colours to selecting the right lighting, flooring, worktops, full-height splashbacks, and innovative shelving solutions.
Choosing the Perfect Shade of Grey
Before we delve into the intricate details of your light grey kitchen's style, it's essential to begin by selecting the perfect shade of grey. Light grey comes in a spectrum of tones, from soft dove grey to cool, silvery hues. Keep in mind the natural light and overall atmosphere of your kitchen when choosing the shade that complements your space flawlessly.
Where should the grey focus be?
When choosing your perfect shade of grey, consider where you wish to put the light grey focus; across the cabinetry or the worktop design. Perhaps you prefer light grey cabinetry on both your base and wall units with a white worktop, such as 4600 Organic White. Or maybe a light grey worktop, such as 6131 Bianco Drift, with light wood or cream colour cabinets would offer a unique light grey foundation to the rest of your kitchen. It's also possible to combine both! Picking a slightly lighter grey worktop can sit beautifully with a slightly dark grey cabinet, and then adding pops of colours through accessories can make for an impactful kitchen design.
When deciding what's best for your kitchen, consider the longevity of your design and what will have the greatest impact on the space. For example, the worktop, being a fixed element, sets a lasting foundation for the kitchen's overall look and feel. By starting with the worktop, you establish a core colour scheme and material palette, making subsequent cabinetry and accessory choices more harmonious. On the other hand, selecting cabinet shades first may seem like a more natural choice but may limit worktop options, potentially leading to compromises in achieving your desired aesthetic.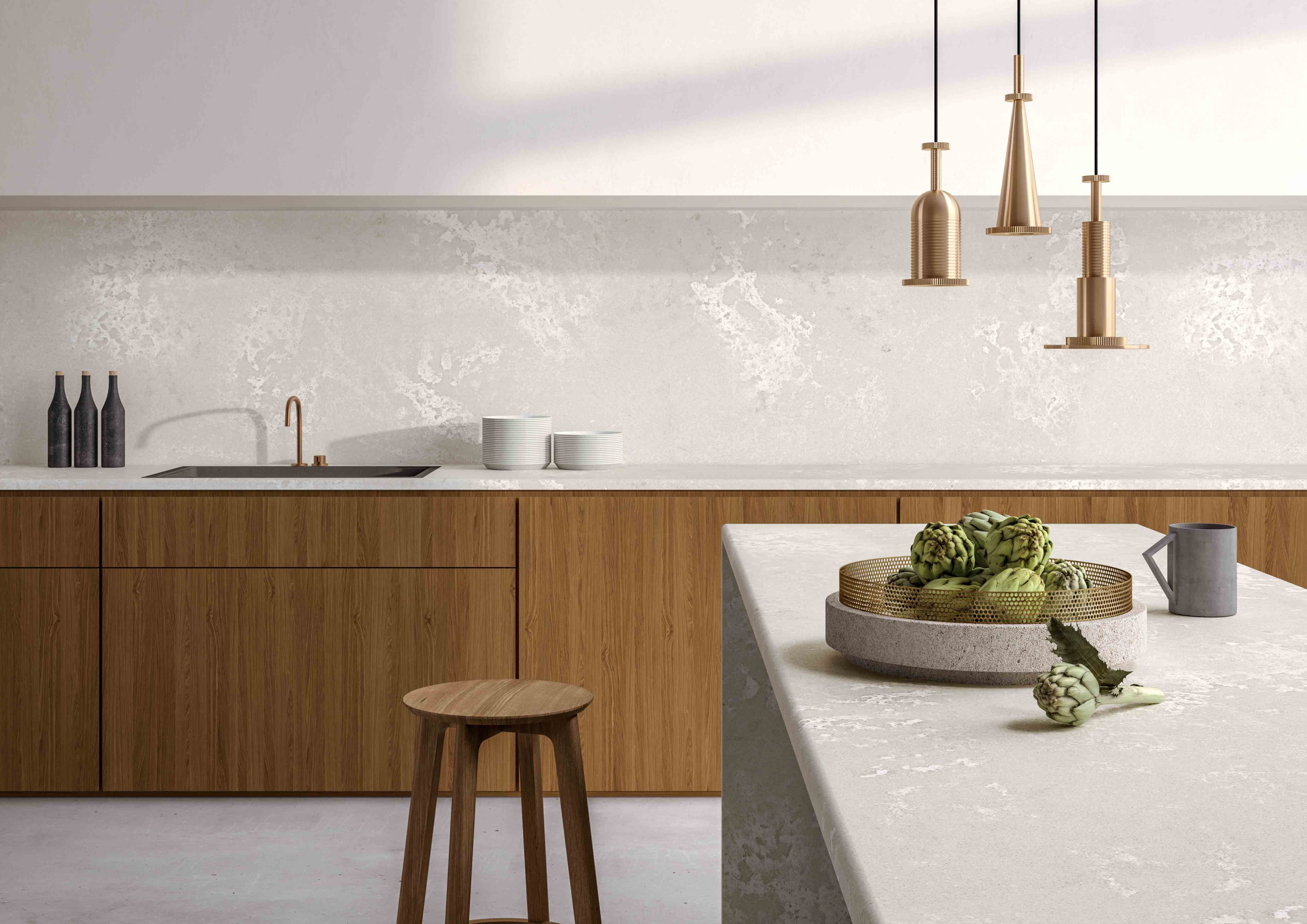 4011 Cloudburst Concrete
Complementary Colours
Light grey kitchens provide an almost blank canvas to experiment with complementary colours, offering many ways to add a splash of your favourite colour. Consider these well-balanced combinations:
Subtle Elegance
Blend light grey cabinets with pale pastels like blush pink, soft mint, or light lavender to evoke a calming, sophisticated vibe. Consider using these colours in your wall paint, worktop accessories or tiling.
Timeless Classic
Embrace timeless aesthetics by pairing light grey with crisp whites and warm cream tones. Perhaps a lighter worktop such as 4011 Cloudburst Concrete for a more obvious addition to your grey cabinetry. Or, for a more subtle nod, look at using cream tones in your breakfast bar seating. This pairing exudes elegance and never goes out of style.
Bold Accents
To infuse drama into your kitchen, introduce accents in bold colours like deep navy, emerald green, or rich plum. These vibrant touches can be incorporated in your cabinetry if you choose a grey worktop, or through accessories, kitchenware or a vibrant splashback.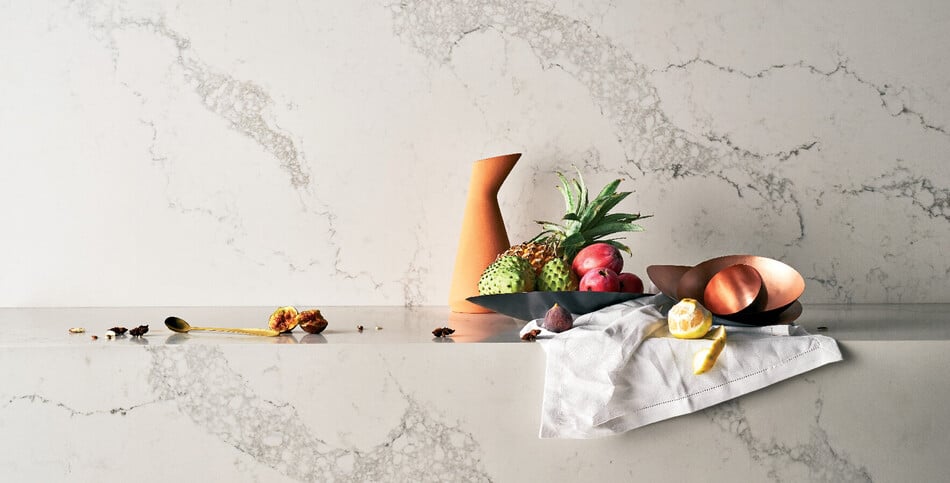 5031 Statuario Maximus
Worktops
Kitchen worktops will have the most impact on your light grey kitchen and should be one of the first things you choose when designing your new kitchen. If you're choosing to add light grey to your kitchen through your cabinetry, opt for a worktop colour that complements or contrasts with your light grey cabinets. For a harmonious look, you can choose a worktop in a similar shade of grey or a neutral colour like white or beige, similar to 1001 Riverlet. Alternatively, for something different, you can go with darker worktops like deep grey or black, such as 5101 Empira Black, which offers a fantastic contrast to the lighter cabinetry.
Choosing the material of your worktop is as important as the colour. To compliment your light grey kitchen cabinetry, elevate its aesthetics and durability with high-quality quartz or porcelain worktops. For instance, explore options like 413 White Ciment, which softly echoes the finish of concrete in an easy-to-maintain porcelain surface. Alternatively, consider 5031 Statuario Maximus, with its soft dove-white base punctuated by broad, light grey swirls adding depth, making it a captivating pairing with light grey. Request samples to admire their beauty firsthand.
If you've chosen your worktop to be the light grey focal point of your kitchen, there are plenty of options to choose from. With dark grey cabinetry, we recommend using a light grey worktop with marbling to harmonious the space such as 5211 Noble Grey. With light wood cabinetry, we recommend a concrete effect worktop such as 4044 Airy Concrete as its swirls of darker hues and white flashes compliment the lighter tone of the wood.
Extend your Kitchen Worktop into a Full-Height Splashback
To create a visually stunning and seamless look, extend your chosen worktop material up the wall to create a full-height splashback. This design is impactful no matter if you've chosen a light grey worktop as the focal point, or a complimentary worktop to your light grey cabinetry. Plus, this choice eliminates the need for a traditional tile backsplash and provides a cohesive, streamlined appearance. Using your worktop material as a full-height splashback can be particularly impactful in a light grey kitchen. It adds a sense of continuity and sophistication, enhancing the overall design and creating a focal point in the room.
Shelving Crafted from Worktop Material
Another way to maximise functionality and continue the seamless and elegant look of your kitchen is to create open shelving using the same worktop material for the shelf surface. Not only does this ensure your shelving perfectly coordinates with your kitchen cabinetry but it's also a great way to keep your kitchen organised and cohesive. If you're choosing to add a splash of colour using plants or decorative items, shelves are the perfect way to display and keep your worktops clear for cooking.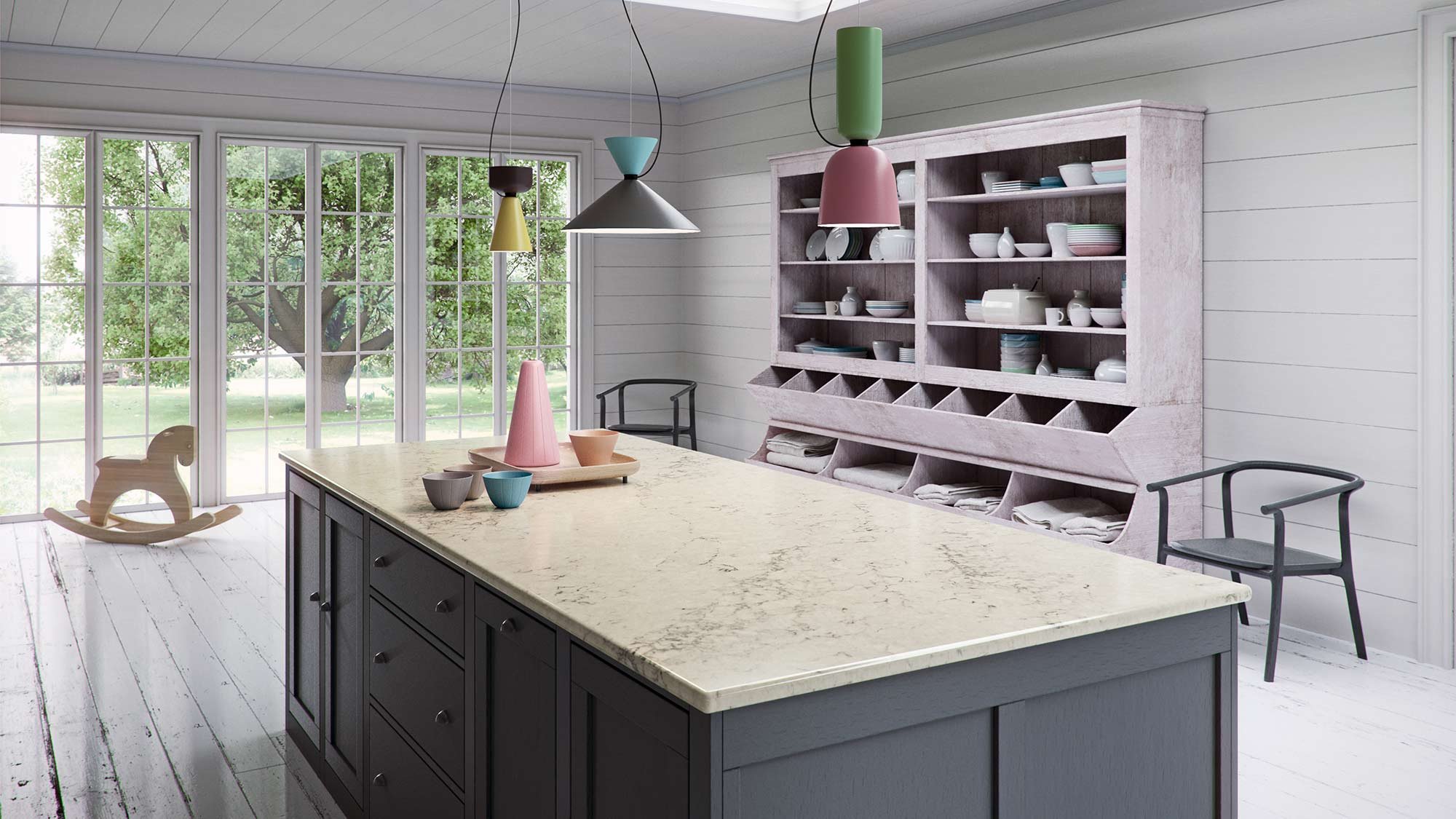 Lighting
Lighting is the secret ingredient that elevates your light grey kitchen's ambience. It can turn your space into a cosy heart of the home where everyone wants to spend time. Here are some of our top illuminating ideas:
Antique Elegance
Enhance your kitchen's vintage charm by suspending antique brass or copper pendant lights over your light grey kitchen island. Pair them with beautiful antique wall lighting, brass taps and antique brass cabinet handles. All these fixtures will add a touch of nostalgia to your contemporary space.
Industrial Edge
For a more modern and edgy feel, opt for industrial-style lighting fixtures for both your kitchen island pendant lights and your wall lights. These will provide a striking contrast to the soft tones of your light grey cabinets.
Flooring
Flooring plays a critical role in defining your light grey kitchen's character, with both light and dark flooring playing a different role in your kitchen's atmosphere.
If you're going for a minimalist and modern look, consider a cool-toned wood floor such as oak, maple, birch or ash. These options provide a delightful contrast to the grey cabinetry whilst bringing in a nod to nature and maintaining a harmonious ambience.
In comparison, to embrace a rustic farmhouse or vintage theme, choose darker and more rustic wood flooring such as walnut, reclaimed wood or distressed wood flooring. Choosing a darker wooden flooring for your kitchen will add warmth, character and depth to your design.
Tiles can also be an excellent alternative to wood flooring, depending on the style of kitchen you're looking for. Light grey tiles in a similar shade to your light grey worktop can create a harmonious and elegant look. Alternatively, dark-coloured floor tiles, such as charcoal or slate, can provide a striking contrast to light grey cabinets, adding depth and drama to the kitchen.
Ready to create your light grey kitchen?
We hope you now feel fuelled with inspiration to style your dream light grey kitchen. To help you decide on the perfect worktop for your space, request a sample from Caesarstone to visualise it in your home.