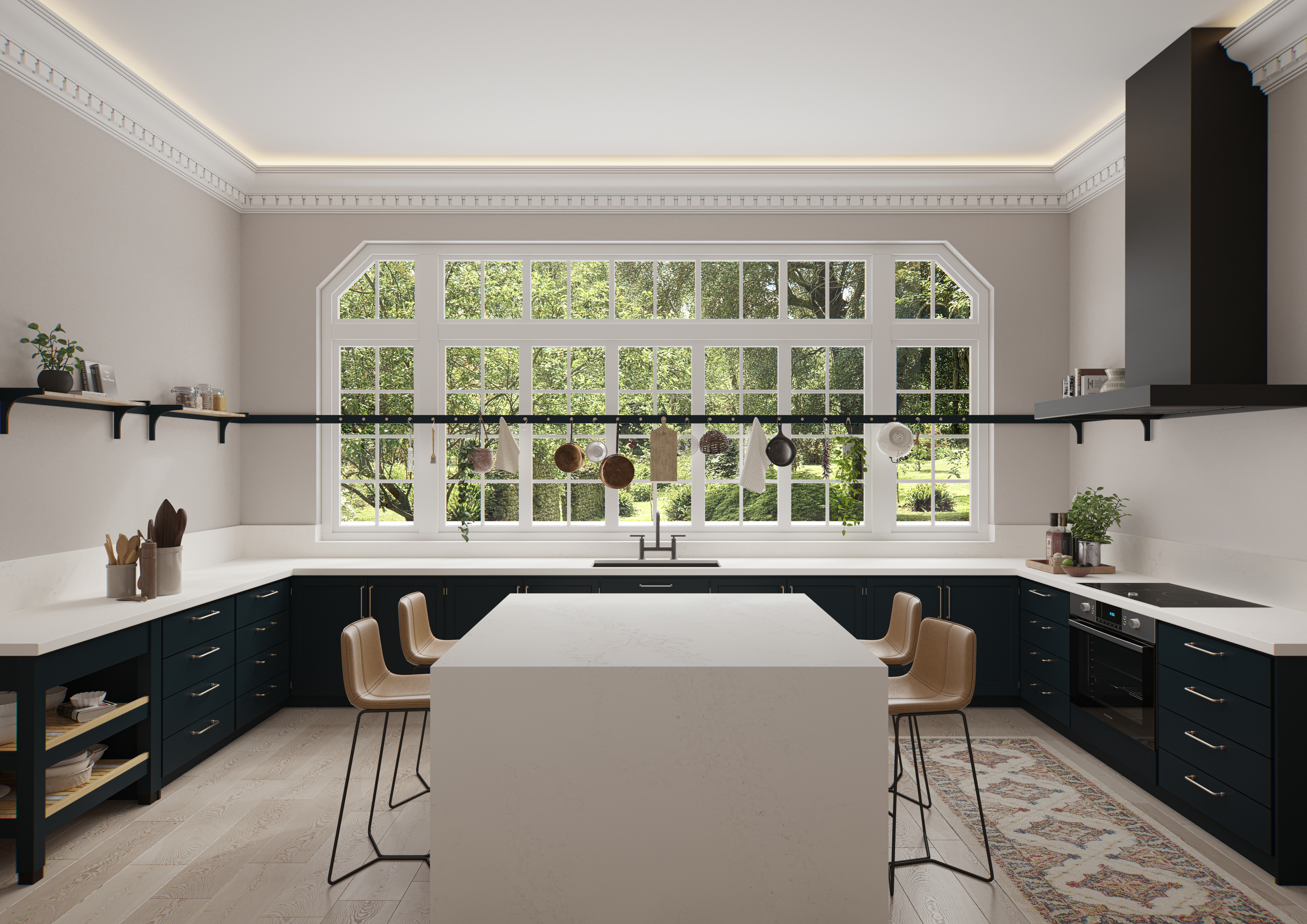 Designing the perfect kitchen involves picking and choosing numerous details, both big and small. From choosing your ideal kitchen worktop and dream cabinetry colours to the precise layout of appliances, every decision contributes to the overall aesthetic and functionality of your space.
One such detail that often goes unnoticed but plays an important role in defining your kitchen's style and practicality is the thickness of your kitchen worktop. To help you make the right decision, we'll explore the importance of kitchen worktop thickness and how it influences the design of your kitchen.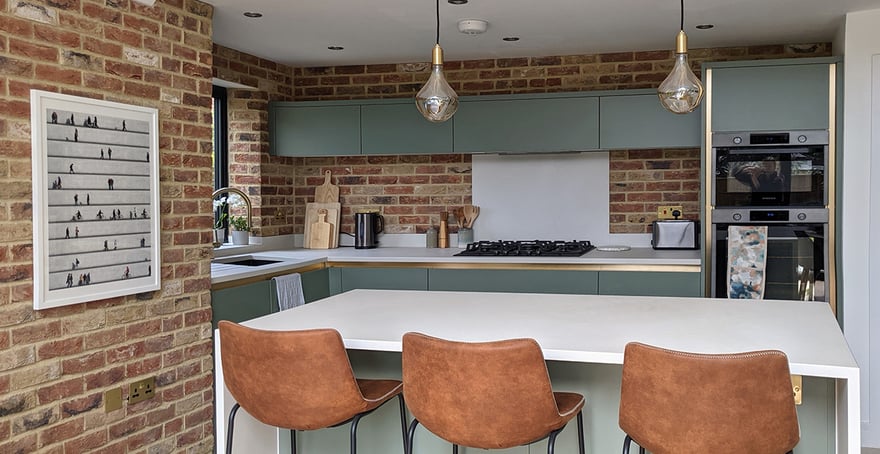 4011 Cloudburst Concrete worktops used in Cassie Pryce's Caesarstone Kitchen
The significance of worktop thicknesses
Kitchen worktop thickness refers to the depth of the worktop material you choose. Different options can be used to achieve various design styles and serve different practical purposes, so choosing your worktop thickness will all depend on the aesthetic you're trying to achieve. For example, a slimmer worktop might be better suited to a modern kitchen design, whereas a thicker worktop can marry perfectly with a more industrial-style kitchen.
Understanding the available options is essential when planning your kitchen design as each worktop will come in standard thicknesses. For example, here at Caesarstone, our porcelain worktops come in 12mm, with this thin design making them ideal for contemporary and minimalist kitchen designs as they create a sense of spaciousness in your kitchen, giving it a clean, uncluttered appearance.
On the other hand, the majority of Caesarstone quartz products are available in two standard thicknesses: 20mm and 30mm. These thickness options are incredibly versatile and can accommodate a wide range of design styles such as traditional and industrial.
What if I want to achieve a thicker worktop edge with a thinner worktop?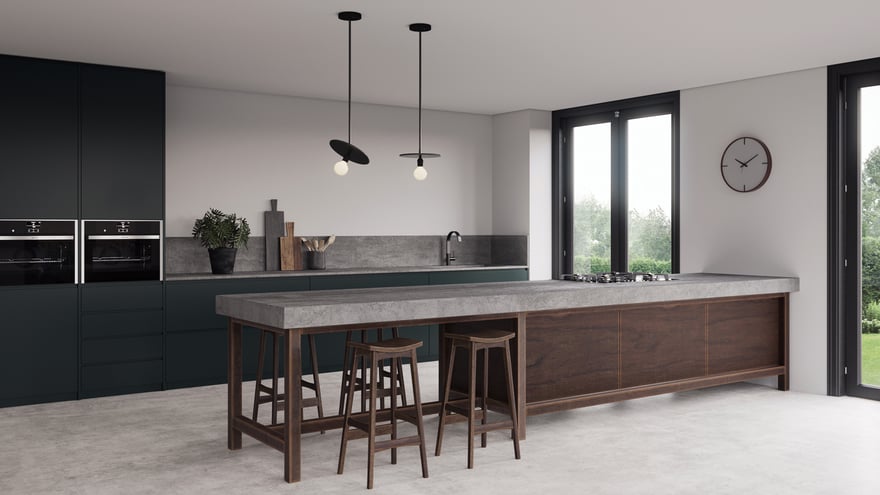 411 Concrita – Porcelain Worktop
If you've fallen in love with a worktop that comes in a thin depth, such as 12mm, or you just like a very deep worktop, don't fear, you can still achieve the thicker worktop edge of your dreams. Using a mitred edge is a great choice for getting the worktop depth you want, no matter your chosen material. A mitred edge is a technique that creates the illusion of a thicker worktop by expertly joining two thinner pieces at a precise angle. This approach is perfect for extending the design of the worktop through the full thickness of the edge profile, offering complete design continuity. This approach is ideal for individuals who desire a substantial look without the added weight of a thicker kitchen worktop.
Choosing the right thickness for your kitchen
Selecting the appropriate worktop thickness is vital for achieving your desired kitchen design. To make the best choice, consider the following factors:
Kitchen style
The style of your kitchen is one of the most critical factors in determining the appropriate worktop thickness. Do you envision a sleek, modern look with clean lines, or are you leaning towards a more traditional, rustic design?
Sleek and Modern: If you aim for a contemporary or minimalist kitchen design, a 12mm worktop is an excellent choice. Its thin profile complements modern aesthetics whilst still showcasing the worktop's beautiful design.

Versatile Styles: 20mm or 30mm thick worktops are incredibly versatile and can be incorporated into various kitchen styles, ranging from vintage and farmhouse to industrial. Having a thicker kitchen worktop also gives you versatility when choosing a worktop edge profile and is ideal for overhangs such as a floating breakfast bar.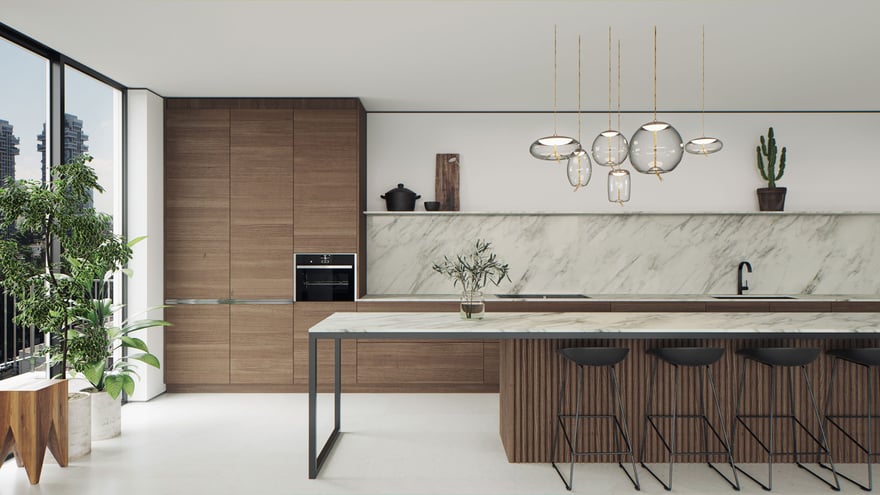 505 Archetta - Porcelain Worktop
Durability
Worktop thickness plays a role in the durability of your kitchen surfaces. Thicker worktops are generally more robust and can withstand the rigours of a busy kitchen better. Consider how your kitchen will be used and the level of wear and tear it will experience. If you have a busy household or love to cook frequently, you might want to opt for a thicker worktop to ensure it can withstand the demands of daily life.
If a thinner worktop such as Porcelain is your dream, there are certainly ways to support it to ensure its durability. For example, consider using a substrate to provide extra support. Mount it on your cabinetry using an additional ply layer to fully support your new worktop. Or, if you're looking for an overhanging breakfast bar, consider using steel legs to add an industrial feel to your space.
Budget
It's important to acknowledge that thicker worktops typically come with a higher price tag. This is due to the additional material and craftsmanship required to produce them. Therefore, your budget should be considered when choosing the thickness of your worktop. Be sure to balance your desire for a specific thickness with the financial resources available for your kitchen project.
Personal preference
Ultimately, your personal preferences and the unique design elements you want to incorporate into your kitchen play a significant role in the decision-making process. If you have a particular look or design concept in mind, ensure that your worktop thickness aligns with your vision.
Ready to choose your dream kitchen worktop?
Are you ready to embark on the journey of transforming your kitchen and enhancing its style with the perfect worktop and the right thickness? Explore both our porcelain and quartz worktops and discover the perfect match for your kitchen's unique character.
Remember, your kitchen's design journey begins with choosing your worktop before your chosen thickness, and it's a journey well worth embarking on. Make the right choice, and your kitchen will not only look stunning but also serve you well for years to come. Your dream kitchen is just a worktop away.
To help you decide on the perfect quartz or porcelain worktop for your space, request a sample from Caesarstone to visualise it in your home.