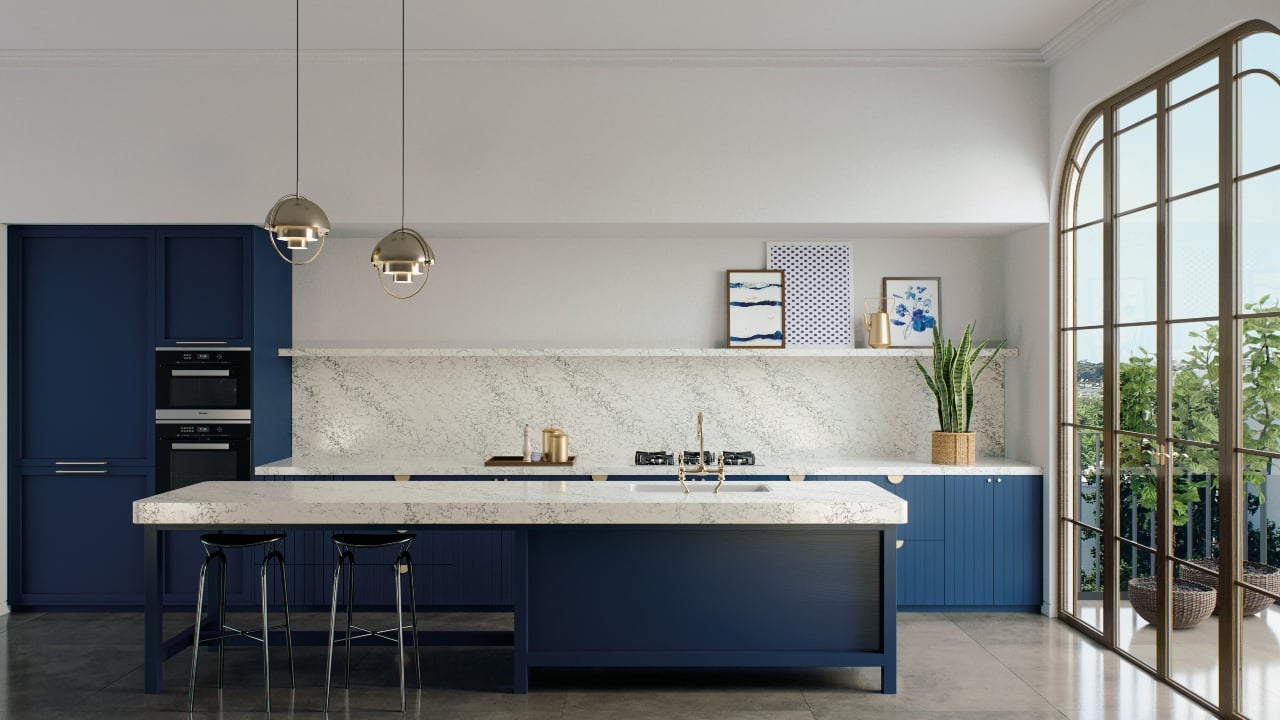 Kitchen design is an art form where colour plays a pivotal role in creating the desired atmosphere and ambience. Among the myriad of colour options, blue has emerged as a versatile and captivating choice for kitchen interiors. From evoking a sense of calmness to making a bold statement, blue offers a diverse spectrum of possibilities.
In this comprehensive guide, we will introduce you to 10 enchanting blue colours to use in your kitchen, while also delving deeper into the colours that complement them, including kitchen worktops, wall colours and accessories.
Blue colours to consider
These charming blue hues offer an array of possibilities to transform your kitchen into a stunning and inviting space. Whether you lean toward a tranquil coastal retreat, a bold statement, or a contemporary haven, there's a blue shade that suits your style. Embrace the endless possibilities and bring your dream kitchen to life!
Ocean blue
Starting our journey with ocean blue, this timeless shade embodies the tranquillity of a seaside escape. To complement this serene hue, consider pairing it with a lighter kitchen worktop such as 6600 Nougat with lighter wood flooring. The warmth of the wood beautifully contrasts with the cool blue, creating a balanced and inviting atmosphere. White walls serve to enhance the airy coastal vibe, while nautical-themed accessories such as seashell decor, rope handles and light fixtures with a weathered finish complete the look.
Midnight navy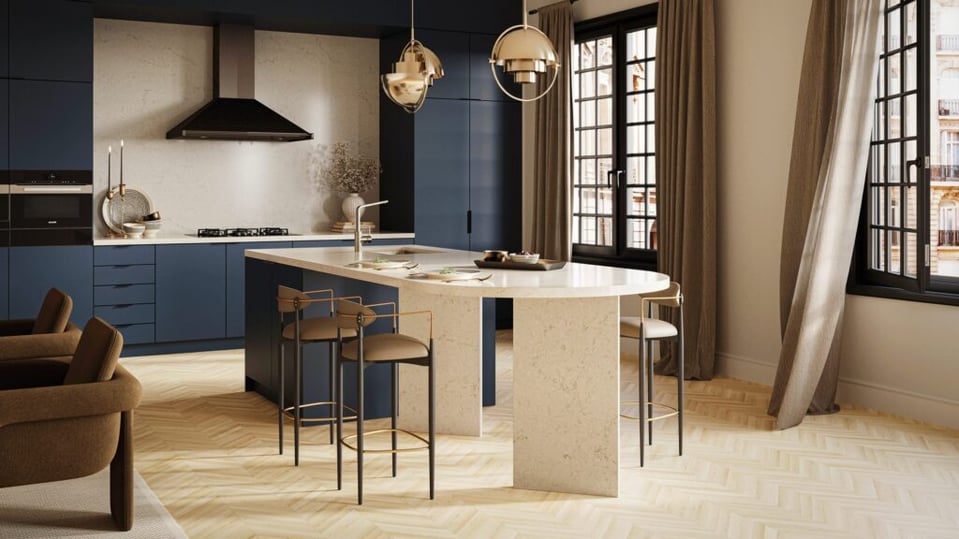 5212 Taj Royale – Quartz Worktop
Midnight navy is a deep and rich blue that exudes sophistication and elegance. To complement this striking shade, opt for worktops made of quartz or porcelain with organic veins or marble motifs. The natural patterns and luxurious sheen of these materials provide a harmonious contrast. Additionally, gold or brass hardware and fixtures elevate the kitchen's glamour, turning it into a truly opulent space. A white or light grey wall colour can be an excellent backdrop to showcase the depth of midnight navy.
Sky blue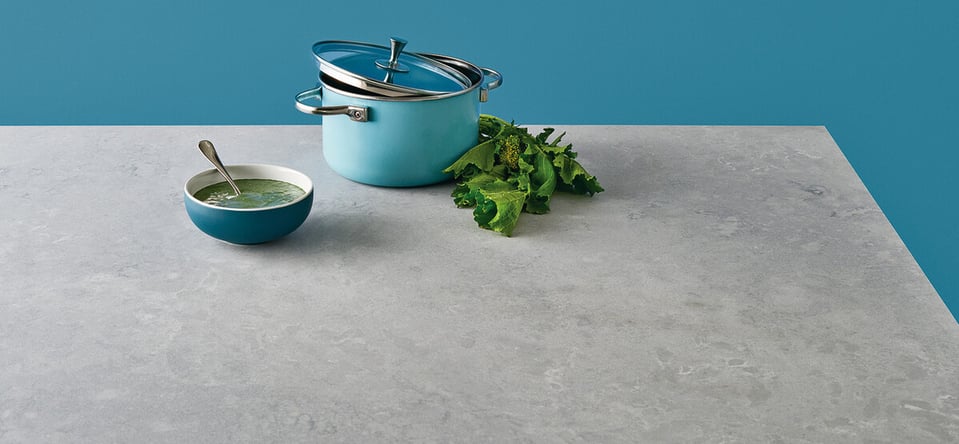 4044 Airy Concrete – Quartz Worktop
Sky blue brings a sense of cheerfulness and lightness to your kitchen. For a harmonious blend, combine it with white or light grey kitchen worktops such as 4044 Airy Concrete. This combination creates a fresh and modern feel that's perfect for a casual yet inviting kitchen. Consider incorporating glass tiles or open shelving to enhance the sense of space and light, making your kitchen feel even more airy and open.
Teal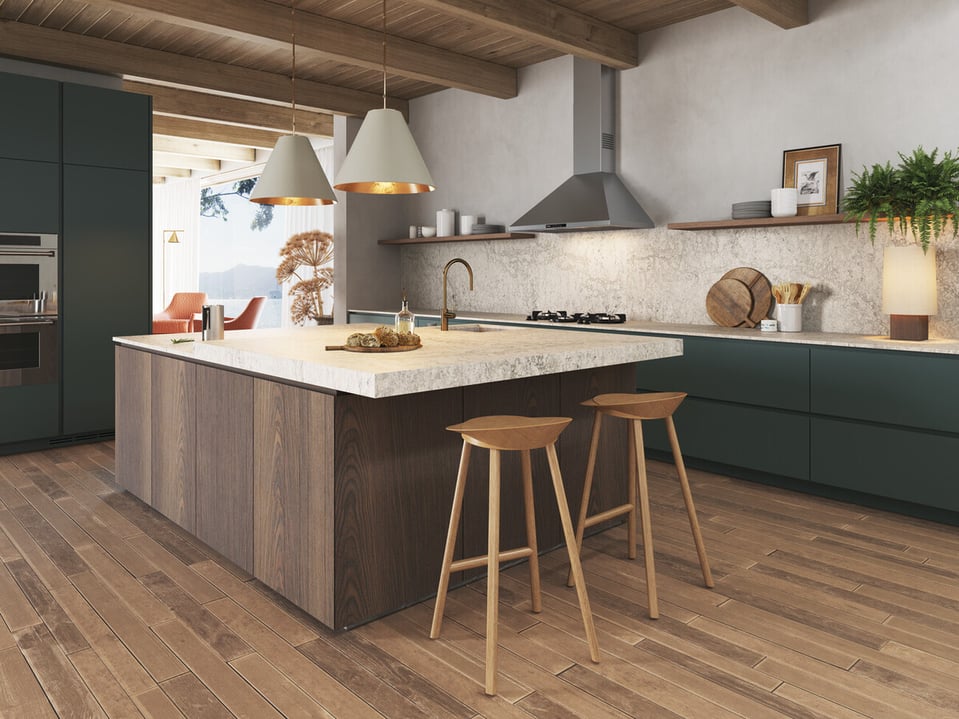 6046 Moorland Fog – Quartz Worktop
Teal is a bold and daring choice that can make your kitchen truly stand out. To balance its vibrancy, pair it with worktops in earthy tones, such as brown or beige. These warm hues provide a grounding effect and prevent the kitchen from feeling overwhelming. Matte black accents, including faucets, cabinet hardware, and light fixtures, along with wooden accessories like cutting boards and utensil holders, add depth and a touch of industrial chic.
Powder blue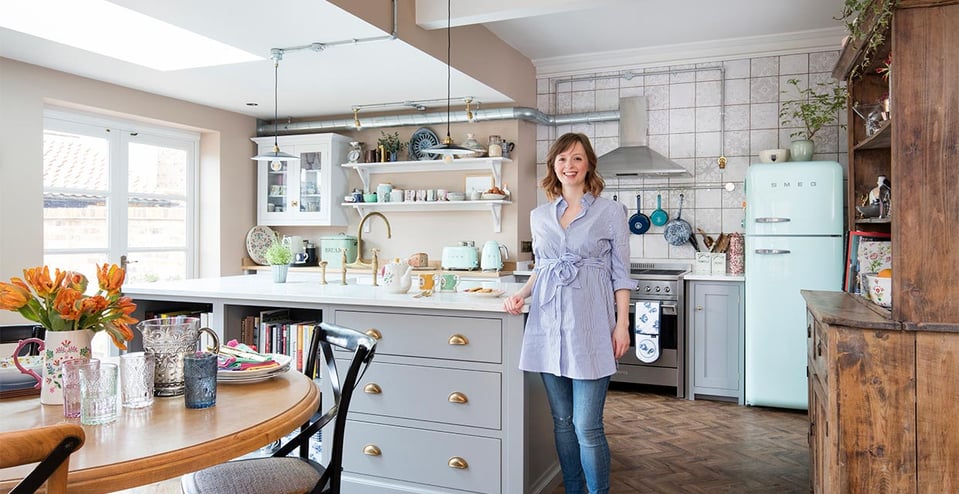 5143 White Attica used in Katie Dawson's Kitchen Renovation
For a soft and soothing kitchen ambience, powder blue is an excellent choice. To complement this gentle shade, consider quartz or porcelain worktops with a marble feel for an elegant and refined look, such as 5143 White Attica and 503 Circa. This style of worktop uses veins and subtle variations to add a touch of sophistication that pairs perfectly with powder blue. To complete the look, incorporate brushed nickel or chrome fixtures for a sleek and polished finish.
Denim blue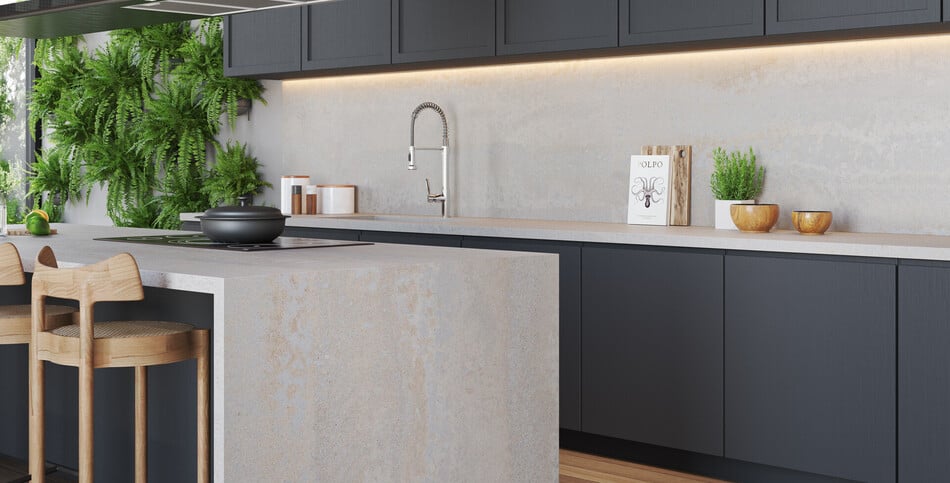 4043 Primordia – Quartz Worktop
Denim blue is a versatile and trendy blue hue that can take your kitchen in various design directions. Combine it with concrete effect kitchen worktops such as 4023 Topus Concrete or 4043 Primordia for an industrial chic aesthetic. The cool, rough texture of concrete juxtaposed with the denim blue creates a modern and edgy vibe. Open shelving and metallic accents in copper or steel further enhance this contemporary look.
Turquoise blue
Bring a burst of energy and vibrancy to your kitchen by using turquoise. To complement this lively hue, pair it with white or light grey worktops such as 110 Whitenna. The combination creates a fresh and tropical vibe reminiscent of coastal getaways. Consider incorporating tropical-themed accessories like palm leaf placemats, seashell-shaped dishes and colourful glassware to infuse a playful and exotic atmosphere.
Cobalt blue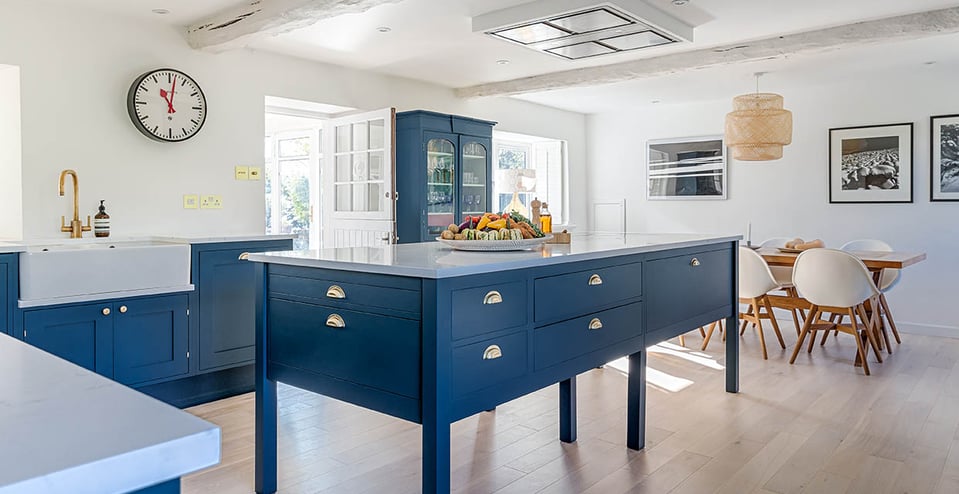 5151 Empira White used in Chef Henrik Ritzén's Caesarstone Kitchen
Cobalt blue is a bold and striking blue that demands attention. To balance its intensity and create a captivating kitchen, opt for white marble worktops, such as 5151 Empira White, or for a warmer base tone, 5121 Layalite, and use the worktop as a continuous splashback for a beautiful look. The stark contrast between the cobalt and white adds drama and sophistication. To soften the look and infuse warmth, include wooden accents and greenery, such as potted herbs or succulents.
French blue
For a classic and timeless choice that exudes elegance and charm, consider French blue. To complement this refined hue, pair it with a white and grey marbled worktop such as 501 Snowdrift. The combination of French blue and the luxurious veining of the worktop creates a timeless and sophisticated kitchen. Vintage-inspired accessories, such as antique brass or pewter fixtures, can enhance the overall charm and nostalgia of the space.
Aqua mist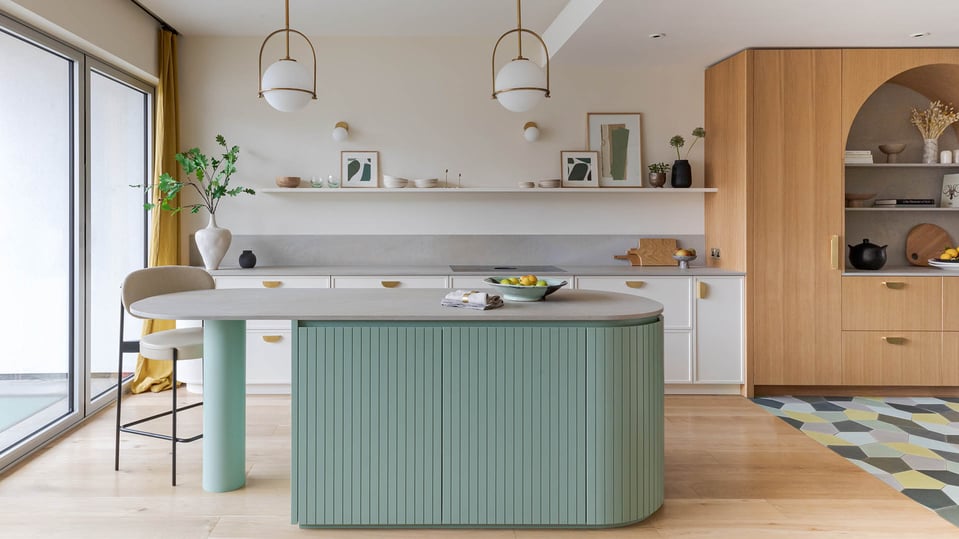 4044 Airy Concrete use in Art-Deco style kitchen in Notting Hill
Aqua mist is a soothing blue-green shade that radiates calmness and serenity. To create a modern and minimalist kitchen, consider combining it with quartz or porcelain worktops. These materials provide a clean and streamlined look that complements aqua mist's tranquil qualities; alternative offering for a textured finish in a lighter shade such as 4044 Airy Concrete or 4011 Cloudburst Concrete offers a tactile contrast whilst maintaining the sedate atmosphere generated by this tone. Glass or acrylic accessories, such as pendant lights and barstools, contribute to the contemporary feel.
How to introduce blue into your kitchen
Using various shades of blue in the kitchen can bring a refreshing and dynamic look to your space. Here are some creative ways to incorporate the enchanting blue hues into your kitchen design:
Cabinet finishes
Choosing light blue cabinetry such as ocean blue can be an incredible focal point of your kitchen, creating a relaxing and airy atmosphere. For a more dramatic and bold effect, choosing midnight navy can add a sense of sophistication.
Why not use more than one shade of blue in your kitchen cabinetry? Having base units and upper cabinetry in different blues can create a beautiful two-toned kitchen. Using a light grey worktop in between can create a balanced and harmonious look.
Worktops
Using a kitchen worktop with a blue hue can also be a fantastic way to introduce this powerful colour into your kitchen. Choose white or grey cabinetry and top it with a blue-tinted worktop such as 533 Silverdrop. You can then use this worktop as your splashback to create a wonderful continuous surface that offers an impressive impact as you walk into the space.
Wall colours
To highlight the blue elements of your kitchen, use white or light grey walls to help your kitchen pop. These neutral colours will create a clean backdrop that will enhance the visual impact of the blue hues.
If you're looking to make a bolder statement, consider painting at least one of your kitchen walls a complementary shade of blue, such as a darker or lighter tone to your cabinetry or worktop. This can add depth and interest to your kitchen's overall aesthetic.
Lighting
Install pendant lights with blue or glass shades that match your chosen blue palette. These lights can serve as eye-catching focal points and illuminate the space with a warm and inviting glow.
Open shelving
Consider incorporating open shelving in your kitchen design. Paint the shelves in a coordinating blue, or use your chosen kitchen worktop to create shelves, to display colourful dishes, cookbooks or decorative items that complement your overall design.
Ready to create your blue kitchen?
We hope you now feel fuelled with inspiration to style your dream blue kitchen. To help you decide on the perfect worktop for your space, request a sample from Caesarstone to visualise it in your home.