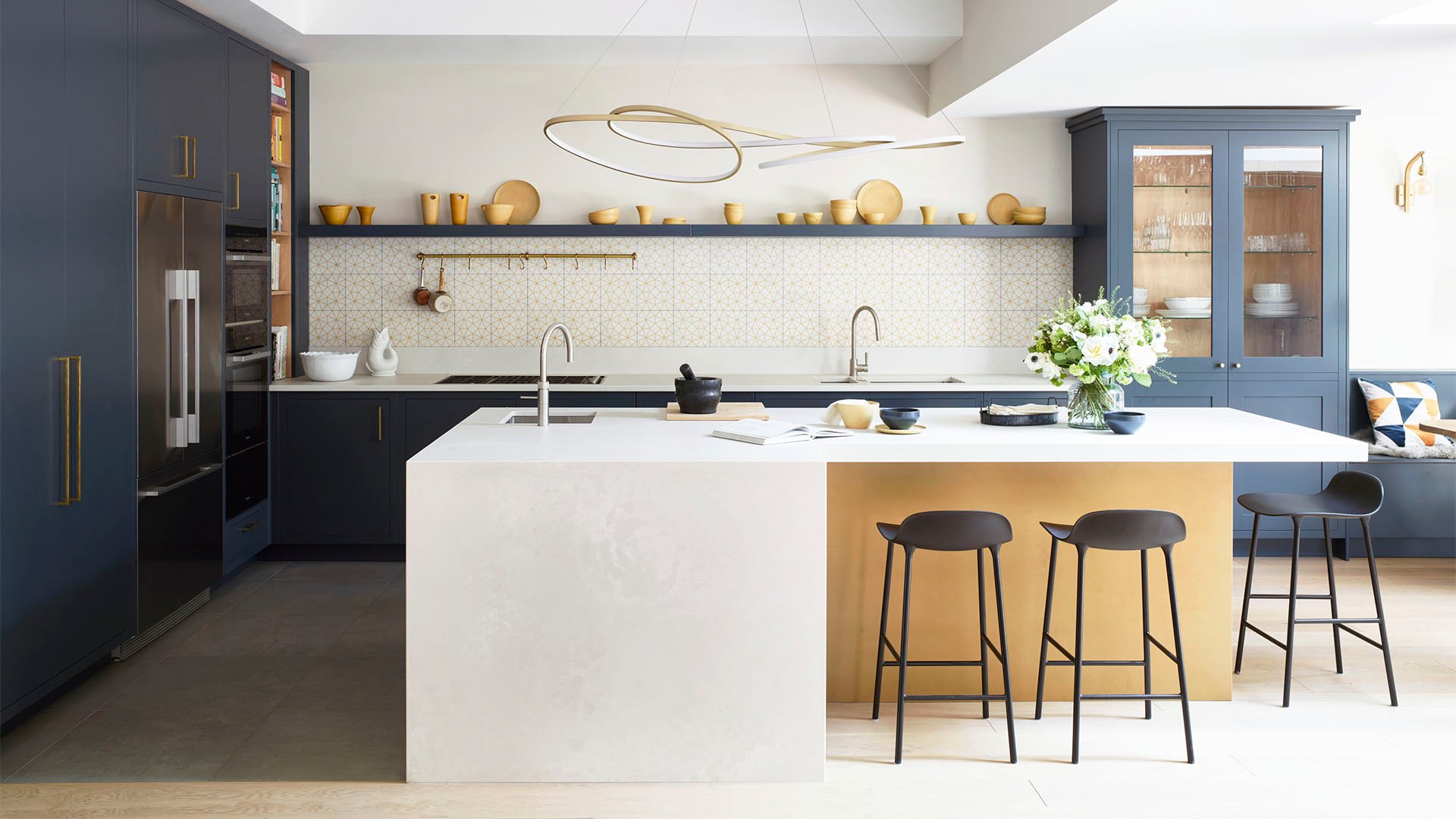 Caesarstone 4011 Cloudburst Concrete worktops have been chosen to complement this contemporary, functional kitchen.
When a young family of three living in an imposing double fronted Edwardian home in Dulwich, South East London, approached Lianne Burrett, Senior Design Consultant at Roundhouse Design, they had a clear idea of the kind of kitchen they wanted - a functional and sociable space for cooking and entertaining with a contemporary look and feel.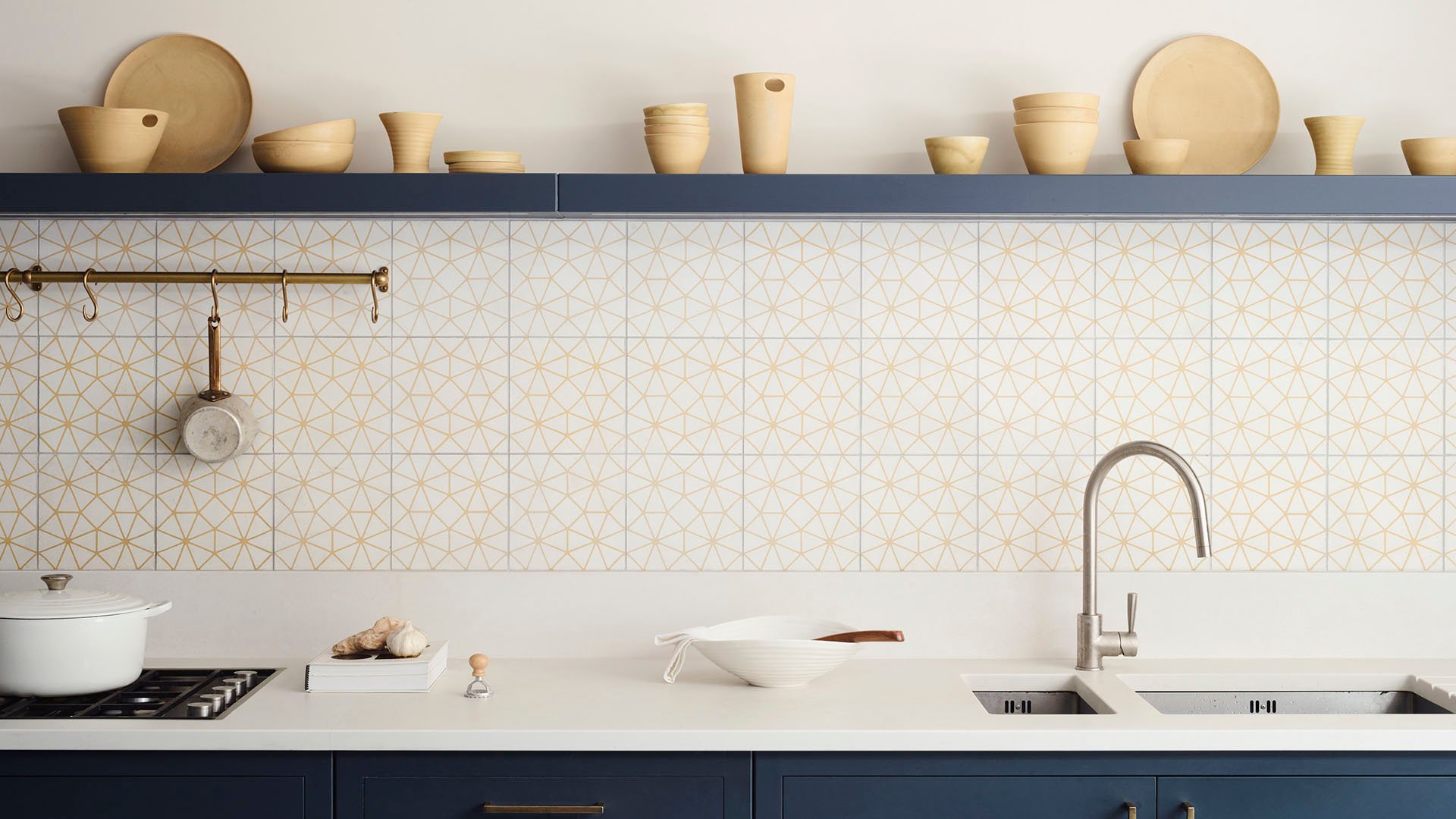 Inspired by the L-shaped layout of the open-plan kitchen, dining and living room, the kitchen design revolves around a generous L-shaped island topped with Caesarstone 4011 Cloudburst Concrete. The ultimate multitasking piece, the island has a waterfall edge, with 4011 Cloudburst Concrete elegantly flowing to the ground and creating a style statement. A beautiful, hand-painted brass-effect panel covers the base of the island, further elevating this popular kitchen design element to a glamorous, stand-out feature. An integrated breakfast bar on the side of the island provides the perfect spot for enjoying family brunches and light meals, entertaining guests and working remotely.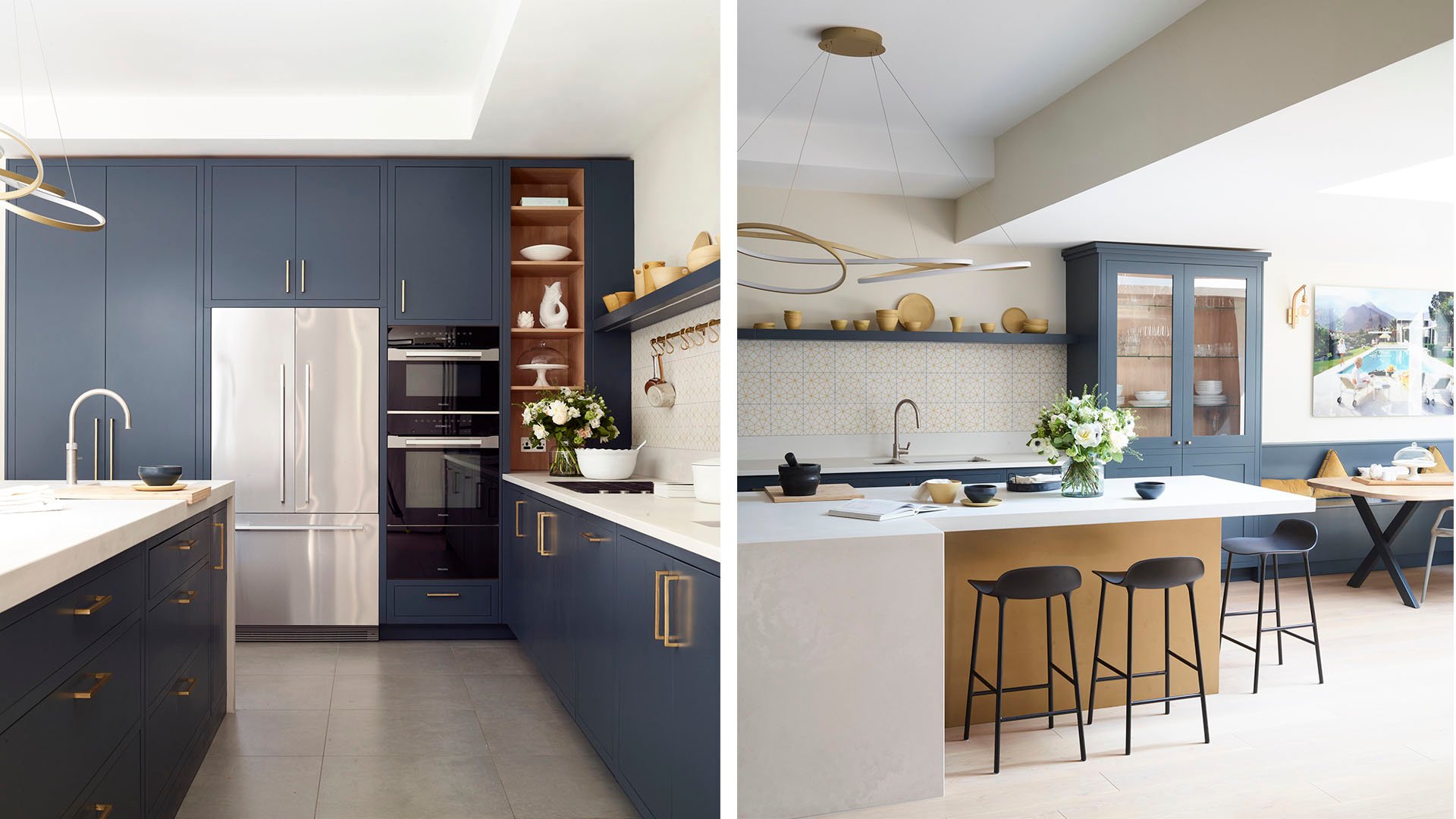 Designed to mirror the shape of the island, the L-shaped cabinetry has been hand-painted in a dark navy colour, providing an elegant and timeless contrast to the gold brassware, lighting and island base, as well as the light concrete worktops. Overlooking the garden, banquette seating has been designed as a seamless transition between indoors and outdoors. Wrapping around the rear glazing, this calming and inviting dining space is the ideal backdrop for family life and dinner parties with friends.
4011 Cloudburst Concrete gives this kitchen a light and contemporary feel. Perfectly complementing the navy and gold colour scheme, its pure white and creamy base reflects the patina of industrial materials, capturing depth and movement. Commenting on her choice of worktop for this family kitchen, Lianne says: "The range of finishes available within Caesarstone's collection was an immediate draw for the clients. The material allowed us to craft a unique island shape while ensuring the design's high-quality execution."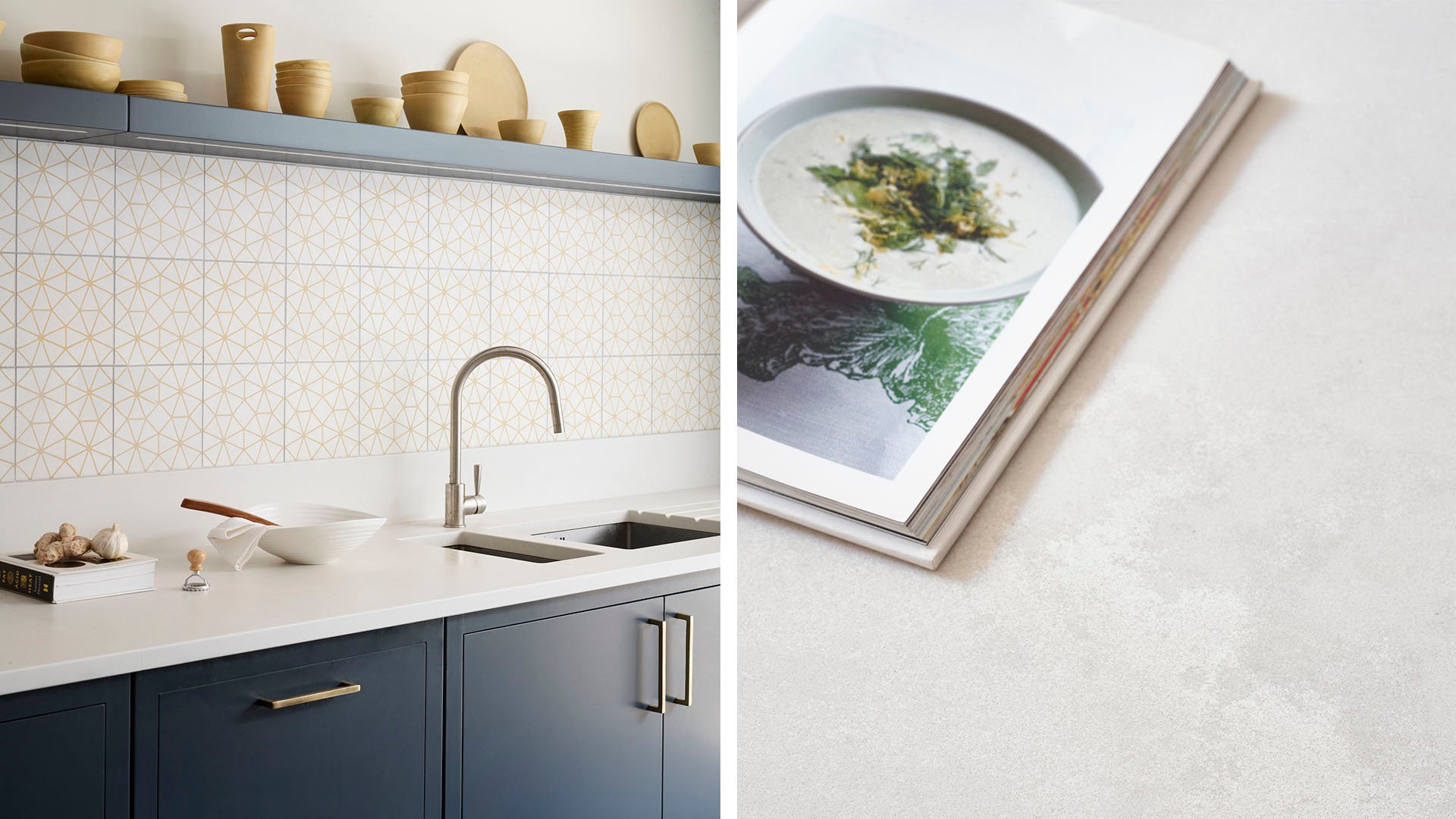 Caesarstone surfaces are years in the making. The talented in-house design and R&D teams dedicate thousands of man hours to exploring trends and technologies, developing products that meet current needs and promote new ones. Constantly inspired by the outside world, from natural stones to desert landscapes, Caesarstone continues to innovate its design collections with new colours, patterns and finishes that excite and inspire consumers. It is this passion, knowledge and expertise, combined with Caesarstone's unique manufacturing process, that place the brand at the forefront of the surface industry, delivering an unparalleled choice of designs and quality that stands the test of time. Alongside its Lifetime Warranty, customers can be reassured that its surfaces will remain safe, durable, and timelessly beautiful.
Caesarstone's durability, non-porosity and low maintenance are unmatched. Lianne shares: "The selection of Caesarstone as the worktop was primarily driven by the need for durability in a family-friendly and entertaining-oriented space. It was crucial to choose a surface that would look great for years to come, without the owners having to worry about stains or scratches".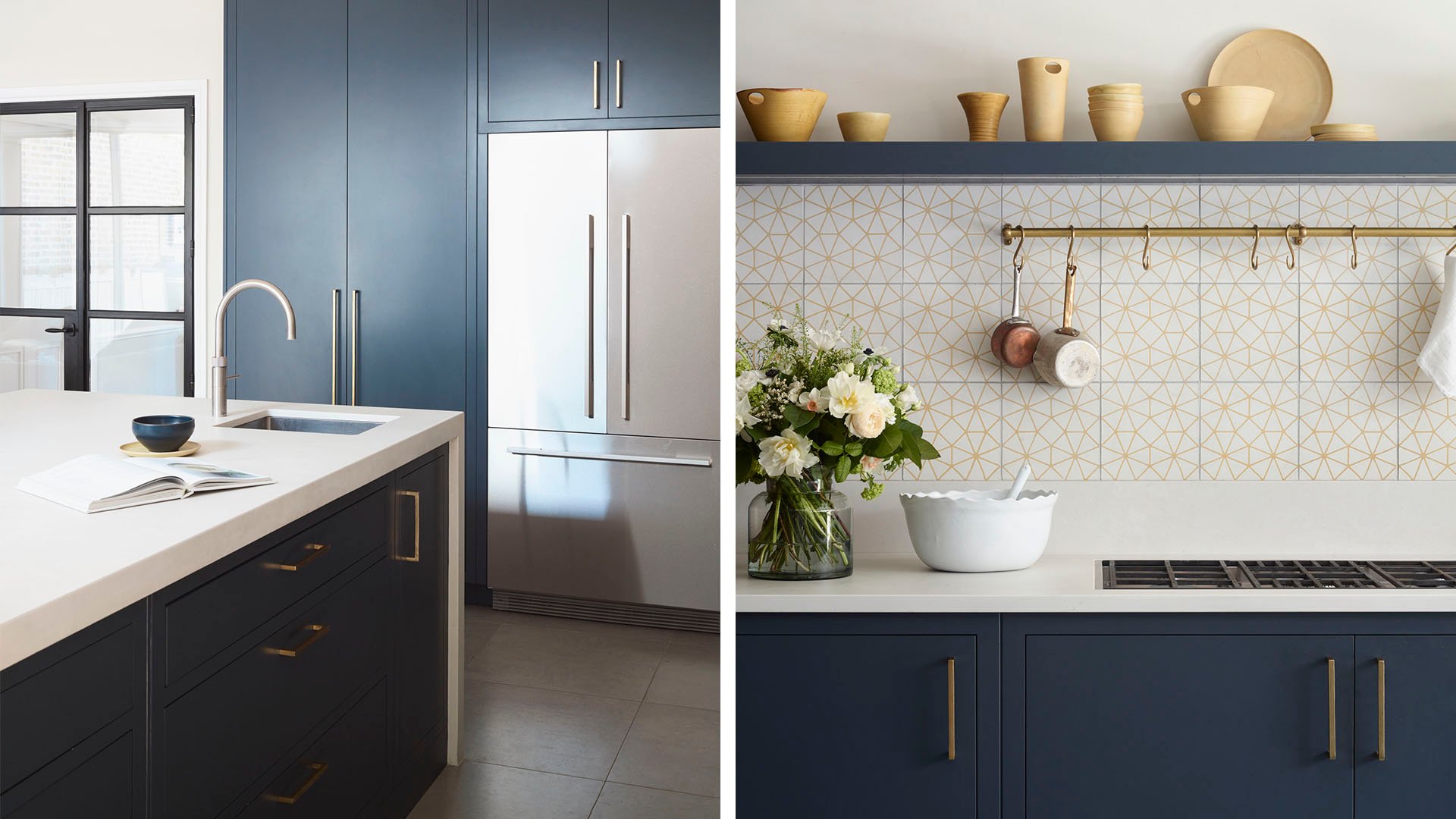 Caesarstone surfaces are heat, scratch and stain-resistant. More durable than natural stone, they require virtually no maintenance, so you will never have to think about marks, chips or costly sealing. Moreover, all Caesarstone surfaces are covered by a one-of-a-kind lifetime warranty, reassuring customers that their worktops will remain safe, durable and timelessly beautiful.
Are you thinking about a kitchen renovation? You've come to the right place. Explore Caesarstone's surfaces using our colour catalogue or take our style quiz to discover the interiors that best suit you. You can also order a free sample of your favourite colourway to get a taste of your new surface.
Photography by Mary Wadsworth
Topics