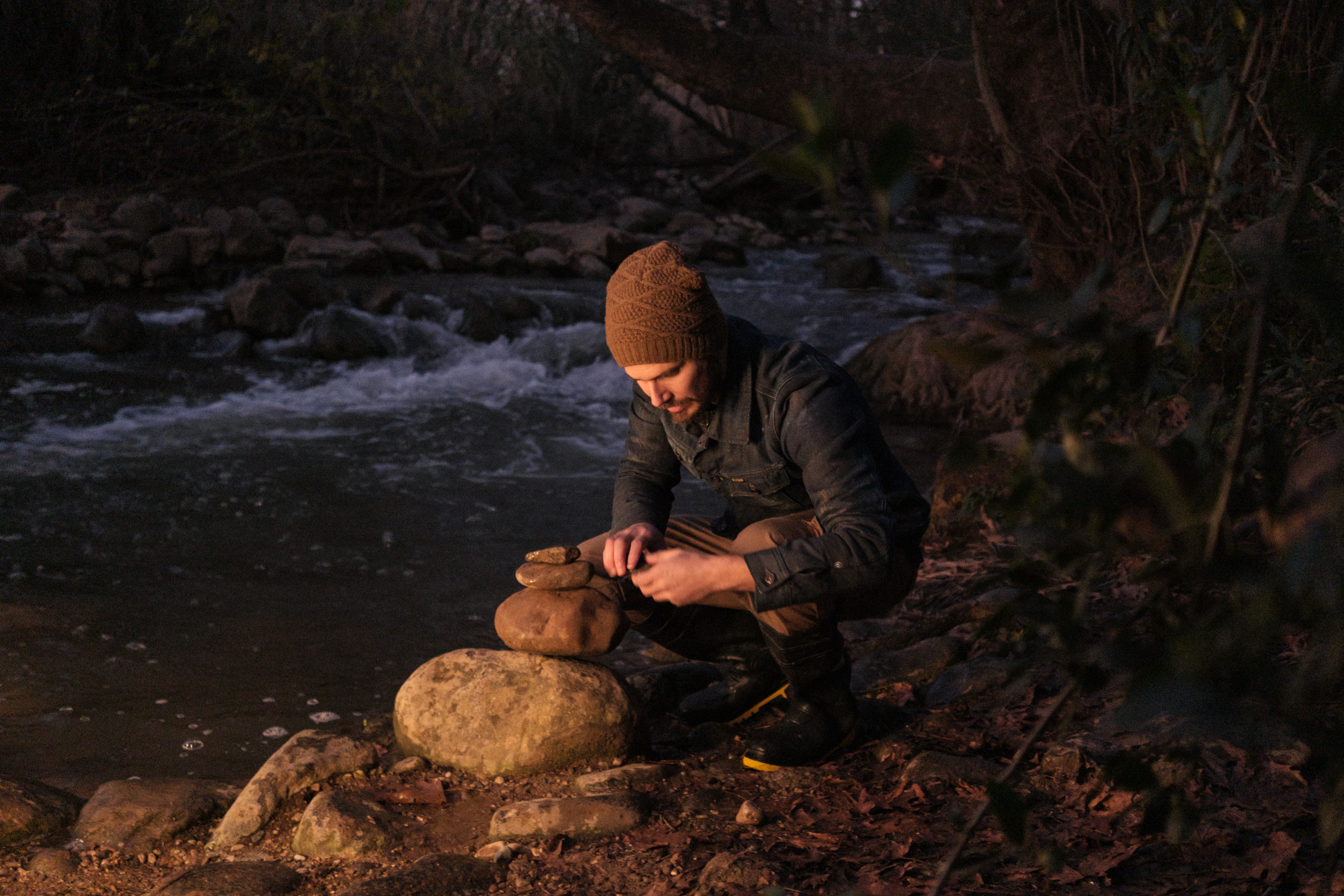 Slowly smoothened over time, the humble pebble is special and distinct, it's a handful of nature that you can hold, like the earth offering a tangible part of itself to you. And just like these self-effacing rocks that are ceaselessly shaped by the force of wind and the flow of water, Caesarstone's new Pebbles Collection captures the tactile memories of the earth's movement.
Crafted to perfection, this collection features a dynamic palette of warm, grey monochromes, laced with subtler hues within the distinctive textures. Soft to the touch yet hard like stone, these organically designed, sustainable surfaces have inspired Caesarstone to celebrate nature's never-ending transformation, making them the perfect pairing for the heart of your home.
The inspiration
Mor Krisher, Head of Design, always begins the design process of any Caesarstone worktops by first considering the world outside our windows. Exploring the motion and beauty of a sandy coastline, the stillness and calm of the desert landscape, or the urban textures and patinas seen in towns and cities. Everyone yearns for a connection with the natural world, abandoning the sterility and coldness for a ceaseless bond between interior and exterior spaces.

As Caesarstone turned to the humble pebble, they recognised that there is a history behind each stone, a record of nature's transformative processes that can be felt in the palm of your hand. Under the impact of great natural forces, the pebble becomes soft and smooth to the human touch, yet under careful observation, this modest stone reveals subtle veins or capillaries and gentle tonal shifts, hinting at the intricacies found in nature.

Whilst picking pebbles from the riverbank, Caesarstone took note of each one's individuality, the tactility, form and tones may differ, but each evokes the sensation of a natural journey. They sought to create a suite of designs notable for their calm, soothing, and seemingly simplicity. Introducing colour palettes that range from a light, almost white surface with an on-trend look and complimenting finishes, through various shades of grey, including a cool grey and a warmer concrete-like grey, with transparency and depth, to an especially dark grey, which has also been given a contemporary twist.

The contrast and balance between simplicity and complexity in the pebbles were truly captivating, forming the inspiration behind their new Pebbles Collection.
Get a closer look at Caesarstone's newest Collection…
1001 Riverlet
1001 Riverlet is a soft frost colour, warmed by the discrete brown veins that are finely dispersed throughout this surface. Its clean and contemporary honed finish helps to reflect the light back into the kitchen, breathing new life into your entire space.
This shade lends itself to lighter palettes such as pastels and muted colours to make the room feel fresh and airy. However, this versatile colour also pairs well with walnut browns and sage greens making it ideal for any modern kitchen. Combined with white hardware or brushed steel, you can complete a serene and peaceful look, giving your kitchen a warmer, more minimalistic feel.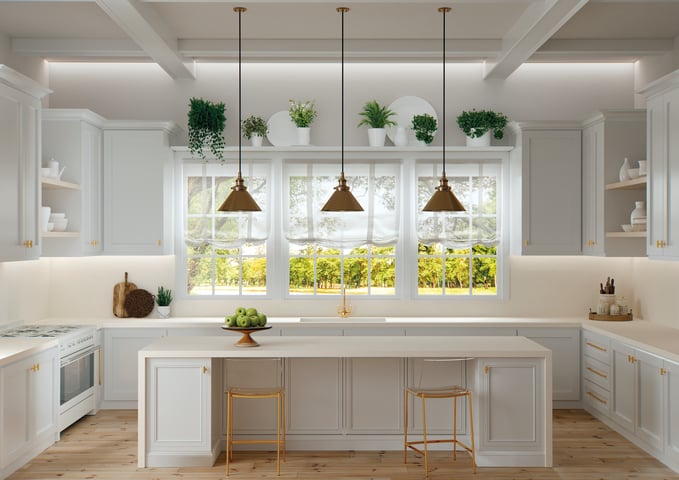 1001 Riverlet
1002 Wyndigo
Like a pebble that has been exposed to wind and rain, 1002 Wyndigo's distinctive look beautifully captures nature's earthy gradients. These salty impurities materialise as foam grey capillaries across its beige base that are accentuated by the surface's texture for a truly authentic presence.
From warm neutral monochromes and walnut cabinetry to slate tiles and concrete flooring, this adaptable shade works with you to present a clean slate in which to mould your space into your dream kitchen no matter what your style. Whether you opt for brushed brass to add a slightly industrial edge, or linen upholstery to give a softer touch.
1003 Raindream
This stone kitchen worktop is a stunning slate grey with smoky capillaries that finely outline its lighter tones. This adds extra depth to its profile, whilst its polished finish captures the smooth surface of wet river stones, amplifying the luxurious colour.
Reflecting the trend towards modern grey kitchens 1003 Raindream works with concrete or slate flooring, dark cabinetry and brushed gold fixtures, easily evaluating your kitchen from its core. And the subtle introduction of woodgrain into these darker tones reconnects the pebble surface with its natural origins, allowing it to embrace complementary shades such as ash and walnut.
1004 Stoneburst
Taking inspiration from a pebble's mottled appearance, 1004 Stoneburst's visual texture is enriched by calming grey markings throughout its finish. This stone worktop is a versatile neutral, blend of beige and taupe, and works well with white tiles and blonde woods.
Its greenish notes however also make it the perfect companion to light pistachio kitchens. Matte porcelain items and appliances help complete a casual interior, and when layered with other lighter shades, the monochromatic palette becomes soothing, creating a flawless space to cook and socialise.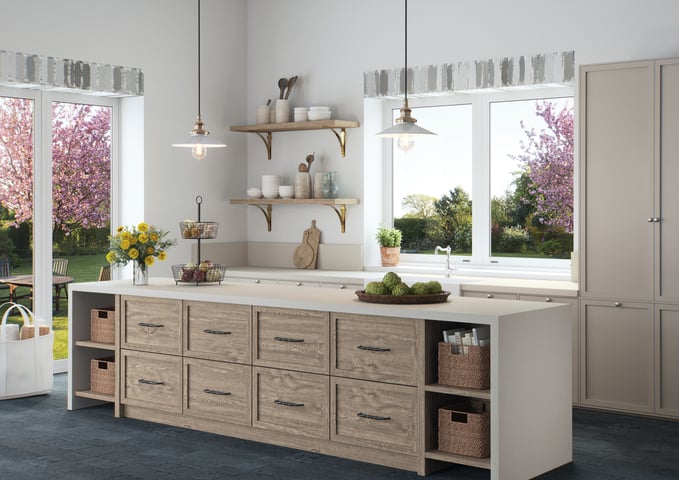 1004 Stoneburst
1006 Agger Grey
1006 Agger Grey offers your kitchen a grey smoky base with clay undertones, making it a welcome contemporary choice for any home. Its supreme finish and fine white veins faintly dissolving into a richly layered base gives this satin surface a real sense of depth and organic essence.
This stone-inspired canvas is perfect for urban kitchen designs as well as renovated country houses. It can seamlessly pair with both metropolitan style lighting and classic grey wainscoting or glazed green tiling and olive painted cabinets, making this impressive surface flexible enough to suit a whole range of personal styles.
1006 Agger Grey
Caesarstone worktops are meticulously designed and carefully inspected to ensure they meet our exacting standards of quality. Resistant to stains and scratches, all our surfaces are easy to care for and maintain, but to give you that further peace of mind, Caesarstone place an extensive warranty on all our residential surfaces, allowing you to relax, knowing you're kitchen is in safe hands.
Topics