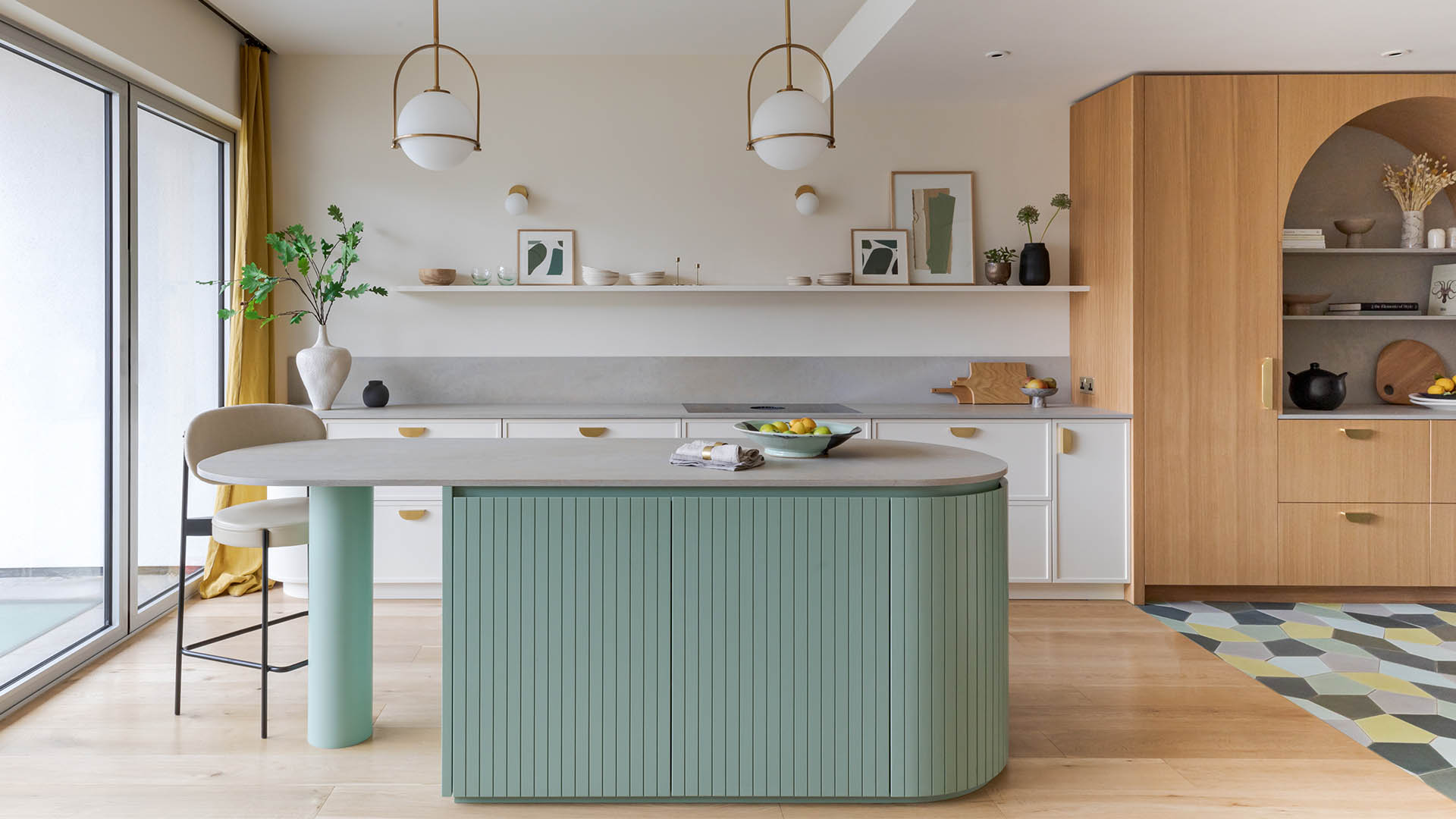 Kate Feather Kitchens recently gave this Notting Hill kitchen a complete overhaul, creating a space full of colour and character that is also perfectly suited to the family's needs. Caesarstone's 4023 Topus Concrete surfaces were the perfect choice of worktop, adding another layer of texture and interest to this beautiful space.
When the client approached Kate Feather Kitchens, they knew exactly what they wanted; an art-deco inspired kitchen complete with curves, colour and concealed appliances. The young French family, with three daughters, felt their previous space wasn't very conducive to their living needs as a family so Kasia Piorko, founder of Kate Feather Kitchens, worked closely with the client to reconfigure the entire kitchen and create a space much better designed for family living.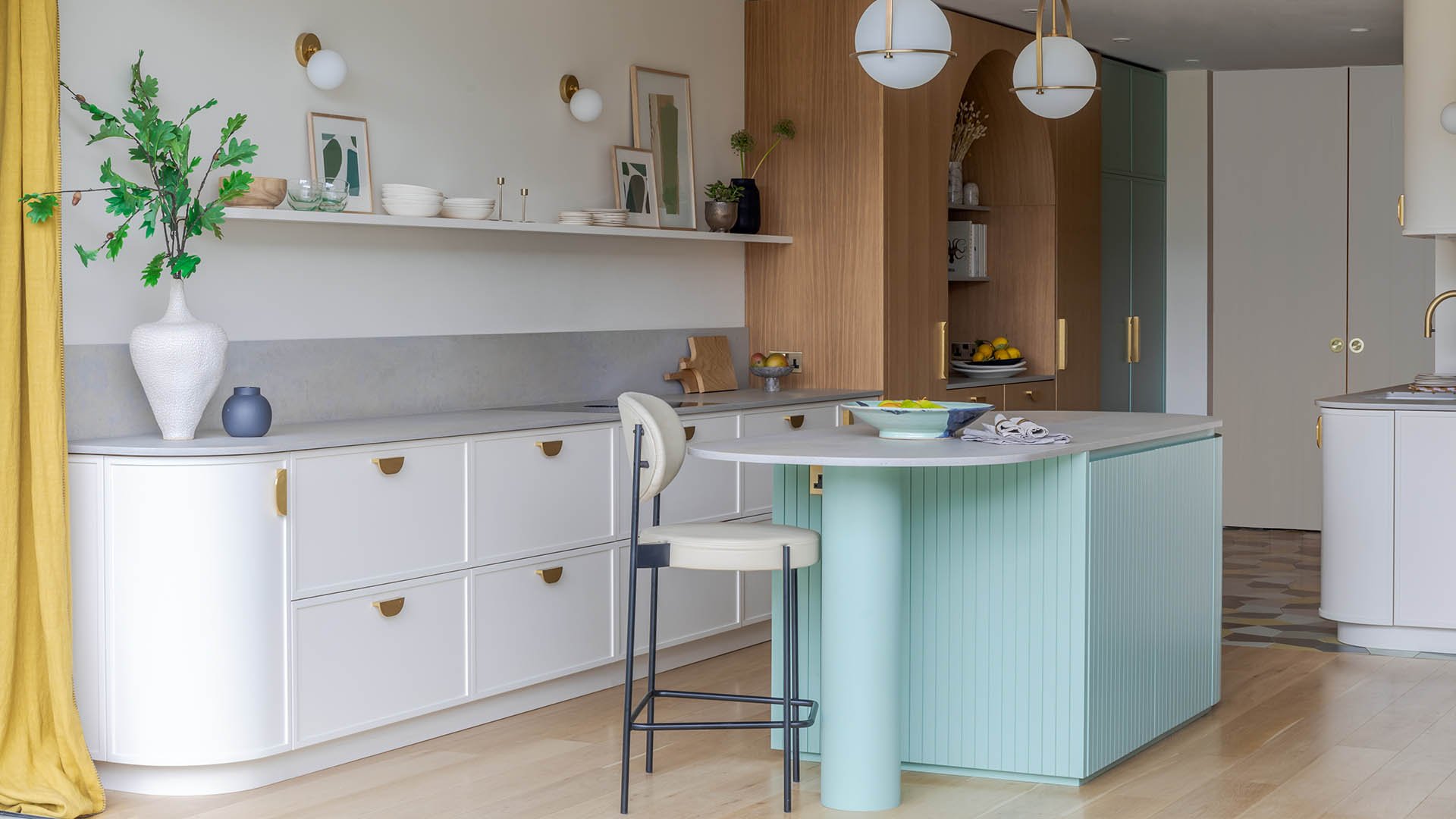 While the Client was very engaged in the design process and had strong opinions on colours, tiles and light fittings, Kasia was fully trusted to design the overall space, ensuring it was both practical and beautiful. One of the client's main wishes was to have a kitchen devoid of clutter, as such, clever storage solutions were incorporated cleverly into the design. These features include; a long run of cabinets painted in white; a large pantry cupboard complete with neat storage solutions, making ingredients easily accessible; a cupboard that allows the blender and Thermomix to remain plugged in, but out of sight; as well as lots of hidden storage in the island.
One of the main stand-out elements within this kitchen comes in the form of the grand arched oak unit. Designed to look like a freestanding unit, this piece adds a wonderful natural warmth and character to the space, whilst disguising the cleverly integrated fridge and freezer. In the centre of this wonderful bespoke piece is a display space which is perfect for providing the family an area in which they can display personal effects and add a homely note to the kitchen. The back and shelves within the interior of the arch have been made in Caesarstone 4023 Topus Concrete and contrast wonderfully with the natural oak of the arch.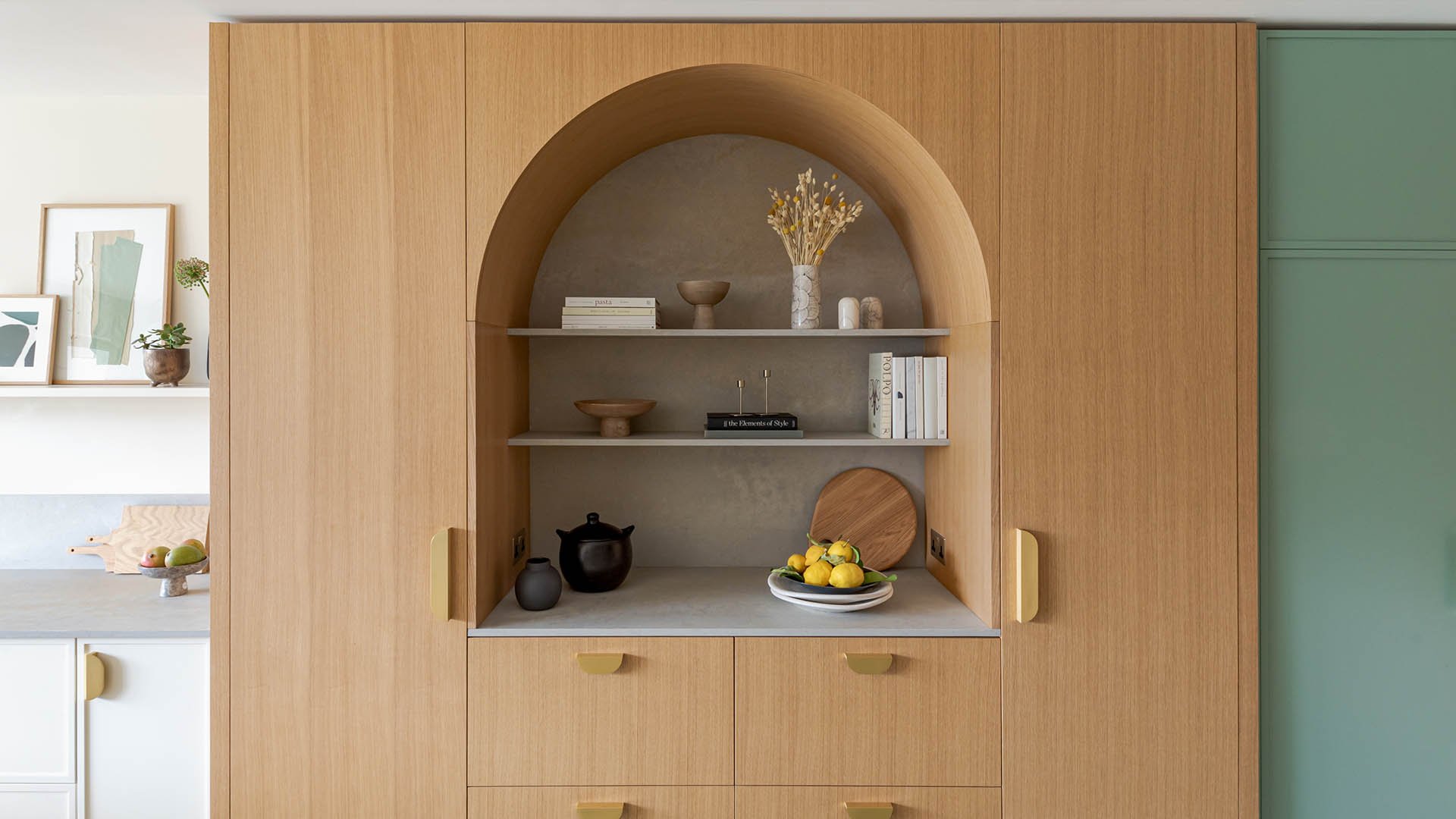 The curved and reeded island is yet another striking design element within this kitchen. Painted in Little Greene Aquamarine Deep 198, the island is a wonderful addition of colour and the main hub of the kitchen. As well as additional storage, the island has been designed with room for a breakfast bar and two stools making this space perfect for socialising, family time, homework, or homeworking. The curvature of the design helps to soften the otherwise angular lines of the space and create an inviting environment for free-flowing socialisation and family time. This is enhanced by the full-width doors that lead straight on to the garden, further cementing the kitchen as the main family-living hub within this home.
With plenty of worktop space throughout it was important that the chosen worksurface further complemented the scheme, whilst maintaining the practicality of the space. When speaking of the reason for their surface choice Kasia commented "We presented the Caesarstone 4023 Topus Concrete sample to our client and they immediately fell in love with it. The blush tones, rough texture and mottled pattern totally won them over. Topus Concrete works exceptionally well with the colour palette of the scheme and complements the overall ambience of the design."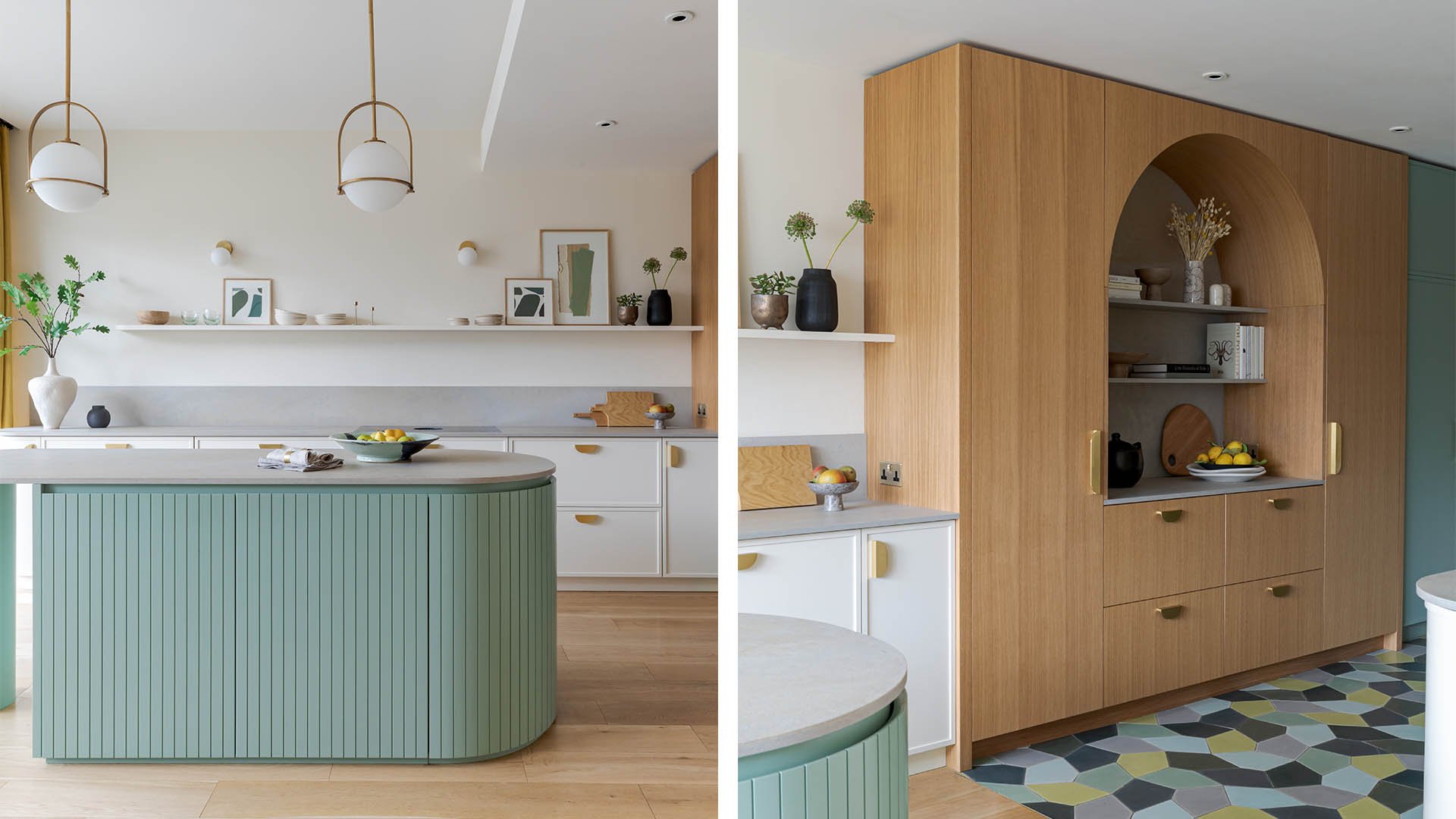 Kasia, having used Caesarstone in multiple projects previously, was aware of the benefits of choosing a Caesarstone surface. When asked why she selected Caesarstone she explained "Caesarstone have a vast range of surfaces to choose from and I knew I needed something with wow- factor for this project. Topus Concrete was the perfect solution for adding texture and muted, pastel colour to this kitchen. Quality is also of the upmost importance when I design a kitchen and Caesarstone surfaces are second to none, not just because of their beauty but also because they are extremely durable and easy to clean and maintain."
Topus Concrete is one of the many colours that form part of Caesarstone's Metropolitan range. This collection of surfaces has been designed with urban colours and textures in mind, perfect for adding a more tactile and industrial edge to any space. Topus Concrete is a Concrete-inspired quartz surface design with a neutral, blush undertone that echoes the pastels of contemporary interior design. Finished with an authentic rough texture, this surface is perfect for adding extra depth to any kitchen design.
The end result is a practical and clutter-free kitchen, made totally unique by its striking art-deco theme and beautiful bespoke design.
Photography: Birgit Mons
Kitchen Styling: Anja Inderst
Topics