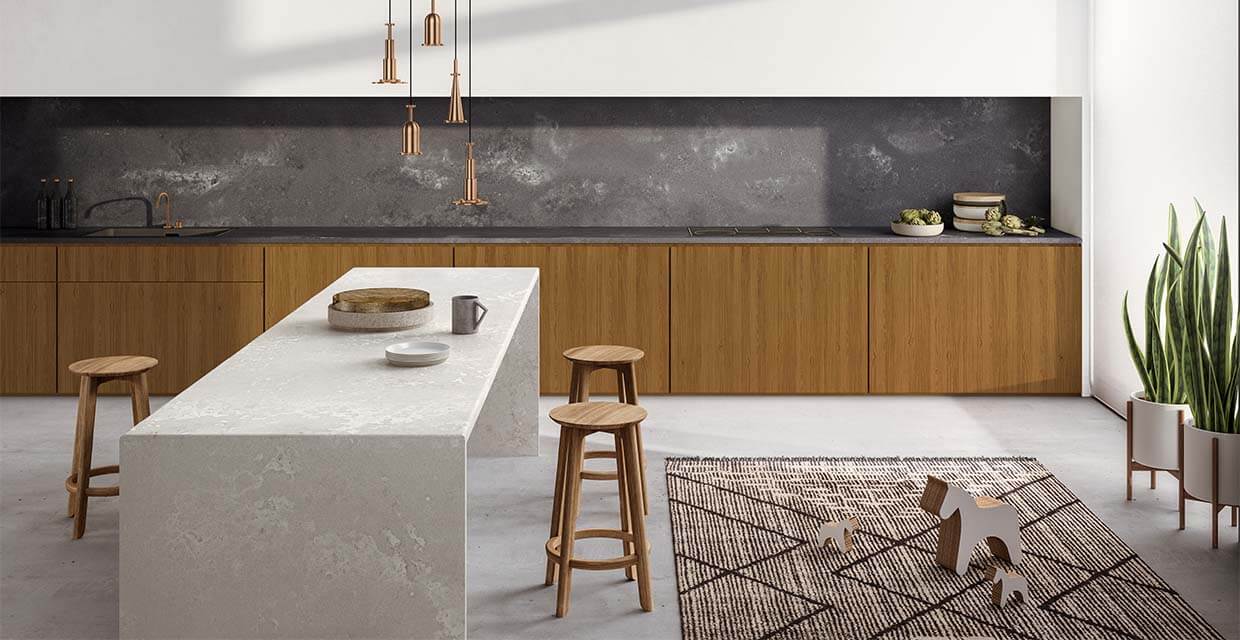 It is often said that the hardest working tool in any kitchen is the worktop, which gets exposed to multiple food stuffs and liquids spills as well as receiving countless knocks from any number of utensils. So kitchen worktops need to be resilient, able to withstand life in the hardest working room in the house. Given that it's going to get messy, easy cleaning is also an important consideration.
Then there is style. Trends come and go, although there are some perennial favourites when it comes to kitchen countertops. Given that the material now typically extends through upstands, splashbacks, over large island units and to the floor via waterfall ends, the selected surface plays the star role in the overall look of the finished space. No wonder people tend to start with the work surface when designing their new kitchen and that it now represents around 20-25 per cent of the overall cost.
The aim, then, is simple; to pick a robust and long lasting, functional and easy to maintain worktop material that is also beautiful and able to transform any kitchen space from so-so in to jaw dropper.
While there are more than a dozen choices of material available on the market for kitchen countertops, we're going to focus on the three that primarily deliver against the criteria and that also represent primary trends in the market and the fastest growing categories.
Marble Worktops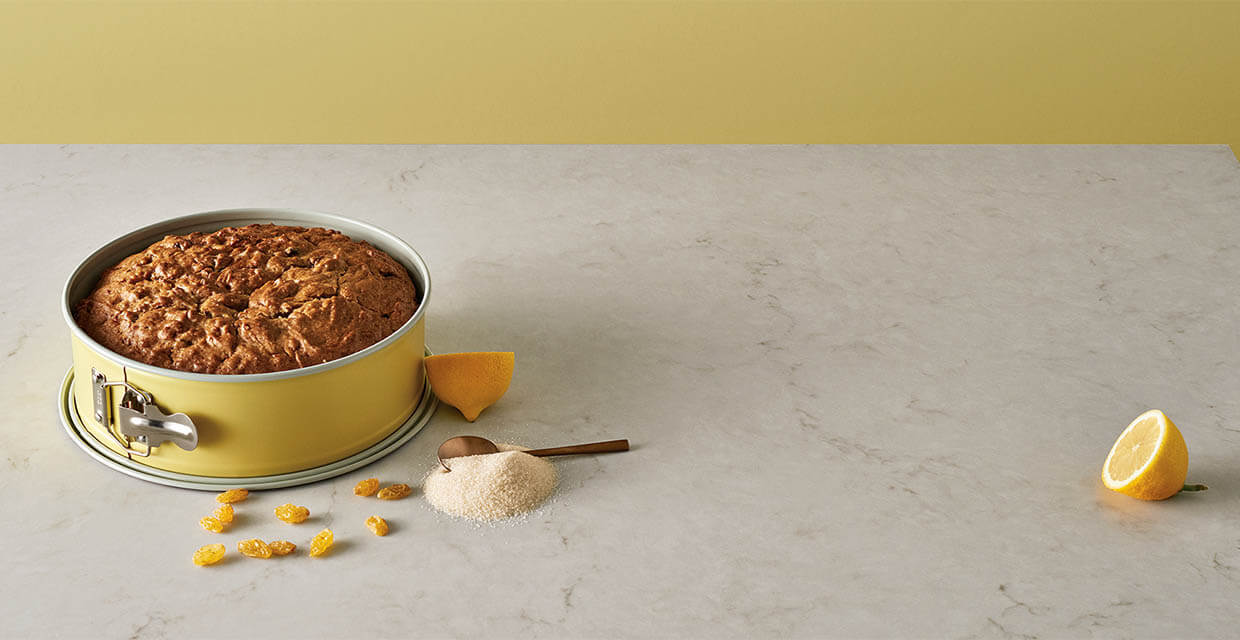 5000 London Grey worktops are a hard-wearing and beautiful alternative to natural marble
Popular for many years, it is fair to say that marble surfaces are rarely ever out of fashion. Epitomising classic elegance, marble delivers real opulence to interior design schemes. While predominantly known for being white, marble is also available in greens, greys and blacks, while patterns range from high contrast prominent veins to far more subtle tonal patterns.
Limitations with marble are well documented. It is relatively soft making it susceptible to scratching, chipping and cracks following heavier impacts. Marble is also porous, which makes staining an issue. Red wine, lemon juice and turmeric are all everyday items that are going to cause problems for your marble tops and even some harsher cleaning products do more harm than good. Once damaged, it can be expensive and sometimes impossible to fix. Its porous nature can also make it a haven for bacteria, although a good twice yearly sealing can help reduce this chance.
Granite Worktops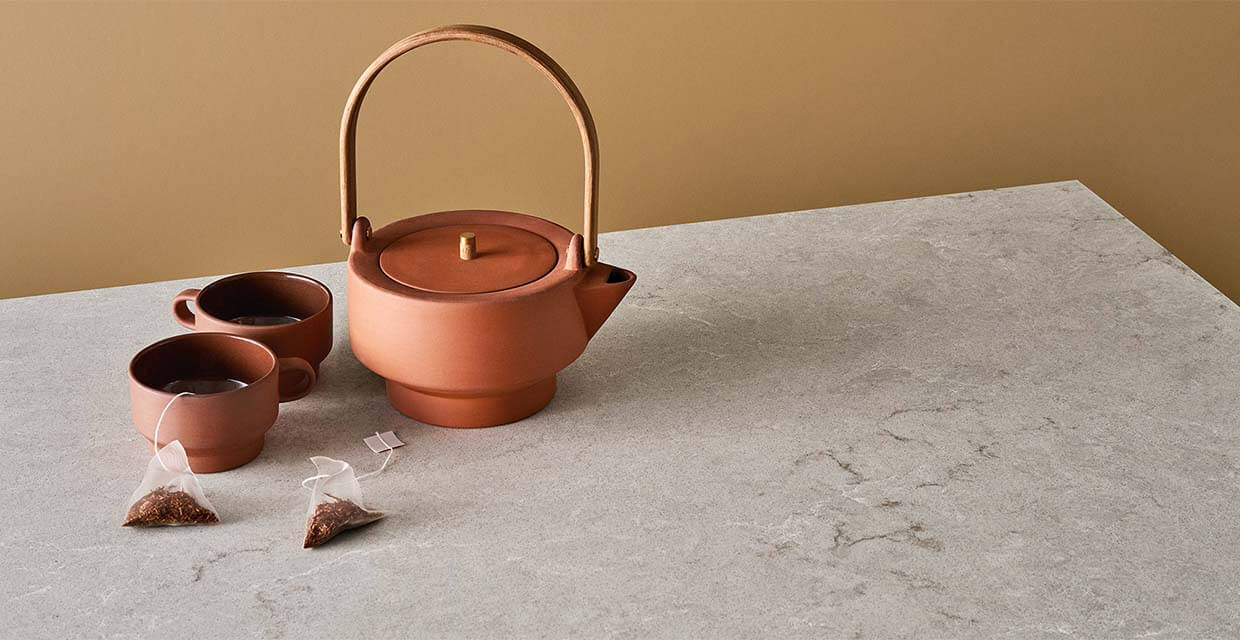 Modern quartz worktop surfaces such as 6131 Bianco Drift capture the aesthetic of natural granites
Granite is traditionally more prevalent as material for kitchen counter tops than marble, and is slightly less porous, generally requiring sealing once a year. It is also harder than marble. However, as a natural product quarried from the earth, its strength and structural integrity can vary, with some slabs more susceptible to damage than others due to hidden fissures and flaws. Each slab is unique and can vary in appearance. There is not the range of colours and patterns that can be found in other worktop materials and granite. In markets like North America, Granite has been superseded as the material of choice by modern quality quartz products.
Quartz Worktops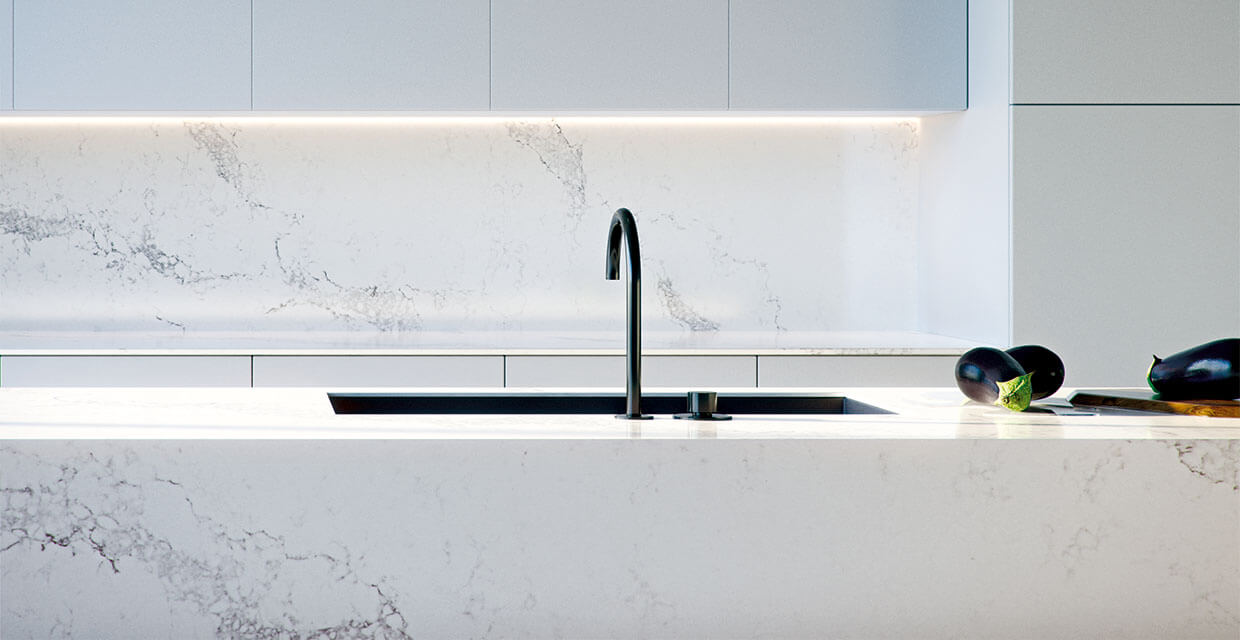 For a resilient kitchen surface that captures the look of marble consider 5031 Statuario Maximus quartz worktops
Quartz, sometimes known as engineered stone or composite stone is one of the fastest growing categories of kitchen worktop, not least due to its technical properties. High quality surfaces use around 93 per cent natural quartz, one of nature's hardest materials, which makes the finished countertop extremely durable. Not only is it scratch resistant but it is also virtually non-porous. Therefore staining issues associated with natural granite, marble and concrete tops are not an issue. Daily cleaning requires little more than a mild detergent and a clean damp cloth. Its non-porous properties mean that it never needs sealing and it remains one of the most hygienic surfaces available for kitchen spaces. The leading brands will also invariably come with long warranties too.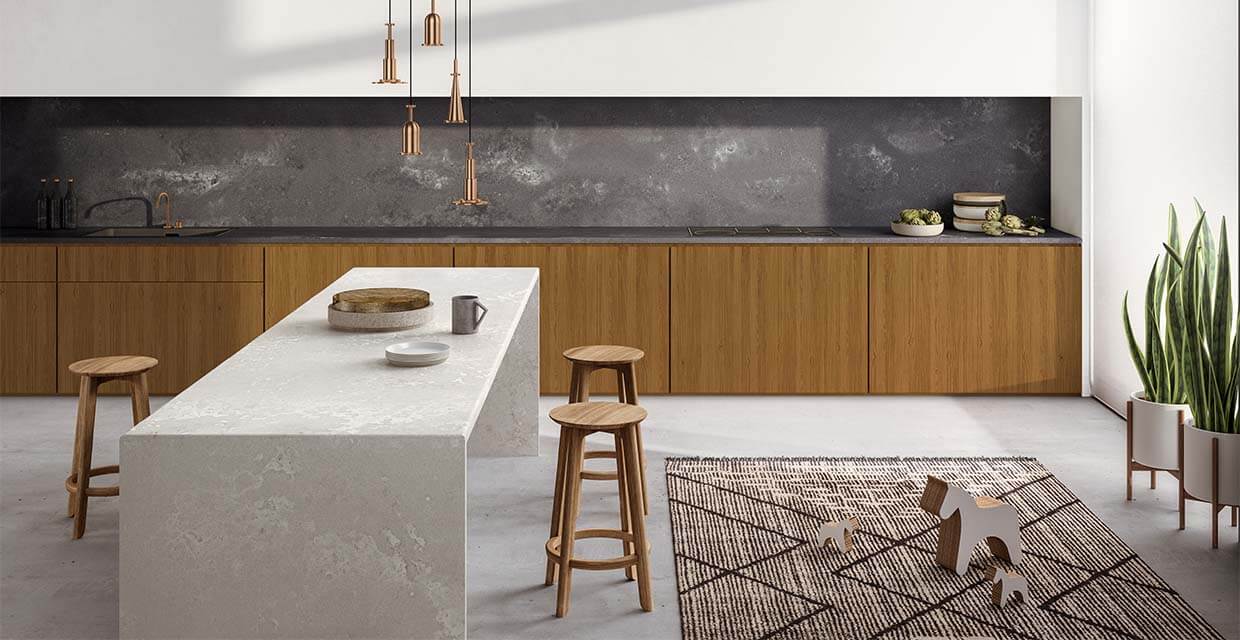 As well as quartz surfaces inspired by marble or granite worktops, modern technology has seen the introduction of poured concrete finishes
Where quartz really comes in to its own is in terms of choice. Quartz surfaces are available in a vast array of colours and patterns with the high end brands designing surfaces that are indistinguishable from natural marble and granite. Advances in quartz technology has also seen the development of finishes with unique textural movement and patinas capturing the look and feel of surfaces such as poured plasters or raw concretes, idea for industrial or urban themed interiors.
Use our visualiser to try out new kitchen design ideas >>
There seems to be little doubt about why quartz worktops are fast becoming the UK's favourite. This surface is resilient, has a superior colour palette with a wider choice of patterns, whilst being far more resistant to staining, chipping, cracking and scratching. Many kitchen owners are happy with marble or granite worktops but the added benefits of quartz worktops, without the flaws of the two former materials, ensure quartz as a material winner.