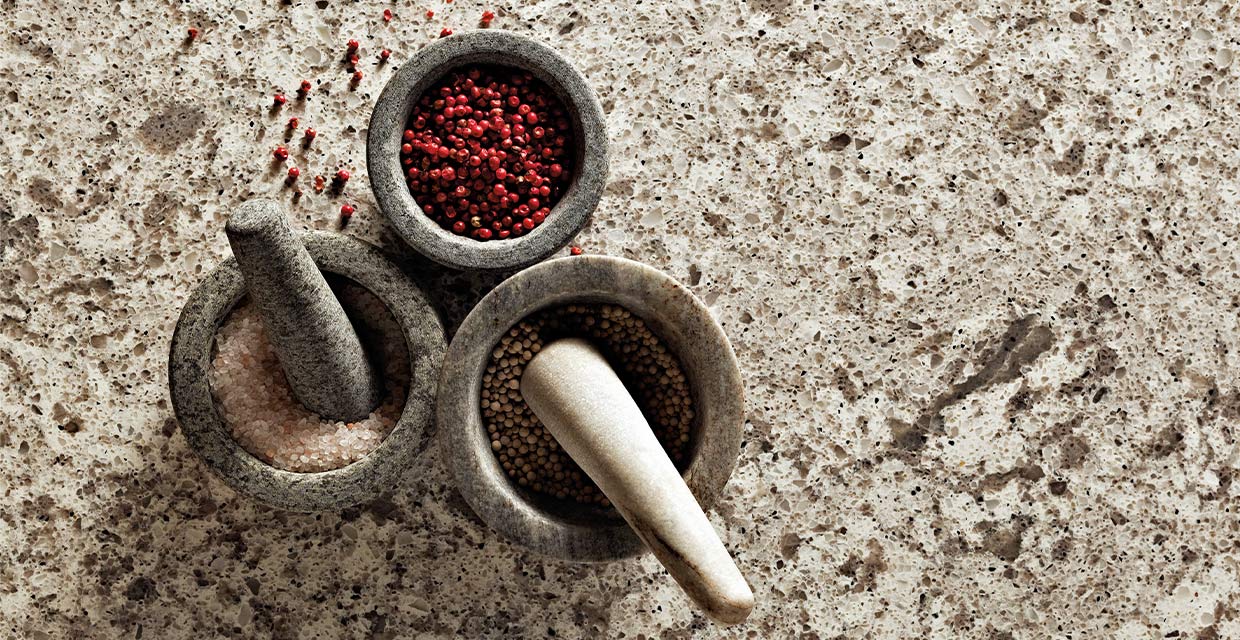 Your choice of worktops can have a huge impact on the overall look and feel of the kitchen. As well as being durable and hardwearing, kitchen worktops will influence the aesthetic appeal of the finished design. Which is why it's important to take extra care and time to select the best surfaces for your needs. It's all too easy to focus on the furniture and leave the worktops as an afterthought but by ensuring you research all the options before you begin, you can achieve the best possible look and feel for your new dream kitchen.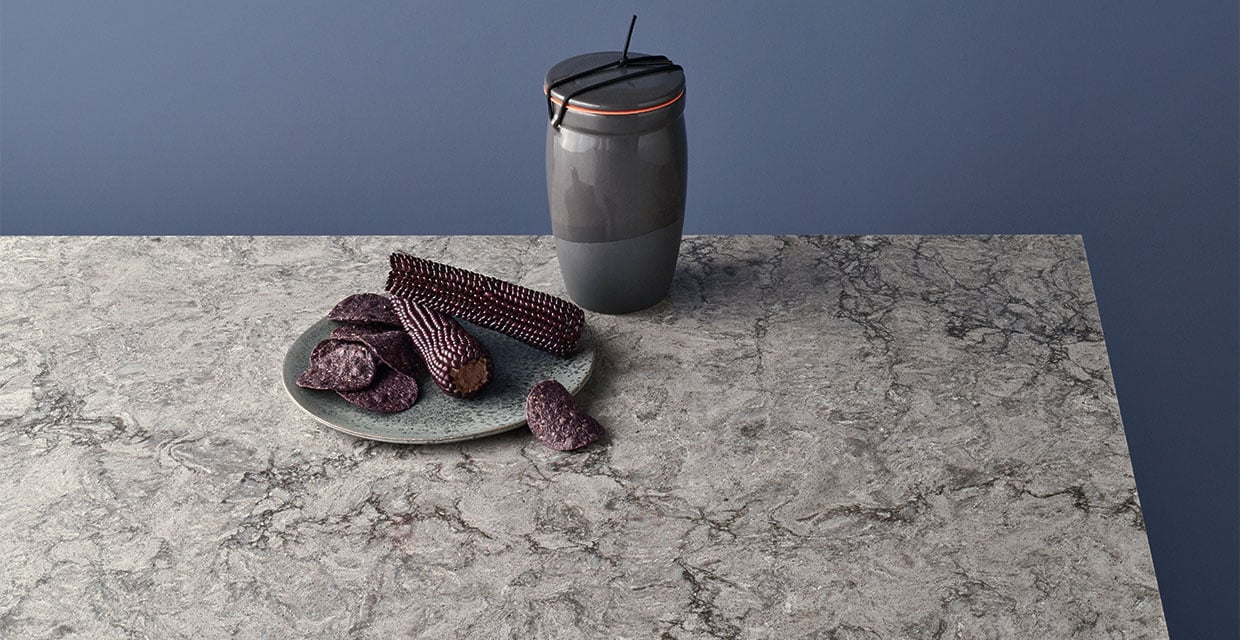 A Turbine Grey quartz surface delivers a natural stone aesthetic, perfectly for those desiring the look of granite worktops
Material matters
Whilst solid wooden worktops certainly have their place, being the perfect complement to classic cabinetry; many homeowners choose natural stone for its inherent beauty and strength. Marble is a good option for home bakers, as its cool surface is ideal for rolling pastry, while limestone is increasingly popular as it offers a similar look for a lot less. The look of choice in today's busy kitchens however is often for a granite effect and when it comes to complementing or contrasting coloured or neutral cabinetry, granite worktops provide endless possibilities in terms of design and styling. The finish will never fade; it's stain-resistant and can cope easily with hot pans and food prep. You can even chop vegetables directly on the surface without worrying about making marks. Another advantage is that each slab will be different to the next, which helps to create a truly unique finish for any scheme.
Yet while there are agreeably many benefits to natural stone, there are some downsides, too. Granite is porous so if not sealed properly, it can absorb wine, juice or oil, which is impossible to remove. Ideally, granite worktops need to be resealed on an annual basis, which can be a hassle and easy to forget. Another concern could be cracking or chipping if something heavy is dropped onto the surface and prices are often high. For those looking to balance the budget, this can make granite worktops out of reach.
Use our visualiser to try out new kitchen design ideas >>
Alternative solutions
For all the advantages of granite without any of the drawbacks, check out the latest quartz surfaces with granite effects. Quartz is one of nature's hardest materials. Made from a blend of natural quartz, pigments and polymers that are moulded, pressed and cured to create a strong, solid surface, it can even outperform natural granite and marble in terms of strength, flexibility, compression and water absorption. And there's no need for sealing either. Engineered quartz from Caesarstone for instance is impervious to scratches, stains and cracks and is cold and heat resistant. It's also available in a huge range of different styles, finishes and effects, including the new granite inspired Supernaturals collection. Featuring intricate veined detailing, bold colours and textural appeal, this premium surface solution will give your kitchen the on-trend granite worktops look with a whole host of additional benefits and an affordable price to boot.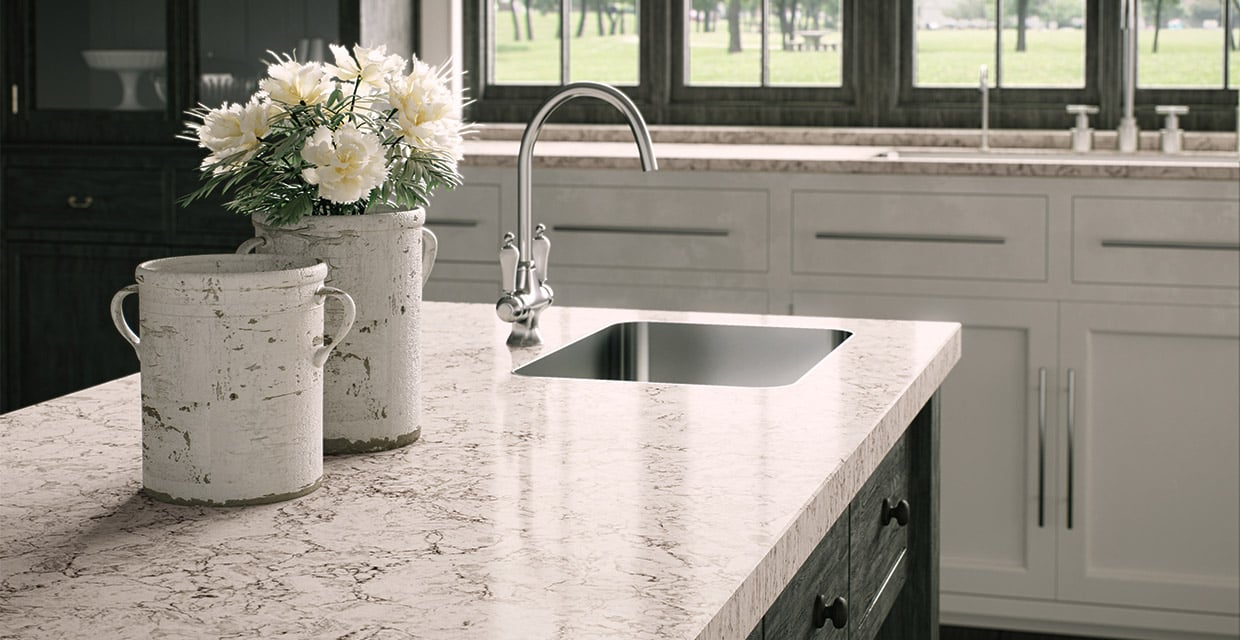 Moorland Fog is one of the latest granite inspired colours from the Supernaturals collection at Caesarstone.
Design details
Quartz can be thermoformed to create curves within a kitchen design and is naturally hygienic, making it a great choice for families. Caesarstone quartz is often selected by designers and architects for its design flexibility and easy maintenance while homeowners appreciate its good looks and durability. For an urban finish to an industrial kitchen, Turbine Grey is a new colourway for Caesarstone that somehow combines a warming tone with a raw, unfinished feel. For a more traditional approach, consider the more neutral Bianco Drift or Atlantic Salt from the Classico collection with its vivid colour blend.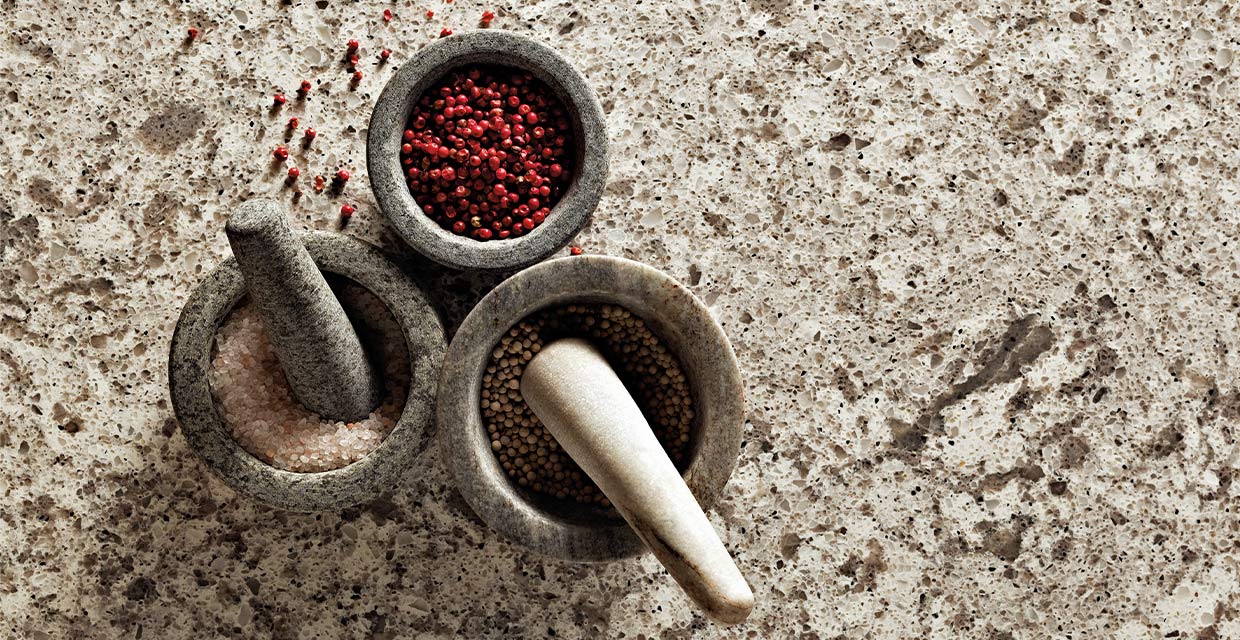 Atlantic Salt can be used to complement classic painted in-frame cabinetry as well as enhancing a modern gloss lacquer look.
Endless inspiration
For more ideas and inspiration on how quartz surfaces can offer the look and feel of natural granite worktops, take a look at Caesarstone's innovative online Visualiser tool, which will help bring your ideas to life. It shows how you can use this quartz surface material for kitchen worktops, islands and splashbacks as well as wall cladding, flooring and in the bathroom, too. You can even save and share your ideas and room schemes for reference and moodboard pin-ups when you begin your project.
Topics