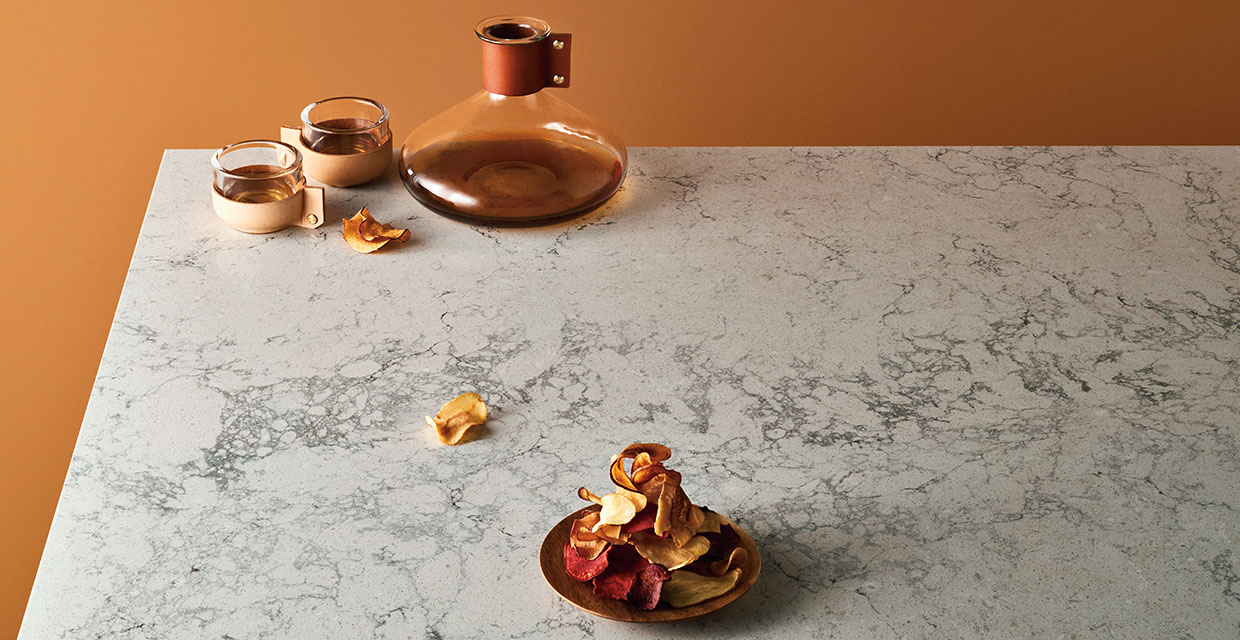 For most homeowners, the kitchen is one of the most important rooms in the house and the idea of a 'dream kitchen' is something that we can all subscribe to. However, if your budget doesn't run to thousands of pounds, but you still want a dream kitchen in which to make a Thai green curry while your friends turn green with envy, then there are definitely ways to achieve it.
It's easy to find inspiration; dream kitchens can be found across social media and in countless design and home interest magazines like Elle Decoration, House & Garden and Living etc. The kitchens featured there are hugely aspirational, finished in the latest colours with luxurious stone worktops, brassware, and appliances and often with eye-watering budgets attached. There are plenty of ways to achieve similar looks without running up the same total spend!
Planning ahead
As well as being referred to as the heart of the home, kitchens are also described as the most complex room in the house. This is because they are made up of multiple elements - cabinets, worktops, appliances, furniture and chairs, flooring, taps, handles, hinges, and accessories. There's a lot of things that need to come together to create your dream kitchen. Knowing how to balance your budget across these different elements, and where to invest and where to save, is key.
Advice from leading kitchen designers suggests the following budget allocations per element: Cabinets – 30-35 per cent, worktops – 15-20 per cent, appliances – 15-20 per cent, sink and taps – 3-5 per cent. There's delivery and installation of course – 15-20 per cent.
It's really important to know where to start planning in order to achieve the desired finish for your dream kitchen. We always advise starting with the worktops and cabinets as these are not only where you'll spend the most budget, but also the largest surface areas in your kitchen so will define the overall look.
Good cabinetry
Good basic kitchen cabinets and doors can be found at places like Howdens, Ikea or Benchmarx and these are great places to start if you want to shave pounds off the overall cost. You can enhance the look of affordable cabinetry by using alternative doors from companies like Superfront, Husk or Custom Fronts, who design a variety of contemporary styles doors and end panels, specifically to fit Ikea or Howdens cabinets. It is vital that whichever cabinets you choose, will need to be properly installed and level in order to fit the worktop.
If you are shopping for doors with some of the specialist companies making them for Howdens and Ikea, then do look at their handles too. Or you can really go to town and dress more affordable doors with handles from brands like Buster & Punch.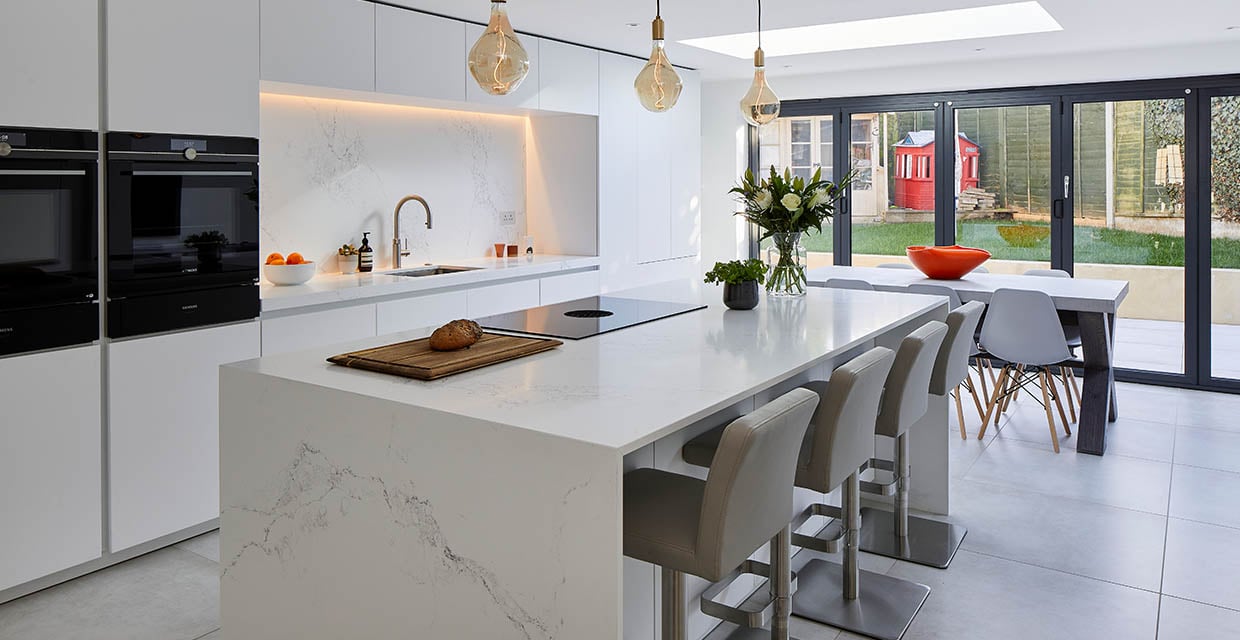 Piqu Case Study | 5151 Empira White
The right worktop
Stone worktops are one of the most aspirational items in any kitchen, with quartz and porcelain worktops being the most sought-after options. Good quality quartz and porcelain surfaces are highly durable and due to the significant investments made into R&D by the likes of Caesarstone, they look beautiful and come in many trendsetting styles. The worktop is an area in which to invest as it will get the hardest use, so you need to make sure you choose something that will withstand a lot of use.
To source your favourite style of worktop, take a look at our brochure, order samples or visit one of our UK showrooms. You'll need to work with a fabricator (stonemason) in order to fit a quartz surface in your kitchen. Fabricators will measure your kitchen, cut your stone to shape and install your worktop for you.
When choosing your stone, look closely at the quality of the design and check things like certification; good quality brands will be fully certified, and this can be seen on their websites and in their brochures. Caesarstone quartz surfaces come with a 25-year warranty so you can be confident of their superior quality. If the fabricator tells you that 'it's all the same' then it may be best to walk away and work with someone else.
Budget around 3k to 5k for worktops for an average size kitchen. This will give you a broad range of styles to choose from and make sure you shop around and get quotes from several different fabricators. Caesarstone can help find good firms in your area – contact us at info@caesarstone.com
Adding appliances
Online shopping and ecommerce have really changed the appliance market in recent years. Companies like ao.com have made it very easy to source kitchen appliances at competitive prices. Over the past 18 months, many of the manufacturers have started selling online directly too, which makes browsing for your dream fridge easier than ever before. There is a raft of different brands at different price points. From a budgeting point of view, appliances are an area in which to really think about what you need and what you don't. Double ovens, wine coolers, cold water dispensers and the like sound great but they will push budgets up quickly and will you really be using them in 12 months' time? Shop around for good quality 'standard' items that do their primary job well.
Fittings and fixtures
Taps and sinks are another easy area to research online. Again, there are a host of brands, many of whom are very well known. Price ranges within single manufacturers can be vast, so don't be put off looking at what you may perceive to be 'expensive' brands; they may have suitable items at the more affordable end of their range that will do just nicely. Leaving out filters, pull out hoses and variable spray heads can keep costs under control while still allowing you to get a high-quality tap that will look stunning. Don't underestimate the impact a change in material can have on your final look. Depending on the style you're going for, changing a tap from silver to black could add that 'designer' touch, particularly if you match in electrical sockets and light switches.
If you still need more help or inspiration then try looking at some of our case studies or blogs for more wonderful ideas and hints on how to achieve your perfect kitchen.


Images source: Caesarstone