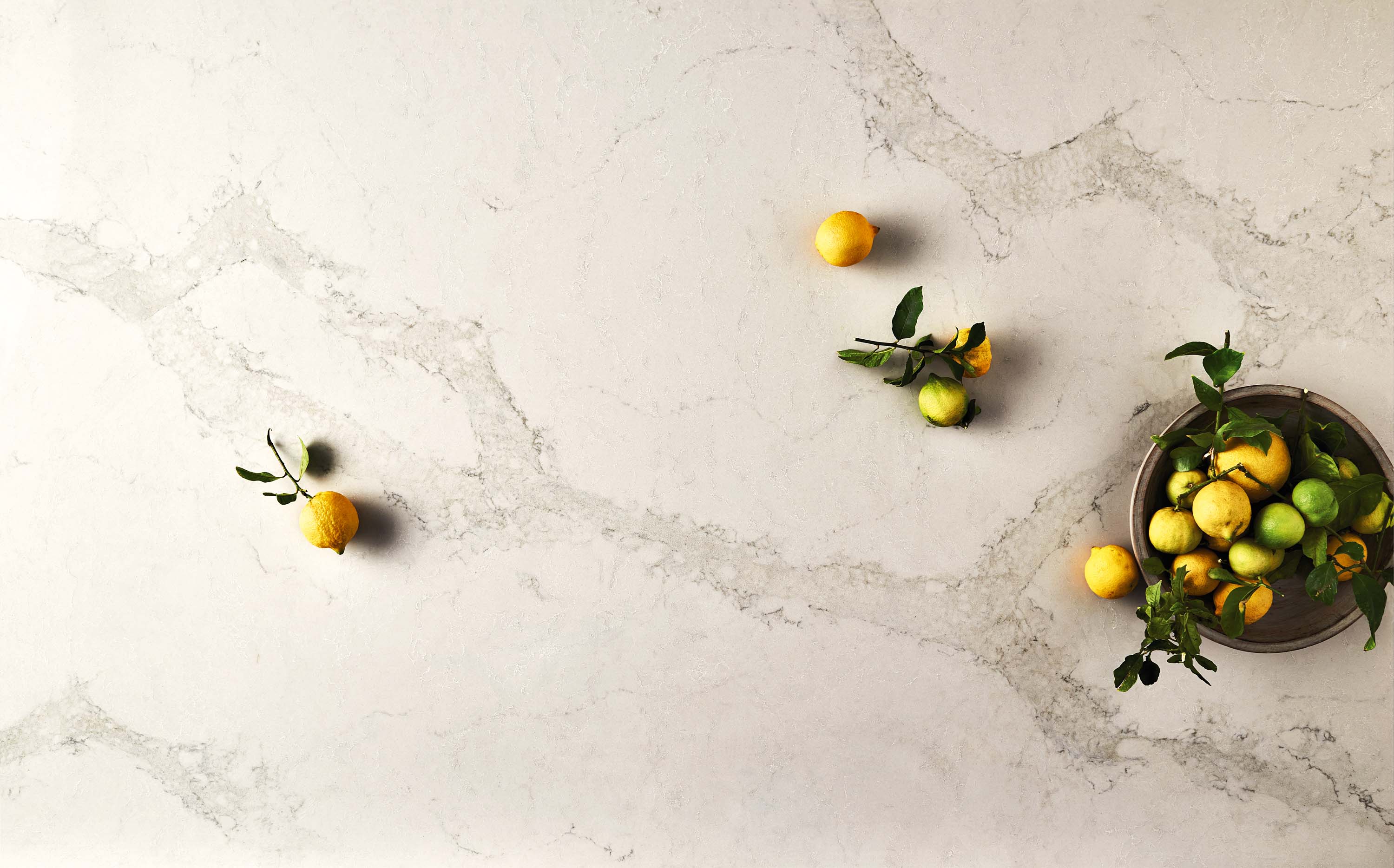 In a surface landscape that's littered with a million and one different options for your kitchen worktop, we can appreciate why someone may ask – what makes Caesarstone quartz different? We firmly believe that nothing comes close to the beauty and performance capabilities of Caesarstone.
Our carefully curated colour collection defies the traditional idea of a worktop, featuring incredibly detailed patterns and authentic textures that defy the norm. Below, we've detailed eight key reasons that make us different…

Unique colours and finishes
Here at Caesarstone, we have been designing and manufacturing premium surfaces for over three decades. We've curated over 50 variations within our current colour range that you won't find anywhere else, from beautifully marbled whites to hushed, tactile greys that look and feel like concrete.
The collection has had input from globally accredited colour consultants and trend analysts to ensure we're continually at the forefront of what consumers want and need. With agile design flexibility and an array of applications available, you can set your imagination loose to create the kitchen of your dreams with Caesarstone.
Exclusive innovative technologies
We're continually seeking to improve and revolutionise our product and design process. Through cutting-edge technology, we have been able to capture the look and feel of natural stone and intricate weathered patinas for the very first time. Capturing dynamic depth and movement, Caesarstone surfaces transcend the traditional perception of quartz.

Superior durability
Caesarstone surfaces are incomparably hard-wearing, with quartz one of the hardest naturally occurring minerals on earth. That means that our worktops are able to withstand virtually everything that everyday life throws at it – it's less likely to scratch, chip or stain than other surfaces, retaining it's impeccable performance for years to come.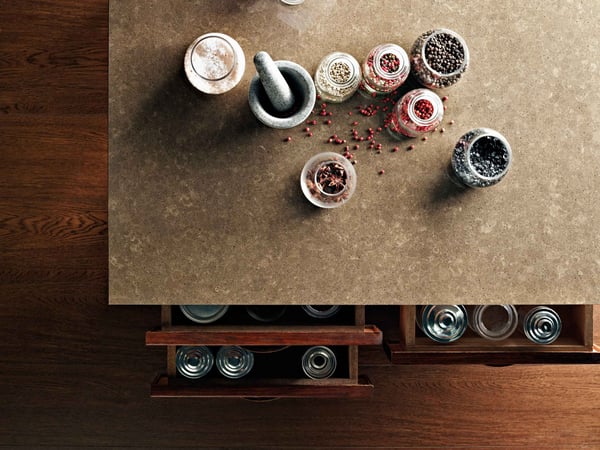 4360 Wild Rice
Maintenance free
Other surfaces like marble and granite require regular sealing and upkeep, with very specific cleansers needed. Caesarstone, on the other hand, boasts an extremely non-porous quality that levels it virtually maintenance free.

Because of the non-porous composition of quartz, it doesn't absorb any moisture from raw or leftover food that can contain harmful bacteria. It requires no sealing, treatment or polishing, just a simple wipe clean with a little warm water and mild soap.
Quality craftsmanship
We invest heavily into ensuring each and every one of our surfaces meets the immaculate high standards we have become known for. From start to finish throughout the manufacturing process, highly skilled staff carry out scrupulous quality control checks at every stage to guarantee every slab leaves our warehouse in perfect condition.
Our promise to you
We know that you will be able to enjoy your Caesarstone surface for many years, worry free, so we extend this guarantee to our customers. Our exacting standards of excellence mean we can confidently offer you a 25-year warranty across all of our products for complete peace of mind, something not all manufacturers can offer.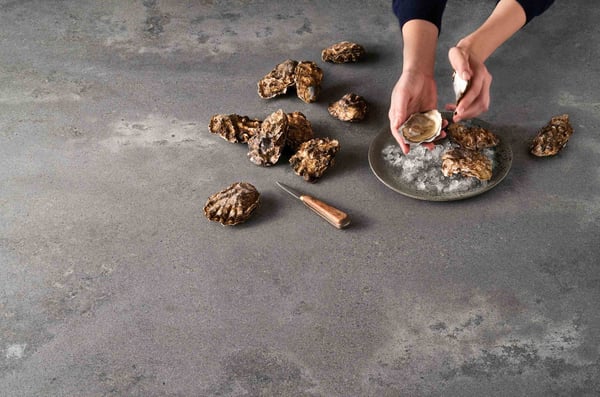 4033 Rugged Concrete
A pledge for sustainability
We are passionate about our commitment to the environment and are continually looking to meet and, more importantly, exceed industry standards. Our production process is consistently monitored from a health, safety and environmental perspective; Caesarstone hold an ISO 14001 certificate that recognises our competence in environmental management and performance.

On top of this, our products meet the American Greenguard standards and we are accredited by the National Sanitation Foundation for having surfaces that can be used across healthcare facilities, laboratories and food preparation environments.
Global design collaborations
Our inspiration comes from a vast range of sources; the veining of an overturned stone, the fine lines within a watercolour painting, the texture of freshly poured concrete.
One of our most significant sources lies within our collaborations; we seek to partner with world-renowned architects and creative minds to conceive new styles, finishes and designs. Whether it's an art installation or a furniture concept, working with professionals from different fields allows us to push boundaries and consider quartz in an entirely new light.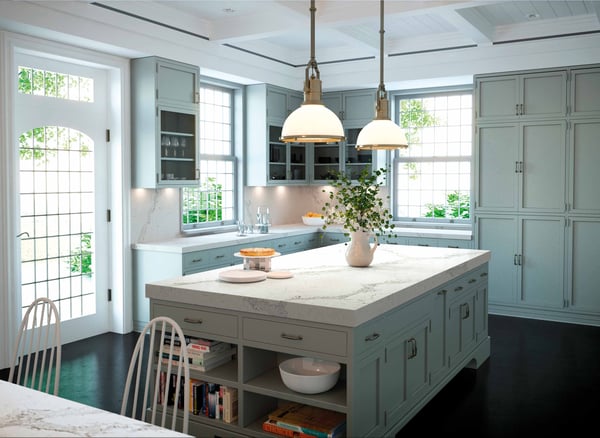 5131 Calcatta Nuvo
To see the brilliance of Caesarstone for yourself, you can request a sample from our collection, or visit our showroom where we've showcased the range with a striking display of wall-height slabs.
Images Source: Caesarstone
Topics