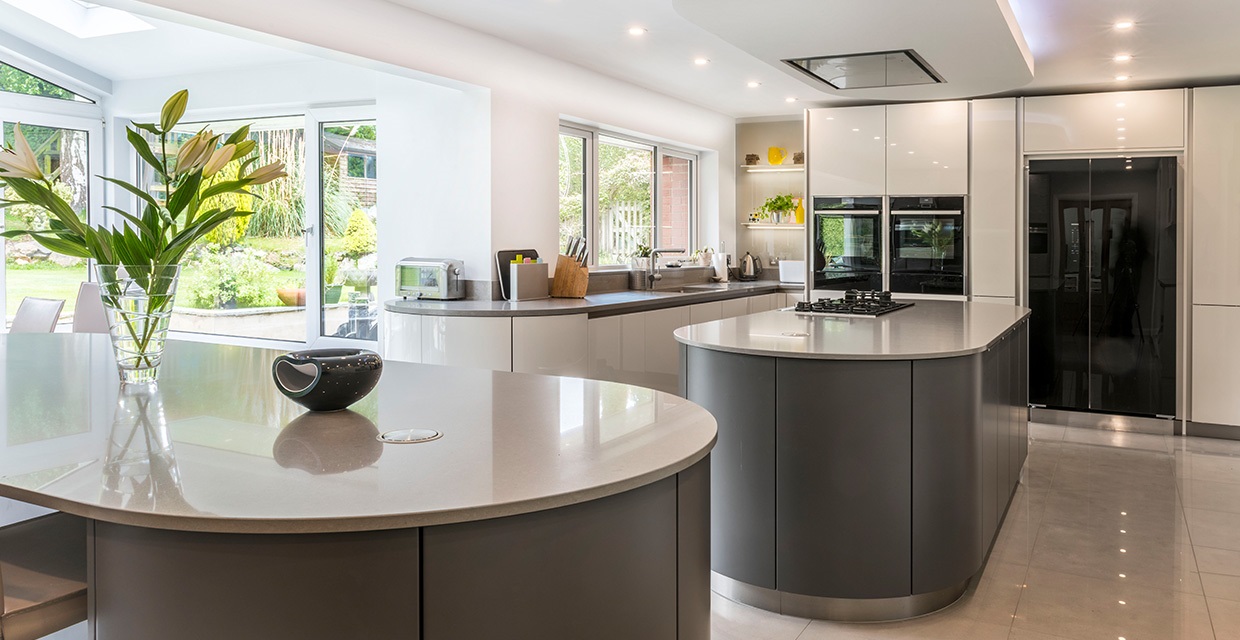 Picture a luxury kitchen and some of the elements that first spring to mind include high-tech, high-spec appliances, bespoke cabinetry and careful attention to detail. Whether this be a hand carved dresser, tailor-made leather door handles or dovetail joints, they are all indications of money well spent.
The other overriding image is of a vast, cavernous kitchen space. Some of the latest designs incorporate double islands for keeping food prep and cooking separate while pocket doors are becoming increasingly popular for that concealed kitchen look.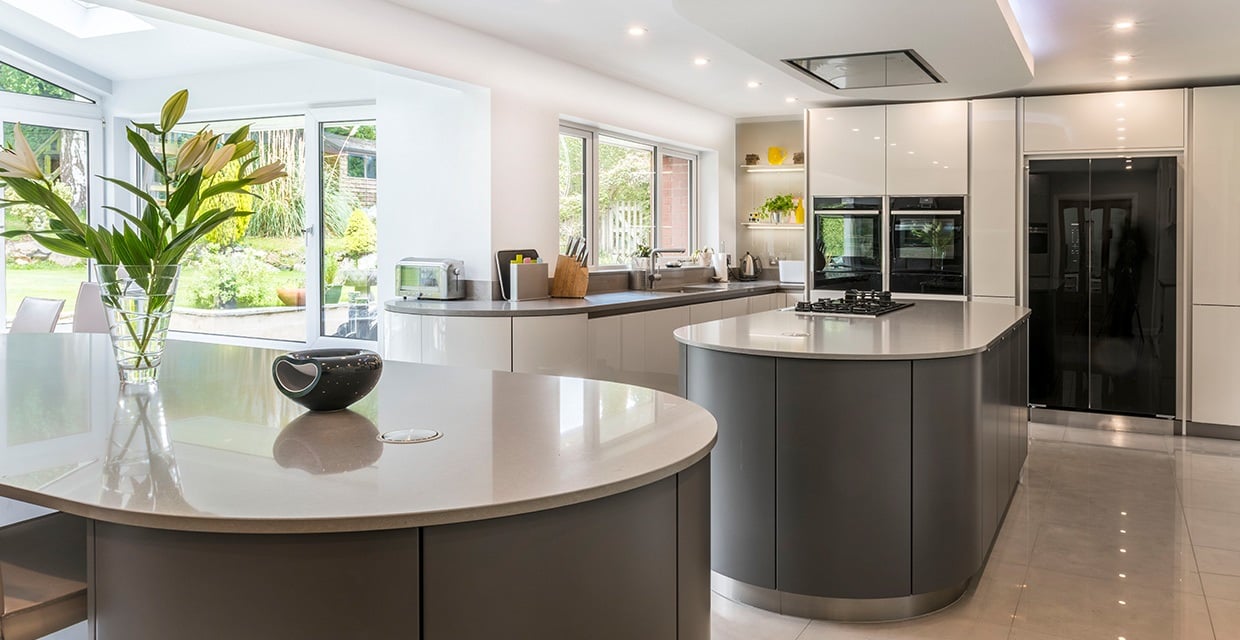 A curvaceous kitchen design is finished beautifully with Caesarstone Pebble quartz surfaces in this luxurious home in Surrey.
Future thinking
With luxury kitchens comes the latest in kitchen kit, with connected appliances that can be operated from your smartphone or tablet. Many manufacturers are now offering wireless controlled washing machines, dishwashers and ovens for ease, convenience and home comfort. Some fridge freezers will even tell you what's inside so that you can plan your meals ahead, reducing food waste and cutting back on unnecessary shopping. If you're thinking about dipping your toe into the IoT world (internet of things) then a Miele cooker hood with Con@ctivity is a good start. It works by intelligently communicating with the Miele hob below, automatically activating once cooking commences and setting the optimum fan setting to suit.
If money's no object then a fully automated kitchen – and indeed, full home set-up – will allow you to control the lighting, heating, music and security all from a touchpad on the wall or a mobile device. Imagine coming home after a hard day and turning the lighting, heating and oven on before you even reach the front door – now that's luxury!
Luxe look
As well as harnessing all the very latest in kitchen technology, luxury kitchens are all about the materials – the nuts and bolts of any kitchen design. Buying the best your budget allows will ensure longevity as well as instant impact. No matter how much we have to spend, we all want to get the most for our money and to choose considered, well thought out products and designs that complement our needs and lifestyle.
That's why bespoke kitchens are often associated with the term luxury kitchens, as tailor-made furniture is made to measure, making the most of awkward corners, tight spaces and creating storage solutions to suit every culinary need, from specialist spice drawers and knife racks to ceiling-height storage for items that you don't need every day. Luxury kitchens are a big investment with the price tag to match, so you want to be sure you're get it right first time.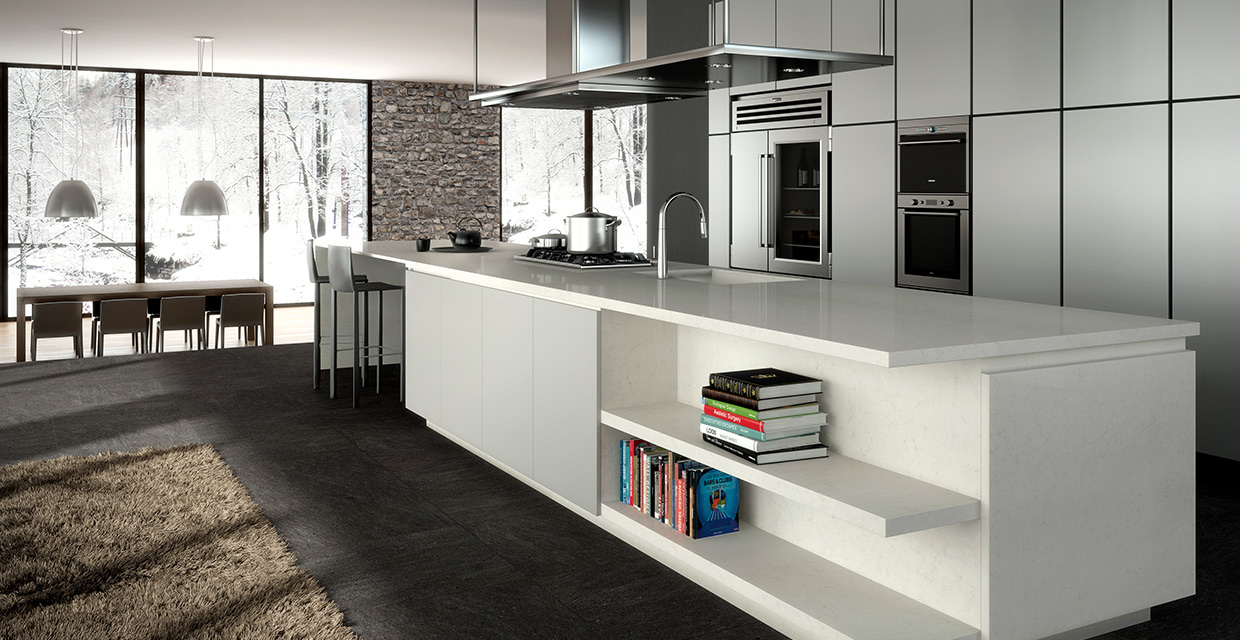 London Grey quartz worktop has the luxury look of marble without the high maintenance to match
Smart solutions
When it comes to worktops within luxury kitchens, many of us think of natural stone such as granite, marble or limestone but while they certainly look the part, these surfaces can be high maintenance with regular sealing required and extra care taken with any spots, stains or spills. One way to achieve a similar effect without the high cost or care involved is to choose quality quartz surfaces. Forget the sparkly bling style of years gone by and go for elegant sophistication with durable, hardwearing surfaces that will stand the test of time, in terms of trends as well as practicality.
Quartz surfaces such as Caesarstone's Supernatural and Ultra Naturals are high-performance and high on style, with the superior look and feel of veined marble or granite without the porosity and challenges that come with natural stone solutions. Go for the rich, dramatic feel of Vanilla Noir or keep it light and fresh with Calacatta Nuvo.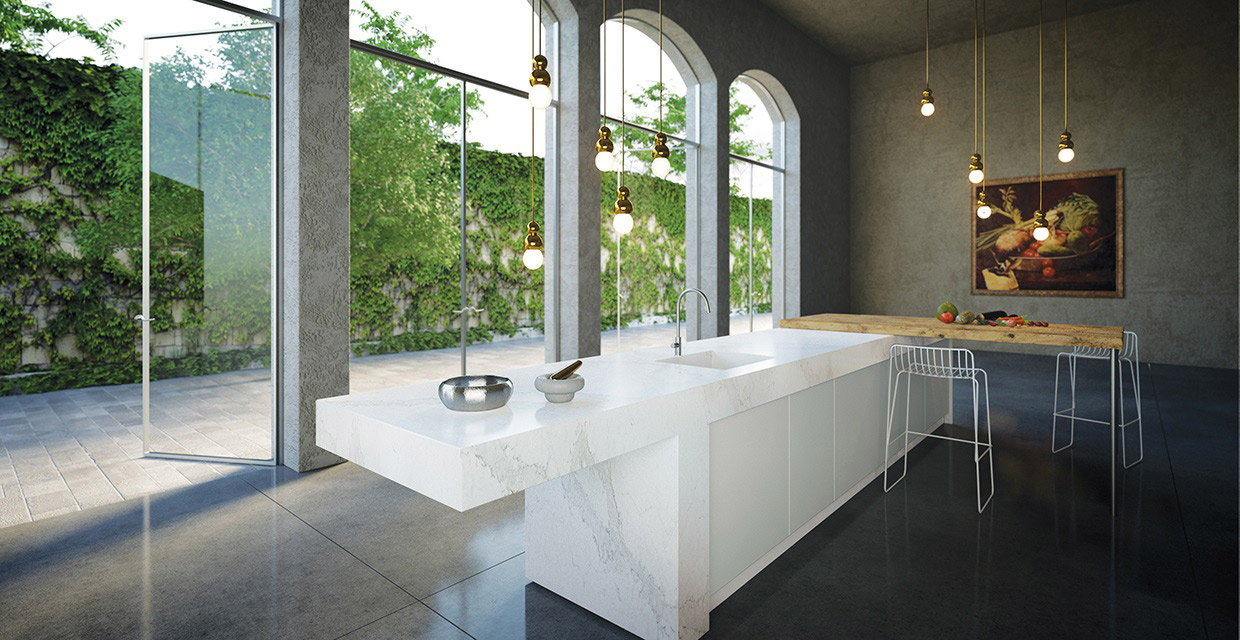 A long, linear island looks stunning fully designed in Calacatta Nuvo
Precious time
When you want to add the wow factor, check out the Concetto collection. This handmade stone surface features individually cut and bound semi-precious stones with unique colours and translucent surfaces. Going all out with wall-to-wall worktops in Concetto may be a bit much of course, but there's no reason why you can't mix it up by combining a more subtle quartz surface with the jewel tones of Amethyst, Blue Agate or Blue Tiger Eye as a feature area within your luxury kitchen look.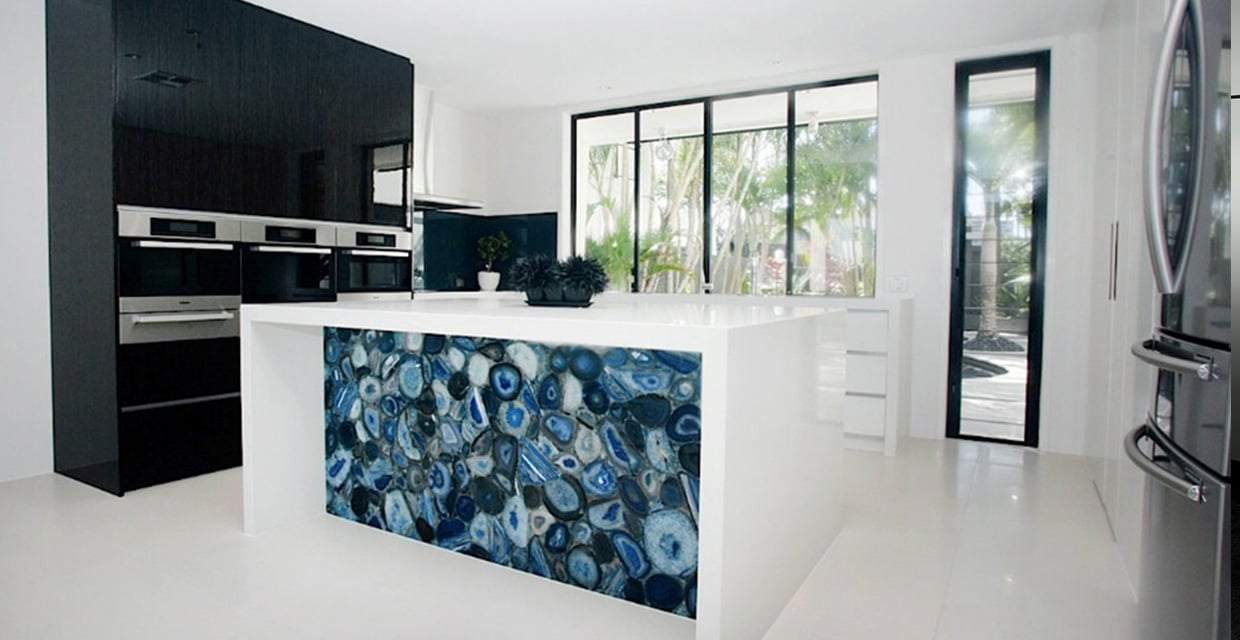 Make a statement with an island unit by cladding one side with eye-catching Blue Agate quartz
Topics