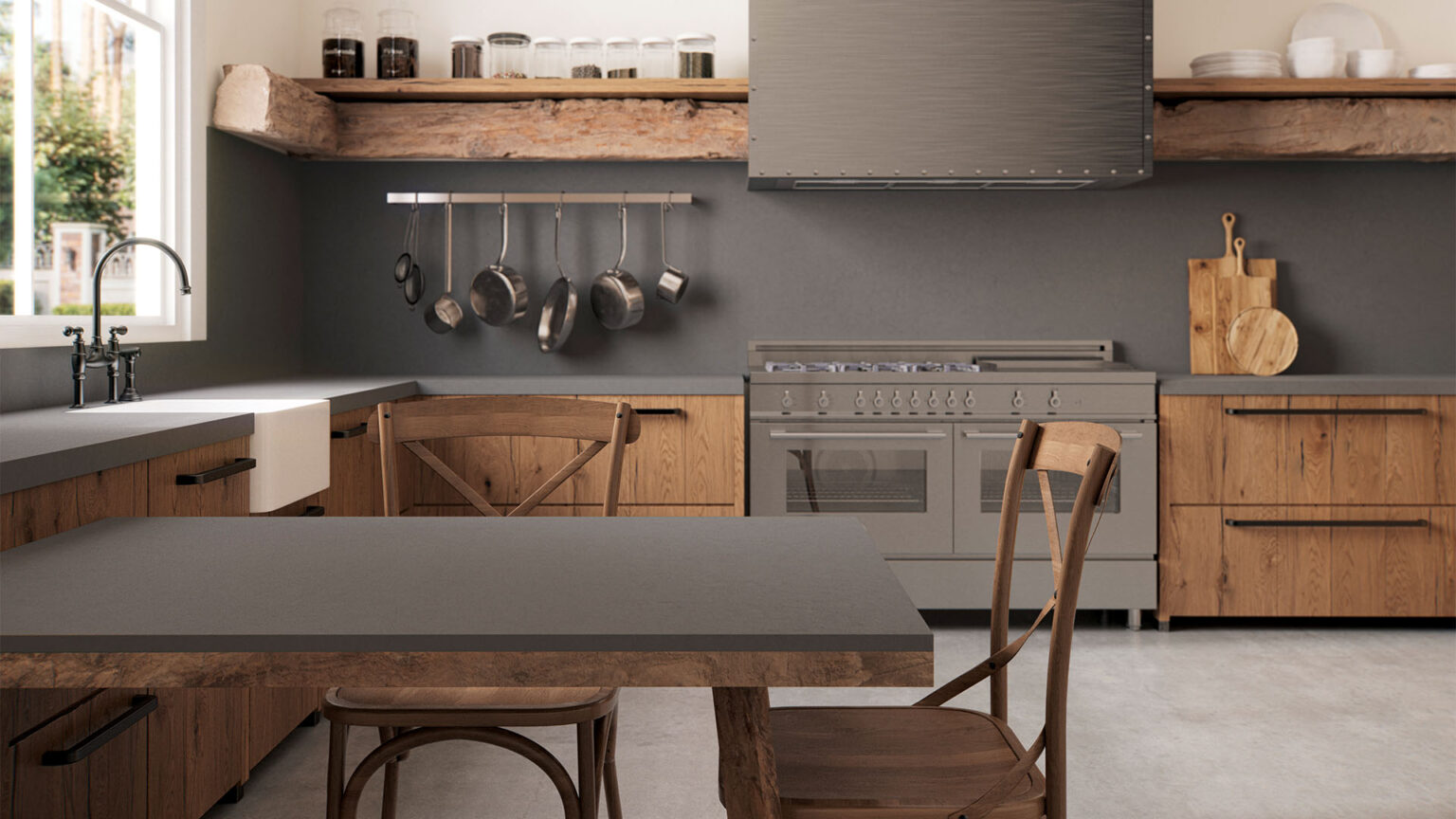 Your home should be your safe space, a place that you can feel completely comfortable and relaxed. For many of us, what unleashes our inner calm is the natural world around us, whether that be going on a river walk or a simple stroll in the sun. Bringing nature indoors can help to satisfy your need to connect with the outside world and what better place to do that than the heart of a home, the kitchen. Over recent years, people have come to realise that the outdoors and nature have so many positives for health and wellbeing. Infusing this into your modern kitchen design will offer both innovative solutions and a positive environment.
Escapism, calm, happiness - how does nature make you feel? Everyone has a different experience and connection with nature, but one thing we can all agree on is how it offers a sense of creativity, and looks beautiful inside as well as out. There are many ways to enhance this style and by bringing the outside in, you will reap many wonderful benefits.
Make an impact with your kitchen layout
The utilisation of space is often the first place to start when infusing the natural world into a modern kitchen design. Avoid a cluttered looking room by opting for an open plan design, resembling a sense of freedom and reflecting the outdoors, giving you more space and movement… something that's always welcome in a kitchen. Ensuring the space flows seamlessly into each other will provide a lovely ambience, without feeling restricted.
Natural lighting
The use of natural light has the ability to truly transform a room, incorporating brightness and serenity. A look of elegance will beam throughout the room, as well as highlight key features, such as stunning worktops and flooring. You will feel as though nature is all around you when the glow of the sun pleasantly shines through your stunning new kitchen.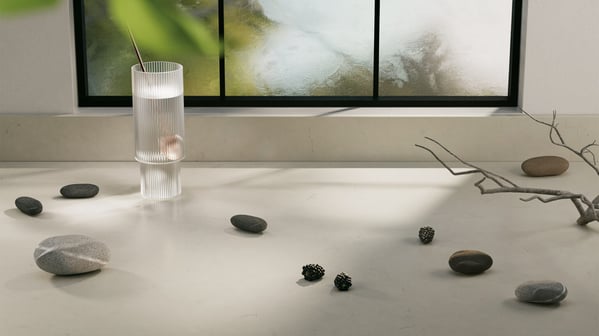 Furniture
The furniture selected for a kitchen can offer both a modern look whilst also incorporating a natural feel. There is an abundance of materials and finishes that add natural warmth and outdoor characteristics to a setting like rattan, stone or raw wood. 1003 Raindream, for example, provides a polished worktop surface replicating a wet river stone, making it the perfect addition to any nature-inspired kitchen, explore the complete Pebbles Collection, here.
Natural colour schemes
Opting for a more neutral colour scheme such as greens, beiges, taupes, and greys can quickly bring forth a natural feel to any space. Not only will this look beautiful in your kitchen, but it will also remind you of the great outdoors. Green is considered one of the most invigorating and relaxing colours, partly due to the connection between ourselves and nature. Add a coat of deep green to your kitchen cupboards and watch as your kitchen is brought to life. Other earthy colours such as blues, browns and whites are also becoming increasingly popular, due to their natural affiliation.
Accessories
Bring your senses to life by infusing the natural world into a modern kitchen design. Incorporating different shapes and sizes of appliances within your design will help your brain replicate the feelings of nature around you. It's rare to find perfectly straight and symmetrical lines within the outside world, so utilising appliances and accessories that are curved or organically formed will transform your space.
Our Collections
Our Pebbles Collection evokes the feeling of constant creation through the elements, each of the five surfaces features tones and shades found in the humble pebble, bringing a sense of peace and depth to your home. Incorporating earthy tones to your worktop paired with cabinetry and modern accessories will ensure an instant impact on your kitchen décor. 1004 Stoneburst combines a soft grey with delicate mineral undertones, incorporating nature within a modern design that helps to create a unique and contemporary feel in your home. Or perhaps 1002 Wyndigo is more suited to your kitchen as it gives off an authentic presence coupled with a beautifully honed finish.
Connect with the outdoors by choosing 1006 Agger Grey as this surface adds depth to any modern kitchen thanks to its honey-grey veins, creating a sublime two-toned worktop. You can see the history of the earth reflected in the surface of a pebble and 1003 Raindream encapsulates just that with its combination of slate greys accentuated by even softer darker grey strokes. Whereas 1001 Riverlet offers a more gentle touch to your space as it helps to reflect light around the room, evoking a sense of calm and serenity.
If a contemporary and aesthetically pleasing surface is what will make your kitchen complete, then The Supernatural Collection can do just that. Expressing both the complexity and emotion of nature, Caesarstone worktops capture the uniqueness of modern-day life. Or if you're looking to perfect that classic white kitchen, you can easily incorporate a sense of the great outdoors through the choice of stunning and distinctive veining that can be found throughout our Whitelight Collection.
Download our

swatch book

today to discover the elegant beauty of a Caesarstone worktop.
Topics