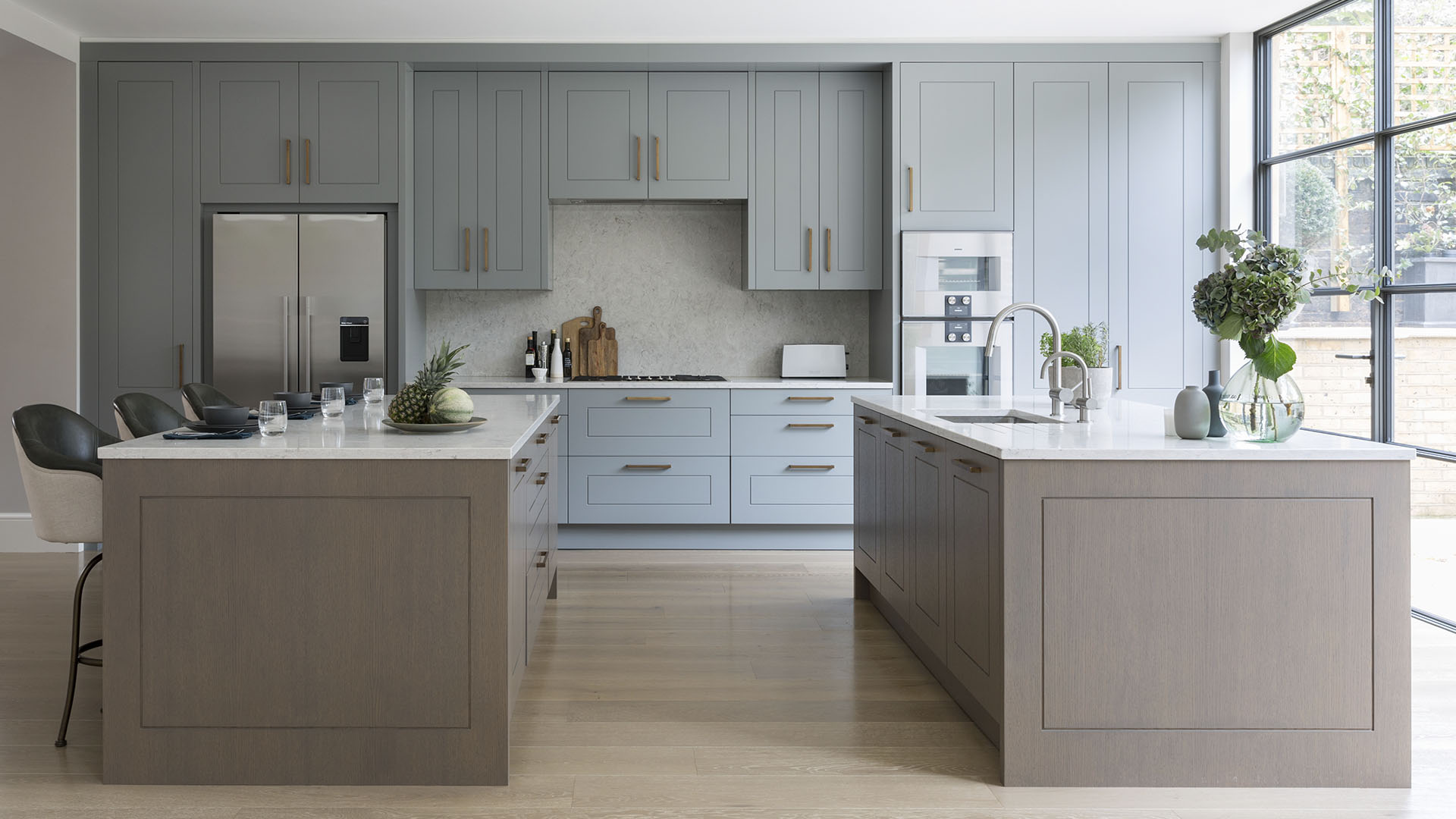 Mowlem and Co specify Caesarstone's Bianco Drift quartz worktops for unique dual-island family kitchen
The 'Sonata' kitchen, a bespoke project by award-winning kitchen designers, Mowlem & Co, is an expansive composition that features a pair of island units, topped with Caesarstone 6131 Bianco Drift, at its generous heart. The soft, two-tone melody of muted teal and mocha cabinets is combined with pale, glossy Caesarstone worktops and a splashback imbued with delicate swirls of light browns and misty greys. These serene colours work together to harmonise the scheme in a way that is both subtle and distinctive.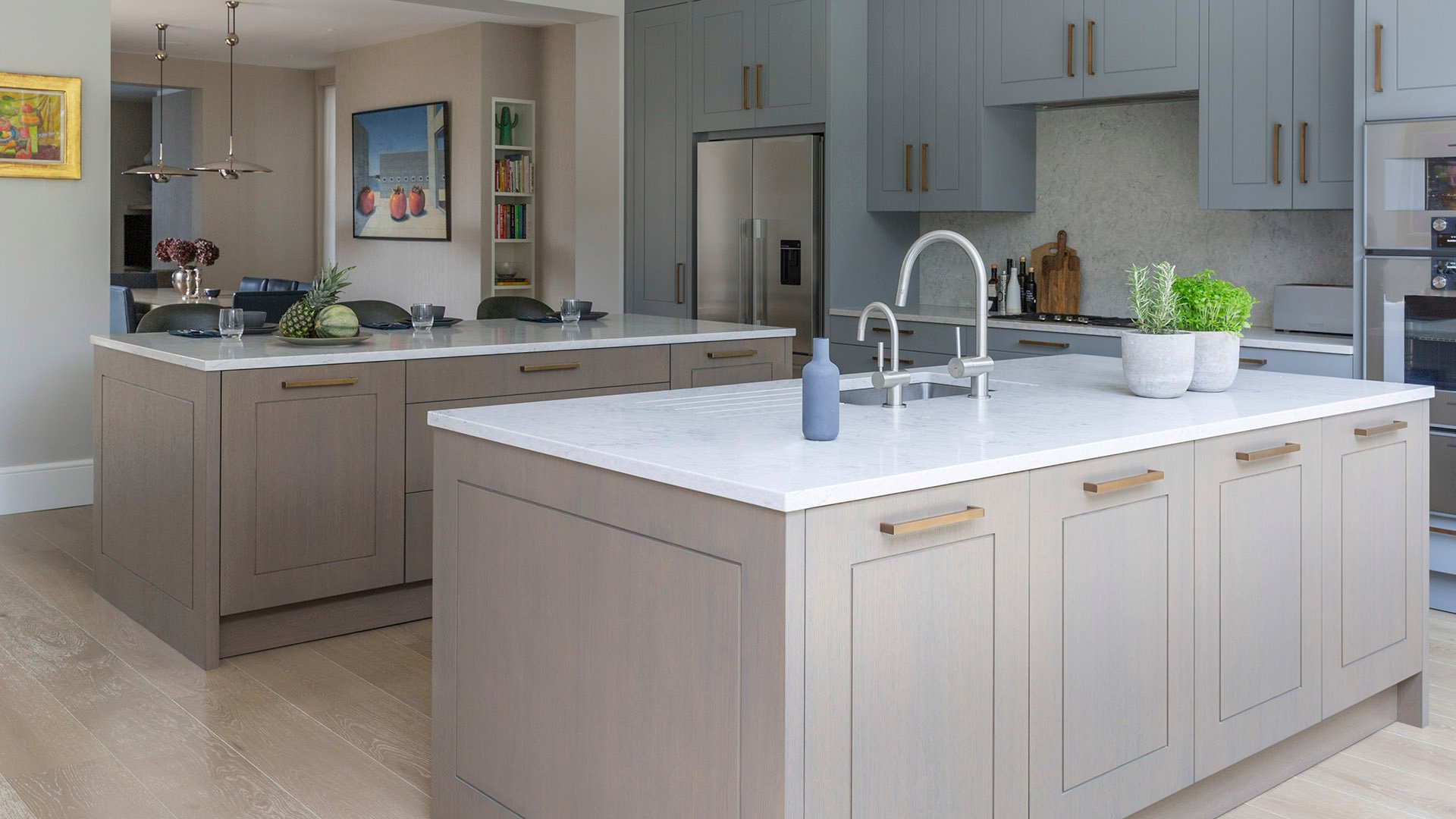 Commissioned by a family in Kensington as part of a complete renovation of the London townhouse they have lived in for 14 years, this kitchen sits within an open plan living space with both formal and casual dining areas. While remaining sympathetic to the property's period architecture, the design is also a response to the client's desire for a contemporary feel and functionality within the kitchen. The project was thus a collaboration between Lab Architects, interior design firm Hamilford Design, and Mowlem & Co to achieve the vision.
Designer Emma Wiseman of Mowlem & Co's main objective was to create a soft, visually restrained kitchen that would harmonise with the overall look and feel of the home, whilst also being distinctive in character. The kitchen occupies what used to be the property's original basement. While the space had been structurally opened out, its position on the lower-ground floor level meant welcoming in enough light was key. Along with floor-to-ceiling steel-glazed windows, a glass roof was installed above what is now an informal dining area that sits at the far-left side of the two islands.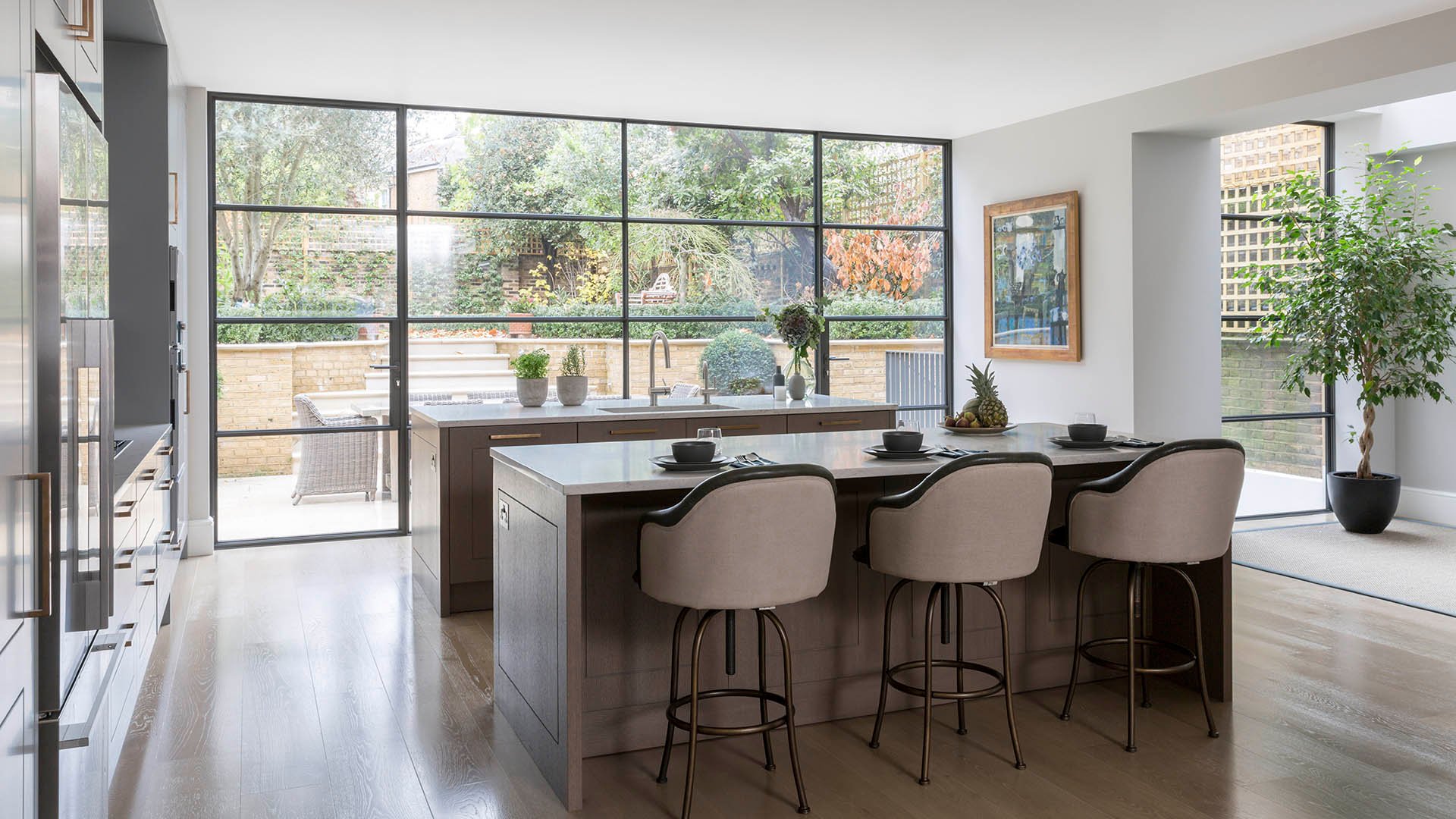 It is this pair of impressive islands that very much distinguishes the scheme. When asked why she selected Caesarstone for the kitchen's centrepieces, Emma said: "Caesarstone is synonymous with quality and offers a diverse range of surfaces which we love to design with. The Bianco Drift quartz worktop we chose has a visually soft, natural composition in beautifully warm, neutral tones which perfectly suit the palette that the client wanted to achieve."
Islands are especially in demand for families whose kitchens serve as the heart of a high-traffic home. Having double islands makes multifunctional life easier, allowing the family to allocate an entire surface to meal prep, whilst the other is dedicated to dining, entertaining, and working from home.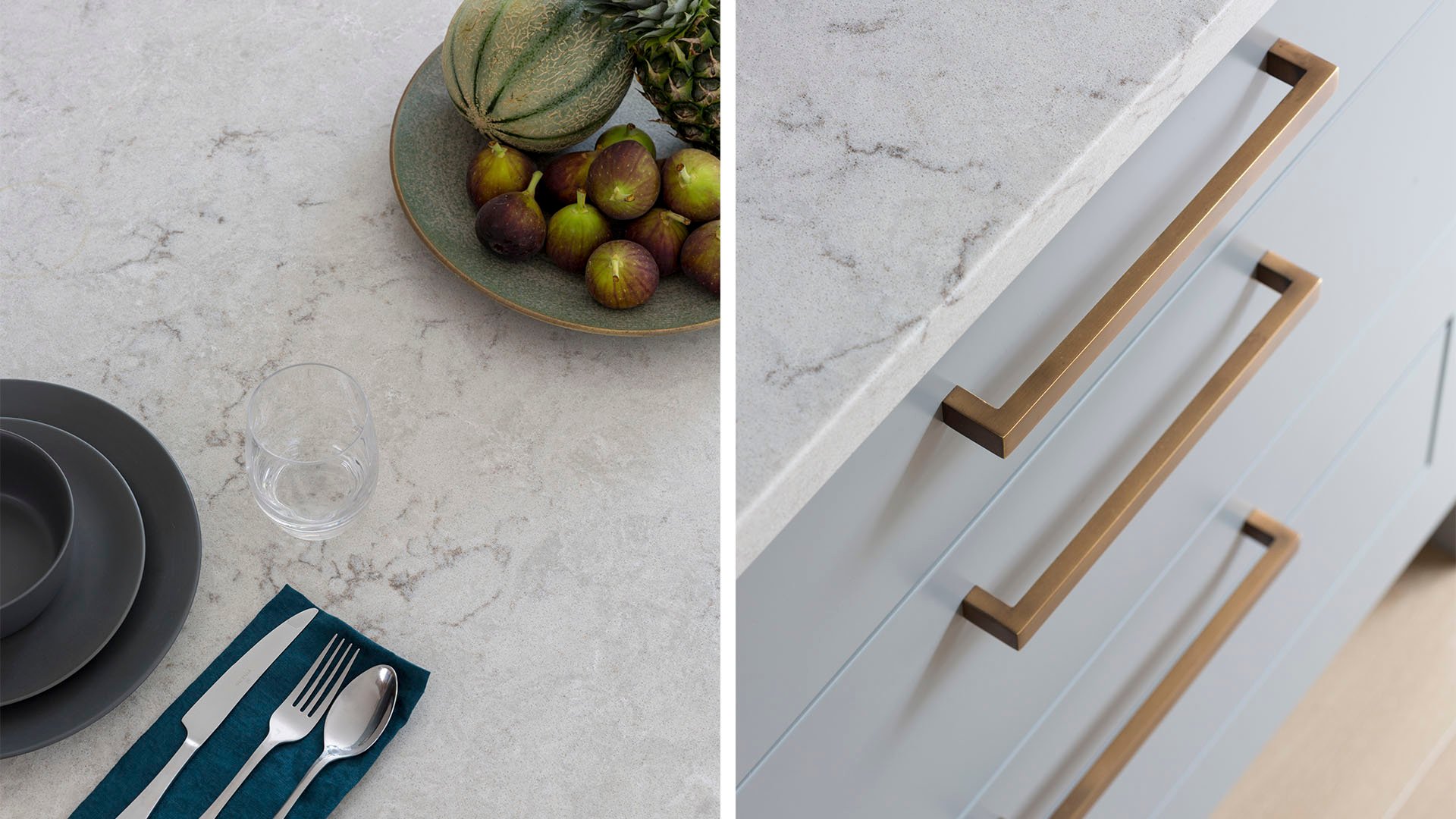 The islands and surrounding kitchen furniture feature the added touch of grooved and textured cabinetry, making this space as unique as the family for which it was created. While the cabinets are designed to offer clean lines, the ambience has been softened by using materials and finishes with a timeless, tonal palette. Subtle details such as the routing on the hand-painted door panels and the antique brass handles play their part, as does the bronze finish of the window frames, to add a hint of glamour and align the scheme with the property's classic details.
Throughout the kitchen, premium appliances are by Fisher & Paykel and Miele, with a sink by Franke. The walls are painted in Plummet, a cool, industrial grey by Farrow & Ball. Restrained yet welcoming, this elegant family kitchen design is classic in feel, yet with a contemporary panache. One island serves a more functional, culinary role whilst the other invites the family and their guests to sit down and relax on sleek bar stools. These double Caesarstone quartz-topped islands dramatically increase both the functionality and practicality of the space, as well as its visual appeal.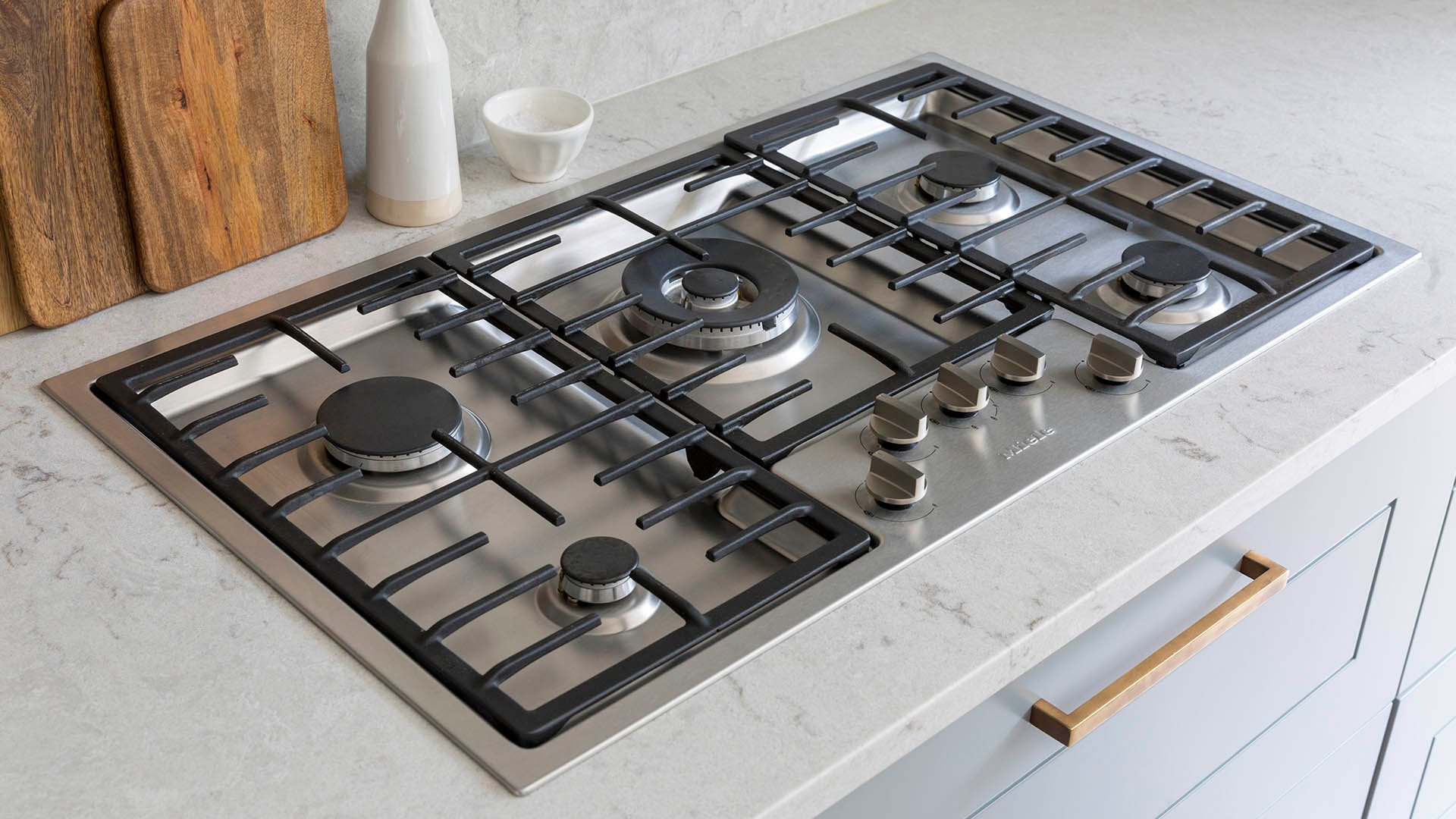 Looking for more inspiration? Why not browse the Caesarstone catalogue to discover the latest in kitchen surfaces. By combining creativity and quality materials with Caesarstone, you can curate an eye-catching and highly functional kitchen space that you'll adore spending time in. Request a free sample from Caesarstone today and start creating your dream kitchen.

Photography by Jake Fitzjones
Topics