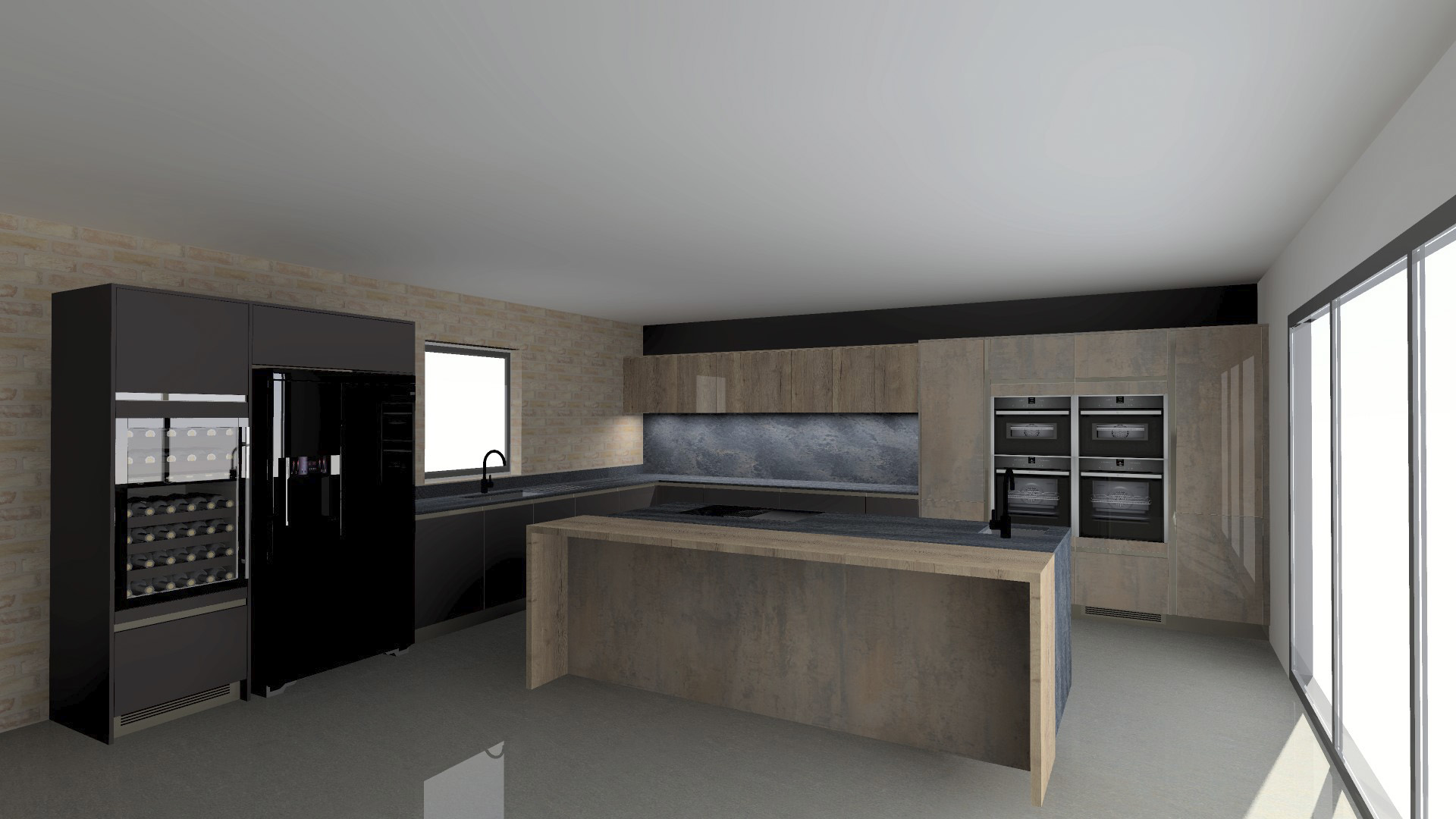 Entrepreneurial chef duo, Giuliano and Zara, are building their dream home from the ground up with a dark, atmospheric kitchen, that is perfect for entertaining, at the heart of the design
They have chosen Caesarstone's 5820 Darcrest Quartz surface which will be integral throughout, forming the worktops and the kitchen's centrepiece – an expansive waterfall island. We've asked Giuliano and Zara to share a bit more about their design journey so far and why Caesarstone surfaces make the perfect foundation for their favourite room in the house.
Tell us about yourselves…
Hello, we're Giuliano & Zara and three years ago, we made the decision to build our dream home together. Zara works as a global professional makeup artist and Giuliano works in tech.
Alongside our day jobs, we also run two of our own businesses. The first is called Protein & Pantry which is our healthy snack company - high protein, refined sugar-free snacks made with love, from scratch. Protein & Pantry's snacks are handmade to order, so they are delivered fresh, and we never have any wastage, which makes us sustainable.
The second business is called Glowify. It's an app that helps you find and book pre-vetted, professional hair and makeup artists from all over the UK, tailored to your special occasions and events.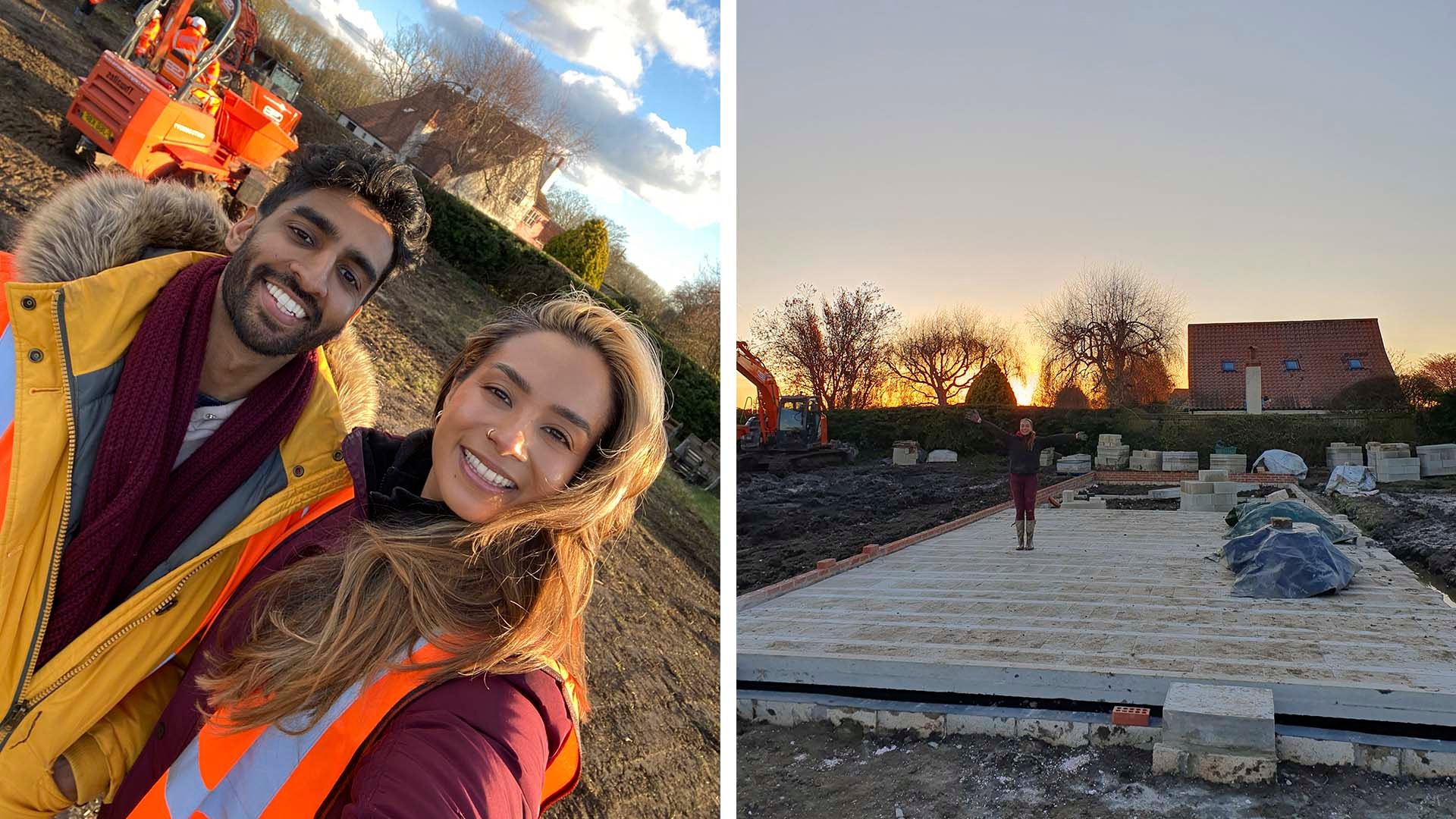 Tell us about your overall project, what you have undertaken and what you are hoping to achieve?
GIULIANO: We are building a malthouse-inspired modern home within the Lincolnshire Wolds - an area of outstanding natural beauty. We're aiming to achieve a delicate balance of modern and characterful architecture by utilising materials like tumbled handmade buff bricks and cor-ten steel, paying homage to the malthouse that once stood on the site in the 17th century, yet creating something new entirely.
Inside is a semi-open plan layout with vaulted areas and large expanses of south-facing glazing to let plenty of light in to fill the space. It is so easy to get caught up in details in the pursuit of perfection, yet the design approach we are taking is focused on 'wabi-sabi' – an aesthetic that appreciates the beauty that is imperfect, impermanent, and incomplete in nature.
ZARA: Most importantly, we want our house to feel like home, with functional living spaces. We hope to achieve charming architecture that celebrates the history of the building and marries into the beautiful green landscape, ultimately creating a warm, welcoming feel to friends and family that visit.
Tell us about the kitchen in particular – What look are you going for?
ZARA: We are looking to create a seamless, open-plan kitchen and dining area centred around professional cooking and entertaining. The aesthetic we are hoping to achieve is 'dark and moody' with gold and burnt wood embellishments to create a romantic, intimate feel. This darker colour scheme will be offset by the vast amount of light entering the space through the 9-metre bi-folds and sensitively designed accent lighting.
The main feature will be a 2.6 metre Caesarstone 'Darcrest' waterfall island to cook and socialise on. Darcrest, with its dark earthy base, and veils of organic ochres and brownish greens, is the perfect foundation for creating the moody aesthetic we love.
GIULIANO: The island will also double up as a breakfast bar area. We've purposely situated the hob and a chef's sink on the island so that when cooking, we are facing into the main entertaining space, which is perfect for catching up with family and friends – so we're not cooking with our backs turned. We also intend to host cooking masterclasses in the space and have designed it around this purpose.
The far end of the kitchen will host a grand 6FT Golden Acacia round dining table, which is important in Chinese culture, and ensures that everyone is part of the conversation at mealtimes.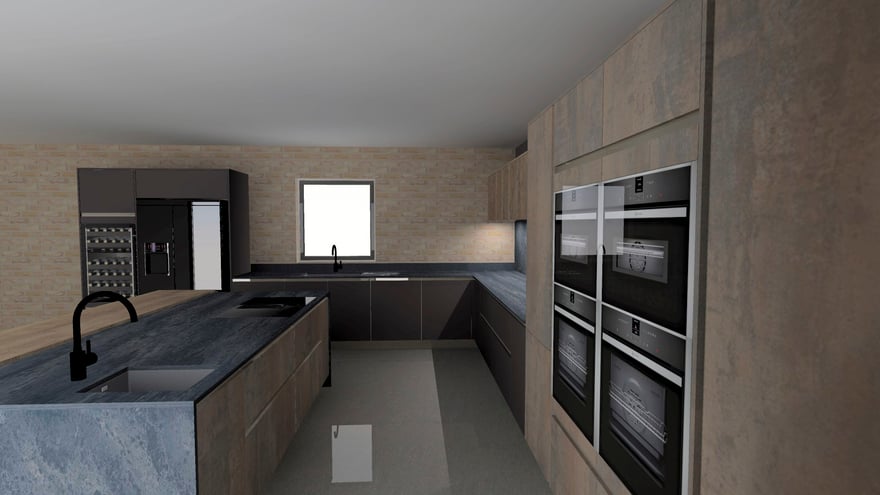 Who is designing and installing the kitchen?
GIULIANO: Sigma 3 and Masterclass Kitchens will be designing and installing our kitchen.
Tell us about the planning work you've done in the kitchen so far, what steps have you taken to date to start achieving your ideal kitchen?
ZARA: Being chefs and running our own food business, you can imagine the infinite amount of kitchen inspiration images we've scrolled through online, and also the number of in-person showroom visits. We have planned countless kitchen designs together, both on paper and digitally using 3D models, creating the theme and feel of the space, and even walking through it in virtual reality to ensure that we were happy with the size of the island. We even went into the detail of individually selecting storage options and models of appliances, based on optimal functionality. Practicality is key.
GIULIANO: To date, we have had several design meetings with Sigma 3 and Masterclass Kitchens to study layouts, materials, appliances, and storage options. We've even 'stress tested' the Caesarstone range of Quartz by attempting to stain the surface samples with notorious kitchen ingredients like Gochujang, Turmeric, and Citrus acids. All the surfaces held up impressively. Our next step is to incorporate the Darcrest honed Quartz worktop and island into the design so we can see how the final vision of our dark, moody kitchen comes together.
What are the main challenges you've faced so far?
ZARA: There are so many challenges we've faced on the road to designing our perfect kitchen. We had to take every detail into consideration from storage space, layout, and lighting, all the way to how many plug sockets we'll need for appliances. Keeping practicality at the forefront was the goal. Ultimately, as two chefs, we have designed a kitchen to be used, not just looked at. We even insisted on some 'non-conventional' design choices in favour of greater functionality, such as a chef sink on the main waterfall island and an American-style fridge freezer. Finding a delicate balance between ample storage and preventing the kitchen design from being over cluttered was also a key consideration which took quite a bit of thought.
GIULIANO: Picking and balancing materials for a dark palette was also very tricky as it is not the usual colour scheme for a kitchen. One of our biggest challenges was finding a dark worktop to match our kitchen theme as not many companies have a wide selection of dark quartz worktops. Lighter worktops seemed to be the more popular choice which made it difficult for us to find something we liked. Upon discovering Caesarstone, we were impressed with the diverse selection that they offered, as each dark colour had its own unique character and told its own design story.
Why will Caesarstone be a great addition in your kitchen?
ZARA: After searching through countless a number of worktop suppliers, we found Caesarstone on Instagram and were drawn in by the beautiful dark worktops. Upon further research, we were pleasantly surprised by the selection of darker colours in a variety of veining patterns compared to other worktop suppliers who seemed to only offer a few slightly different shades of black. We felt Caesarstone would work perfectly for our design aesthetic and were particularly drawn to their 'Vanilla Noir' and 'Darcrest' options, both of which have a rich, honed finish, with characterful texture, which we love.
GIULIANO: Having a surface that is highly resistant to scratches, stains, and heat is integral to our lifestyle and was a critical factor in our decision-making as we are cooking on the surfaces at least three times a day. Additionally, we loved how all of Caesarstone's worktops are non-porous, making them hygienic and easy to clean and maintain. This is ideal for our practical kitchen environment which is going to experience some serious wear and tear. Of course, we cannot leave out the fact that Caesarstone provides a lifetime guarantee - this is something we'd not seen with any other supplier.
After thoroughly researching the brand, carrying out stress tests on some samples to ensure we were absolutely satisfied with the quality and durability of Caesarstone surfaces, we decided to select 'Darcrest' honed Quartz for our kitchen. We felt the matte, non-polished look would elevate the sleek, moody feel we are aiming for.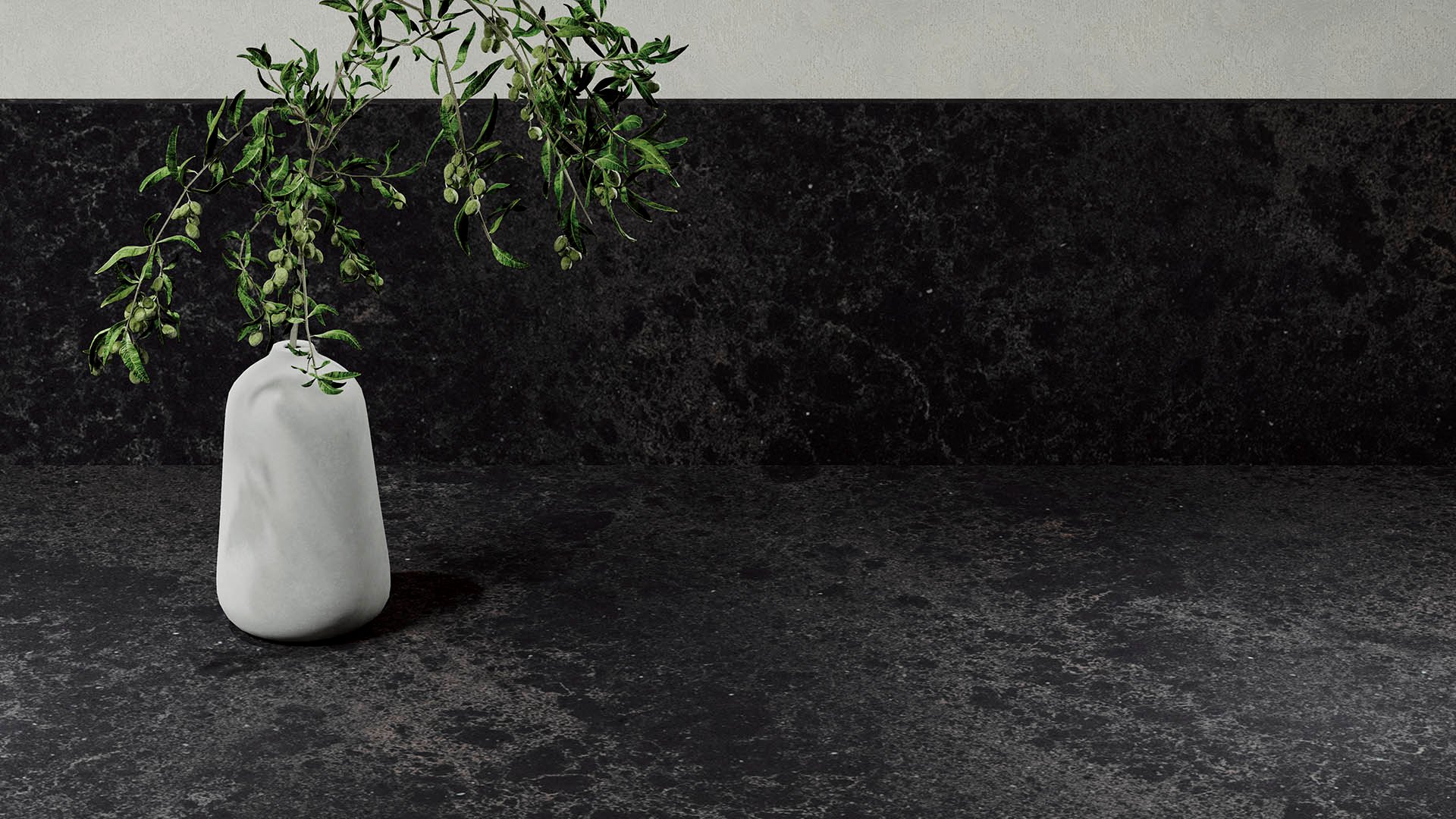 Why is the kitchen an important space for you?
ZARA: The kitchen has always been our favourite and most important room in the house. We find ourselves spending the majority of our day there, whether it is to work, cook or socialise. For us, it's truly the heart of the home, and even in our childhoods, it wasn't unusual for us to spend a whole day relaxing and eating in the kitchen with our families.
GIULIANO: Cooking and entertaining are huge parts of our daily lives. With such a mixed heritage between us – Singaporean, Scottish, Indian, Burmese, Brazilian and Portuguese – cooking is in our blood, and we never get bored of dishes to make. We love experimenting with new cooking techniques and recipes to add into our repertoire.
ZARA: The kitchen will also open to our outdoor kitchen and patio area, adjoined by the landscaped garden and wildflower meadow. This will include an allotment for home-grown produce to be used in our cooking. The kitchen will be a very active area, so we want the space to be beautifully designed, but functional above all else – it's most certainly not a 'show kitchen'!
Are there any other brands you're hoping to include at this stage?
GIULIANO: We're including a Qettle instant hot water tap (a lifesaver when it comes to blanching vegetables or cooking pasta!) and ABI brassware for a functional, yet beautiful finish. We are looking to go into further design detail for our outdoor kitchen which will be focused around facilities for barbequing and wood-fired pizza.
You can follow Giuliano and Zara's home building and design journey on @thefoxesmaltings on Instagram.
Topics