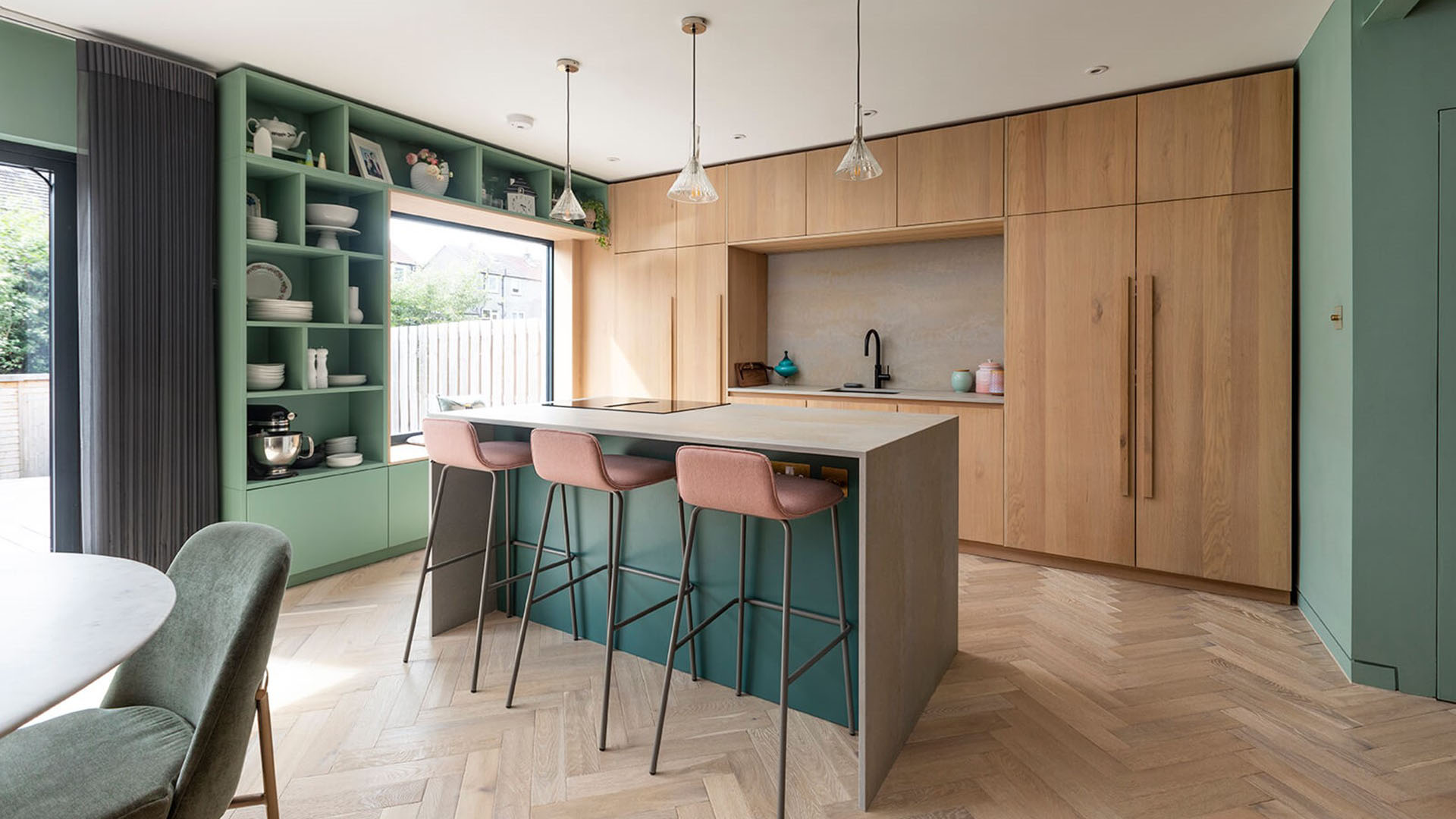 Archispek Kitchens choose Caesarstone Primordia worktops for Scandi-influenced award-winning kitchen
When this West Edinburgh-based family approached Designer, Huse Kilic, at Archispek Kitchens, they knew exactly what they wanted – a modern kitchen with Scandinavian design influences, characterised by natural woods, sleek lines, and refined pastels. Caesarstone's 4043 Primordia concrete-inspired surface was chosen to tie the material palette together and bring increased earthy texture and interest to the scheme. For this clever, joyful family kitchen design, Huse won this year's prestigious kbbreview Kitchen Designer of the Year Award.
Whether it's to prepare dinner, work from home, grab an after-school snack, or simply touch base, every member of the family frequents the kitchen, leaving little question that it is the all-important heart of the home. This project was part of a ground floor remodel during which the Agora Architecture team reconfigured the kitchen, dining, and living room to create an open-plan hub that beautifully and comfortably accommodates all of these activities.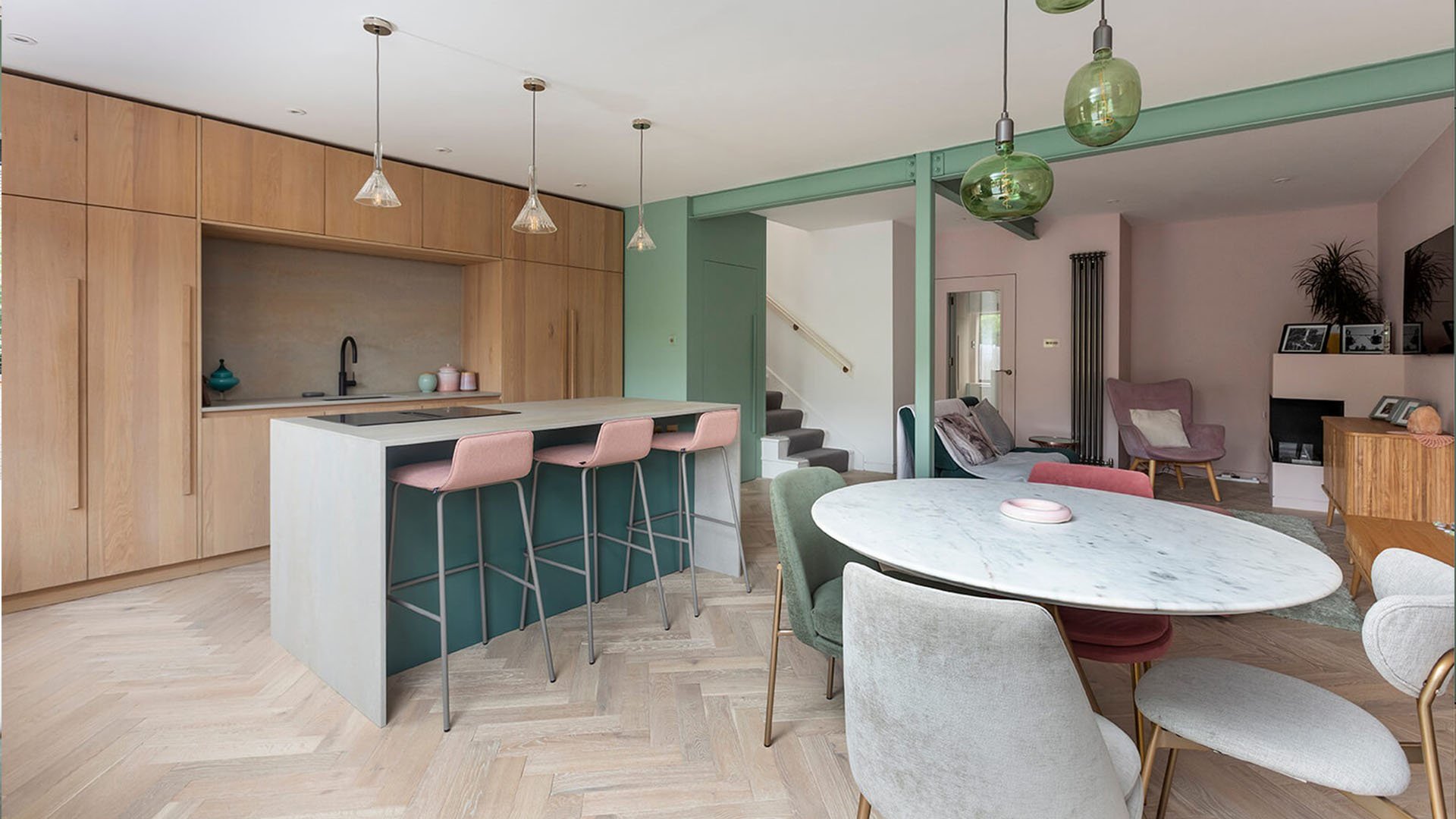 With the new layout, the clients were conscious of how much visual space the kitchen's cabinets would take up, so they asked that their storage resembles furniture. Huse opted for elegant full-height oak cabinetry on the back walls along with aquamarine open shelving and a window seat alcove. Almost every storage unit is bespoke, giving each an exact function suited to the family's needs to create a calm and clutter-free environment. Caesarstone's 4043 Primordia surface plays a key role in the material palette, ultimately pulling the finishes together – with the patinated, industrial island, countertop, and splashback modernising the traditional cosiness of the wooden cabinets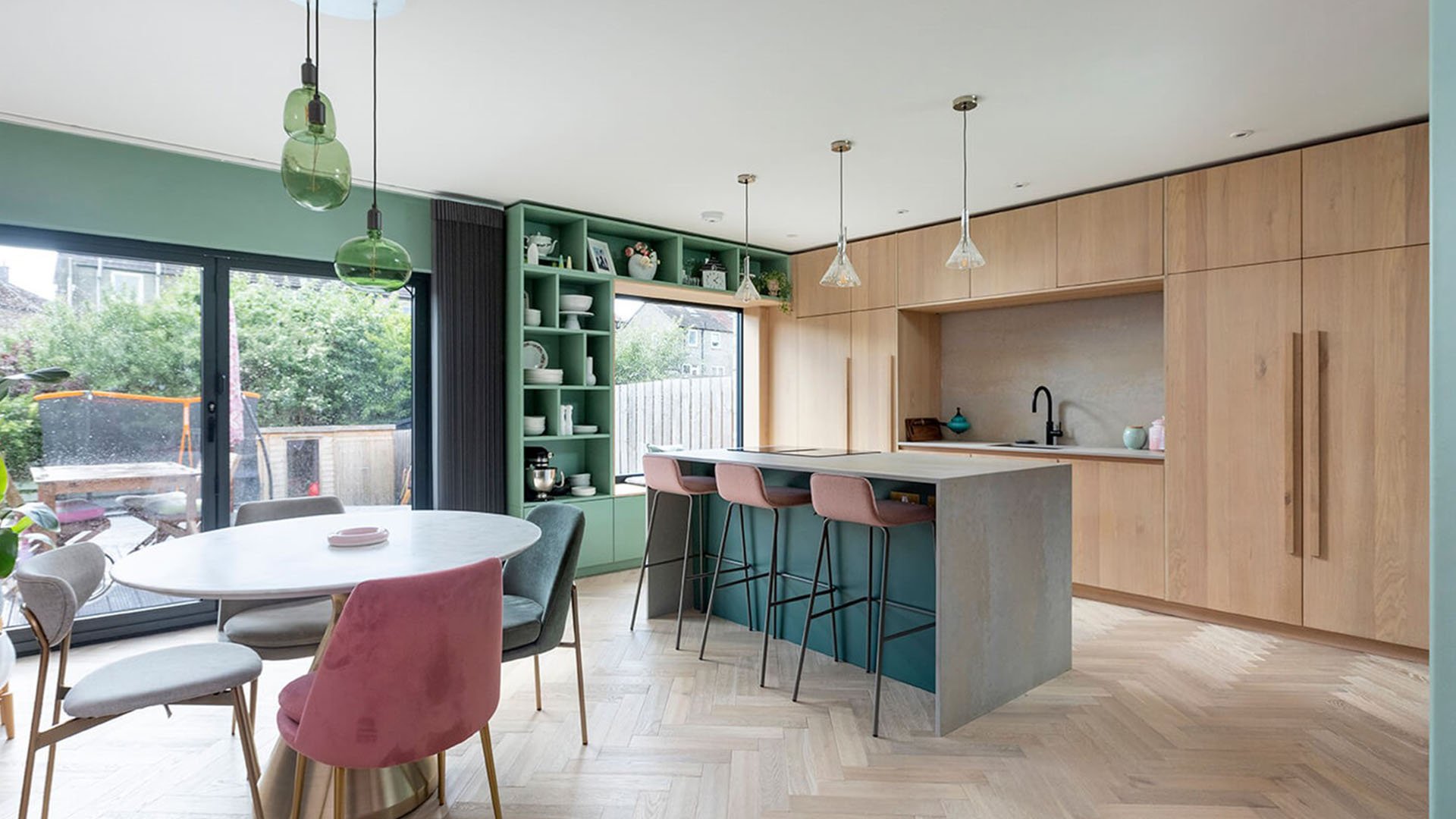 From the beginning, the clients knew they wanted a tactile, concrete-finish worktop. They were searching for a sleek and minimalist surface that would mesh well with the scheme's warmth and earthiness. 4043 Primordia delivered just that with its light concrete-coloured base with mineral speckles of off-whites and veils of greys, reflecting oxidised rusts and washed tones with traces of faint yellow and green.
Having used Caesarstone in multiple projects previously, Huse was aware of the benefits of choosing a Caesarstone surface. When asked why he selected Caesarstone he shared: "I first presented my clients with the 'Metropolitan' Collection surfaces to consider, and 'Primordia' was an instant hit. They loved the variation in colour and texture of the material, and once I explained the low-maintenance and longevity that Caesarstone quartz offers, they were sold on it for their lifestyle as well as for the aesthetic. The coppery veins perfectly complement the oak cabinetry and green within the space, bringing the whole design together".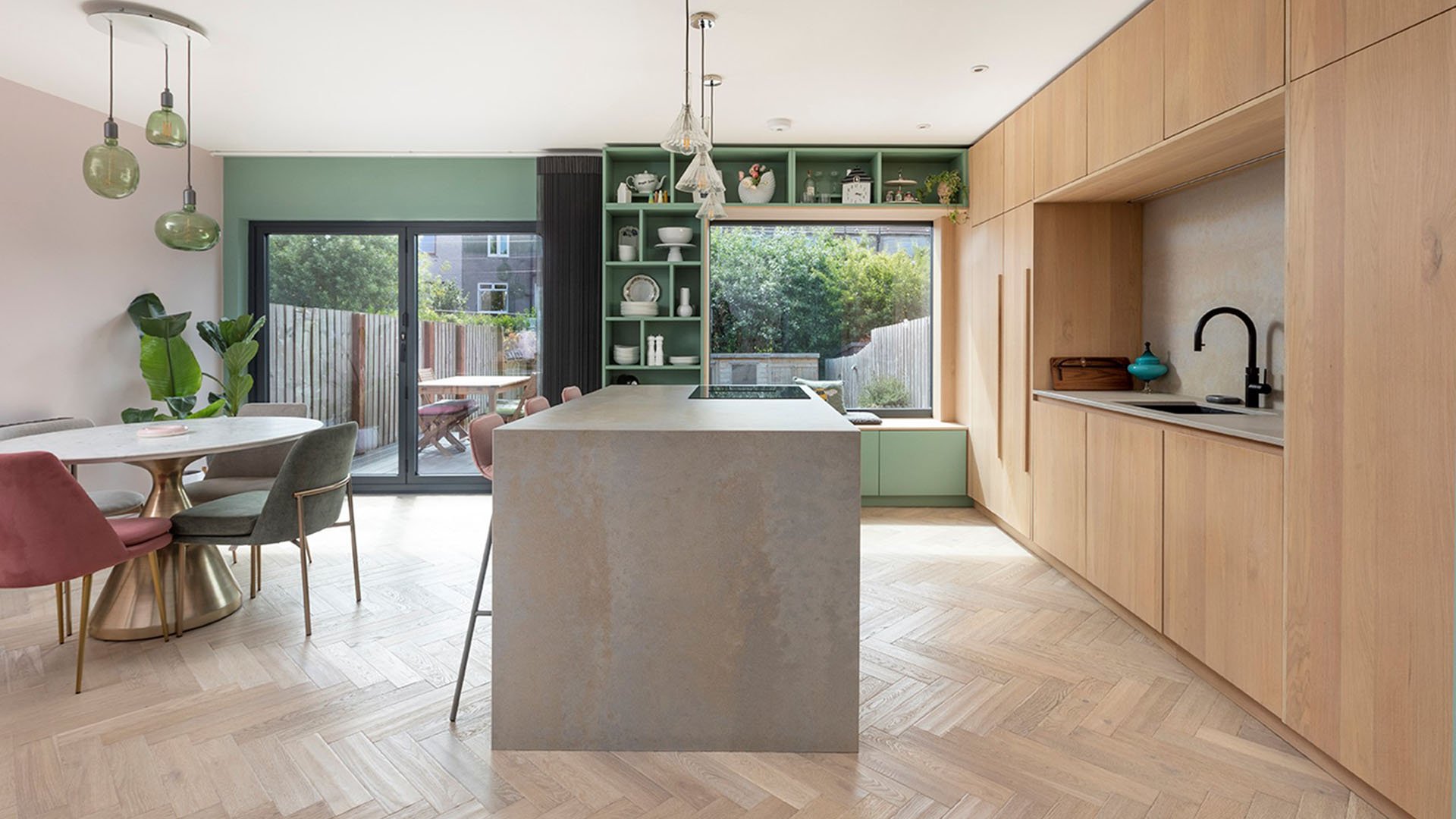 The Caesarstone island features a striking 'waterfall' edge, where the surface continues at a 90-degree angle, flowing to the floor. This creates a seamless continuation of the worktop resulting in a decadent focal point. Jon Stanley, VP Marketing at Caesarstone, explains: "When blended with the design scheme's warm woods and muted pastels, the concrete waterfall island creates a harmonious balance between traditional and modern style. The island's clean lines and sleek design make for an aesthetically pleasing kitchen centrepiece that is, above all, incredibly practical, serving as an essential central hub for preparing dinner and socialising."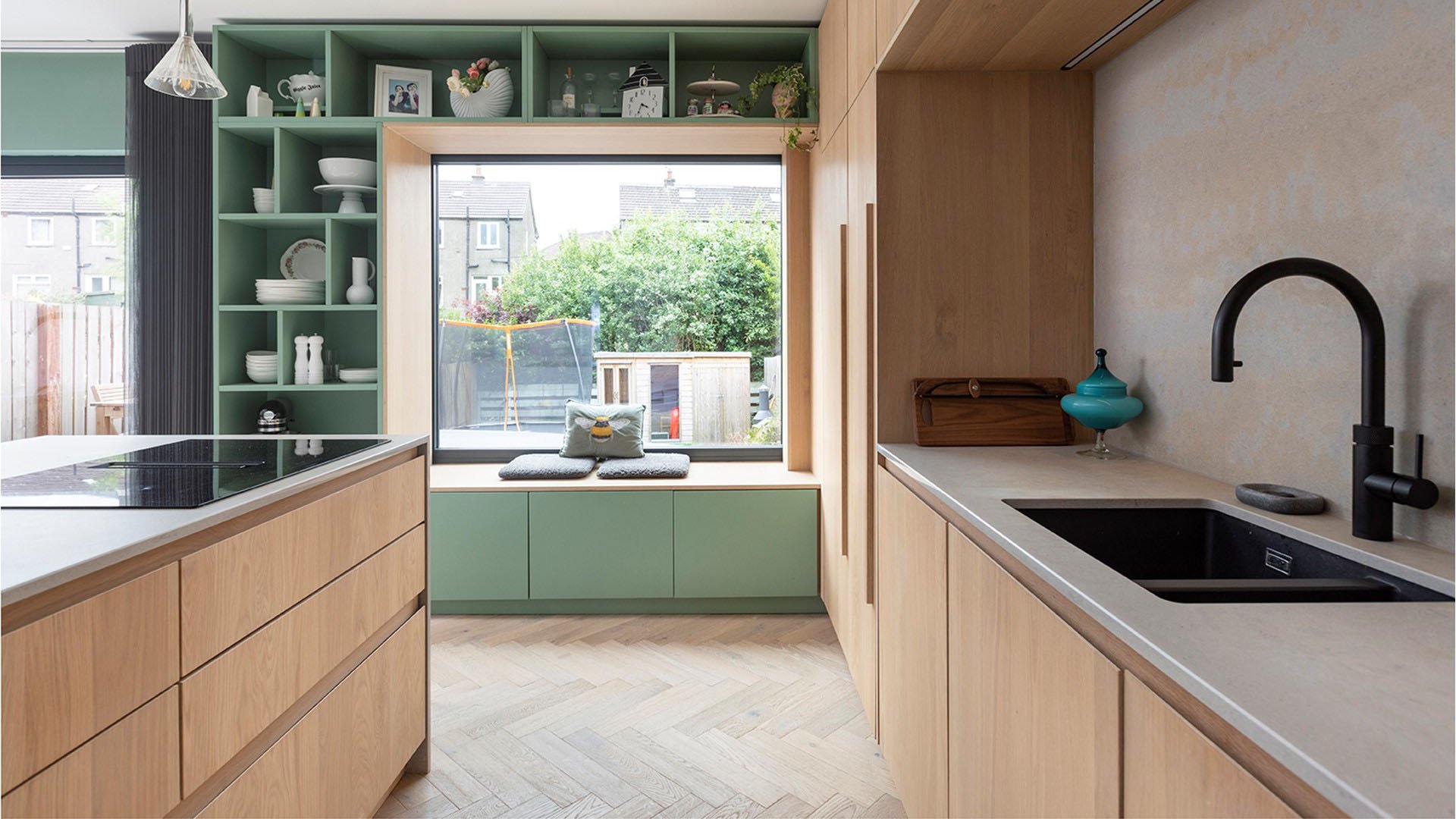 Throughout the kitchen, Siemens was chosen for the majority of appliances, some of which are hidden behind a wooden pocket door, alongside a Quooker tap and Blanco sink. The island is home to the hob which is situated directly across integrated barstool seating to create a multifunctional space. This layout makes socialising a breeze, allowing one to prepare a meal whilst their children do homework or whilst catching up with dinner guests. The open shelving is painted in an aquamarine hue whilst the island's interior is a shade of deep green with subtle blue undertones. The end result is a practical, joyful family kitchen, thoughtfully designed to bring people together and made totally unique by its blending of Scandi and industrial style – straddling both warm and traditional to the cool and modern.