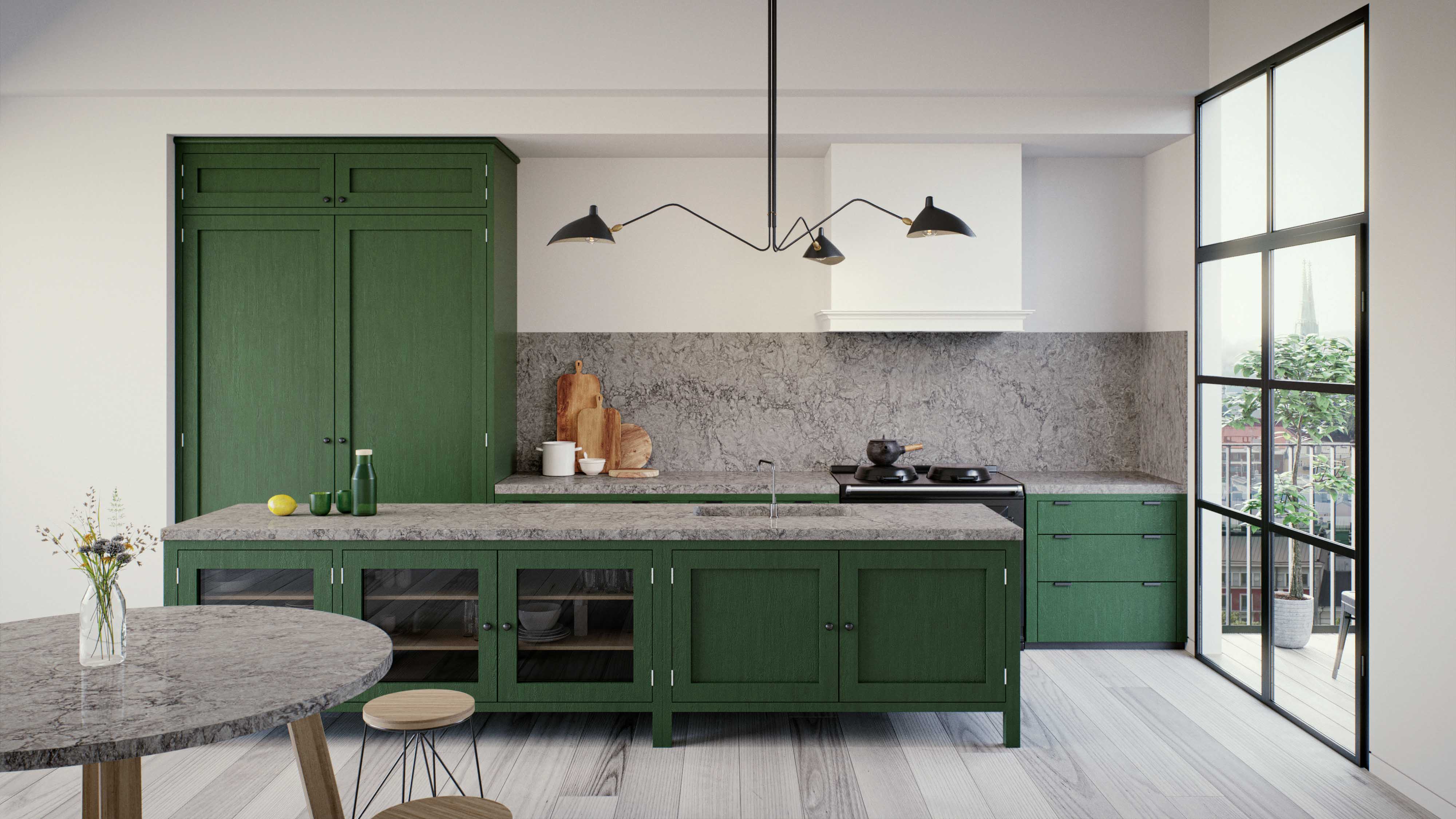 Your kitchen is the most functional room of your house and is likely the space that you spend the most time in. For most of us, as we sweep in and out from work and do the usual rounds of school drop-offs and pick-ups, cooking is a part of the daily schedule - something needed for survival but isn't a task we necessarily relish. Being such an integral room to daily life, it is important for our own wellbeing that our kitchen style combines practicality with beauty and unique character. It would be somewhere that you can't wait to immerse yourself, somewhere completely yours.
Colour, pattern and texture

The base for the look and feel of your kitchen comes from the worktop. Selecting the perfect surface will set the tone for the scheme and provide undulations in tone and colour from which to draw on in the rest of the scheme. From this, you can draw out the colour you choose to paint your units. For some kitchen colour inspiration, muted Farrow and Ball colours are very complementary, providing a timeless look to accessorise and adapt to current trends. To introduce variation in colour, pattern and texture, consider unique Fired Earth floor tiles, an eye-catching worktop and splashback or waterfall end, or statement wallpaper, are all perfect ways to add layers of dimension. Evoking all the senses in this way brings us into the present and more mindful of the moment.
When it comes to individual styling, it's your cookware and tableware that will ultimately distinguish and create a colourful kitchen. Show off your Le Creuset or copper pots and pans to add in splashes of colour. Rugs can be used to help zone different sections to cooking, socialising, a space for the kids and dining. We especially love the Asko Rug by Linie Design, which though simplistic in design, adds a touch of contemporary styling. Blinds and curtains will help to either soften or add statement to a window dressing to add to your colourful kitchen. Soft furnishings such as cushions and tablecloths are also ideal for picking up an accent colour or introducing pattern and texture. The Le Cirque Linen Tablecloth by Summerill and Bishop adds a fun twist to your dining table.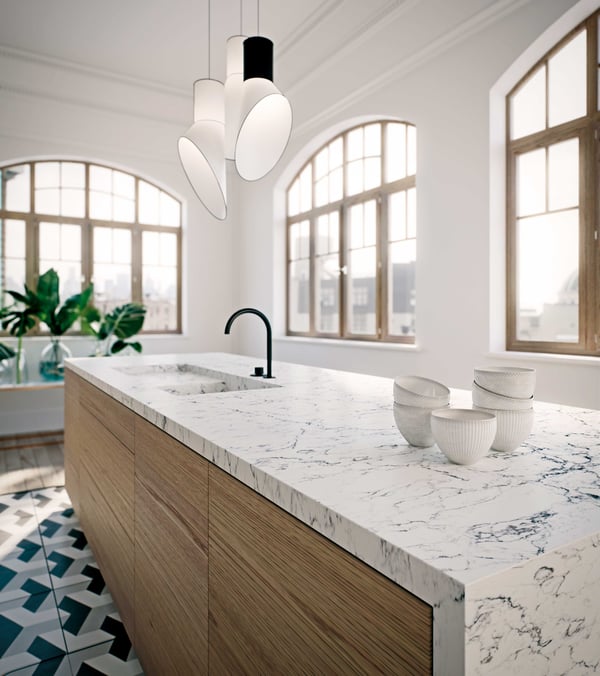 Statement elements

It's the small touches that can transform your kitchen and dining furniture from characterless to luxury. Upgrading basic cupboard handles will revamp the entire feel of your units and swapping standard chrome taps for brass or copper can give your kitchen a designer edge. Neptune has an array of elegant taps which will add a fine finish to your kitchen. Adding in a little luxury is a reminder to treat yourself and enjoy the occasional indulgence.
When it comes to kitchen and dining furniture, the juxtaposition of quirky retro or handcrafted pieces sitting amongst sleek modern designs can instantly add a touch of personality to your kitchen. Whether it's an art deco drinks cabinet, statement dining room table or your prized art handed down from generations, your furniture can become the focal point of your room. These don't have to be prohibitively expensive - charity shops, auctions or car boot sales are brilliant sources for finding distinctive, individual pieces. Any blemishes or imperfections add to the character, but if an item is in need of particular TLC, then a fresh coat of varnish or chalk paint can reinvigorate even the most unloved and neglected of kitchen and dining furniture.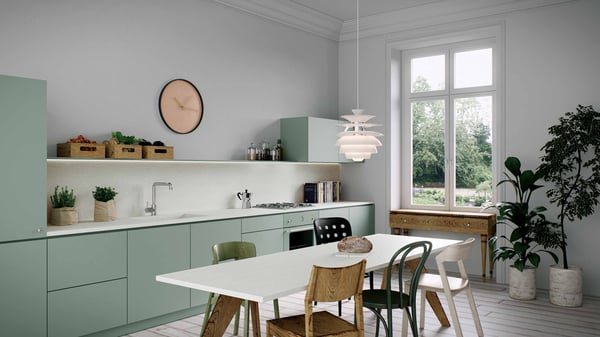 Creating a mindful kitchen
The basis of a calm space is often achieved using white kitchen design. The solid grounding of a white stone worktop with whitewashed walls instantly creates a feeling of expanse, and with that complete peace and contentment.
Add to the white kitchen design by bringing in greenery. Plants are known to add tranquillity to any space and have the benefit of oxygenating a room and boosting mental health, instantly breathing life into your kitchen. There is flora for every style, whether it be rustic kitchen herb planters that you can utilise in your cooking, or you're feeling the Scandi vibes, then fill the room with bursts of vivid green, introducing cheese plants, trailing ivy and peace lilies. Or perhaps you're honing your classic Victorian styling with terrariums and elegant floral focal centrepieces.
Lighting plays a large part in creating an ambient space within a white kitchen design also. Whether it's pendant lights with an industrial edge or theatrical chandeliers, hanging lights can be used to illuminate your island or make a feature of otherwise dark corners of the room. Antique or modern fixtures can transform your room, adding a focal point as well as increased functionality. Spotlights or lamps positioned under your top cupboards are ideal for better visibility as you chop, but also to highlight those carefully chosen statement splashback and show off your luxury worktop. Lighting is another effective way to add ambience to a room and to enhance the overall enjoyment of the space, making it somewhere you relish to be.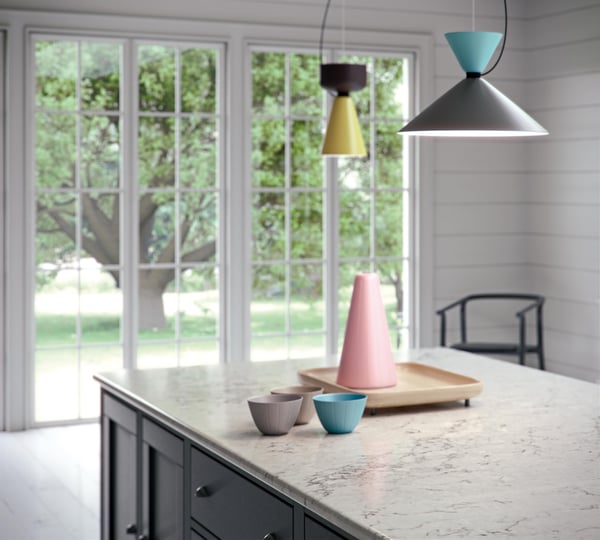 For ideas and inspiration on creating the perfect, personality-filled entertainment spaces in your home, download our 'Step-by-step guide to creating the perfect kitchen for entertaining'...

Images Source: Caesarstone
Topics