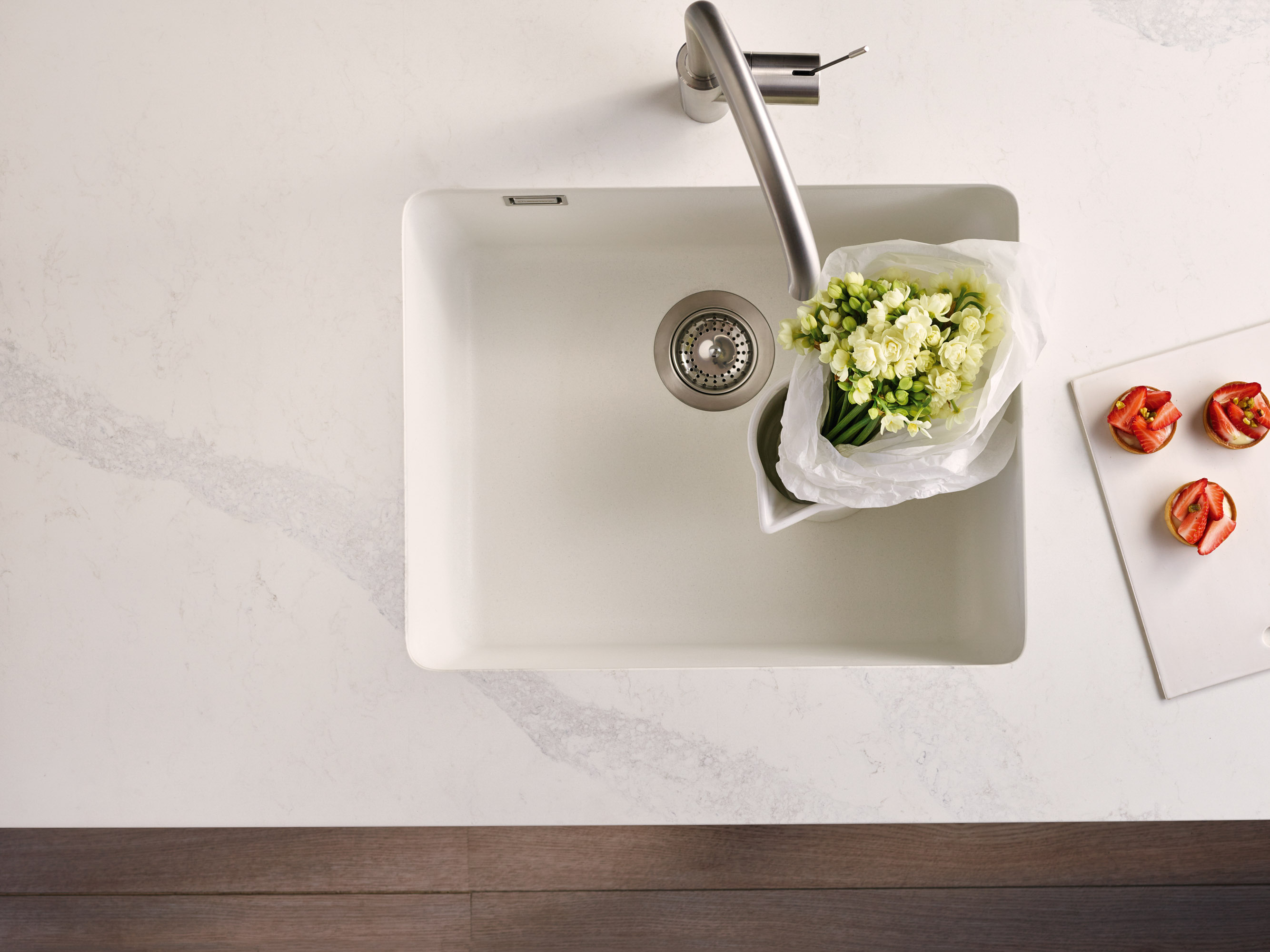 One of the most important decisions you'll need to make when designing your kitchen is the choice of worktop. As well as being a very visible aspect, it will also be the most hard-working, so your worktop needs to have the right aesthetic and functionality.
In recent years, marble worktops have become one of the most sought-after materials for surfaces, renowned for its polished lustre and beautifully unique veining. While it's the look everyone wants, its soft and porous nature means it's highly prone to scratches and stains.
So what if you could have something that looked like marble, but with improved durability and less maintenance? Enter, quartz.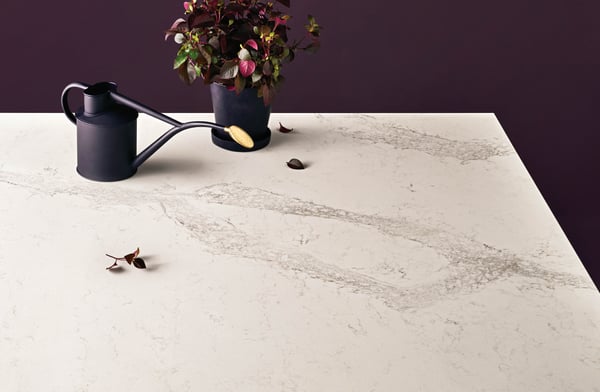 5131 Calacatta Nuvo
What is quartz?
Quartz is an engineered worktop material composed of natural quartz crystals, one of the hardest minerals on the planet, and sometimes an amalgamation of raw materials such as glass pigments, resin and polymers. Usually, the ratio is at least 90% quartz to 10% of the other raw materials. It is worthwhile selecting an established brand to ensure the quality.
What does quartz look like?
Cool to touch with a refined, polished, matt or textured surface, quartz can bring a real sense of luxury to any kitchen, with an almost endless range of colours and finishes to choose from. The manufacturing process allows quartz to mirror the look of other types of stone, but with more control over the pattern placement that makes for an awe-inspiring work surface that can suit both contemporary and traditional kitchens.
Innovative technology means quartz can replicate the intricate veins usually found on marble, or the striking weathered patinas that occur on concretes or plasters, as well as the granular, natural effect of granite. Colours range from earthy, muted tones in browns and grey, to sleek, monochromatic hues with contrast flecks and subtle variants that add striking depth.

5031 Statuario Maximus
How easy is it to care for and maintain quartz?
One of the biggest supporting factors of quartz is that it's virtually maintenance free. Marble is actually considered a soft and porous stone, meaning it absorbs liquid and leaves watermarks very easily. Regular sealing is required to allow time to clean up spillages and prevent staining, however marble can only be cleaned with a PH neutral cleanser to avoid damaging the surface.
The non-porous nature of quartz means it doesn't require sealing and is designed to be stain resistant, with no need for specialised cleansers. It's also less susceptible to mold and bacteria growth, making clean up and care much simpler. If you don't have the time to keep a natural stone like marble in top condition, quartz is a much lower-maintenance option.
How durable is quartz in comparison to marble?
Marble is primarily made up of calcite, which means it is not very durable. It reacts badly to acids and alkaline (so anything from lemon juice to vinegar) which can cause 'etching', whilst a sudden impact, like a cast iron griddle getting dropped, can cause stun marks that can't be removed. Quartz, on the other hand, has a very hard surface that does not show etches or scratches with everyday use – perfect for busy households with kids or those who don't want to worry about damage.
What's the price difference between quartz and marble?
Comparatively, marble and quartz are on a similar price scale, with quality and upkeep being the two key factors that increase the cost of marble. Owning marble is arguably a long-term cost burden: to keep it in good condition, it requires regular sealing and will likely need replacing much sooner than quartz. On the other hand, quartz can vary in price depending on the supplier -- to guarantee proper craftsmanship and quality, it's recommended you buy the very best quartz you can afford from a reputable manufacturer.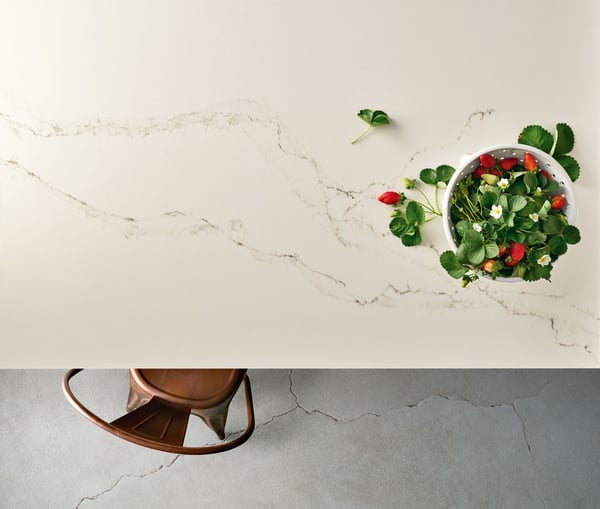 5111 Statuario Nuvo
Ultimately, whilst marble has the old-school grandeur associated with it from times gone by, the poor practicality of the stone has become increasingly apparent with the introduction of more durable alternatives like quartz. A quartz worktop can be a part of your kitchen for many years with little to no maintenance required, boasting unparalleled practicality as well as a beautiful finish that can fit with any theme.
Still not sure on which worktop will work best in your kitchen? Take a look at our comparison infographic, covering the key advantages and disadvantages of a few of the most popular surface materials available, or download our brochure to see the range of quartz surfaces we offer.
Images Source: Caesarstone