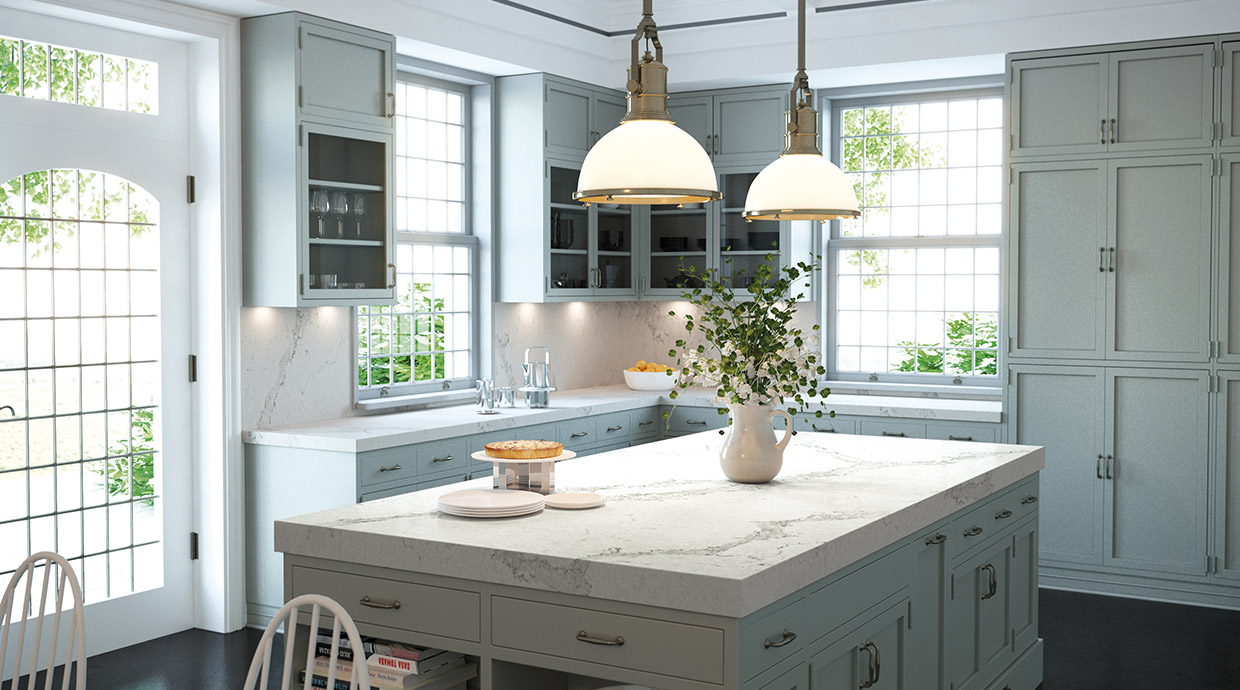 Selecting the right style of kitchen takes careful consideration. With so many variations on so many different themes available, it can be difficult to focus on just the one. You may quite like the look of the latest industrial trend or you may appreciate and enjoy a colourful high gloss look, but when it comes to actually investing in the right design for your own home, nothing beats the timeless feel of a truly classic kitchen. Elegant, sophisticated, understated… these are all words that we associate with the classic approach. Nothing is overdone; everything has a purpose and has its place yet each and every detail is well thought out and as functional as it is beautiful to look at.
Classic cabinetry
Starting with the furniture, typical classic kitchens are painted or come in natural timber in-frame designs. The Shaker style is one of the most popular as it offers a traditional feel that can be quickly and easily accessorised and updated with textiles, small appliances and worktop gadgets and gizmos. Colour-wise, greys and blues are still an enduring classic kitchen trend, as you can adapt it to suit your room and preference. Think dark graphite contrasted with white quartz surfaces or pale sky blue tones teamed with a marble or concrete-effect finish.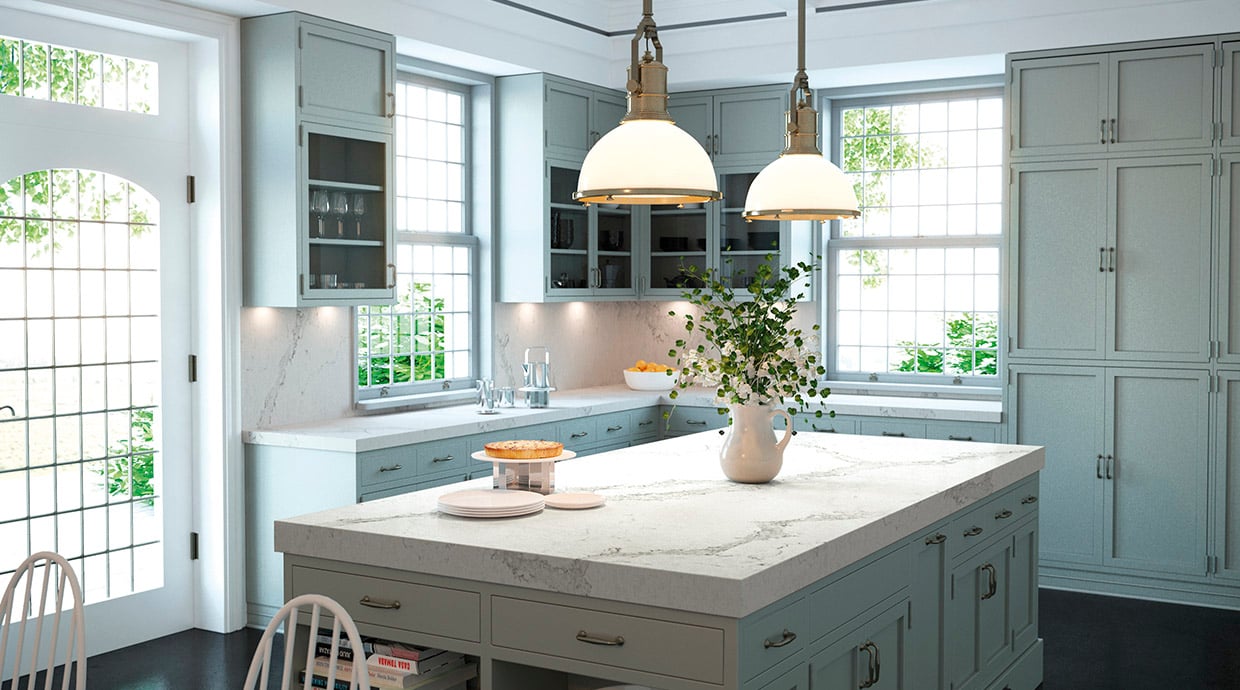 Quartz surfaces such as Calacatta Nuvo combine with pale blue in-frame cabinetry to offer a subtle colour contrast, perfect for classic kitchen design

Surface gain
Stone-style surfaces suit classic kitchens perfectly. Many homeowners like the luxury feel of natural marble, granite or limestone and whilst these materials certainly deliver in terms of traditional visual appeal and a robust appearance, they can be somewhat heavy, porous and high maintenance, not to mention having the higher price tag to go with it. Quality quartz surfaces are the ideal alternative and you can find any number of options in terms of style, colour and tone. A product such as Caesarstone for instance is available in everything from the granite-inspired Turbine Grey and the veined marble look of Montblanc to the many designs in the popular Classico collection, with subtle tones of Misty Carrera to the dramatic deep richness of Black Noir. And it's not just worktops that quartz can be applied to either – it can also be used as a co-ordinated sink, splashback and upstand for a seamless finish. It can even be applied as cladding for walls and furniture and used as flooring, too.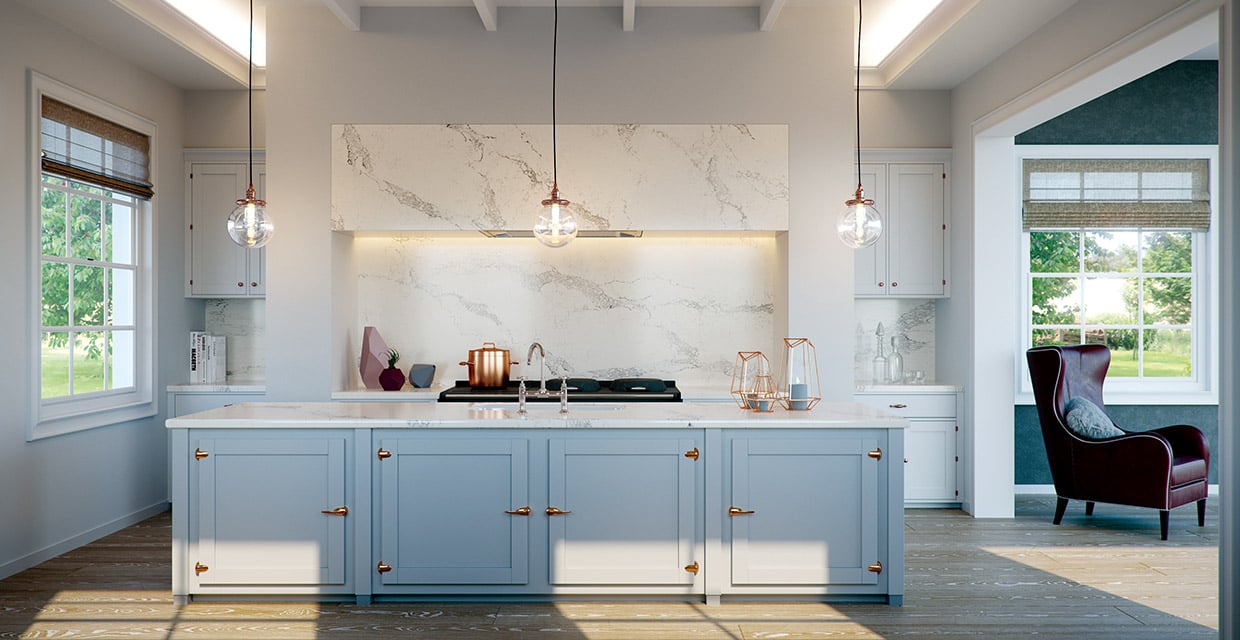 Marble-effect Statuario Nuvo quartz surfaces can be used as worktops, splashbacks, upstands and wall cladding for a sophisticated, seamless finish

Floor show
Speaking of flooring, if you prefer something more obviously classic underfoot, many designers are installing reclaimed timber planks in a traditional kitchen scheme. Not only does this timber flooring do its bit for the environment but it also brings out the natural beauty and warmth of wooden cabinetry. A tiled stone floor is another option and both materials should work with underfloor heating, though it's best to check with your supplier before you buy. An encaustic ceramic tile, where the pattern on its surface is of different colours of clay, can add a Mediterranean feel and bring a touch of colour to an otherwise simple and subtly coloured setting. And for something ultra durable, hardwearing and stylish, quartz can also be used as a floorcovering, with a wide and varied selection of tones, textures, patterns and prints to choose from.
Oven ready
Keen chefs and home cooks alike need to carefully select their kitchen appliances, choosing features and functions that suit their culinary style. A freestanding range cooker will create a striking focal point within any classic kitchen design and you can find various sizes and finishes to complement or contrast with your kitchen cabinetry. As well as stainless steel and black gloss for a professional look, you'll also find colourful enamelled designs such as Cranberry, Olive Green and China Blue from Rangemaster's vast collection of dual-fuel, induction and gas designs. When you need more cooking cavity, team a range cooker with a built-in single or double oven or when space allows, a bank of the integrated oven, steam oven, coffee machine and warming drawer.
Sink style
A popular choice for classic kitchens is the ubiquitous butler or Belfast sink. These fireclay ceramic workhorses are large enough to cope easily with big baking trays and they work wonderfully set within a quartz surface surround. They are also a huge help in a separate utility area too, as they can be used for washing muddy boots, rinsing vegetables from the allotment or even hosing down the dog! Team with a classic crosshead mixer tap with ceramic indices and use open timber shelving to display all manner of pots, jars and utensils and your classic kitchen look is complete.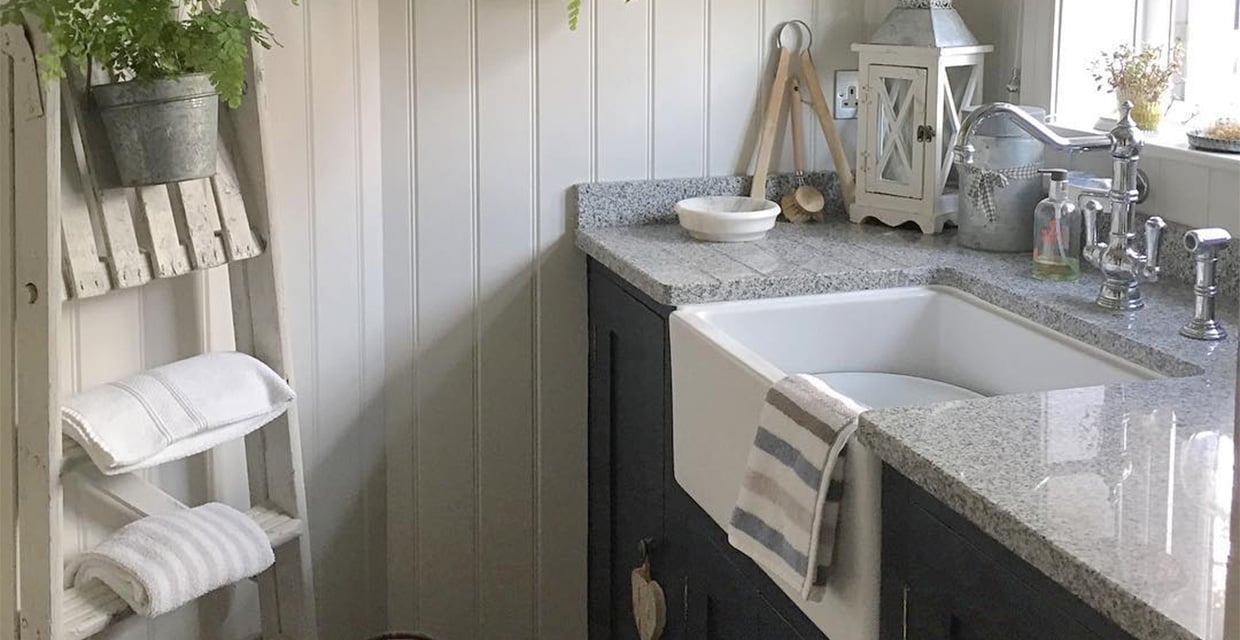 A traditional butler or Belfast sink is the epitome of classic kitchen style as seen in this utility room. Image courtesy of Simply House and Home.