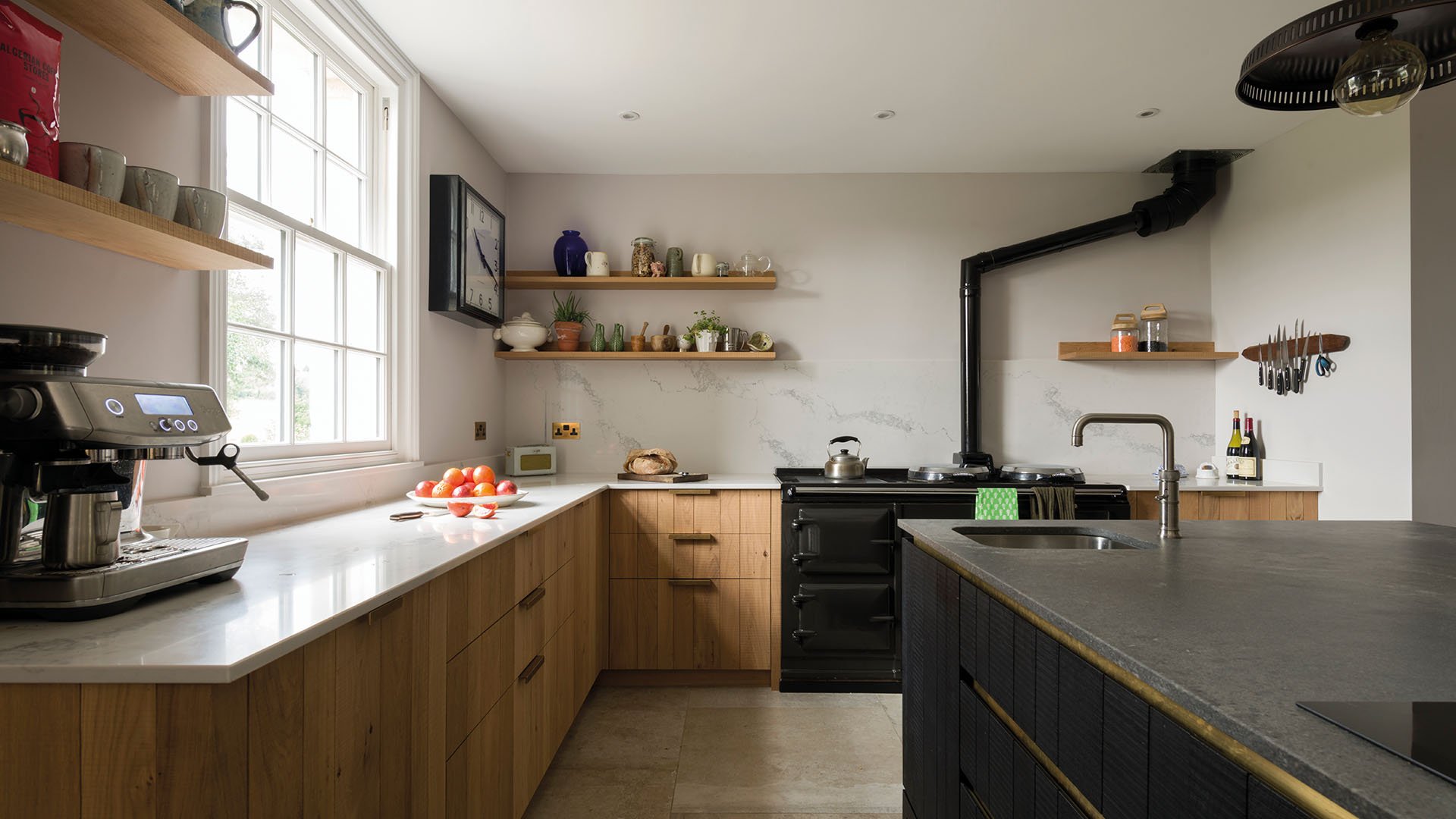 Caesarstone 4033 Rugged Concrete and 5031 Statuario Maximus worktops chosen for contemporary, industrial Kent kitchen
When the owners of this Georgian Manor House in Sissinghurst, Kent, decided to embark on their kitchen renovation, they had a clear vision. Designing an informal, practical and contemporary space with subtle industrial references. To bring the idea to life, the design team at kitchen makers Inglis Hall opted for a sumptuous colour palette, topped with Caesarstone's 4033 Rugged Concrete and 5031 Statuario Maximus.
The clients, a London lawyer and his wife, concepted a cool, contemporary design to replace the previous scheme - a dated kitchen they had installed when they moved into the house fifteen years ago. The space needed to be versatile, functional and welcoming, able to withstand the demands of daily life whilst also serving as a stylish backdrop for family gatherings. Armed with a clear brief, Inglis Hall designed a space full of character, with effortless utilitarian styling that harmonises with the imposing period architecture and rural surroundings of the property.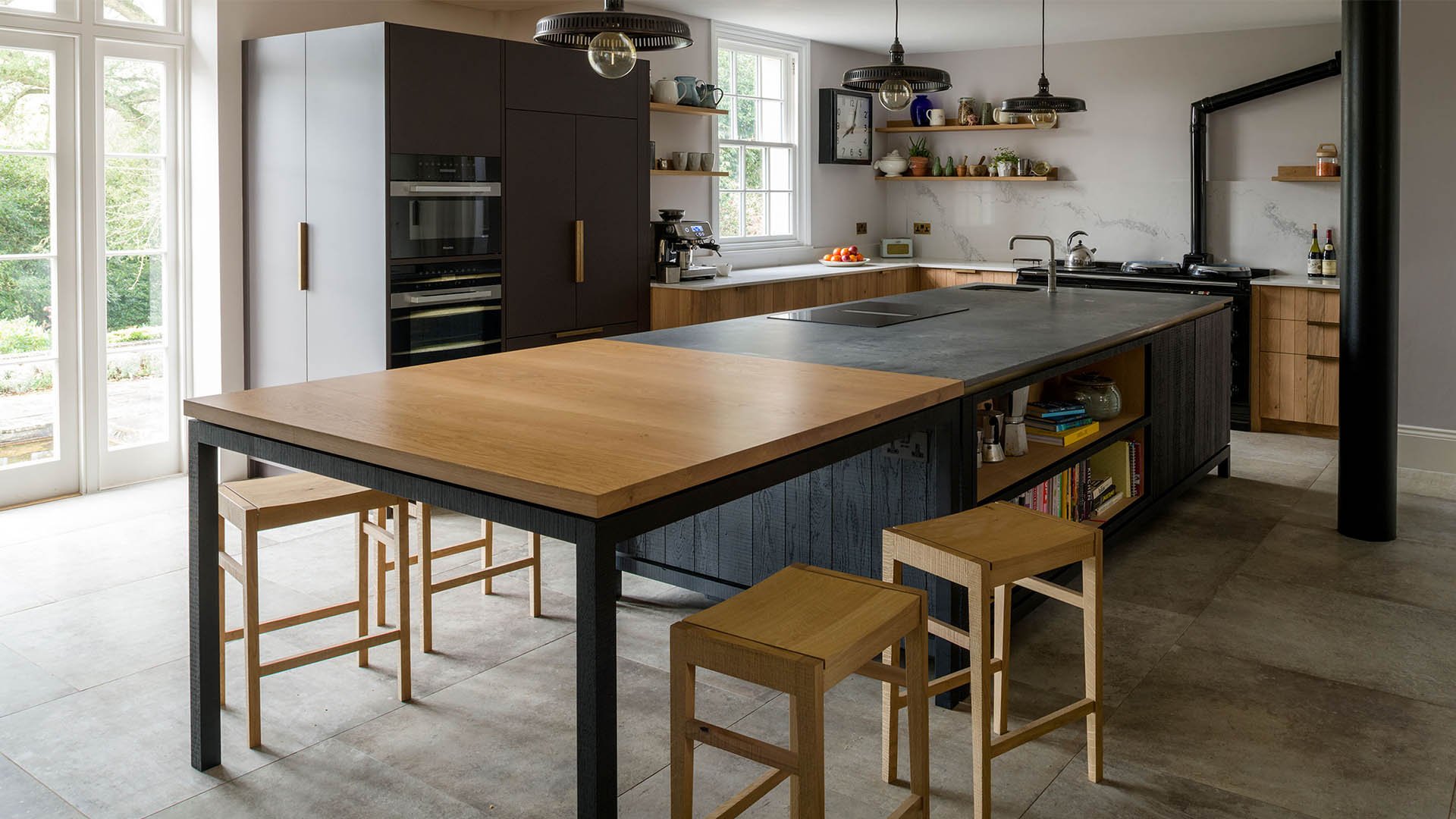 Caesarstone's 4033 Rugged Concrete was chosen for the central island and 5031 Statuario Maximus for the surrounding worktops, creating a modern and eye-catching combination that instantly brings this outstanding property into the 21st century. The dramatic gradients of greys of 4033 Rugged Concrete are enhanced by an industrial-inspired patina and a deep textured finish. Adding a softer edge, 5031 Statuario Maximus brings balance and a classic elegance to the space, with its feathered white base and timeless light grey swirls.
Commenting on the choice of surfaces, Jay Powell, Design Project Manager at Inglis Hall, says: "We love the vast collection of colours and finishes available at Caesarstone and feel that these surfaces have a properly natural look and feel, which is sometimes hard to find with other manmade products. The honed and concrete finishes, in particular, give a softness to what is undoubtable the hardest material in a kitchen."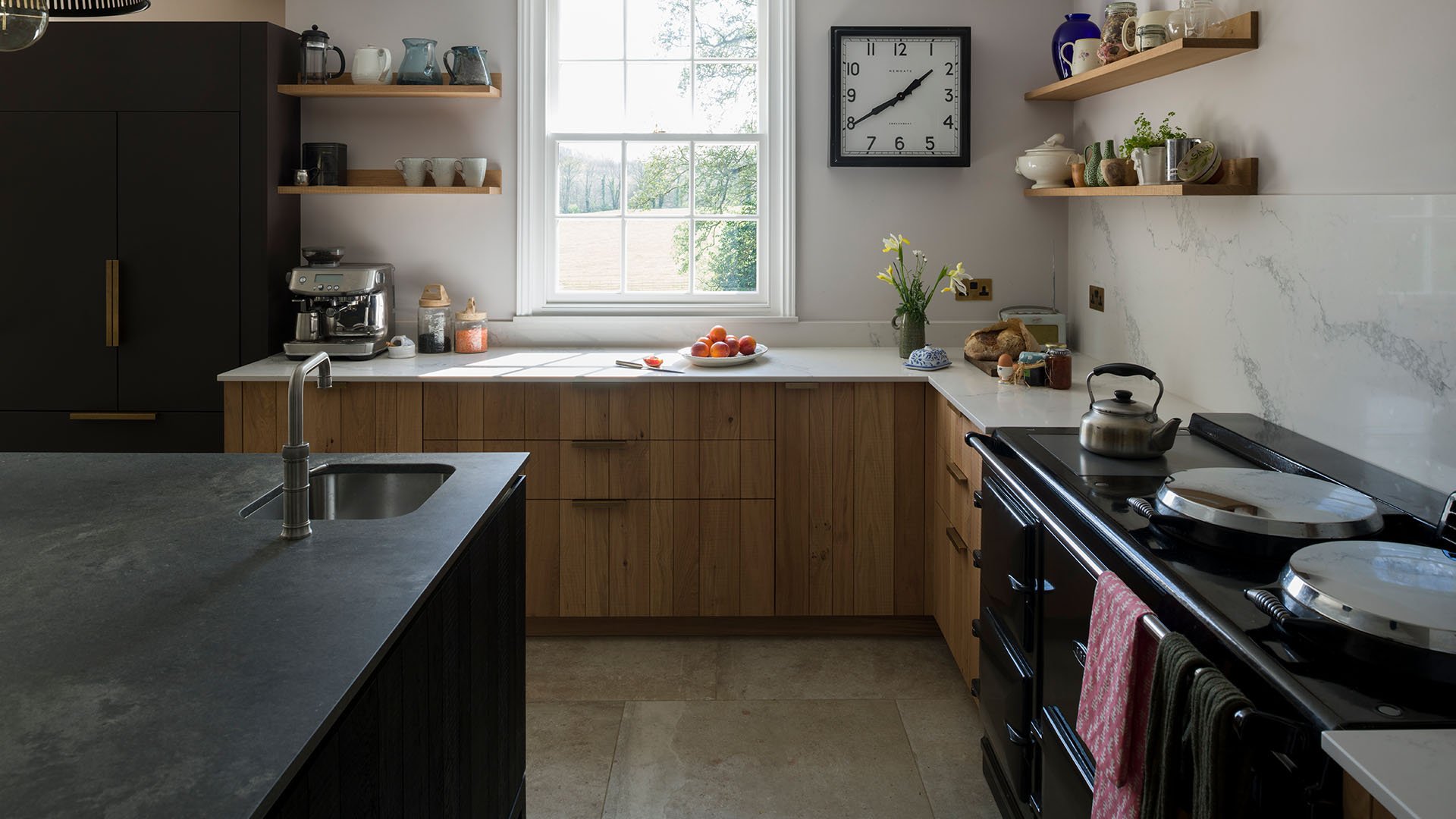 Mirroring the contrast between the different surfaces, the sleek cabinetry is a mix of Fenix's Cacao Orinoco, a sophisticated dark brown, and sawn oak in raw and black finishes. Hints of unlacquered brass on the island and door knobs provide a touch of quiet luxury and will add to the urban feel of the space as patina starts developing over time.
A multifunctional, handcrafted freestanding cabinet is one of the highlights of this characterful kitchen. Incorporating a home office set up on one side and a drinks station on the other, complete with a 5031 Statuario Maximus countertop, it is a charming representation of work/life balance. The sliding door allows for one side to be open whilst the other is hidden away.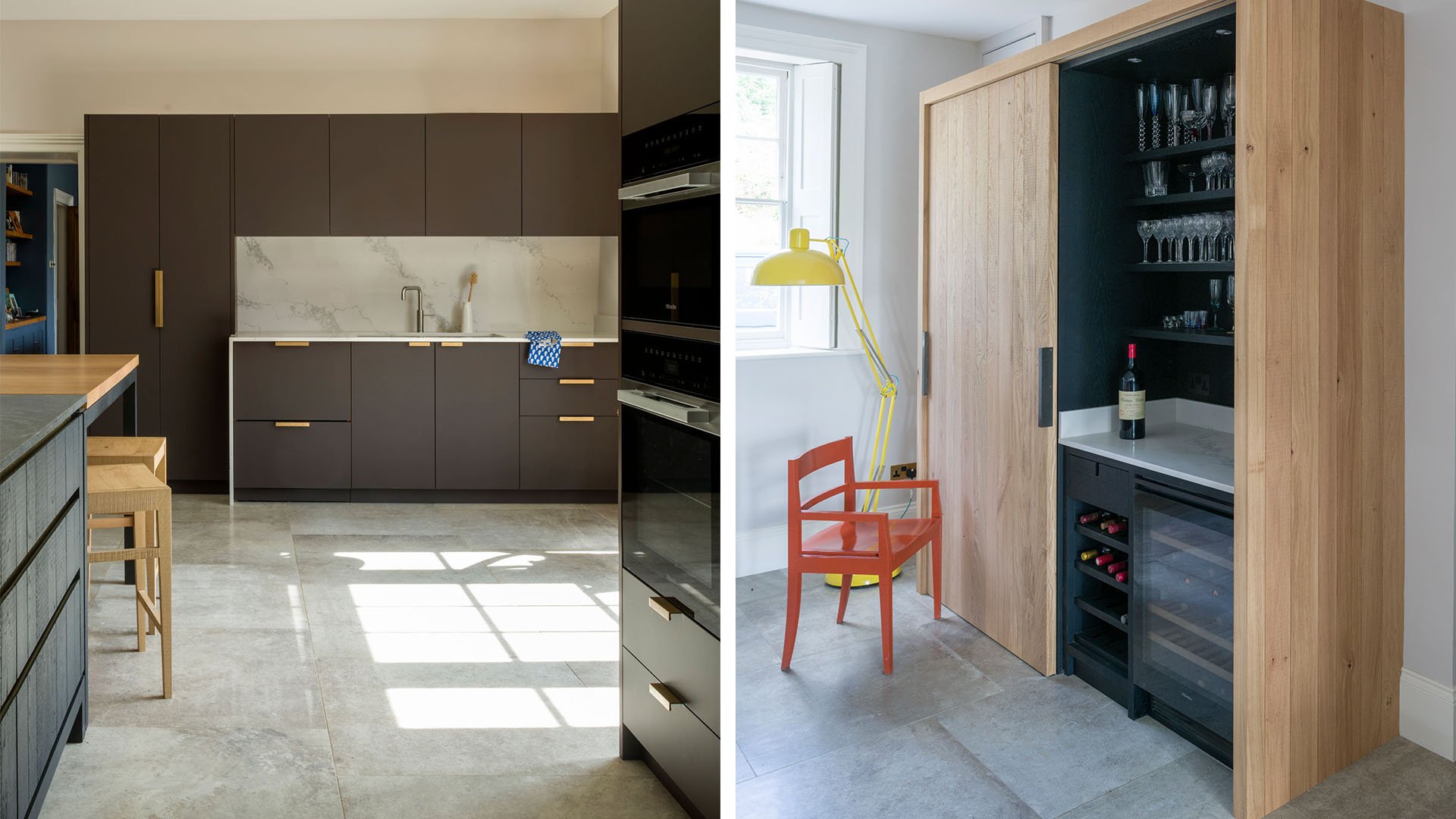 Completing the kitchen are appliances by Fisher & Paykel and Miele, as well as two taps by Quooker.
Reflecting on the biggest challenge that the Inglis Hall design team had to face, Jay Powell explains: "Designing for a space that was yet to physically exist was difficult. The project programme and our production times dictated that the majority of the kitchen was designed and built before the building works had even commenced and two former rooms were made into one. We used a combination of digital visualisation and actual physical samples with constant and very stringent measuring and remeasuring to make it all happen."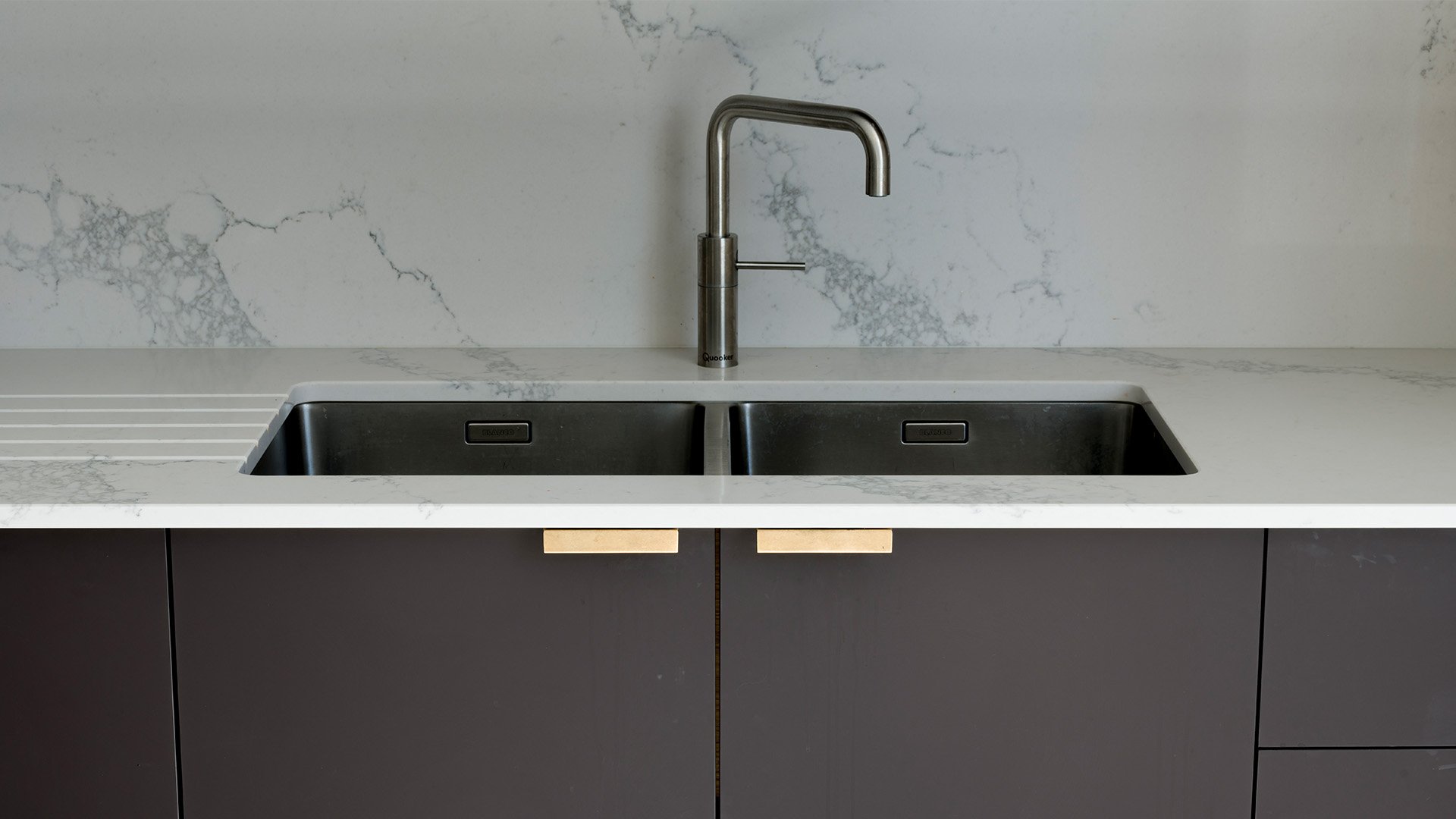 Are you feeling inspired to take the next step in your kitchen renovation? Caesarstone offers an online visualiser that helps you see your ideal surface in a 3D space. You can also browse Caesarstone's catalogue and order samples to get a taste of your new surface.
Photography by Leigh Simpson
Topics