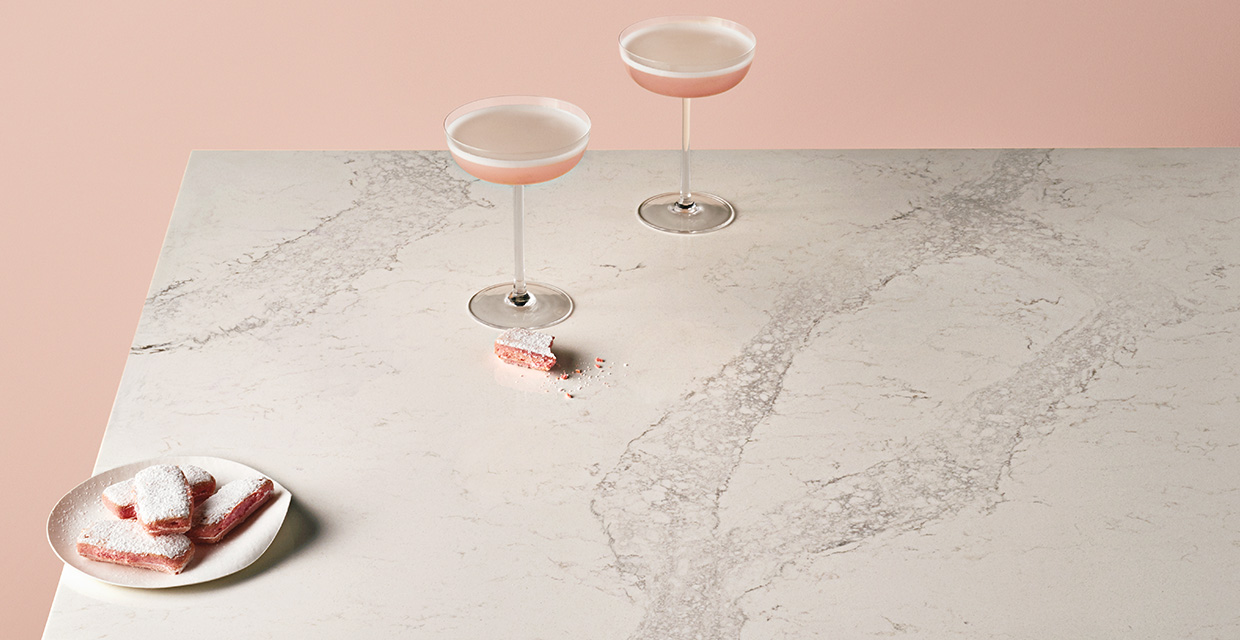 More than ever before, the kitchen has become the heart of the modern home, a place in which we cook, eat, entertain and socialise. A multi-function space where children do their homework and parents run the house and maybe even a business. Naturally, kitchen design has evolved to accommodate our contemporary requirements and kitchen islands, larders, utility rooms, boiling water taps and gigantic fridge freezers have all become the norm.
However, one of the largest, most used and abused components in a kitchen is also probably the least understood; the work surface.
As kitchen design has moved on, the work surface has become a much more prominent feature. Our desire for upstands, splashbacks and waterfall ends mean there is more surface material on display than ever before. Consequently, many kitchen designers now start with the work surface and choose cabinetry and components to match it, where as previously the colour of the doors was usually the key choice. Of all the available surface materials, quartz is the fastest growing category in the UK, but we find that often we're asked questions on the unique properties of the material.
What is quartz?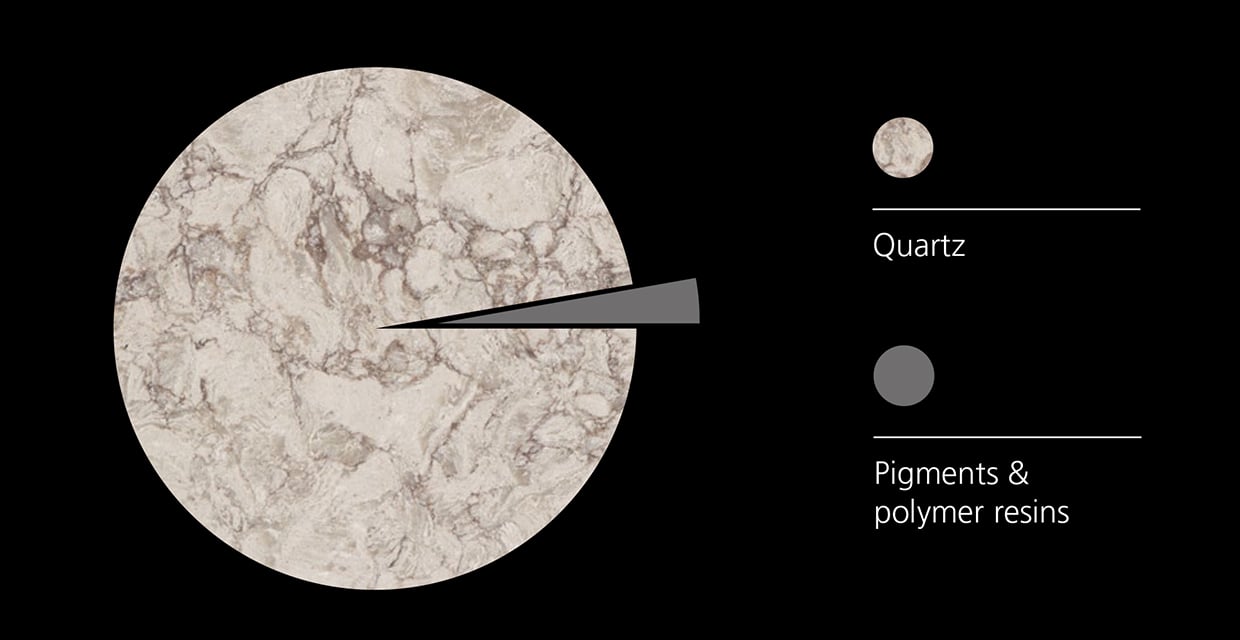 Often referred to as 'engineered stone', quartz surfaces are generally made up of around 93 per cent quartz aggregate – one of nature's strongest materials - and 7 per cent polymers and resins that bind the materials and give the finished material its colour and pattern. They are formed into large slabs, typically 3050mm x 1440mm that are then cut by stone masons or 'fabricators' to suit specific designs. As well as being used in domestic settings, the properties of quartz mean that the material is also used commercially in shopping centres, coffee shops, bars and sports stadiums, for example.
Use our visualiser to try out new kitchen design ideas >>
Why is it growing in popularity?
Good quality quartz surfaces are less porous, more flexible and harder than many types of natural stone. Its low porosity means that it is highly resistant to stains as well as mould and bacteria. Unlike natural stone, the engineered nature of the material ensures that there are no unseen cracks or flaws within it. The quartz component within the material makes the surfaces extremely durable and scratch resistant.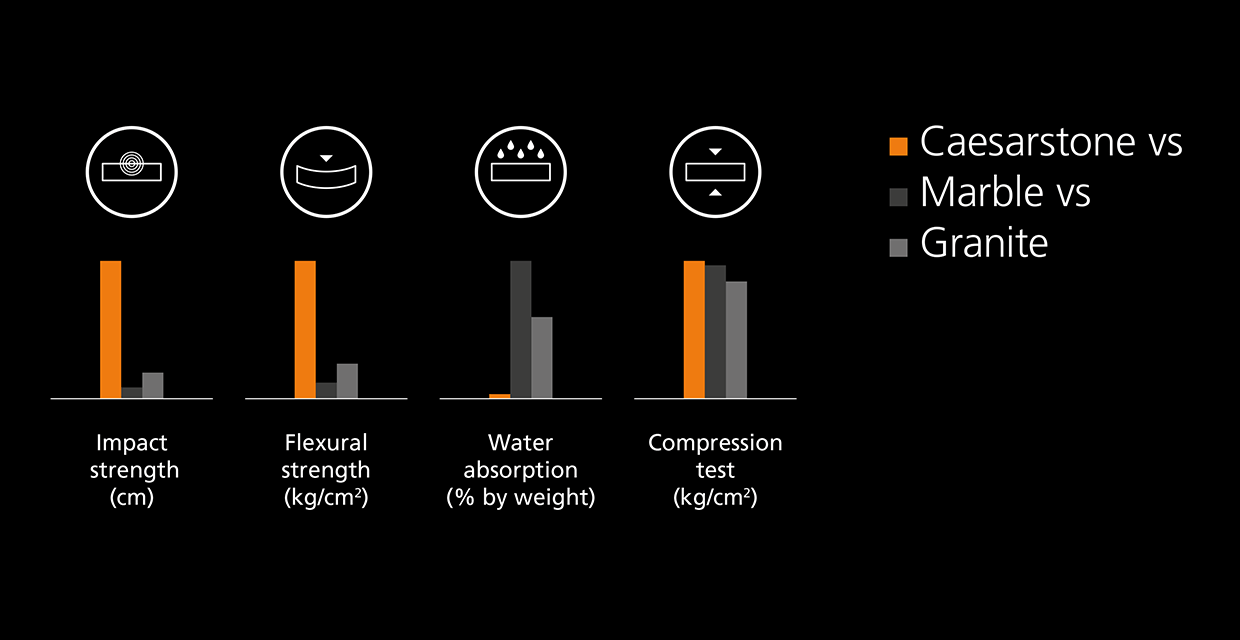 Quartz also brings with it an aesthetic advantage in so far that the best designers can create a huge variety of colours and patterns that match or better materials like marble, granite, limestone or urban styled finishes such as concrete.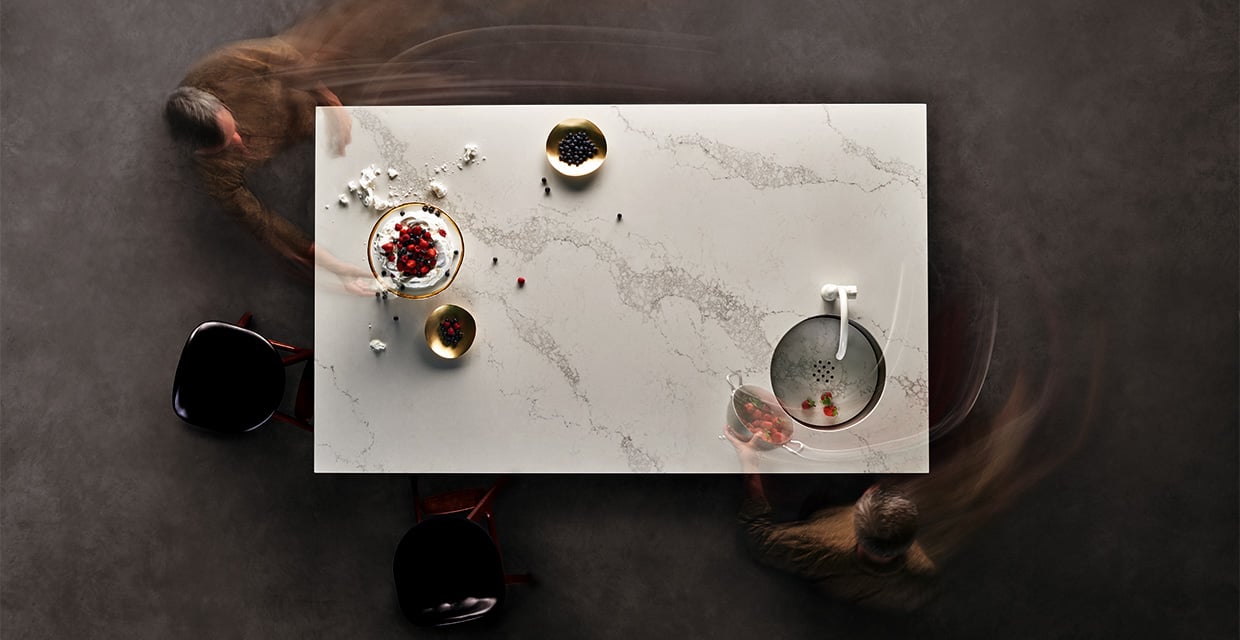 Who is Caesarstone?

Caesarstone is an international brand that designs and manufactures high quality engineered quartz surfaces. The brand is credited with pioneering quartz surface production processes more than thirty years ago and it continues to lead the industry today. Its three decades of operation gives the brand an unrivalled expertise and Caesarstone is globally renowned for its continuing product innovations.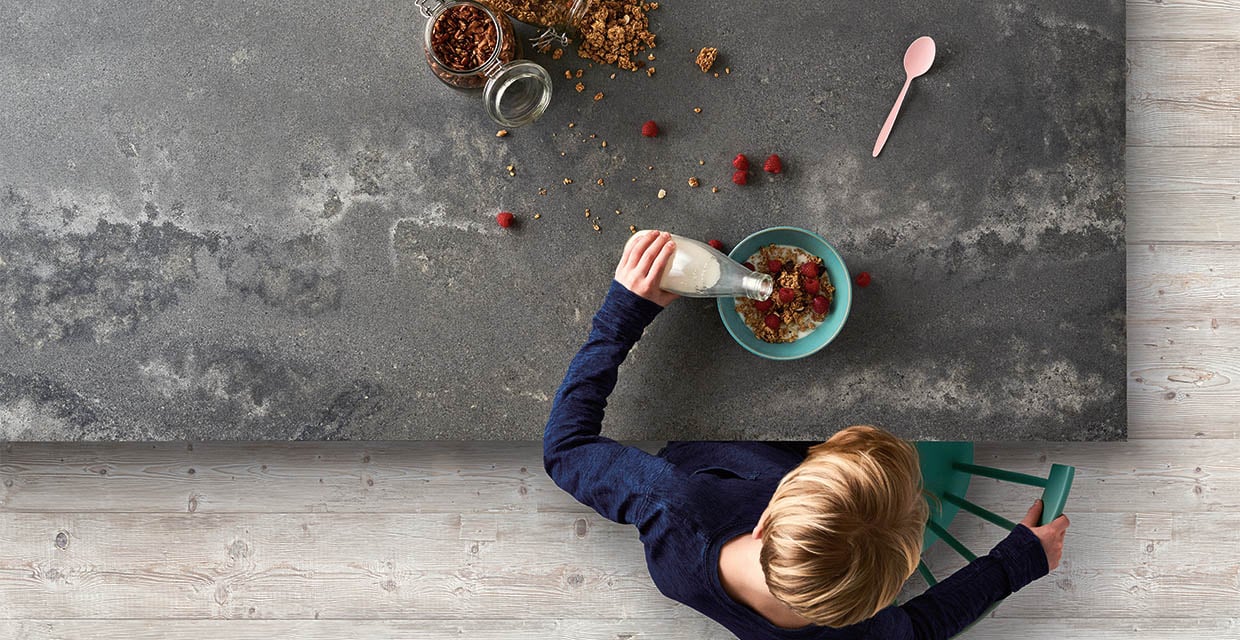 Often regarded as having the best colours in the industry, Caesarstone has been used for many years by leading architects and designers, both commercially and domestically. Caesarstone often sits alongside brands like Farrow & Ball, Miele, SMEG Sub Zero and Wolf in domestic environments.
Caesarstone's expert designers work with the world's foremost trend and colour consultants to ensure that the brand leads the way in interior trends.
Looking after quartz?
The best engineered quartz surfaces are highly resistant to stains, scratches and impacts and generally require a simple cleaning routine to maintain a perfect finish. In most cases, soap, water and a clean cloth is all that is required. A nonabrasive soft soap and non-scratch or delicate scrub pad can be used on dried on materials. Afterwards, rinse thoroughly with clean water to remove any residue and buff dry.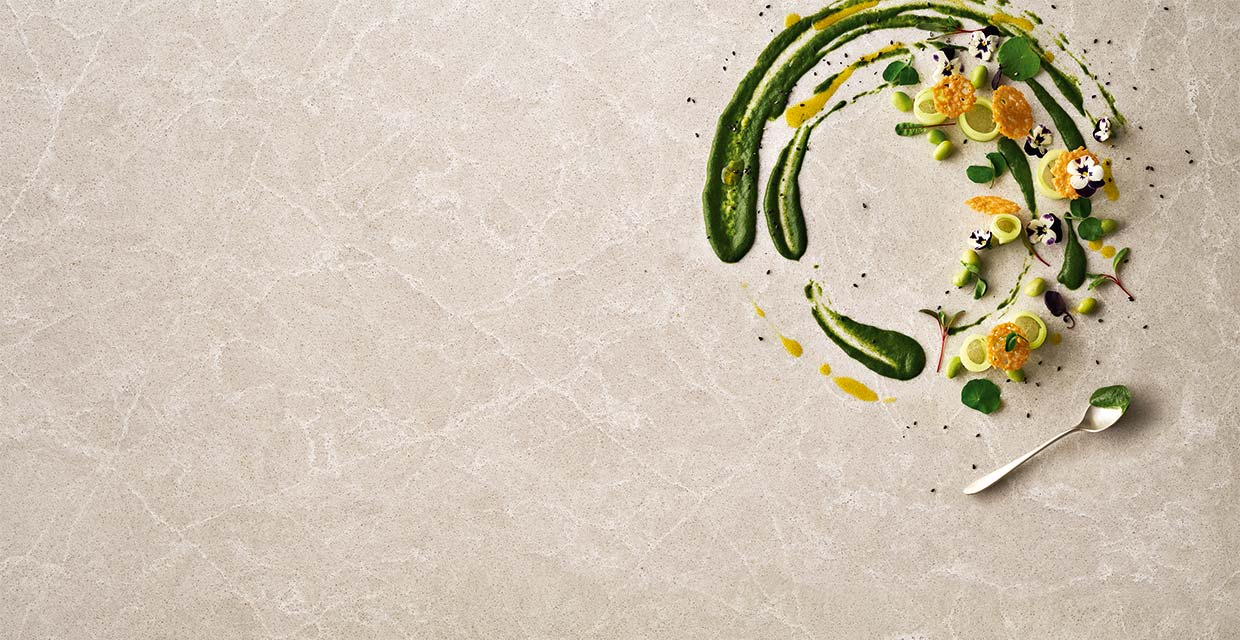 Being virtually non-porous, spills will not seep in to a high quality quartz surface in the same way as they will with wood or marble, for example, so liquids or food stuffs will rest on the surface and although they will dry on if left, they should lift off quite easily using the methods described.
While highly durable, it is always advisable to use trivets for hot pots and pans and a chopping board when using sharp knives. You should also avoid using any strong chemical or solvent cleaners on quartz surfaces. If these materials do come in to contact with the surface then rinse immediately with clean water.
In the UK, Caesarstone quartz surfaces are guaranteed for 25-years and a customer service team is on hand to answer any queries that you may have.
For more in depth care and maintenance advice, please click here.
How do you buy engineered quartz stone surfaces?

Caesarstone is one of the best known global brands. Despite this, and as with all surface manufactures in the UK, Caesarstone does not sell direct to consumers.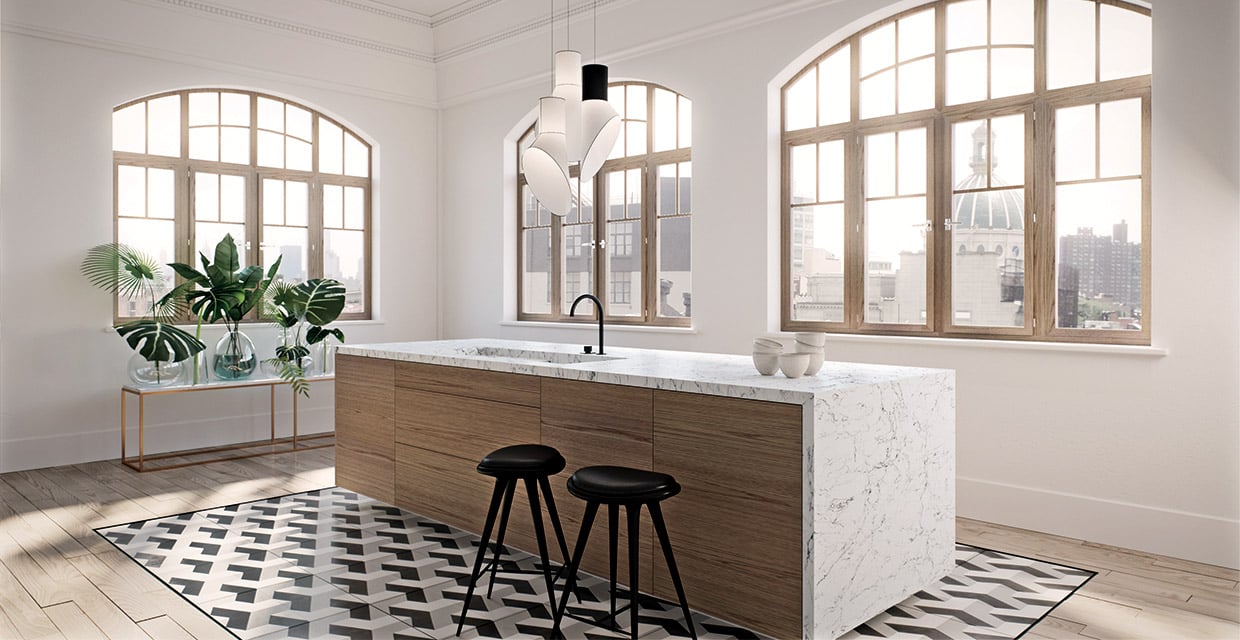 Engineered quartz surfaces need to be worked by stonemasons or fabricators, who buy material directly from brands like Caesarstone. As with granite and marble, water jet cutters or diamond saws are required to cut quartz surfaces and further specialist tools are needed to finish them according to the desired design.
Caesarstone UK can recommend fabricators in your area – contact info@caesarstone.co.uk or call 0800-158-8088
Typically, engineered quartz surfaces are purchased via a kitchen and bathroom studio or directly from a retail facing fabrication business. Once your kitchen cabinets have been installed, the fabricator will come to site and make a template for the surface. They will then use this to cut the engineered quartz surface to size in their workshop. Once finished, they will return with the fabricated surface to install it in the kitchen.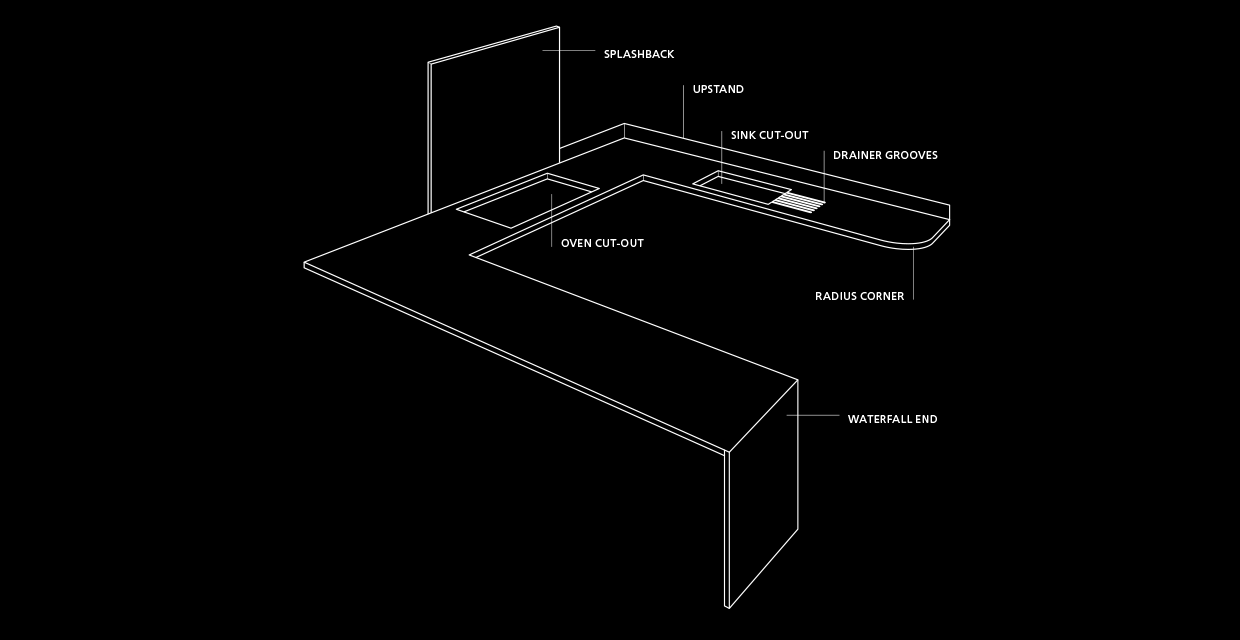 Where can I see quartz surfaces?

Caesarstone UK has a showroom space in Enfield, North London. Alternatively, Caesarstone product installations and samples can be seen in more than 1,500 locations across the UK, in kitchen and bathroom studios as well as certain fabricator premises. To locate the nearest Caesarstone stockist to you, click here.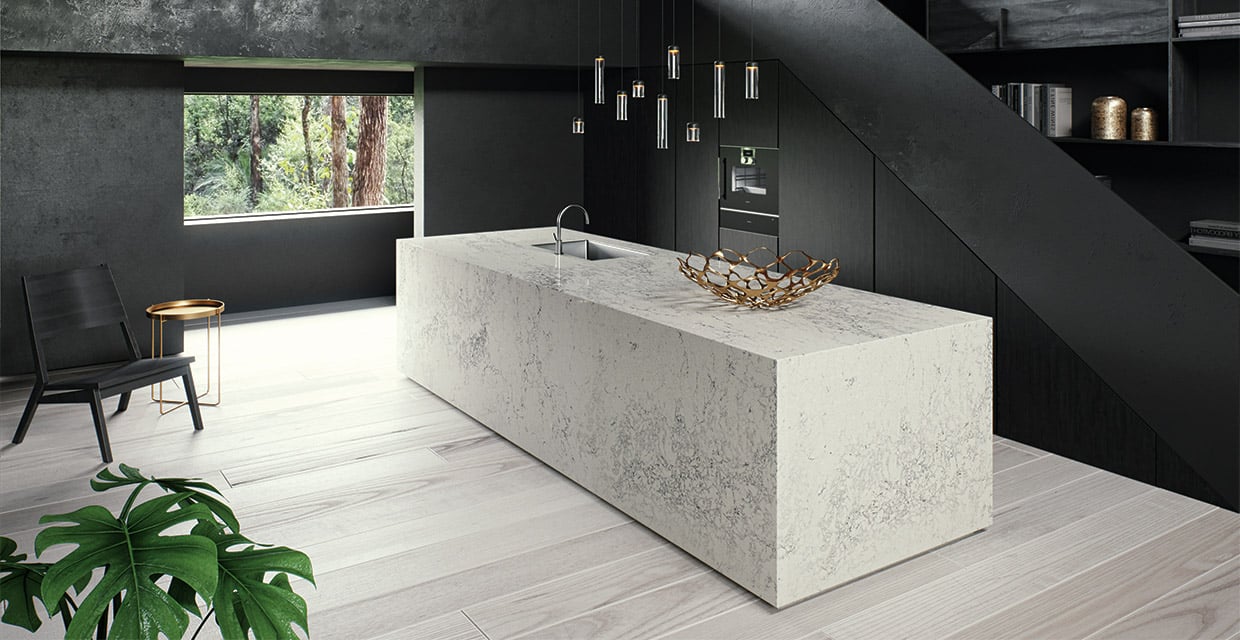 Samples and brochures can be ordered by contacting us at info@caesarstone.co.uk
The Caesarstone UK website shows images of all the available products in the UK.
It is advised that you see a large sample of your preferred finish prior to ordering.
How much does it cost?

The final price of a finished kitchen worktop is made up of both the material cost as well as the cost of the fabrication. The cost of the fabrication is dependent on the design and complexity of the installation; how much time and skill is required to produce the finished surface.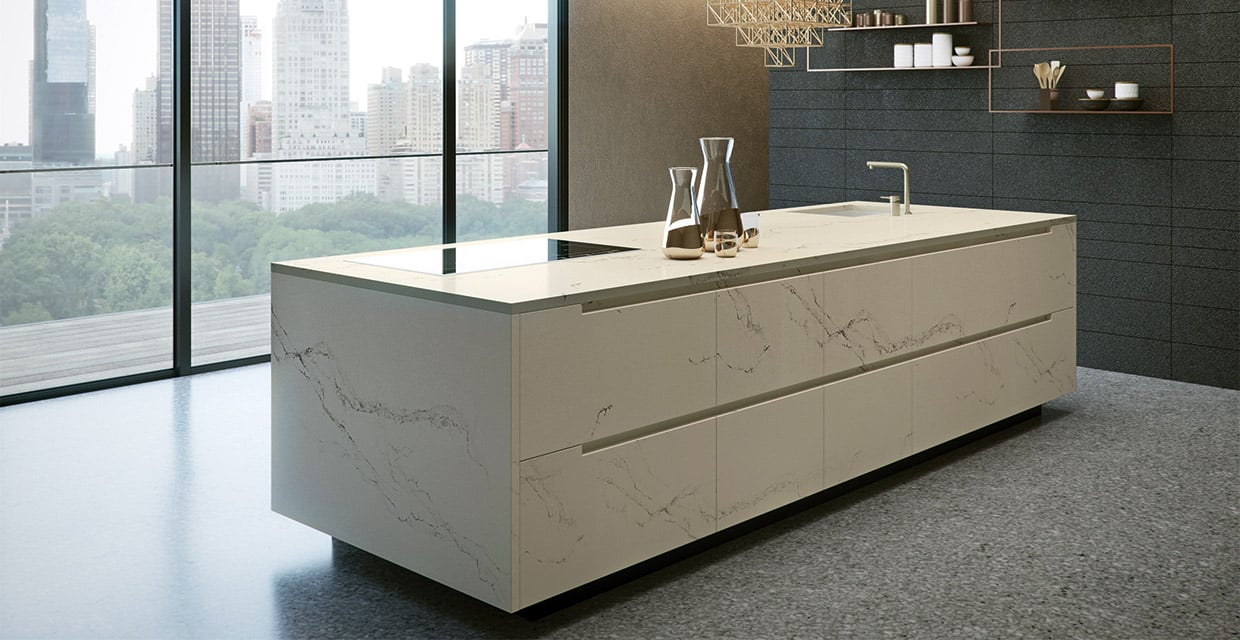 Quartz surfaces are usually sold in thicknesses of 20mm and 30mm, with the thicker slabs demanding a premium.
Given this, it is difficult to quote general prices without understating the entire design and finish.
As a guide, the cost of good quality branded quartz surfaces are likely to equate to between 15 per cent and 25 per cent of the total cost of the kitchen. As a minimum, it is worth budgeting around £2,000 - £3,000.
There are many quartz surfaces available, lots of which may be unbranded. Given the reasonable investment being made to install engineered quartz surfaces, it is recommend that you select a reputable brand backed up with appropriate certification, customer support and warranty.
Topics