Grey kitchens have become hugely popular and it's easy to see the appeal. This versatile colourway can be teamed with practically any palette. Use fresh whites or burnt orange pops of colour for contrast or go for an organic, Scandi look with accents of timber grain and matt black. One area that is increasingly popular amongst homeowners, architects and designers alike is the use of grey quartz worktops in the kitchen as well as open-plan living schemes.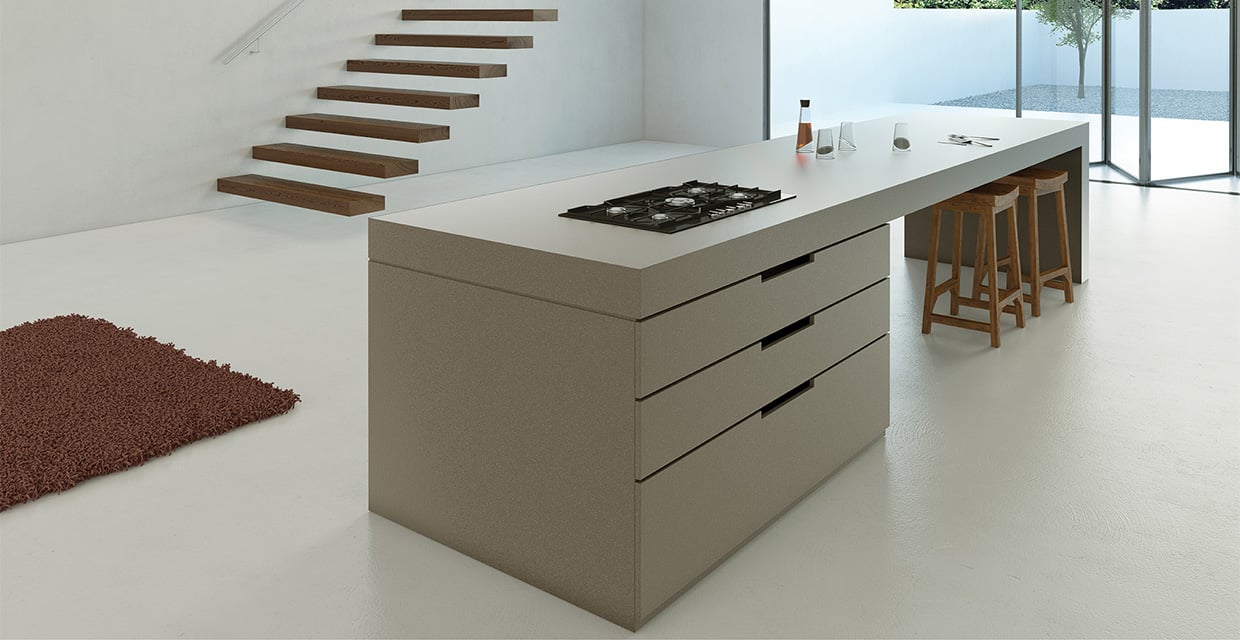 Sleek Concrete is just one of Caesarstone's grey quartz worktops, ideal for adding an industrial edge to kitchen designs and open-plan kitchen living
Trend watch
According to a Houzz Kitchen Trends Study earlier this year, the top upgraded products and materials for kitchens are worktops and cabinets, with 93% of respondents choosing these main elements as key replacements. Of those, quartz and engineered stone came out as the top worktop choice, leading by 24% over granite (20%) and laminate (17%).
Grey was one of the three most sought after colours selected with 17% of the share, compared with 27% who chose white and 15% who opted for black. The reasons behind the choices included look and feel, durability and being easy to clean - all of which are key attributes of premium quartz worktops from Caesarstone and with a wide and varied collection of greys as well as white and black surface solutions, there's something to suit every personal style and unique kitchen design.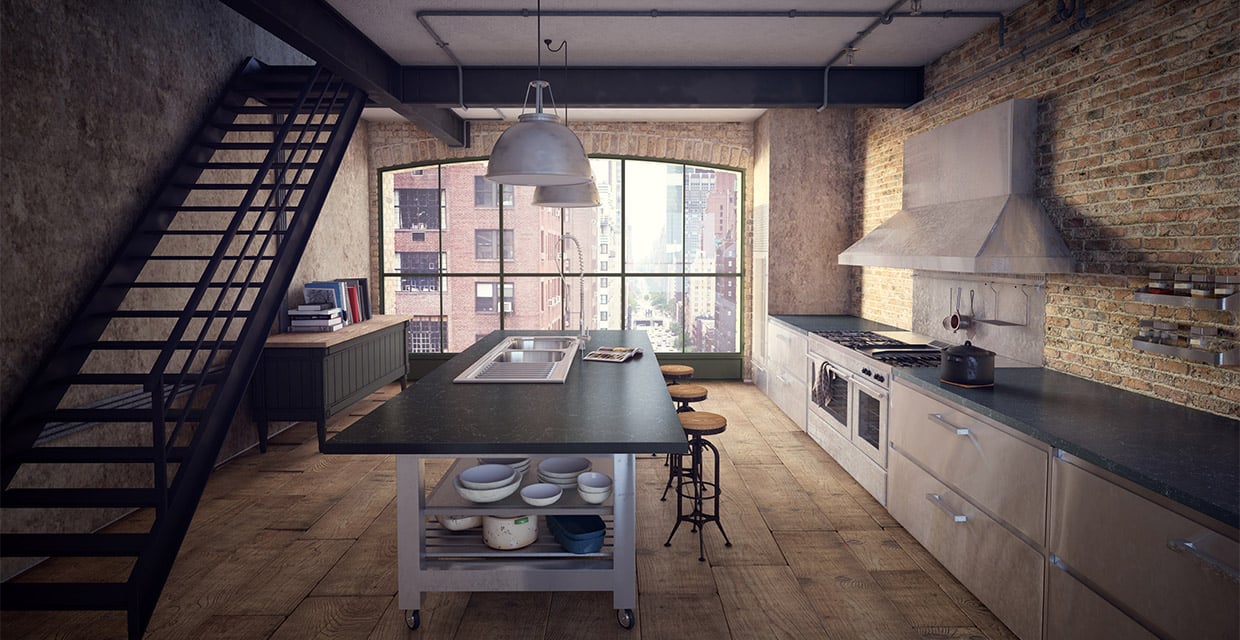 Piatra Grey brings a more dramatic finish to kitchens with its granite-inspired richly veined finish
Industrial chic
Offering a raw, urban look perfect for city kitchens as well as period properties, architecturally designed homes and rural retreats, the industrial trend has taken the interiors world by storm. Think reclaimed wooden flooring and repurposed timber cabinet doors, exposed brick walls and steel pillars, beams and posts left unadorned or painted to complement or contrast a kitchen design. Add elements of metal, glass and stone and you have the ultimate mix of eclectic style that was just made for contemporary kitchen cool. Caesarstone has got the worktops side covered with its innovative Concrete Series, which brings together the durable, hardwearing qualities of quartz with the aesthetic appeal of a coarse concrete finish.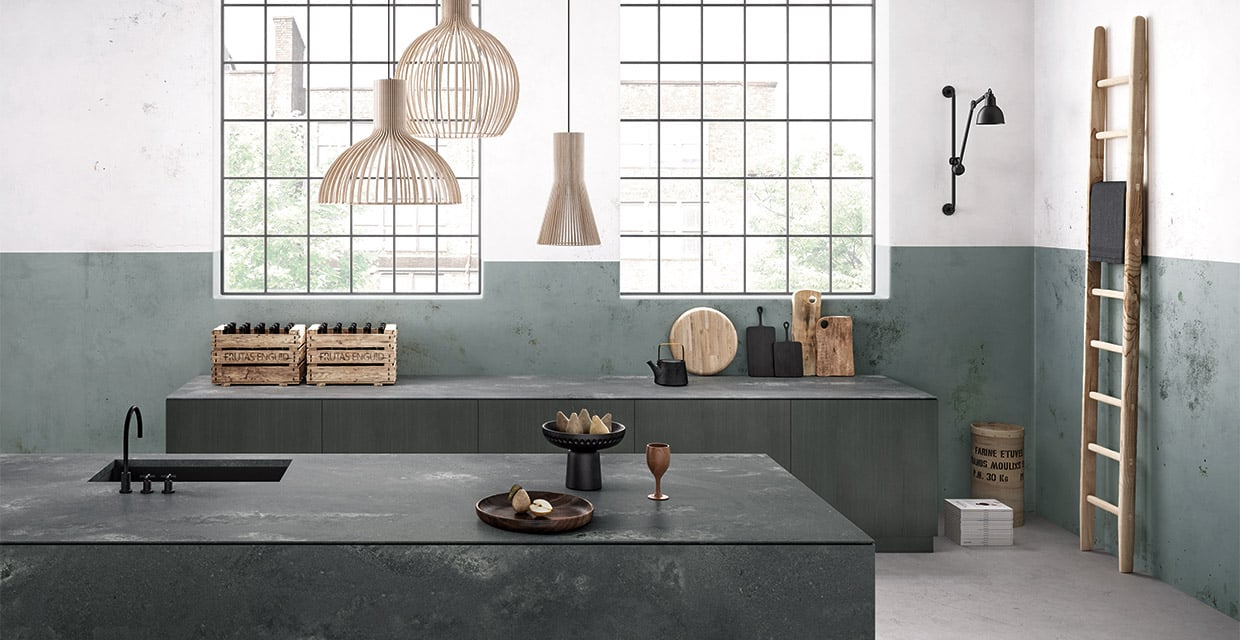 Award-winning Rugged Concrete quartz surfaces brings the industrial look to life
Material choice
One of the best things about quartz as a surface solution is its ability to emulate the look and feel of natural stone, without the maintenance to match. Impervious to stains, scratches and spills, this natural mineral material is available in marble and granite styles, as well as concrete, so no matter what style your kitchen, there's a surface to suit.
Use our visualiser to try out new kitchen design ideas >>
The Supernatural Series from Caesarstone for instance includes distinctive marble swirls with Montblanc and Turbine Grey designs while the Classico Collection features all manner of grey tones, from Misty Carrara to Rugged Concrete. The ever-popular London Grey, included in a Spring pricing promotion from Caesarstone, should also be considered.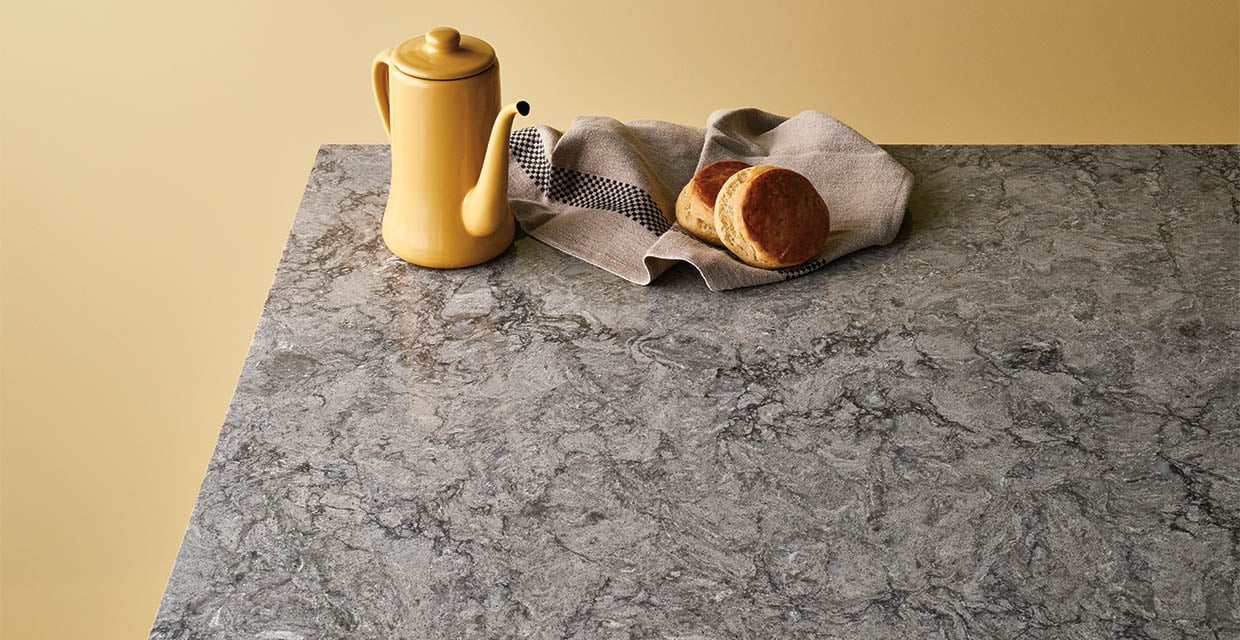 Turbine Grey quartz works beautifully in classic or contemporary kitchen schemes and can be paired with a bold or pared-back palette
Bathroom basics
Grey quartz worktops can be utilised in many forms. In the kitchen, consider using Caesarstone for worktops, islands, splashbacks, upstands, wall cladding and even flooring.
In the bathroom, grey quartz worktops can also be used to enhance a classic or contemporary design scheme. Go for a co-ordinated effect with wall-to-wall cladding in the shower area or use on walls and floor to help create the illusion of space in a small bathroom or en-suite. Consider vanity units and countertops too, with sleek vessel basins and wall-mounted mixer taps to finish. You can always freshen up the look over time with metallic, stone or vibrant accessories, a fluffy stack of towels in seasonal colours and a selection of indoor plants and greenery - a hot trend for 2018's interior styling.