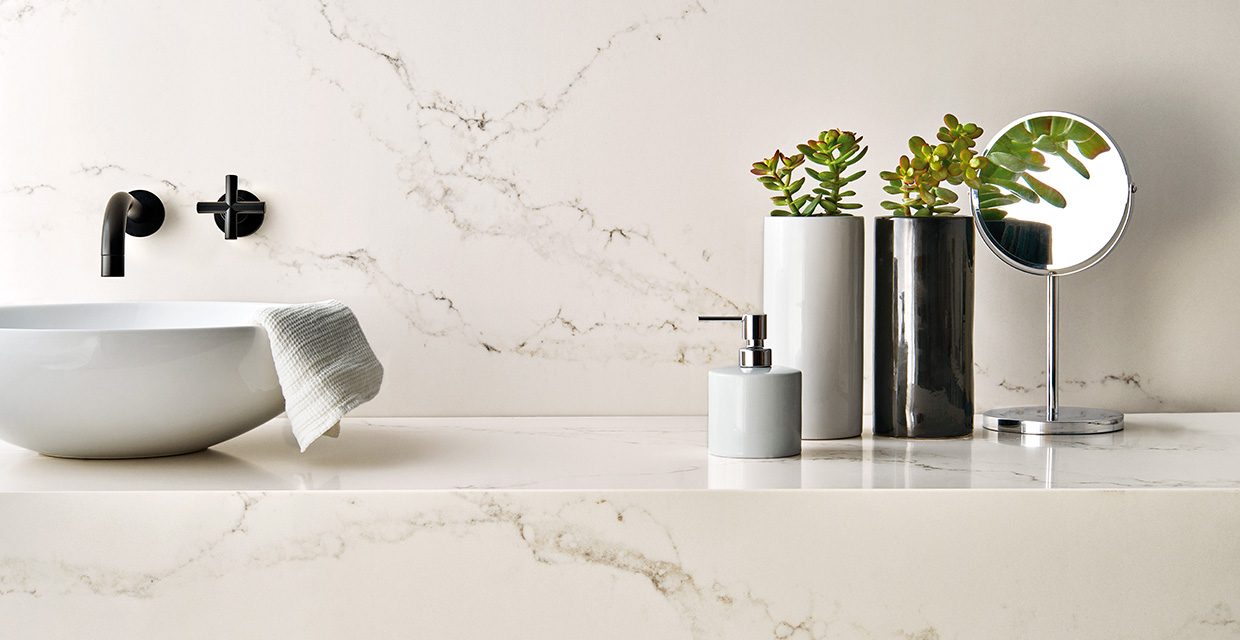 Whether you're planning a complete new kitchen or bathroom redesign or are simply looking to update a tired scheme, there's one element that will really bring the room to life. Stone worktops are sturdy, hardwearing and will cope easily with everyday wear and tear. Not only are they a practical addition to any kitchen or bathroom, no matter what size or style, but they are also eye-catching and visually striking too; bringing natural character and an organic beauty into any space.
Offering an on-trend industrial concrete feel, the luxury appeal of marble or the timeless elegance of granite, stone worktops are one of the most popular surface solutions. That's why an engineered stone such as quartz is such a sought after material – a premium product such as Caesarstone quartz combines functionality with stunning design and can also be used for splashbacks, upstands, wall cladding, tables, breakfast bars, vanity units and even flooring. This low maintenance material contains up to 93% natural quartz and has the look and feel of any natural stone worktop. It's easy to install and can be curved or shaped to suit any design.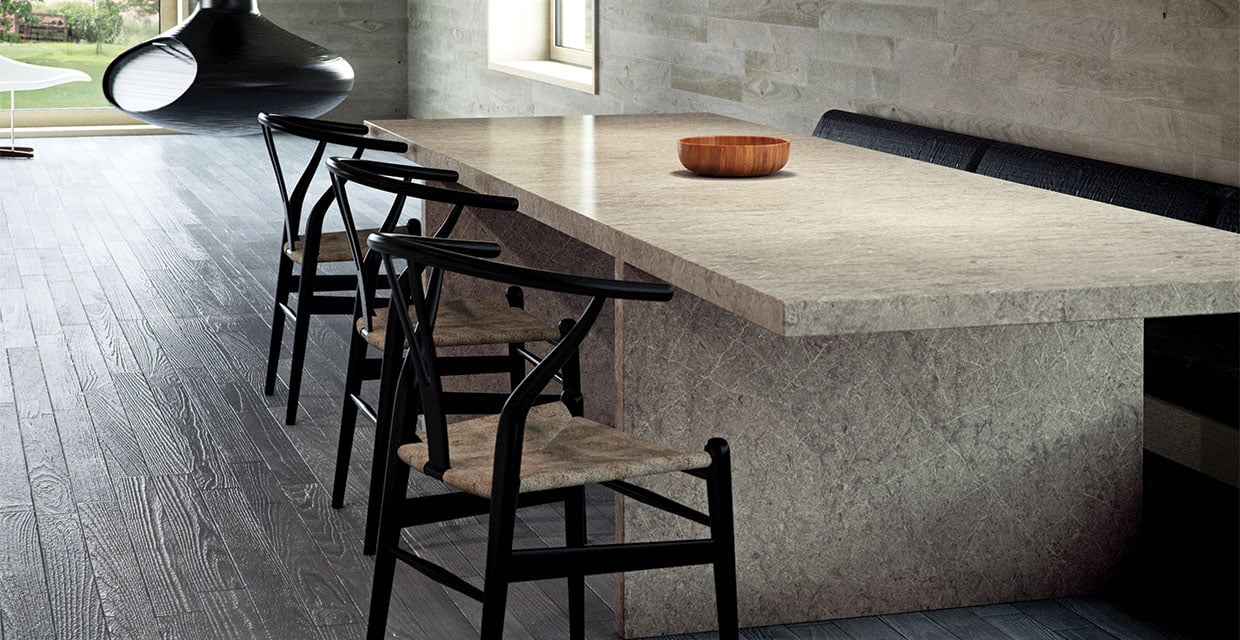 Caesarstone's Symphony Grey quartz can be used to form a family dining table – just add benches and wishbone chairs for a mid-century modern look

Practical purpose
Natural stone may harness a raw, natural beauty but it does come with a cost – both in terms of price and maintenance. Stone is a porous material and as such, any spills such as wine, oils, acids, lemon juice, harsh cleaning products and so forth can cause stains. And while granite and marble are usually sealed during manufacture, they are not impermeable and any spillages can seep through the seal.
Use our visualiser to try out new kitchen design ideas >>
So for the look and feel of stone without any of the hassle or worry, quartz is the answer. In fact, it's more durable than most stone, marble and granite and is impervious to scratches, stains and cracks, as well as being extremely heat and cold resistant. And, unlike natural stone, it doesn't need sealing, treating or polishing so once it's in, it's in.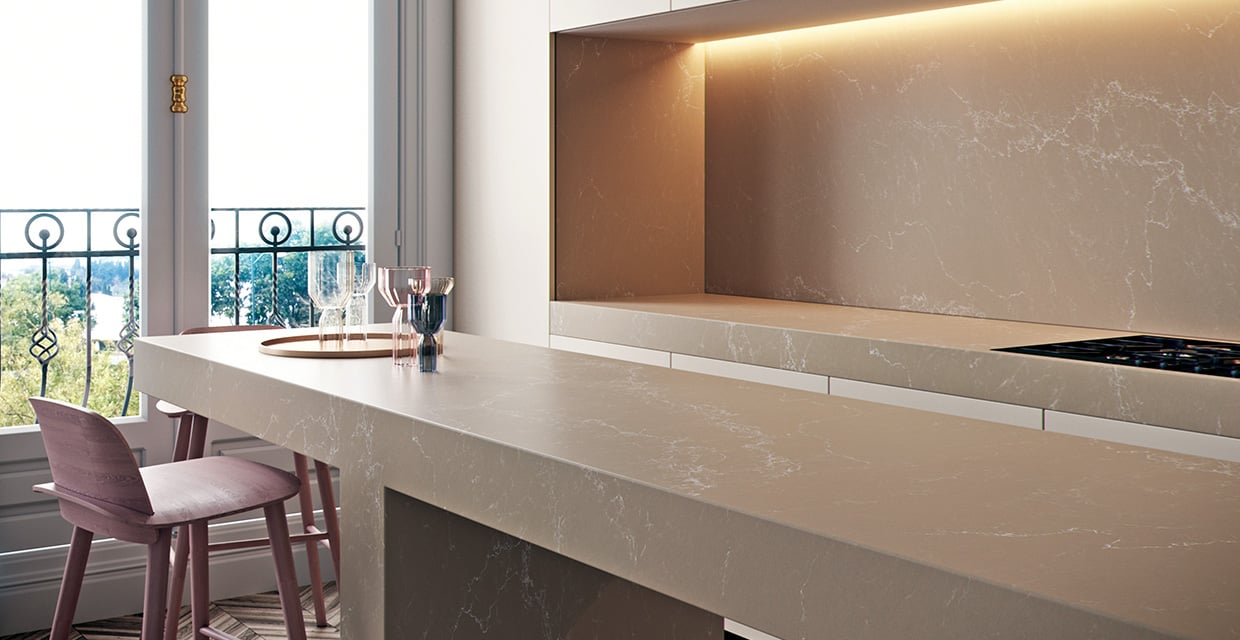 Tuscan Dawn has a warm, luxurious look that emulates the feel of natural stone worktops without the maintenance to match
Trend watch
Stay one step ahead of the trends and embrace all that 2018 has to offer from leading designers and brands. In kitchens, texture is big news, teamed with timber veneer cabinetry and geometric patterned tiles and wallpapers. Industrial design is still key, with plenty of metal and glass finding its way into both kitchens and bathrooms. Versatility is also a buzzword for the coming year with products that cater for everyone's needs while still bringing wow factor into a room. Quartz is ideal for combining practicality with aesthetic appeal – worktops are a big investment so you want to be sure they have longevity in style as well as substance.
Caesarstone quartz, which captures that aspirational natural stone worktops look, is also in keeping with 2018's trends for flooring and wall colours. According to flooring brand Amtico, there will be a trend for converging grains in woods; a sense of the multi-directional wood pattern in mixed tones. The bias-grain is a developing niche trend stemming from an interest in natural grains. Flooring will also focus on a mature palette with lighter, fresher colour tones and a more muted palette that avoids aggressive colours. This is perfectly complemented by the Dulux Colour of the Year, which is revealed to be Heart Wood, a calming, dusky mauve that beautifully pairs with a natural stone worktop style.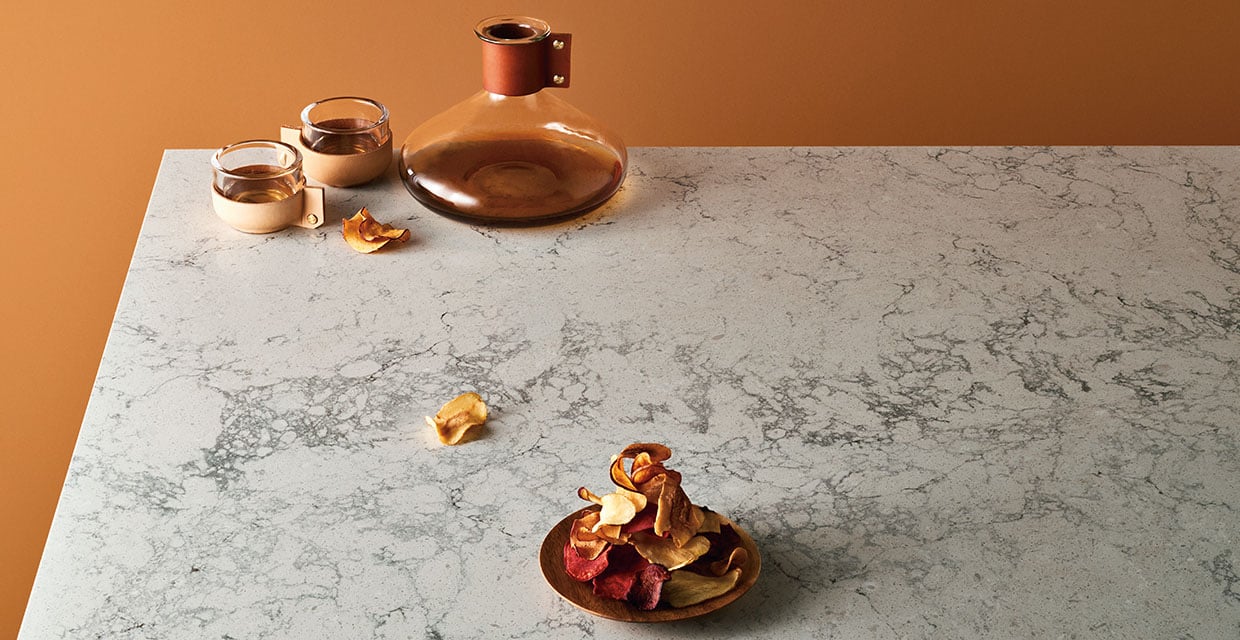 Montblanc has the look and feel of natural granite and would look stunning set against timber veneer cabinetry and a calming colour palette for contrast

Bathroom bliss
As well as multiple uses in the kitchen, quartz can also be utilised in the bathroom, too. For a seamless finish, apply this engineered stone surface as an all-over wall and floor cladding in the shower area. A double-ended open shower with two fixed ceiling showerheads is the epitome of hotel chic and is highly practical for family bathrooms as well as a luxury en-suite. Quartz can also be used for vanity cabinets, countertops and upstands for an easy-care alternative to natural stone surfaces. Caesarstone's quartz surfaces capture the appeal of granite, marble, concrete and even semi-precious stone, with a huge choice of colours, stones and finishes to suit any setting.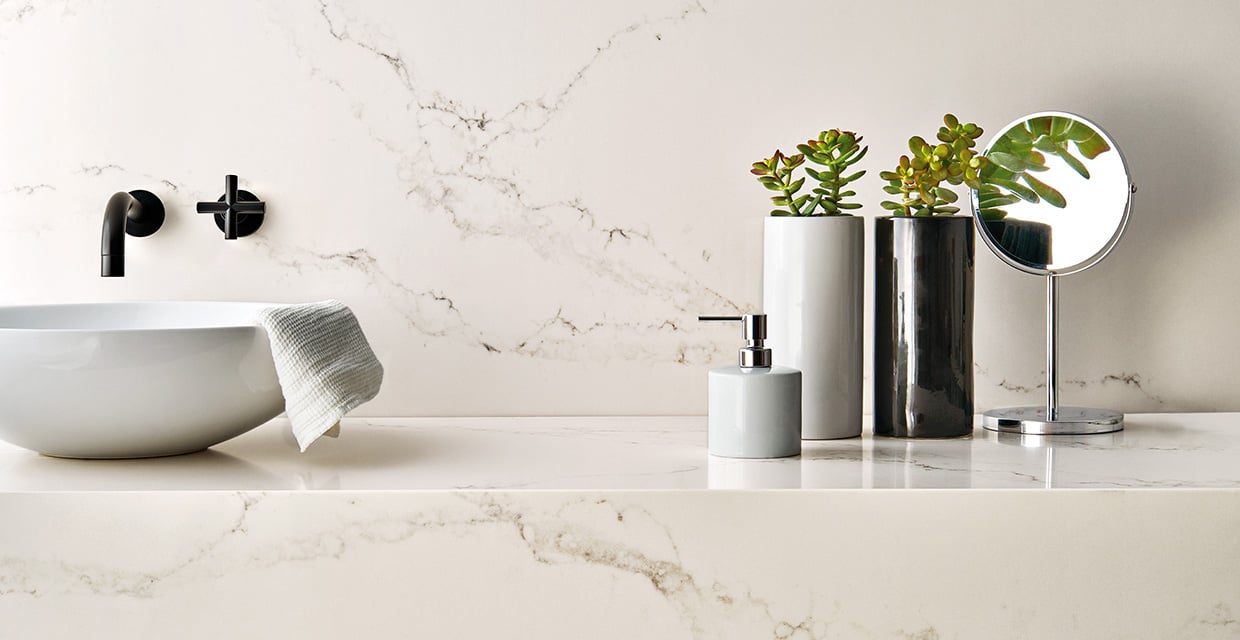 Statuario Nuvo brings the luxe look of Carrara marble into the bathroom – the ultimate soothing sanctuary after a hard day. Use for worktops and wall cladding or create a bespoke vanity unit with dual basins for practicality