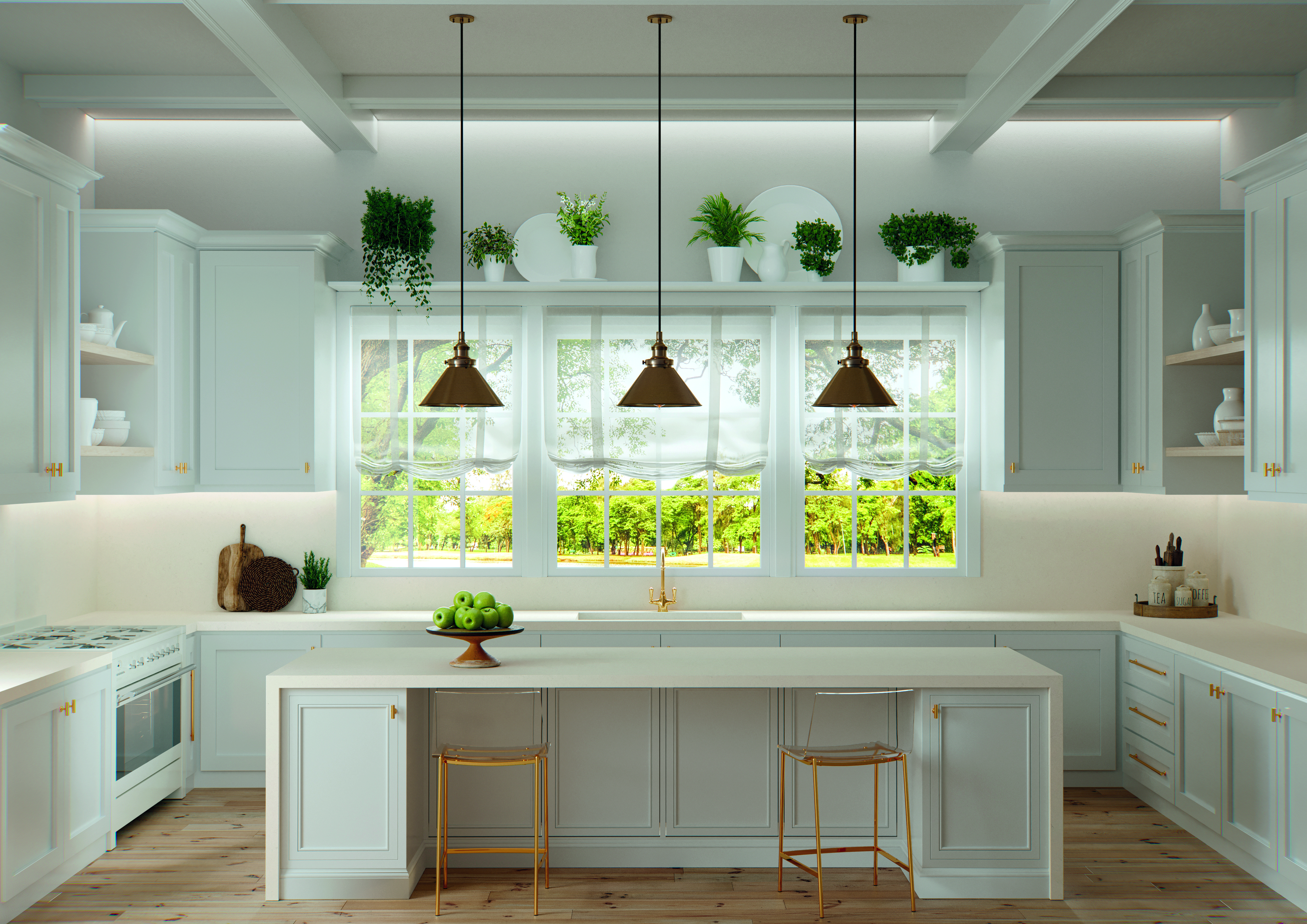 Nature is good for the soul, and after all the hustle and bustle of daily life, it's important for both our physical and mental health to spend some time outside. This begs the question of why not bring the great outdoors in? There's immense natural beauty surrounding us, the way water and wind erode rocks and mountains leaving fingerprints of time reminds us that we must seize every moment.
We're inspired by the beauty of nature every day and incorporate it in so many other aspects of our lives, why pause in the kitchen? By including natural tones and introducing earthy patterns within our kitchen design, we can start to create a serene space for one of the busiest rooms in our homes.
Introduce natural materials
Utilising the natural materials found all around us for your kitchen design can transform your space into the beating heart of your home. Opting for raw wood and stone items can give you a solid base to start. Selecting reclaimed wood for tables as well as shelves or other accessories can offer a Nordic touch to any design.
Stunning stone worktops can easily bring forth an earthy, environmental feel to the kitchen, and become a great showstopping centrepiece. Reflecting the movement towards dark kitchen interiors, a colour such as 1003 Raindream works with concrete or slate flooring, black or grey cabinetry and has a polished finish that makes the surface look like a wet river stone.
Here at Caesarstone, we're inspired by the unique beauty of nature... the details of a grain of sand, the movement of fast-flowing streams, the texture of a mountain range. We wanted this to be reflected in both the new collection and our efforts towards a more sustainable future. Like anything we love and admire, we have an urge to protect it and more of us are taking the steps needed to look after our surroundings by opting for more sustainable solutions. Caesarstone work to increase efficiencies in their manufacturing processes to reduce the environmental impact, helping you make sustainable choices throughout your kitchen renovation. You can explore Caesarstone's full range of worktops by downloading our Swatch Book, here.
Earthy colour schemes
Earthy colours are on-trend now more than ever, freeing the boundaries between our homes and the outdoors. Using ashy shades in a grey kitchen design can add depth to neutral palettes, or make bolder shades seem more grounded. Colouring your walls or cabinets with natural tones such as terracotta and turmeric can bring life and vibrancy to your space without overpowering the design. Whilst sage greens and nutty browns will easily bring a subtle warmth to the room.
Let us not forget about the brighter shades of nature. 1001 Riverlet provides a gentle off-white backdrop touched by traces of honied-amber, marking a network of soft veins across the surface. Choosing this worktop for your kitchen truly brings the beauty of a breathtaking landscape indoors. Its intense white base helps elevate the kitchen into a fresh and sophisticated space.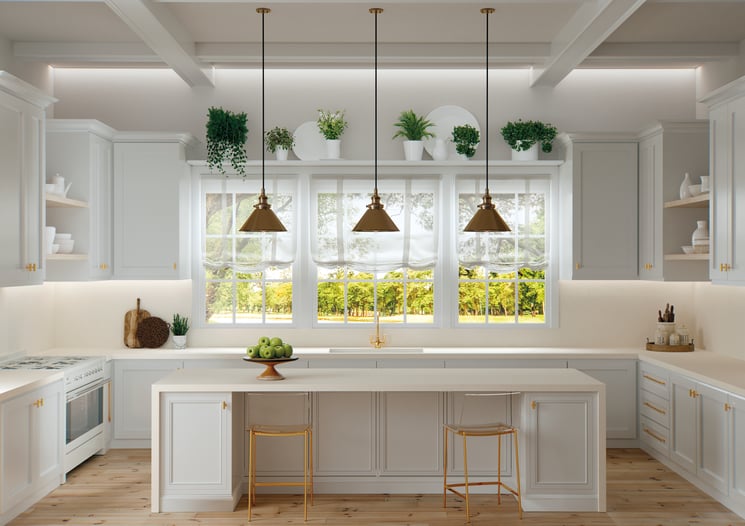 1001 Riverlet
Bringing the outside in
People crave a connection to nature and one of the best ways to include more in your kitchen design is to physically bring it in from the outside. Floral arrangements, hanging and potted plants or even statement piece trees will give the room that essence of nature you've been looking for. You can even keep it simple with a few succulents perfectly placed around the kitchen shelves and ledges to add an elegant touch to your design.
If you feel like you won't have the time or the space for real plants, many artificial plants can look just as convincing, without all the upkeep. And like many in the residential sector today, you could go a step further and incorporate a green wall instead, with kitchens being the perfect place to install one. Low-maintenance artificial green walls mean you can enjoy your foliage without giving up precious space on your worktops or constantly having to maintain them.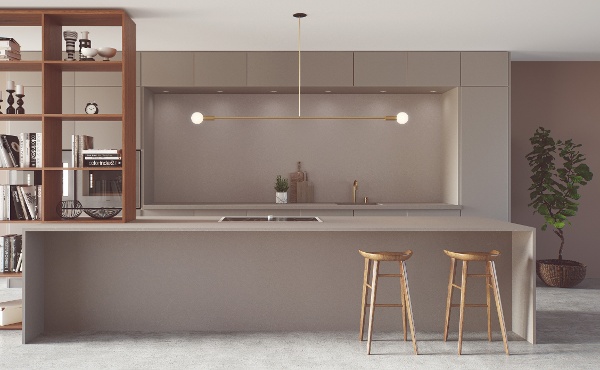 1006 Agger Grey
Glass and mirrors
Lastly, open up your curtained windows and doors and let the fresh air and natural light into your home. Although intricate lighting fixtures can give your kitchen a very urban feel, too many can take away the natural theme of your space. Opt for minimal blinds or screens to feel the full force of the outside world through the glass.
You can further maximise this effect by simply adding mirrors and similar items to the opposing walls. Doing so will help reflect the light into the kitchen, lovingly illuminating areas that otherwise would have been kept in the dark. This is a great way to make the room appear bigger and more inviting whilst naturally brightening your kitchen.
If you'd like to get a feel for some of your favourite Caesarstone worktops, you can request a sample. You'll be sent a 10cm x 10cm sample of each to help you visualise how this will look in your home.
Topics