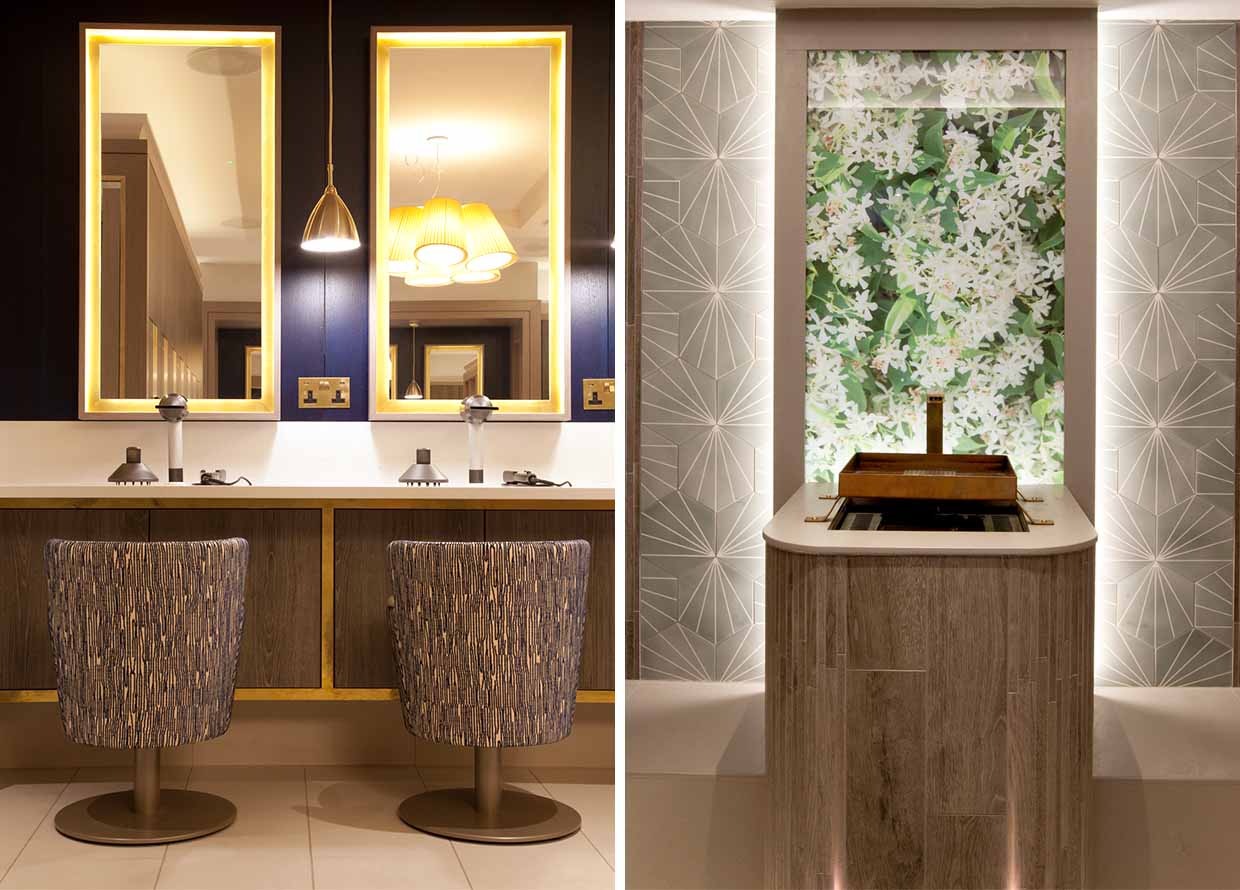 Sparcstudio chooses 'luxurious and durable' Caesarstone for £14 million The Spa at South Lodge project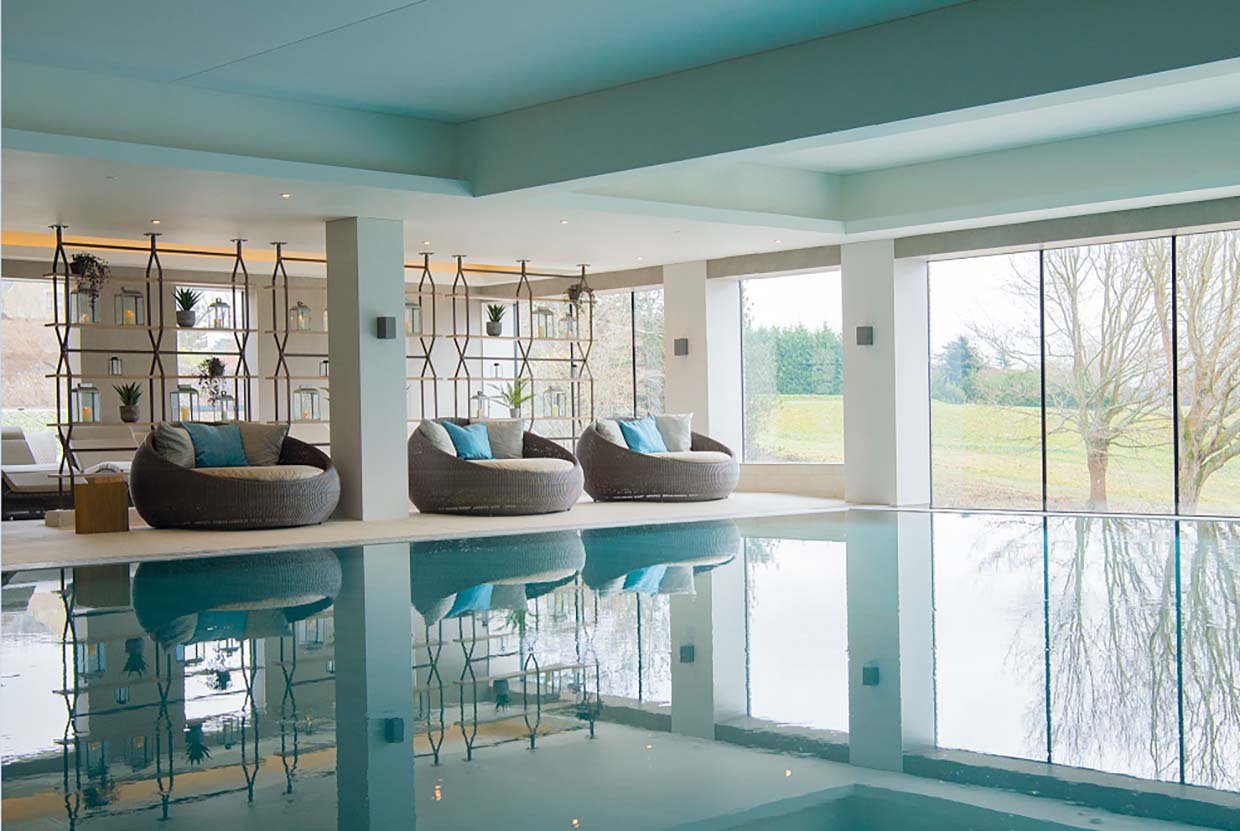 One of the most highly anticipated spa openings this year was the 4120m² The Spa at South Lodge, an Exclusive Hotel set in the rolling hills of the South Downs in Sussex. Sparcstudio, an independent creative design studio with a reputation for excellence in the spa, wellness, hotel and resort sectors, collaborated with Felce and Guy to ensure a synergy with the building and interior spa experience.
Caesarstone was their surface material of choice for throughout the project. Sparcstudio's Director Beverley Bayes explains why: "We specify Caesarstone for lots of project because obviously with spa interiors the material has to be very robust and able to cope with water, heat, oils as well as all the bodies. From the aesthetic point of view, Caesarstone offers a wide range of luxurious and innovative designs, which we have used extensively through this project. We particularly love the Raw Concrete and Fresh Concrete surfaces which feature in the bespoke joinery and furniture."
In addition to the bespoke joinery and furniture, Caesarstone has also been used for all the worktops and for the stunning pool columns and lantern niches surrounds, which are clad in Misty Carrera. "We love the contemporary feel of Misty Carrera", explains Beverley. "It works beautifully on the pool columns and lantern niches and is a lovely combination with the more decorative elements".
Steve Gibbs, Head of Commercial Architecture & Design, Caesarstone UK says: "The Spa at South Lodge is a best in class example of how versatile Caesarstone quartz is. In addition to emulating and outperforming real marble and concrete, it is also extremely hard-wearing and hygienic thanks to its non-porous properties that are ideal in a spa and treatment environment. Sparcstudio have pushed the boundaries of what can be achieved with quartz by incorporating complex and innovate applications of Caesarstone into this project, including contemporary pool columns, seat and wall cladding within the sauna and steam rooms, lantern niche surroundings and beauty treatment counters." The 'Ridgeview Beauty Bar', is a favourite of the designer. This beauty bar (pictured below) combines a nail bar and pedicure suite, and serves Ridgeview sparkling wine on tap. Caesarstone Raw Concrete was chosen for its premium, industrial-inspired finish which perfectly withstands the rigours of the treatments that take place there thanks to its non-porous qualities.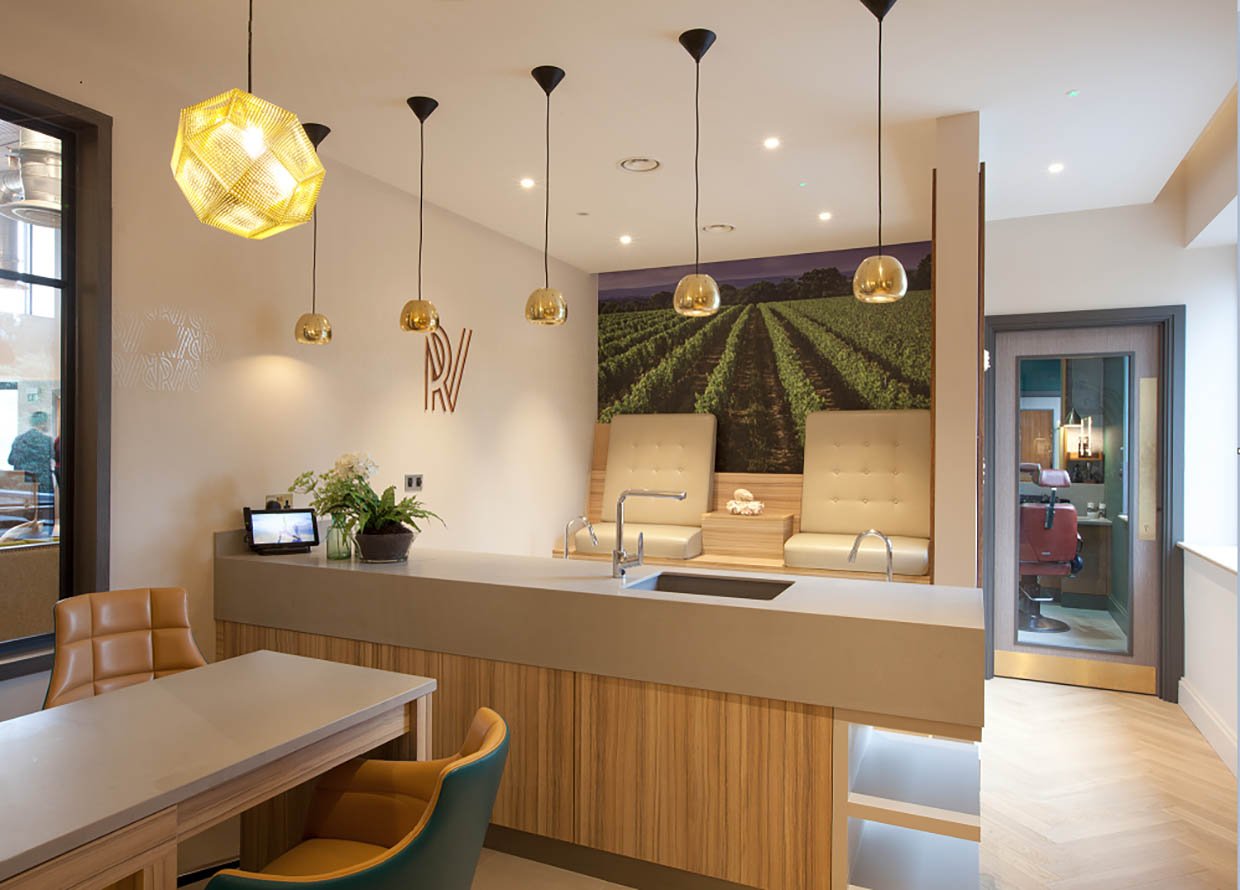 Choosing Caesarstone was very much part of Sparcstudio's meticulous attention to detail. "For all our projects it is all about standing the test of time, being able to go back in four years' time and it's still looking really amazing," says Beverley Bayes. "That's where the attention to detail comes in. Selecting materials that will last in both form and function. And the extra touches, such as using Caesarstone blocks on the bottom of doors so you don't get that capillary action of wet going all the way through, make all the difference when it comes to longevity."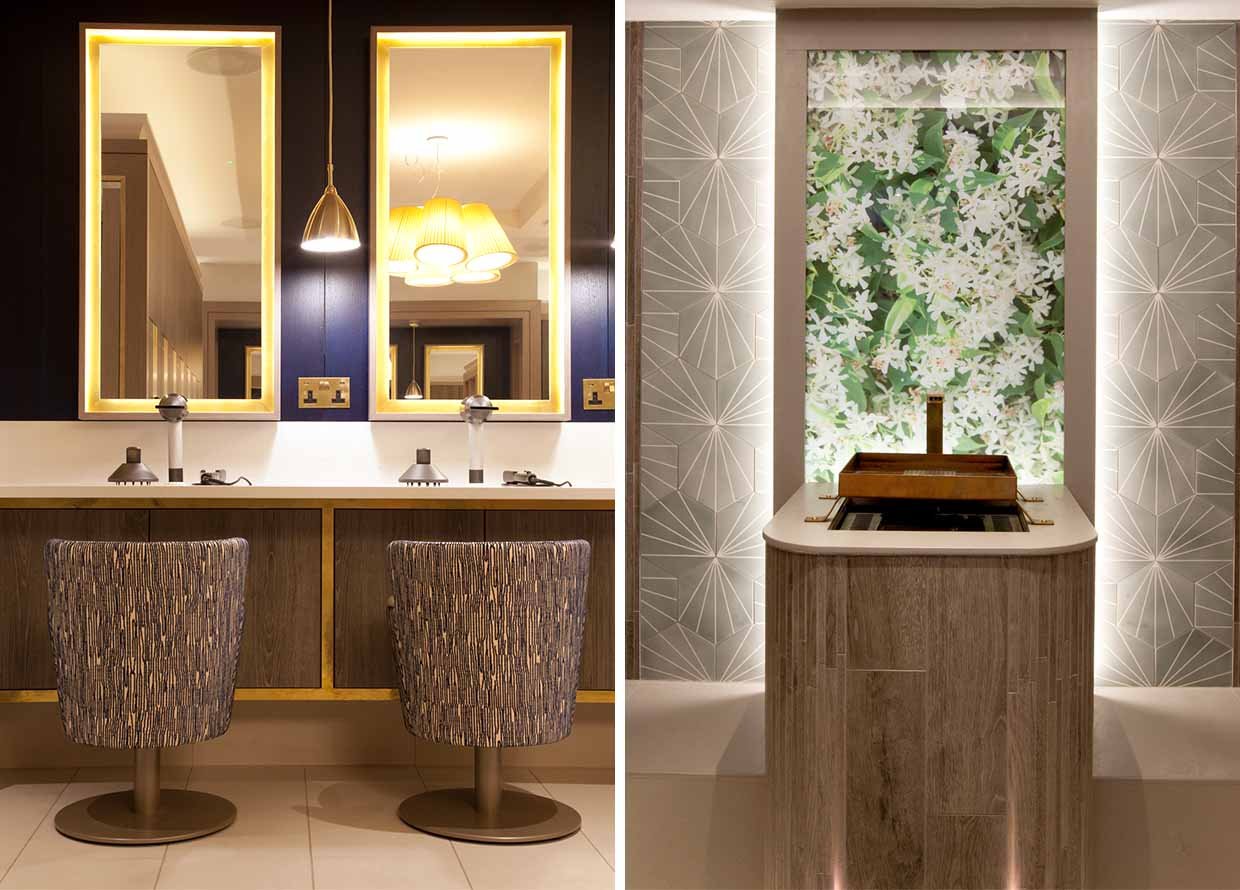 Renowned for its truly 'bespoke' design approach to every development, Sparcstudio has created a unique 'sense of place' at The Spa at South Lodge, embracing the surrounding environment, while capturing the individuality of the beautiful country setting. Exclusive Hotels Managing Director, Danny Pecorelli says: "I chose Sparcstudio to work with because I liked their design. We have worked together on other smaller projects, we did some upgrades at Pennyhill Park and the Manor House Castle Coombe. It boils down to a comfort in their understanding of the brief and their knowledge of the project. Exclusive Hotels are all about the attention to detail and so are Sparcstudio." Pecorelli concludes: "I am genuinely, above and beyond delighted with the end result of the project working with Sparcstudio. It's the quality and feel and the attention to detail. For example, in the sauna, you get the wow factor that we wanted, and everybody comments on it."
Caesarstone designs used in the project include: 4141 Misty Carrera, 5141 Frosty Carrina, 4004 Raw Concrete, 4001 Fresh Concrete, 4330 Ginger and 5031 Statuario Maximus.
Topics