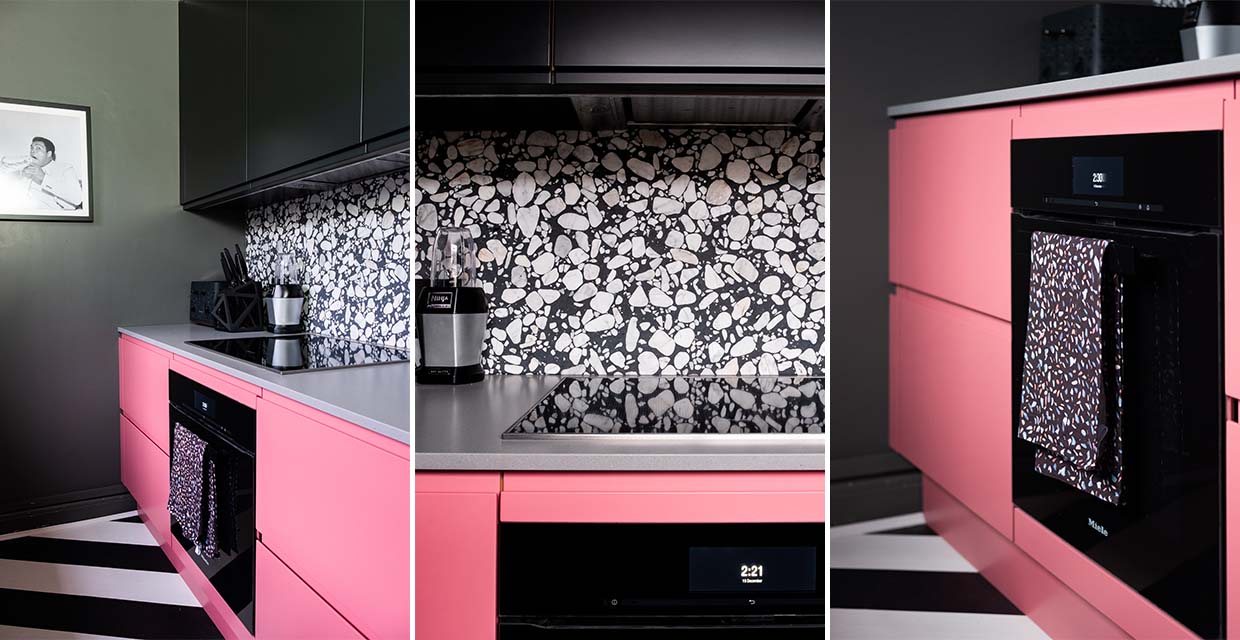 Sarah Akwisombe, award-winning interiors blogger and stylist, recently selected Caesarstone's Sleek Concrete quartz worktops to be part of her new kitchen in her Art Deco flat in South London.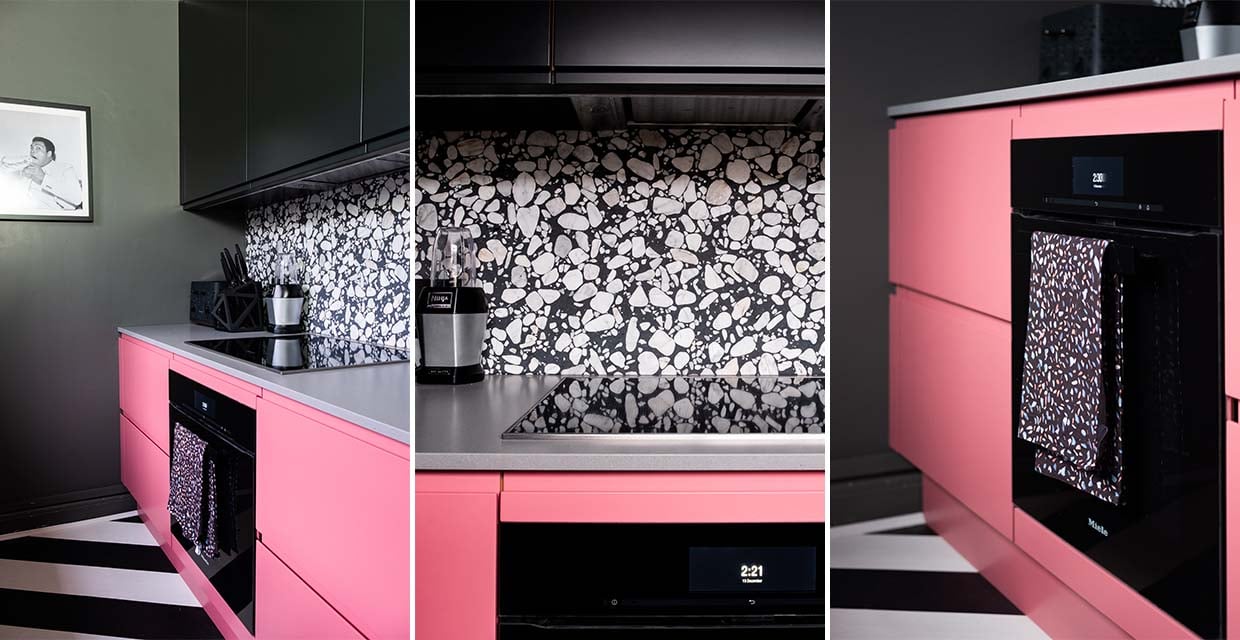 The subtle tones of the industrial inspired surface blend in seamlessly with the rest of the scheme which was purposefully designed to be bold and exuberant. Composed of cobalt blue and pink cabinetry, striking bespoke stone terrazzo backsplash, and black and white striped flooring, this compact kitchen proves that space isn't a factor when it comes to making a design statement.
Sarah and her husband Jason bought their home six years ago. The Art Deco apartment, originally built in 1931, is the couple's first home and was, fortuitously, the first place they fell in love with on their house-hunting journey. Despite its dated and unfinished décor, Jason and Sarah saw masses of potential and gradually put their design stamp throughout the apartment and documented its exciting changes on Sarah's Instagram account.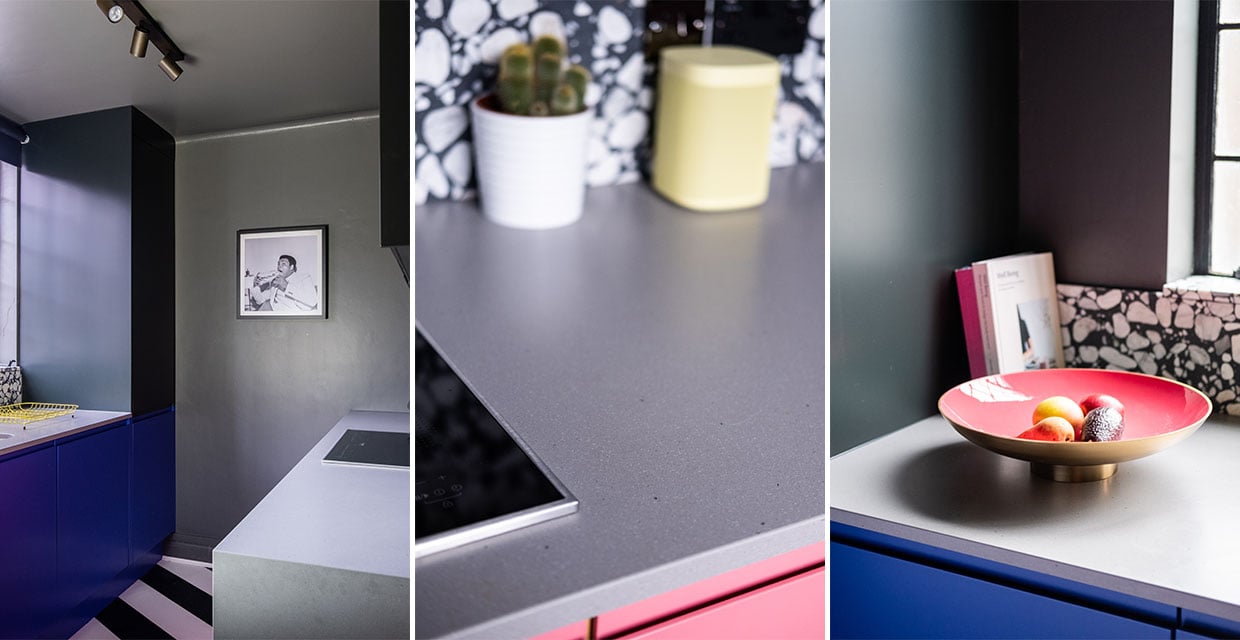 Although extensive remodelling of the property has been carried out since Sarah and her family moved in, it took four years before Sarah dared to tackle the kitchen again having previously installed one in 2014 as a stop gap. Fast forward to 2019 and Sarah planned on honing the design so that it truly reflected the family's style. She kick-started the project by looking into high-street kitchen retailers, but it wasn't until her paths crossed with John Lewis of Hungerford that she found what she had been looking for. And so the designing process began. Obsessed with colours and materials, Sarah explored several options before she set sights on the winning solution. Disregarding all conventional interior norms, she opted for two contrasting colours for the cabinetry: cobalt blue and bold pink, using these on opposing sides of the galley-shaped kitchen. Meanwhile, a striking bespoke stone terrazzo composed of large white stones on a dark grey base was used for the backsplash on both sides of the scheme.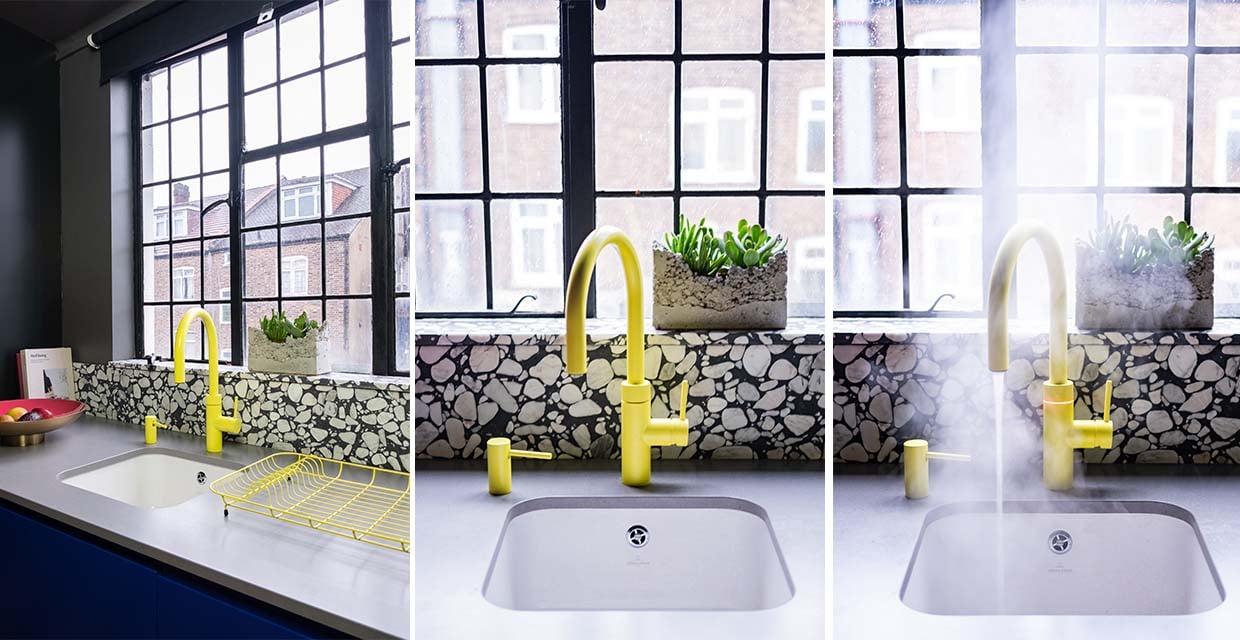 Sarah's customed sprayed Quooker tap and Caesarstone 4003 Sleek Concrete worktop
To tie the whole design together, Sarah chose an understated, refined surface for her worktops: Caesarstone's 4003 Sleek Concrete. From the brand's latest Metropolitan Collection, this matte grey concrete design comes in an industrial-inspired finish that is low-reflective and authentically tactile to touch. Aside from aesthetics, the surface also lends itself as the perfect workhorse for the busy kitchen, intended to be used by all members of the family, including Sarah and Jason's daughter – a six-year-old aspiring chef. All other elements in the kitchen were purposefully kept simple: handle-less cabinetry, hidden appliances, and ample working space thanks to cleverly designed storage solutions.
The compact kitchen renovation was a labour of love for Sarah who was absolutely thrilled with the end results. "The installation did take time; the initial work was about 4 weeks and then there were trips back and forth to sort out the gorgeous Caesarstone worktops and stone for the backsplash. The kitchen cabinetry on top of which the stone would be installed needed to be templated first and consequently the stone was cut to fit the spec. So, it does take longer than any other big buy but boy is it worth it! The Sleek Concrete Caesarstone worktops are absolutely stunning".
Sleek Concrete
The Metropolitan Collection leads the trend for industrial-inspired design, achieving the aesthetic of raw materials such as concrete and oxidised steel through the use of rough and unpolished textures and finishes. 4003 Sleek Concrete emulates the tactile qualities of industrial concrete and is unrivalled in performance as well as aesthetics.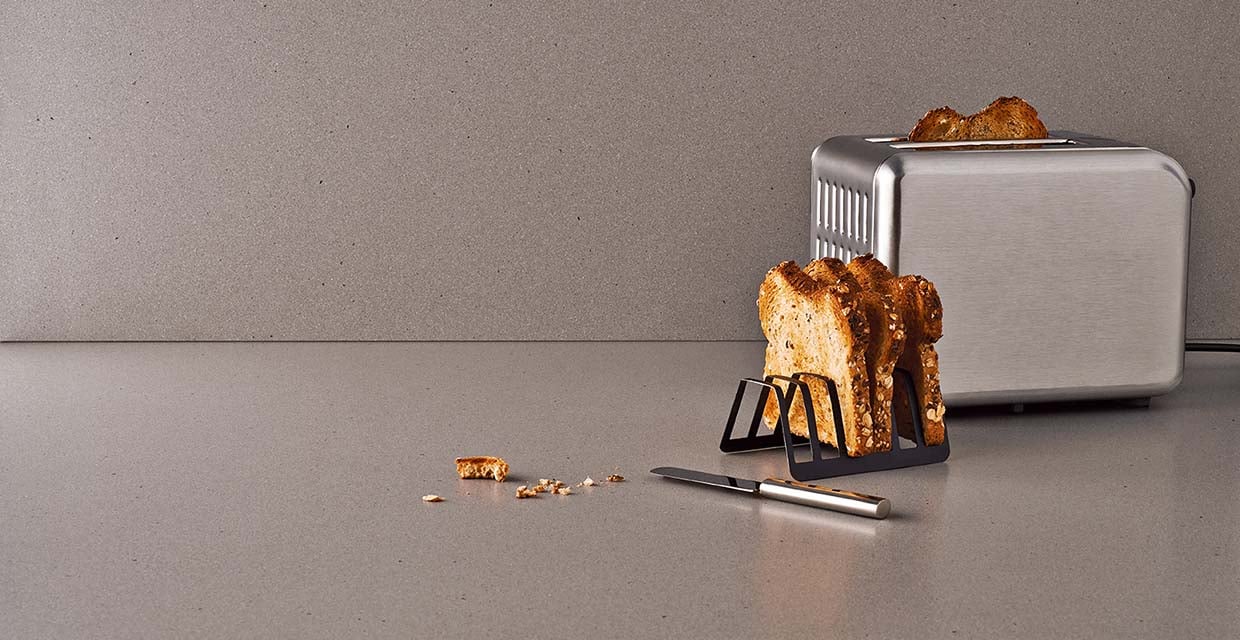 4003 Sleek Concrete is available in 13, 20mm and 30mm thicknesses, and is made from premium engineered quartz stone which, unlike poured or cast concrete, is stain, scratch, crack and chip resistant. It is also non-porous and extremely heat and cold resistant making it the ideal material for kitchen and bathroom surfaces.
Topics