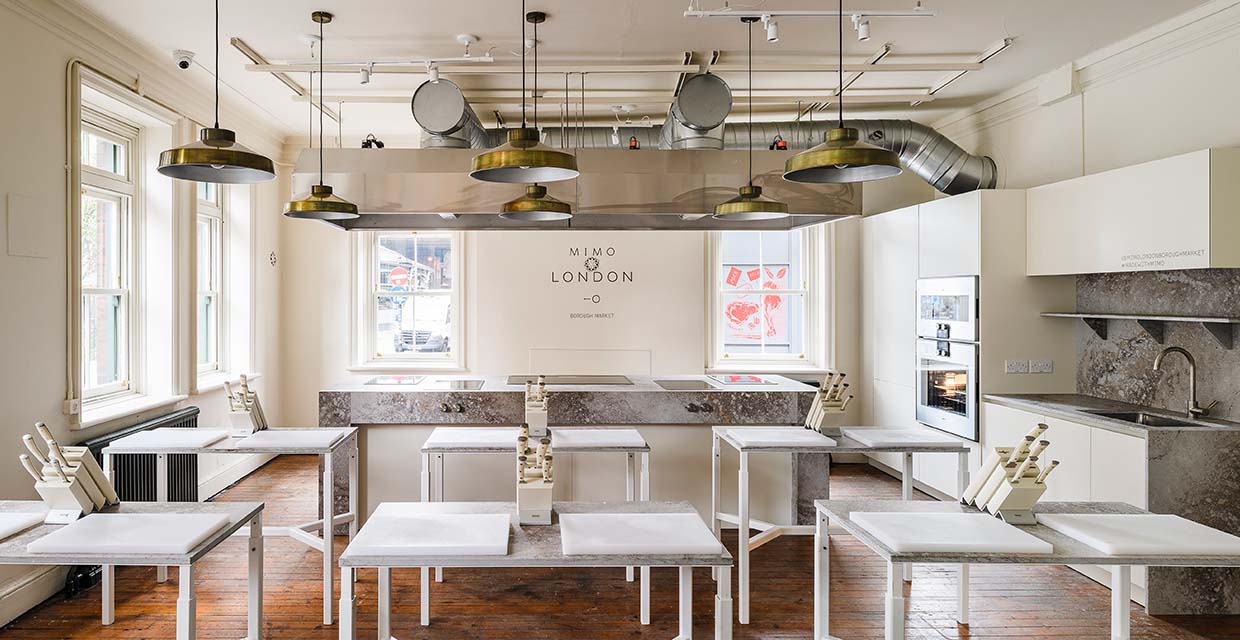 Metropolitan Collection chosen for San Sebastián cookery school's new London location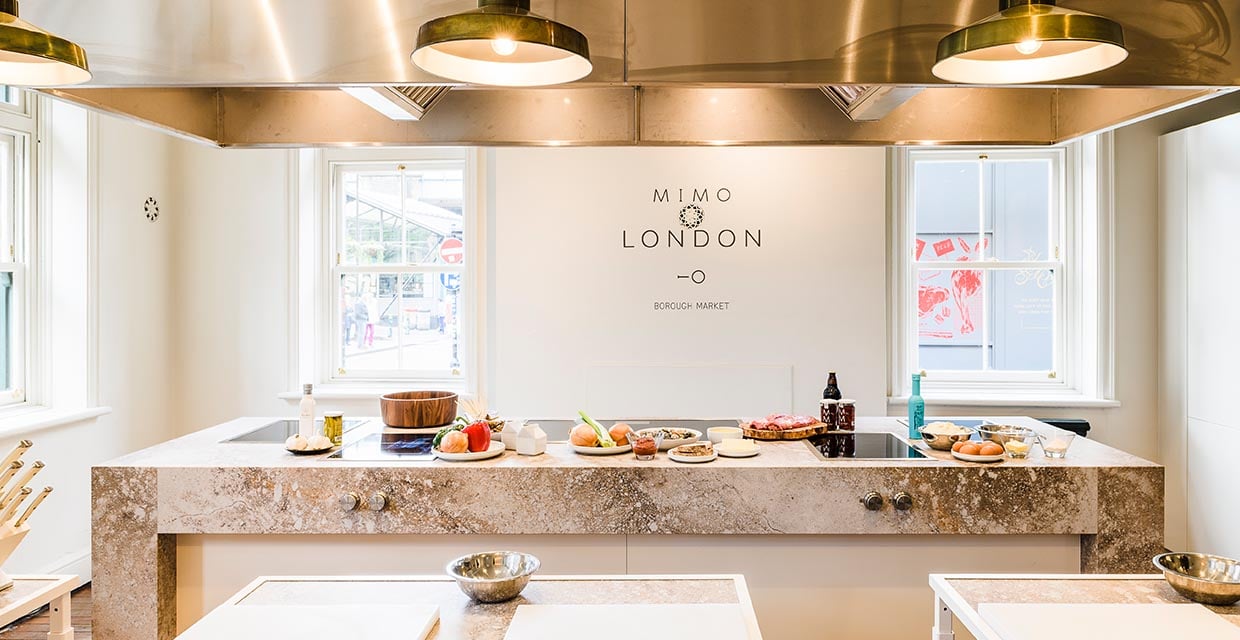 The unique culinary experiences of San Sebastián, Spain's food capital, can now be experienced in an immersive cookery school at the heart of one of London's oldest food markets. Mimo London, an award-winning cookery school offering a Spanish twist on experiential dining, opened in April 2019 in London's Borough Market. The progressive food experiences, which include chef's tables and hands-on cookery courses all take place in a historic building on One Cathedral Street and feature an interior design that is respectful of the architectural history of the market that lies at its doorstep. Alongside communal iron and wood tables, floor-to-ceiling sash windows and brass fixtures, the kitchens offer a stylish contrast with contemporary furniture designed and built by kitchen designers, Roundhouse.
State-of-the-art appliances and surfaces have been specified throughout; from Gaggenau's sleek induction hobs to Caesarstone's striking, industrial-inspired quartz worktops which feature across the kitchen and cooking areas, setting the overall theme of the space. Caesarstone surfaces act as a centerpiece on both floors of Mimo, designed to draw students and diners together while they prepare, cook, eat and socialise. In the cooking area, they provide a durable surface upon which food can be prepared and served, with the activities of a very busy kitchen proving no match for the hard-wearing properties of Caesarstone.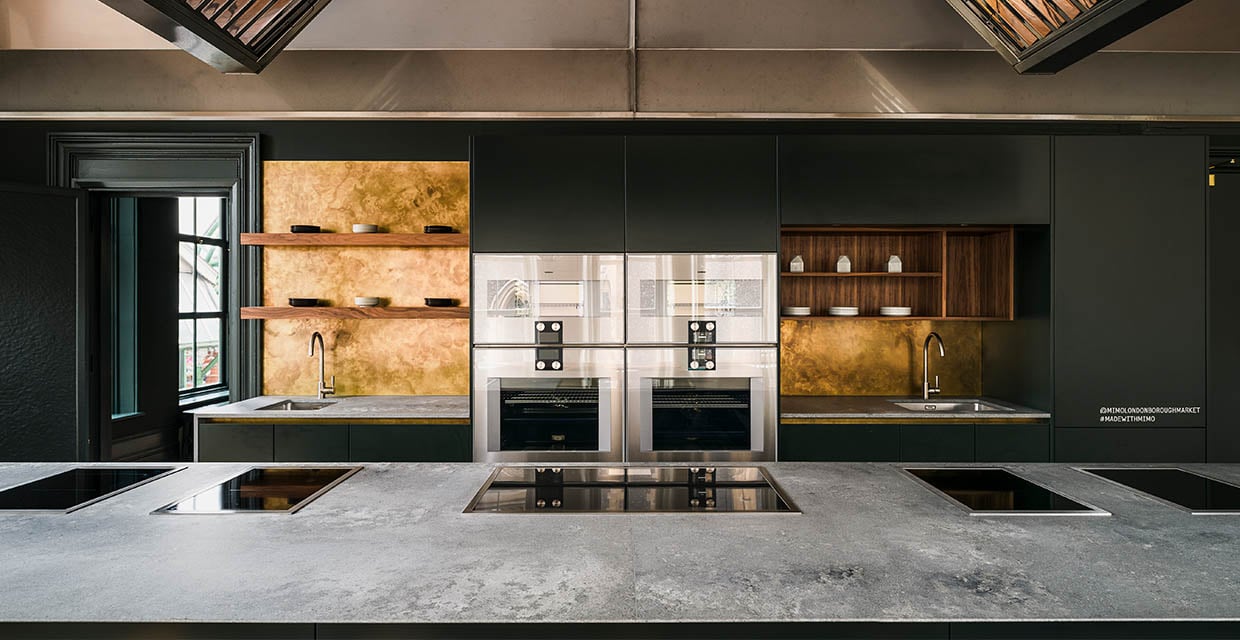 The architectural history of London's Borough market was a key reference for the project, and concrete inspired Caesarstone worktops from the brand's Metropolitan Collection demonstrate a rekindling of industrial architecture, matched perfectly with the use of other raw materials throughout the space. Weathered patinas in the Caesarstone 4033 Rugged Concrete designs look and feel exactly like real rough-and-ready poured concrete with an authentic coarse texture too, while offering a material that is much more practical and long-lasting than the real thing. Meanwhile, the metallic accents present in Caesarstone's 4046 Excava design marry perfectly with the brass elements throughout the space, and perfectly replicate the authentic features of oxidised rust and concrete.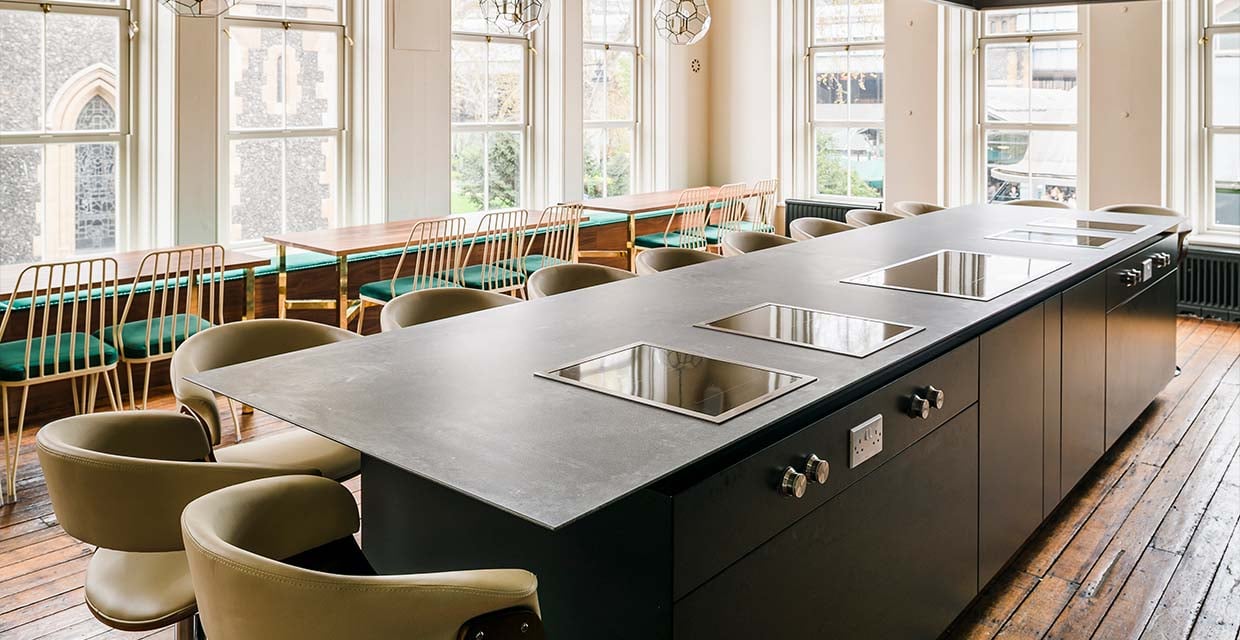 Unlike real concrete, Caesarstone quartz is perfect for cooking and dining environments as it is antimicrobial, non-porous and extremely heat and cold resistant.
Born in Spain's Basque Country, Mimo was inspired by pintxo bars and a desire to celebrate the rich culinary heritage of the region. Now, Basque-born Joseba Lasa joins Mimo London as head chef, bringing with him a wealth of knowledge informed by the traditions and culture of his home country to serve up dishes that will tantalise the taste buds of London's foodies. Jon Warren, founder of Mimo, says: "We think Borough Market is the perfect place to explore local cuisine and bring the best of Spain and Portugal to the table. The response we have had from visitors since our launch has been fantastic, and there has been such positive feedback on how luxurious the kitchen interiors look and feel. The worktops by Caesarstone really enhance the overall design scheme we were trying to achieve, and immediately catch the eye of our visitors. The cookery sessions certainly put the Caesarstone worktops through their paces, but true to their claims, the surfaces look as good as new, with not a chip, crack or stain in sight. They are also excellent for working on directly with food, and the textures of the material really add to the tactile experience of cooking".
Each day, Joseba and his team will lead cooking classes, wine tastings and experiential activities, highlighting the very finest in Iberian cooking, using the very best British produce, sourced from the market next door. Mimo, a Spanish word that means love and care, that you might typically give to a pot of something you are cooking, endeavours to give its guests a more holistic approach to food and dining. It becomes about much more than just taste but connecting with friends, old and new. With cooking experiences ranging from in-depth studies of Basque pintxos to lunch hour sessions and even classes catering for the entire family, Mimo is an inclusive space that everyone can enjoy.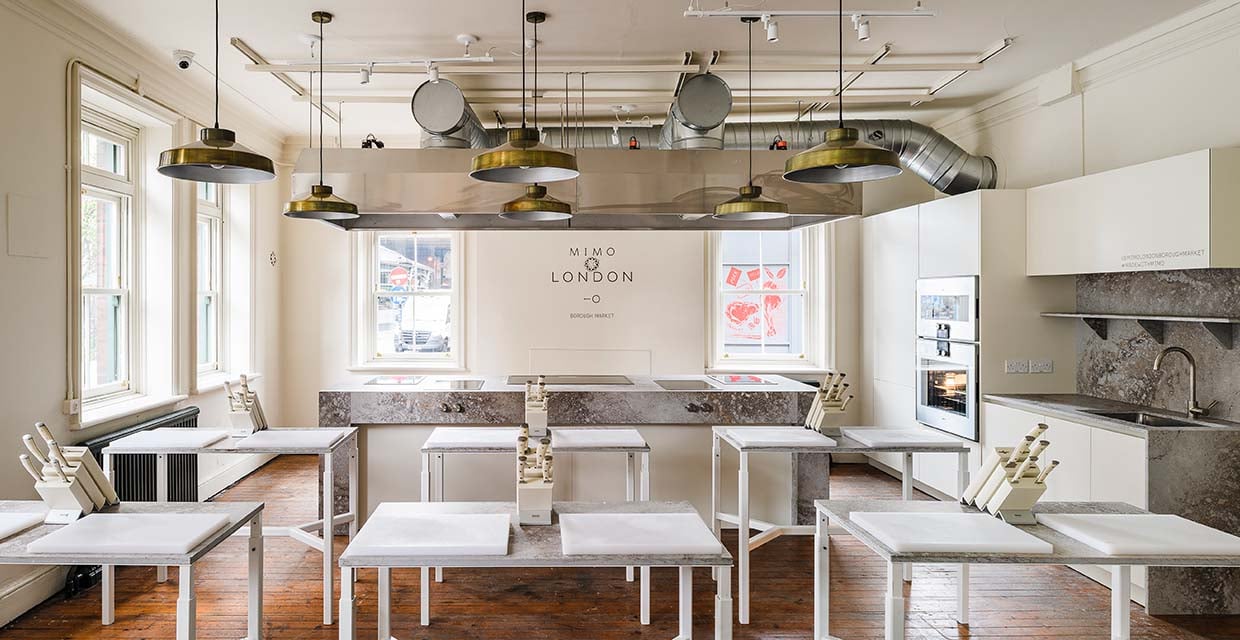 "We are delighted to be working with Mimo on what promises to be an exciting venture within London's food scene. We love the vision behind their brand and its desire to bring authentic Spanish cooking to a UK audience", says Jon Stanley, VP Marketing at Caesarstone UK. "Mimo London is a vibrant hub for cooking, eating, entertaining, socialising and for experiencing food at its best. It is everything that Caesarstone believes should apply equally to kitchens across the UK, as the beating heart of most homes."
Topics