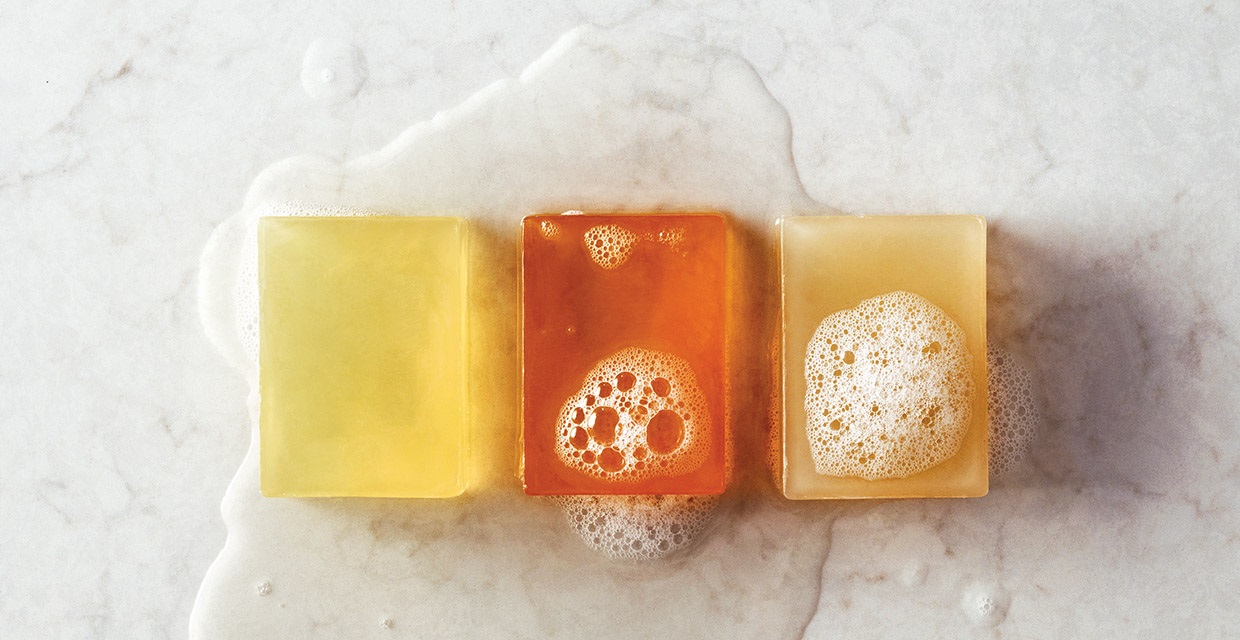 When picturing your perfect bathroom scheme, it's easy to imagine the essential elements – bath, basin, shower and maybe even brassware – but all too often we overlook the one thing that ties everything together; our bathroom worktops. When planning for a new project, it's important to do your research and get plenty of inspiration and ideas to kick-start your new scheme.
Period properties, be they Victorian, Georgian or a country cottage, lend themselves well to classic roll-top tubs, tongue-and-groove painted panelling and crosshead taps, while a modern new-build or loft apartment suits a more contemporary suite with elliptical stone bath, countertop basins and brushed chrome or rose gold showerhead and taps.
Bathroom worktops will unify the look and can complement or contrast with the rest of the bathroom design, depending on whether you wish to achieve a co-ordinated effect or instant impact with an eye-catching surface solution.
Cutting edge
Bathroom worktops are available in a huge variety of materials as well as styles, shades and shapes, with long, linear lines alongside curvaceous finishes ideal for rounded corner cabinet storage.
With vanity units remaining an integral part of modern bathroom design, it pays to buy the best your budget will allow. Surfaces should cope easily with watermarks and everyday wear and tear so consider the pros and cons of each option before you buy.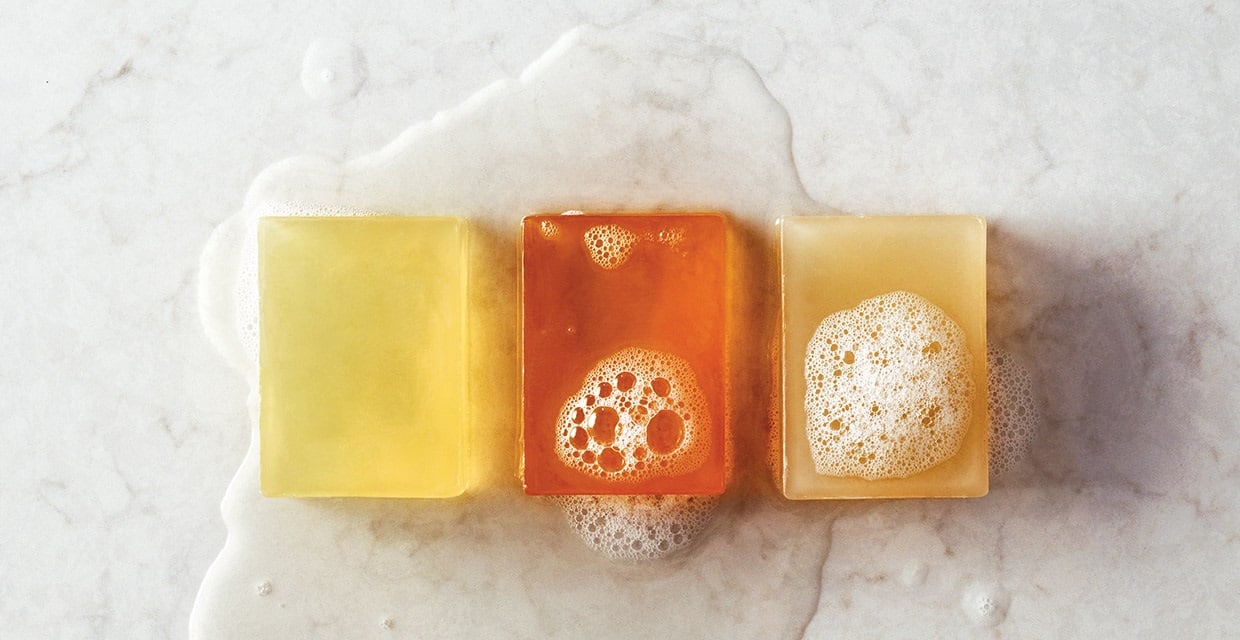 Choose a worktop that is resilient to watermarks and spillages from soaps and toothpaste. A non-porous quartz surface means marks can be easily wiped away without staining. Pictured: London Grey.
Laminate looks
What used to be a poor stone or timber lookalike is now an attractive and durable surface material, which is high on performance as well as style. Look for P3 Grade moisture resistance and a good 28mm thickness. A moisture-resistant core will help prevent water ingress while a bullnose profile maintains the finish. You may not get the longevity to match however, so consider whether you're happy to replace and update the bathroom worktops in the years ahead.
Natural thinking
Stone surfaces such as marble and granite will add an instant luxury finish to any bathroom scheme and you can take your pick from fresh white veined slabs, neutral colourways or a richer, dramatic stone that works well with modern slab doors or in-frame painted cabinetry. Stone is heavy however and pricey, too, so balance the cost and installation issues with the end result to see if this is the surface for you.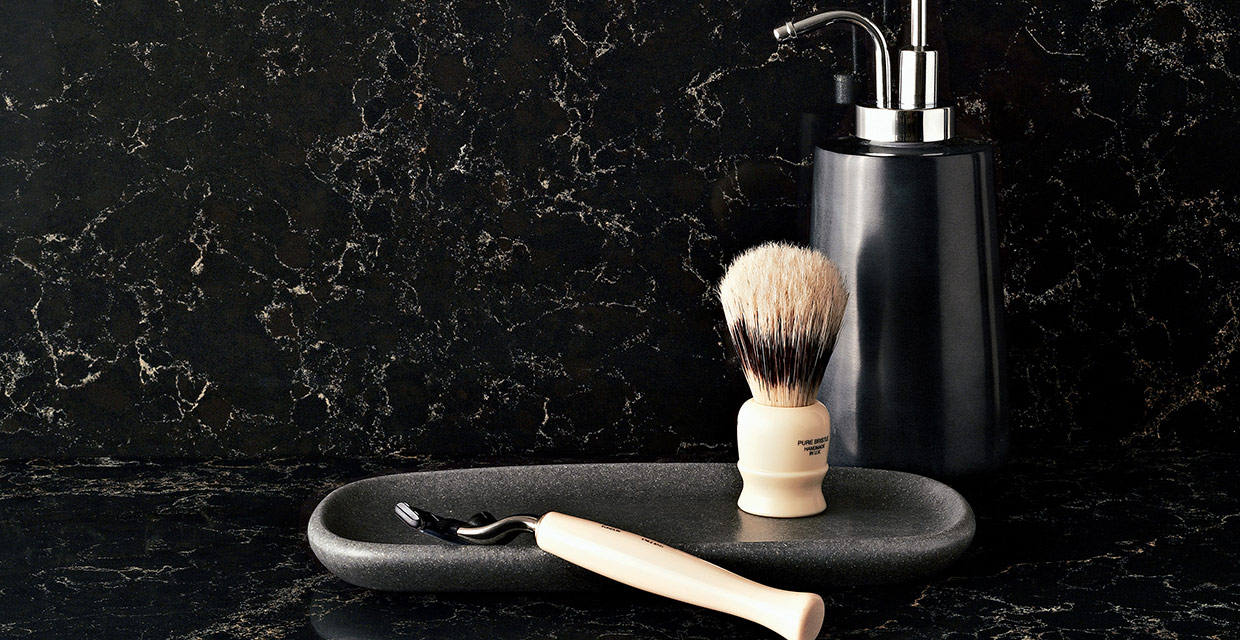 The dramatic Vanilla Noir provides a worktop that illustrates the trend for darker stone colours in bathrooms.
Premium quartz
Combining beauty and strength, quartz bathroom worktops are ideal for bathroom use, as they are impervious to water, which makes them resistant to bacteria, mildew and mould. Caesarstone quartz worktops make great countertop solutions for vanity units, sit-on basins and display shelves and can also be used in shower cubicles, as bath surrounds or flooring.
Use our visualiser to try out new bathroom design ideas >>

There are plenty of colourways to select from too, such as London Grey for a natural stone look, Turbine Grey and Moorland Fog for a deeper granite inspired-look and Vanilla Noir for a dramatic black-marble effect. For the look and feel of real, complex marble, take a peek at Statuario Nuvo from the Supernatural Collection. It combines the luxurious look of real marble with the quality and durability of premium quartz.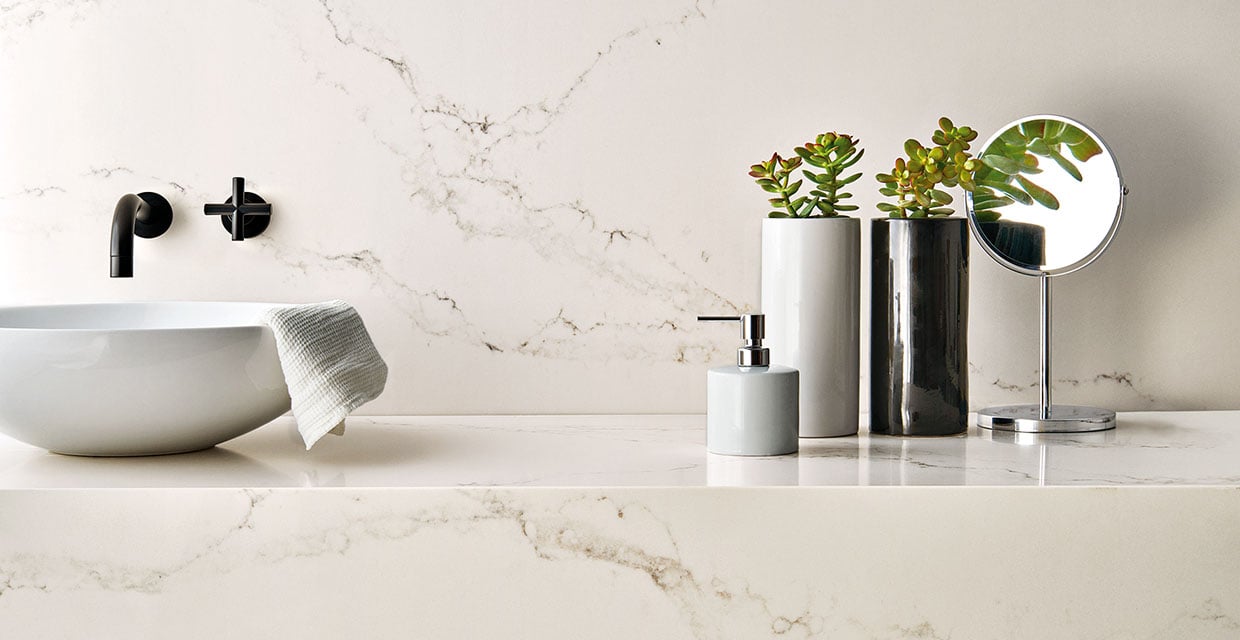 For bathroom worktops requiring a marble appearance, Statuario Nuvo offers an effortlessly sophisticated appeal
Setting the scene
Our bathroom worktops can have a huge impact on the overall look and feel of our bathrooms. Often, selecting the sanitaryware, brassware, cabinetry and even wall and floor finishes will be the best starting point but it can often be the case that you have your eye on the perfect bathroom worktop and everything else must fit in around it.

Autumn 2017 promises all kinds of rich, bejewelled colours and tones in interior design with strong yellows, emerald greens and sapphire blues becoming must-have seasonal shades. In the bathroom, you can go all-out with painted or tiled walls or add interest underfoot with stunning luxury vinyl or stone tiling.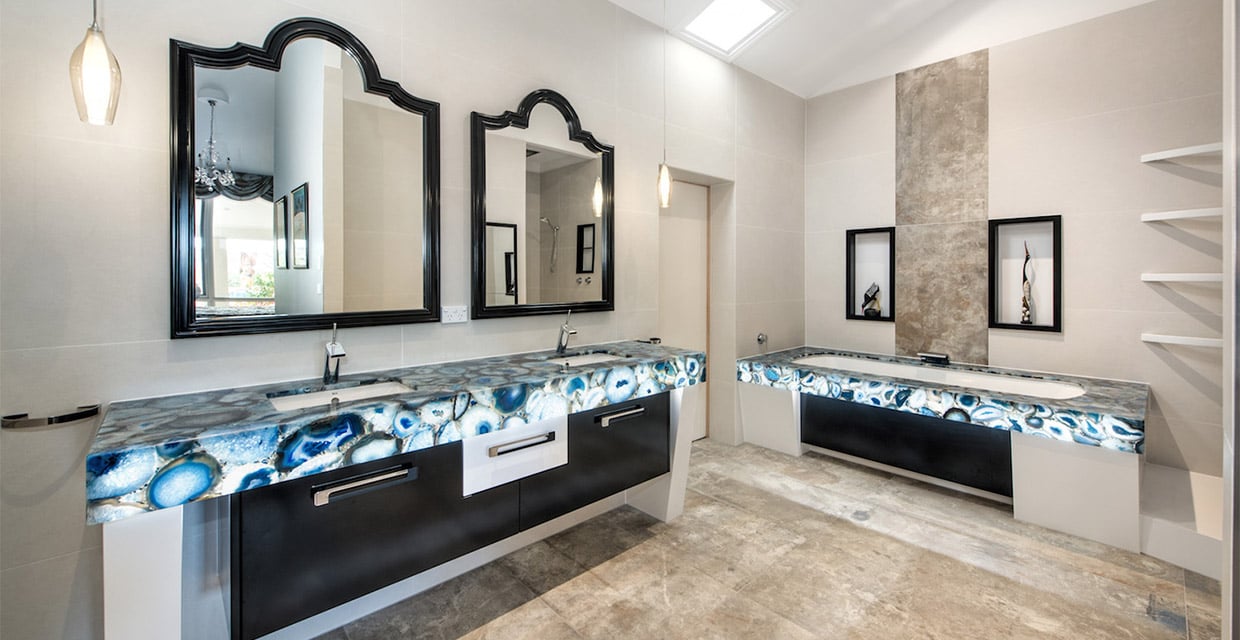 Add colour with unique hand-crafted quartz bathroom worktops.
The perfect finish
Once you've selected your bathroom scheme, dress the room with accessories and finishing touches that will bring warmth and personality to the space. Think fluffy towels, attractive bottles of shower gels and shampoo, luxury French soaps and a display of vintage glass bottles and jars for storing bathroom essentials. Now you can indulge in a little RnR – after all, you deserve it.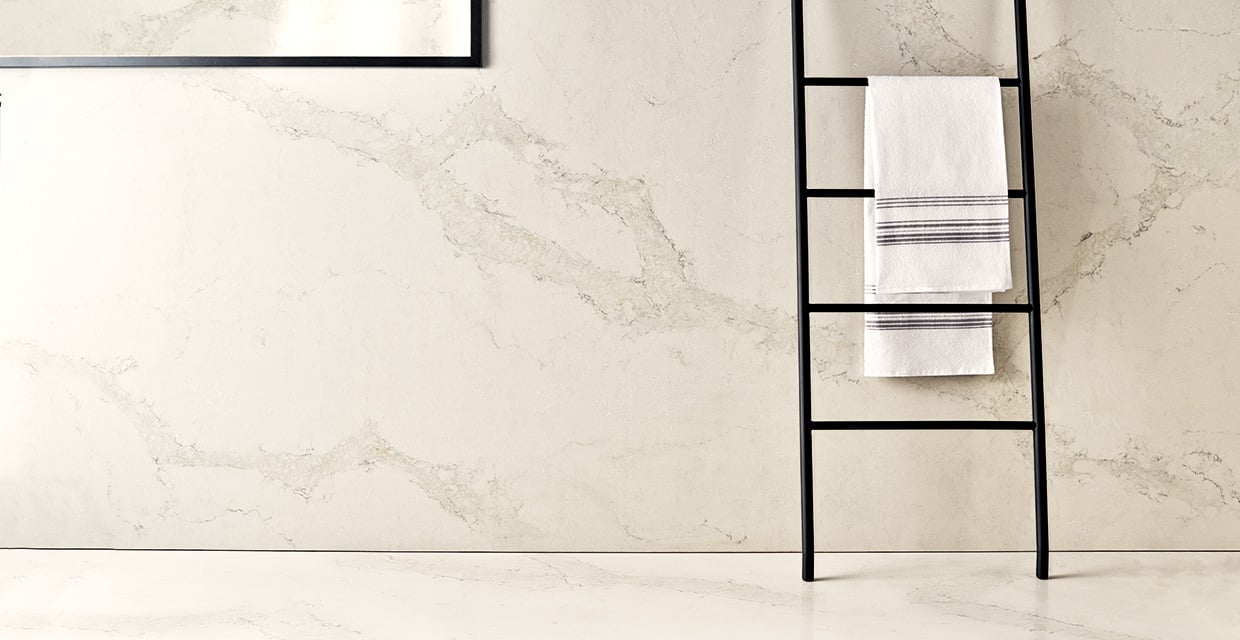 Get creative with storage and decorative displays, and combine with luxury surfaces such as Calacatta Nuvo.
Topics