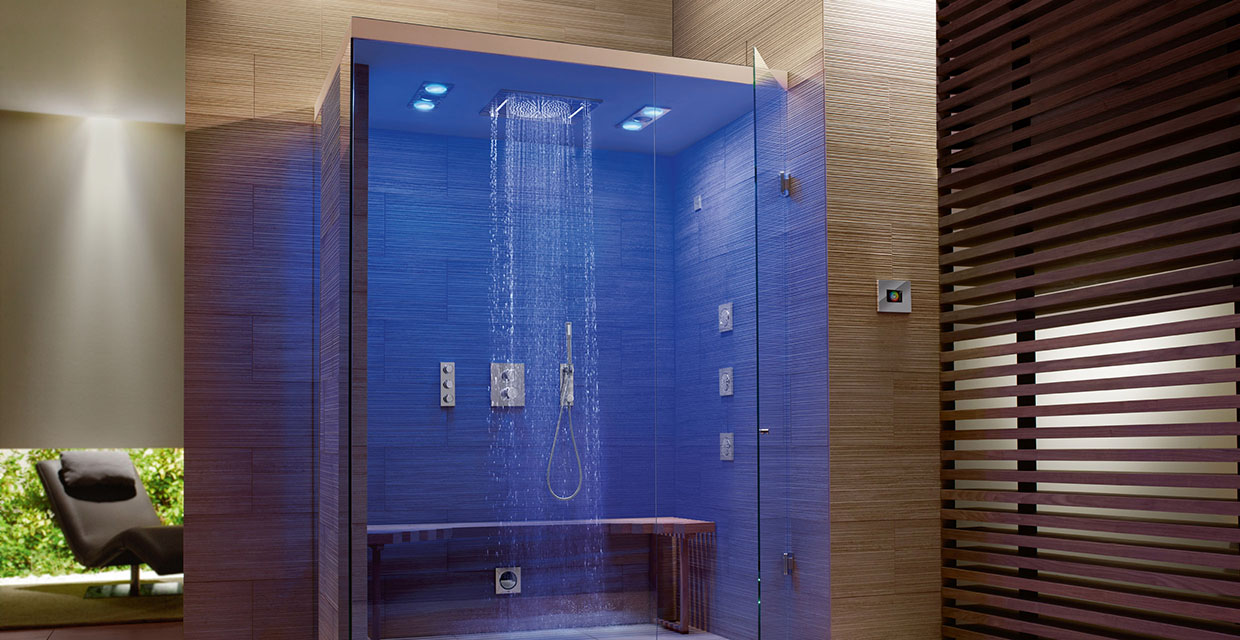 When it comes to creating a complete new scheme, there are many bathroom design trends to choose from, depending on your needs and the size of the space available. If you're lucky enough to have a large area to work with, consider adding a touch of hotel chic with a luxurious walk-in shower or bring spa style into your home with your very own steam shower cabin or Bluetooth-enabled illuminated bath complete with massage jets to target aches and pains.

When space is limited, look for savvy storage solutions that make use of vertical space and think about combining a mix of materials to add visual interest.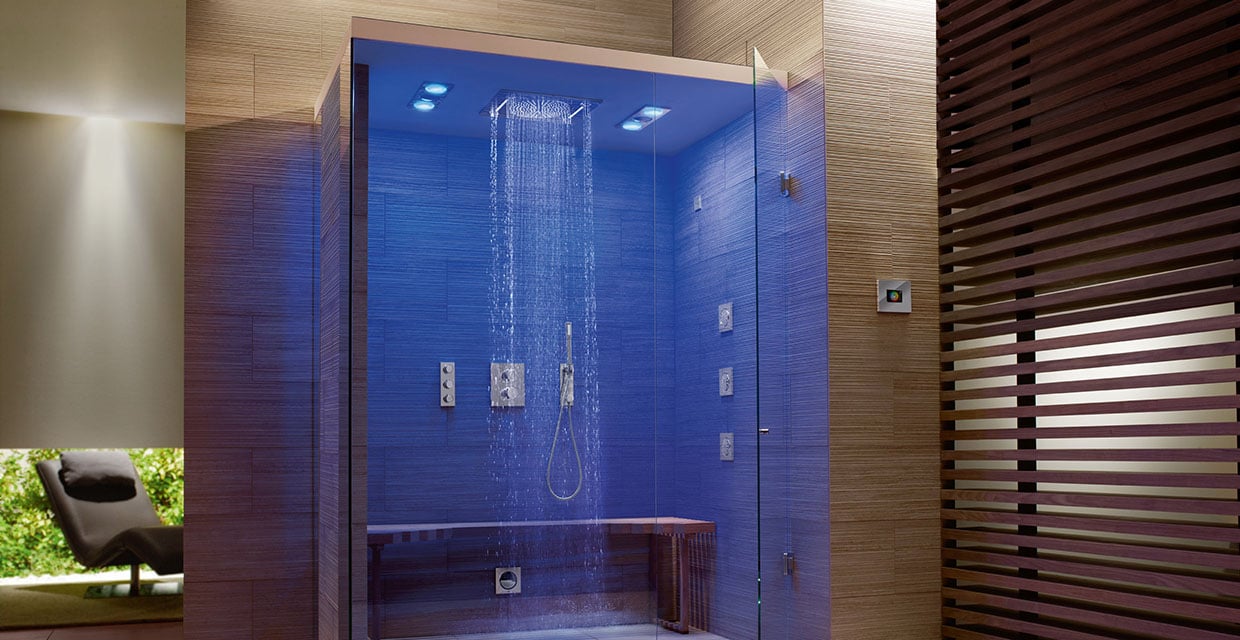 A high-tech Bluetooth-enabled shower system by GROHE: for when space and budget is plentiful.
Practical purpose
If the kitchen is the hub of the home, then the bathroom is a sanctuary for rest and retreat; a soothing space where you can relax and unwind after a hard day. Today's bathrooms need to perform a number of practical tasks, whether it's a family or children's bathroom, a master en-suite, a compact cloakroom or contemporary-style wet room. As well as providing somewhere for you to de-stress at the end of the day, it also needs to wake you up and invigorate each and every morning.
Style setting
Planning that perfect space is all about creating a balance between form and function and this means choosing products and materials that suit and complement your lifestyle, while getting the mood and ambience right. Do you want your space to be a seamless sea of calm, all pure white surfaces and sanitaryware or would you prefer something with instant impact and wow factor? Perhaps an eye-catching tiled feature wall or on-trend copper brassware is more in line with your interior style. Salvage chic is big news right now and it's easy enough to achieve. It's all about selecting one-off finds and adding them to your scheme as you go, building up the look over time. Whether it's a vintage chair next to the bath, an antique light fitting or reclaimed timber flooring, it's a great way to bring individuality into the bathroom. You can find inspiration online on how to incorporate these vintage elements into your bathroom design ideas at www.re-foundobjects.com and www.lassco.co.uk where you'll be able to source everything from salvaged basins to repurposed storage solutions.
Wonder walls
Upon entering the bathroom, one of the first things you see are the walls – sure, a painted finish can look stunning, especially if it's in a dark matt shade contrasting with simple white fixtures and fittings, but how about colourful or patterned tiles for something more unique. Abstract prints and Moroccan-style tiles will give your bathroom a Mediterranean feel that's sure to brighten your day. Another way to combine easy maintenance with the very latest styles is to opt for quality quartz surfaces. Whether you want a block of neutral or vibrant colour or something more tactile looking with a natural stone effect, quartz can create instant impact in a shower area or on bathroom walls. And it's so easy to clean, too, making it an ultra-hygienic option.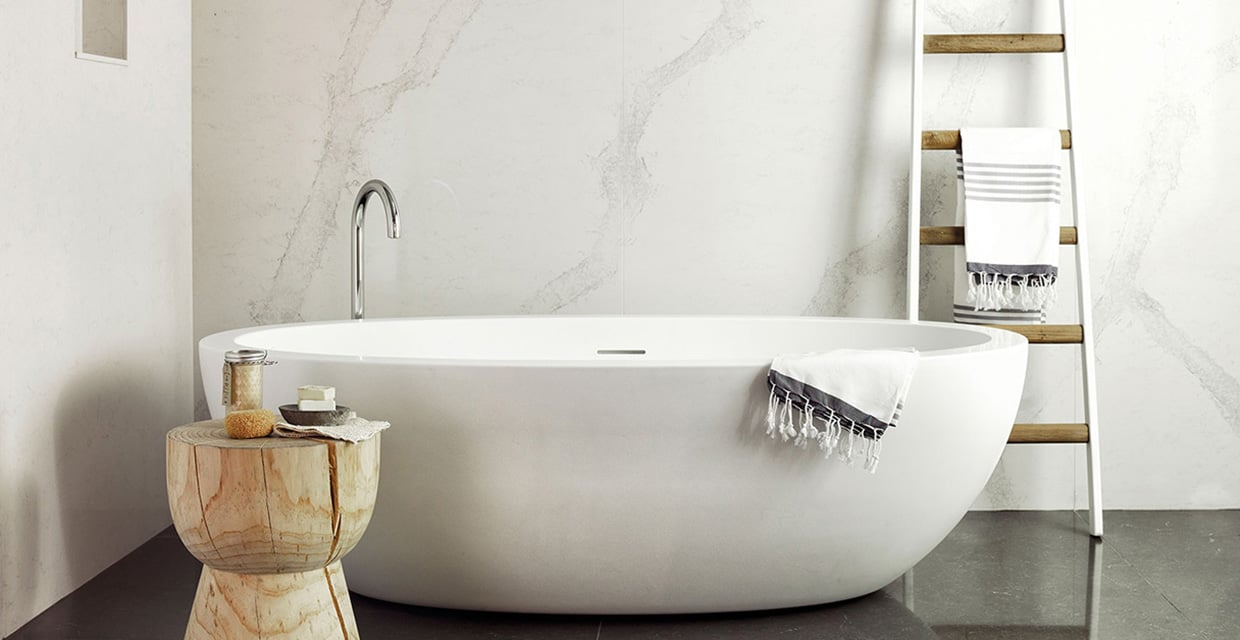 Calacatta Nuvo provides an ideal marble tone for luxurious wall cladding in bathrooms and wet-rooms.
Investment piece
While bathrooms certainly need to deliver in terms of style, they also need to be durable and hardwearing. After all, this room is a key investment within the home and you want to choose products and materials that will last for years to come. This is why designers and architects advise on spending as much as your budget allows. You do tend to get what you pay for, especially in terms of quality. One of the latest ways to inject style and substance into the bathroom is by investing in high quality, hardwearing quartz surfaces. Premium quartz is growing rapidly in popularity for the bathroom and there are so many ways of using it, with a wide range of bathroom design ideas to suit your needs.
Buy the best
Splash out on key items such as quality brassware, with chrome taps and statement showers. You can save on the basin, bath and WC if needs be, in order to free up the rest of the budget for hardwearing fittings that combine good looks with durable design.
Use our visualiser to try out new bathroom design ideas >>
Quartz surfaces can be used for everything from shower enclosures and bathroom worktops to bath surrounds, wall cladding, floors and additional surface solutions. A material such as Caesarstone's quartz will instantly bring a luxury look to your bathroom design ideas. Seamless and striking, this versatile material will elevate your bathroom into something really special. The Classico collection for instance is a multi-colour range that includes salt-and-pepper motifs alongside simple sophisticated neutrals and vivid colour blends. The Snow shade works wonderfully in shower rooms and wet zones while Pure White is fresh and crisp.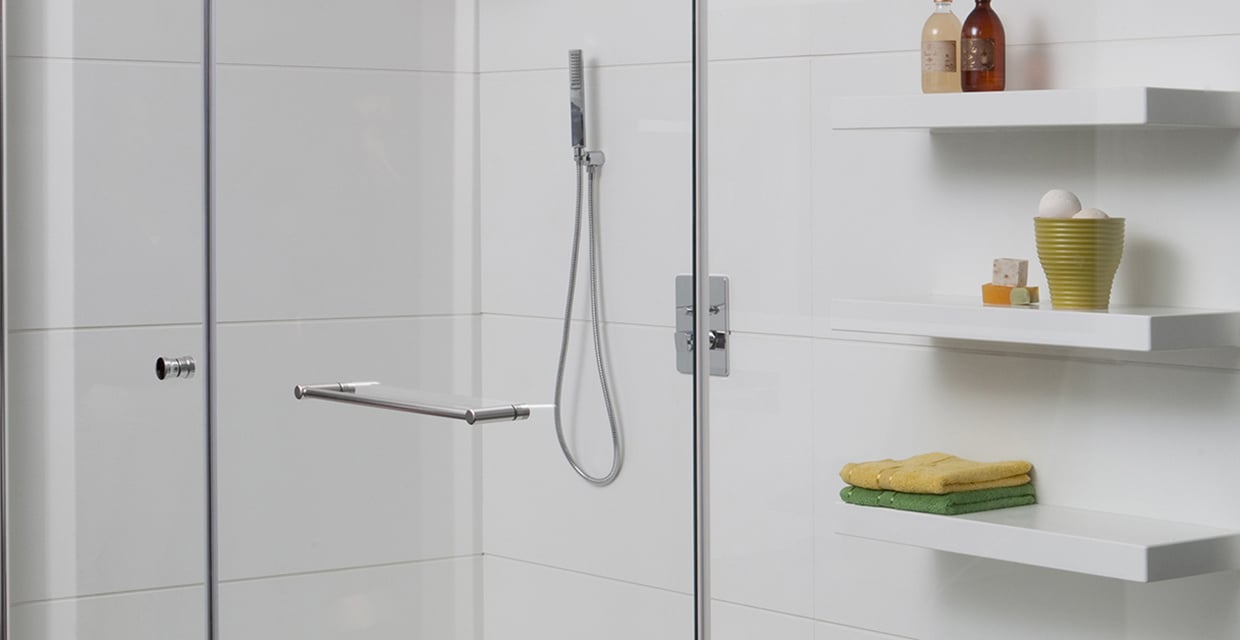 Simple and sophisticated, white surfaces, such as Caesarstone's Snow, offer minimalist appeal.
Minimal modernism
Many of us like our bathrooms to be as clear and uncluttered as possible. This not only makes it easier to clean but it also helps to promote a sense of calm and order; perfect for relaxing in a hot tub or unwinding under the blast of a powerful shower. Combining quartz worktops and solid surfaces with other carefully selected accents such as a stunning freestanding bath, ceiling-mounted rainshower or reclaimed wall-mounted brass mixer taps can lift a budget-conscious bathroom as well as offer a bespoke design that can be tailored perfectly to your needs.
Sleek and chic, Caesarstone quartz surfaces will deliver the perfect practical, hygienic and environmentally friendly solution for moist, humid surroundings. Being non-porous, quartz is resistant to water, which in turn makes it resistant to mould, mildew and bacteria – all important considerations when collating your bathroom design ideas.
If you are concerned about costs, consider teaming quality worktops with less expensive cabinetry and a basic white suite. Marble will instantly give a classic bathroom the luxe look and this can be achieved with Caesarstone's White Attica quartz from the Supernatural collection. For that on-trend industrial style, check out the Concrete Series, which includes Rugged Concrete and Raw Concrete for easy maintenance and a vintage vibe.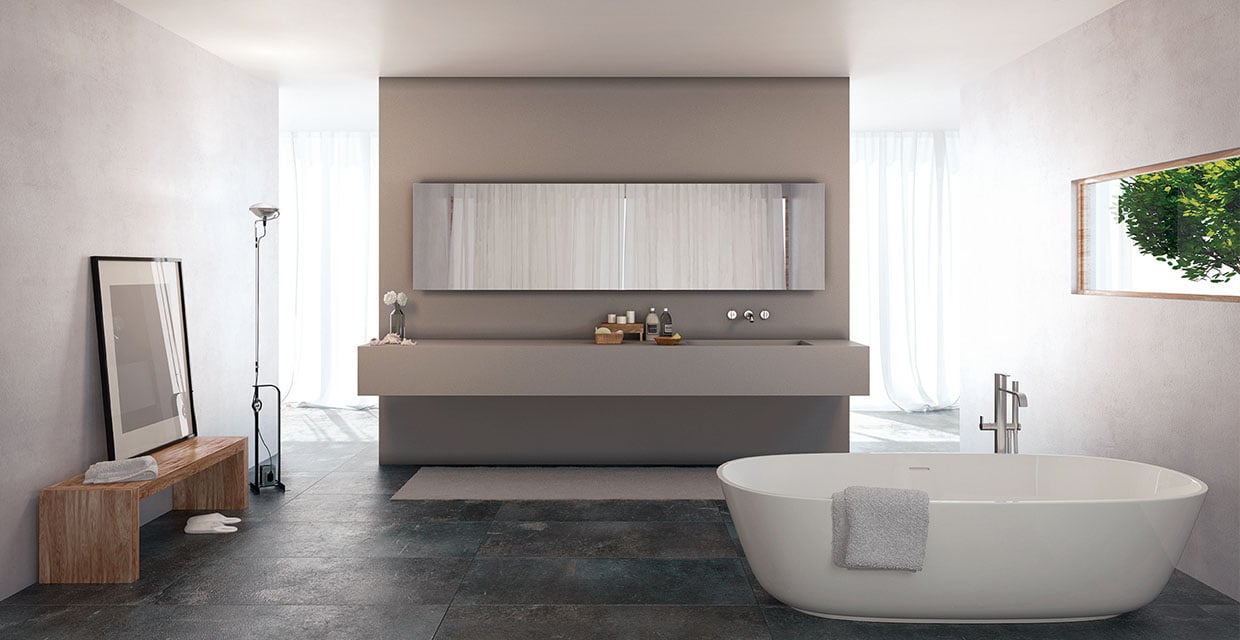 Sleek concrete vanities offer industrial style and easy maintenance.
Topics