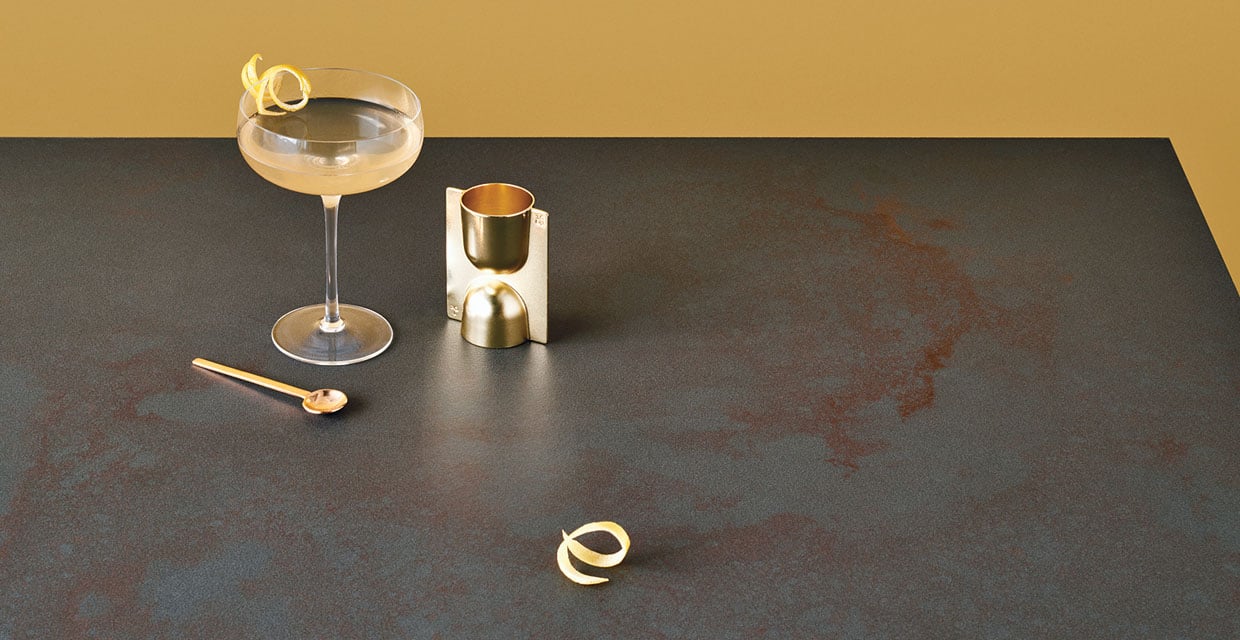 Selecting the right kind of kitchen can be a difficult choice, especially when there are so many design concepts available. For a different perspective, we're inviting you to explore the dark side of kitchens - whether it's an intense black worktop or opulent dark cabinetry, there are plenty of ways to create a distinctive aesthetic for your kitchen without it feeling overwhelming.
To inspire your next kitchen renovation, we've gathered up some of the most striking celebrity kitchen designs - all who've taken the plunge and incorporated dark elements into their design.
1. Oprah Winfrey
Are you a huge fan of #Oprah Winfrey? Yes? No? Maybe? I'm sure you'd fall-in-love even more with her gorgeous #kitchen! #RealEstate #Celeb pic.twitter.com/wZNCqEpvjN

— Brand Properties Group (@brandpropgroup) December 5, 2016
Whether you're considering subtle dark tones or are thinking of going all-out, Oprah Winfrey's kitchen might pull you further towards a darker theme.

The rich wooden cabinetry pairs well with the dark grey worktops, whilst the light flooring creates a chic contrast. Mixing dark and light elements is perfect if you just want to start adding a hint of darker hues.
2. Tiffani Thiessen
Tiffani Thiessen's home we did in Los Angeles. A bright and lovely family kitchen! #lonny #dreamkitchen Featured in Lonny Magazine. pic.twitter.com/uBCzce0mCb

— Hartmark Cabinets (@HartmarkCabinet) April 30, 2018
Tiffani Thiessen's kitchen showcases how you can still have a bright and airy kitchen with just a few darker elements adding depth. The black worktops pair well with the rustic hardwood floors and white cabinetry, creating a timeless monochromatic theme. The full-width windows bring in plenty of light, perfectly balancing out the dark worktops, in particular the large island unit that could otherwise feel overpowering.
3. Julia Roberts
The floor. Those state-of-the-art appliances. The view. Julia Roberts' perfect #kitchen in her #NewYorkCity home. pic.twitter.com/BoIPk2O40y

— Foster Remodeling (@fosteremodeling) January 26, 2017
Julia Roberts' New York City home is a perfect example for those considering a dip into a darker kitchen aesthetic. Whilst the black and white striped floor may not be for everyone, checkerboard-style flooring can create a similar effect - and it matches those industrial-elements like steel appliances seen here. The long window and open plan space allows plenty of natural light to encompass the room which reflects flawlessly with this greyscale design.
4. Kylie Case and Gilles Mendel
Gilles Mendel's Manhattan kitchen includes a Sub-Zero refrigerator with bespoke lacquer panels. pic.twitter.com/tJWDXt9bcy

— Caplan's Appliances (@CaplanAppliance) April 30, 2016
Designer Gilles Mendel goes a step further with the concept of a dark kitchen, merging black surfaces with black cabinets. The Sicis mosaic-tile backsplash brings added depth and dimension, alongside the open black shelving that makes an elegant display of the glassware.
5. Gwen Stefani
Gwen Stefani's cool black and white #kitchen makes us want to #hollaback, girl! https://t.co/1r35tqsGId #kitchendesign #vikingkitchen pic.twitter.com/nMRbvYfDa1

— Viking Range (@VikingRange) March 6, 2017
For those of you who are beginning to think about dark kitchen designs and are endeavouring to achieve that flawless black kitchen, celebrities like Gwen Stefani might have some inspiration for you.

Stefani's kitchen matches up to her quirky character, demonstrating just how well you can interject personality into your kitchen if you want to! The glossy striped walls are quite a distinctive choice but the waterfall-ended island is something that would work in a more toned-down design. Choose a contrast colour like here - the marbled-black surface holds its own as a dramatic centrepiece.
6. John Krasinski and Emily Blunt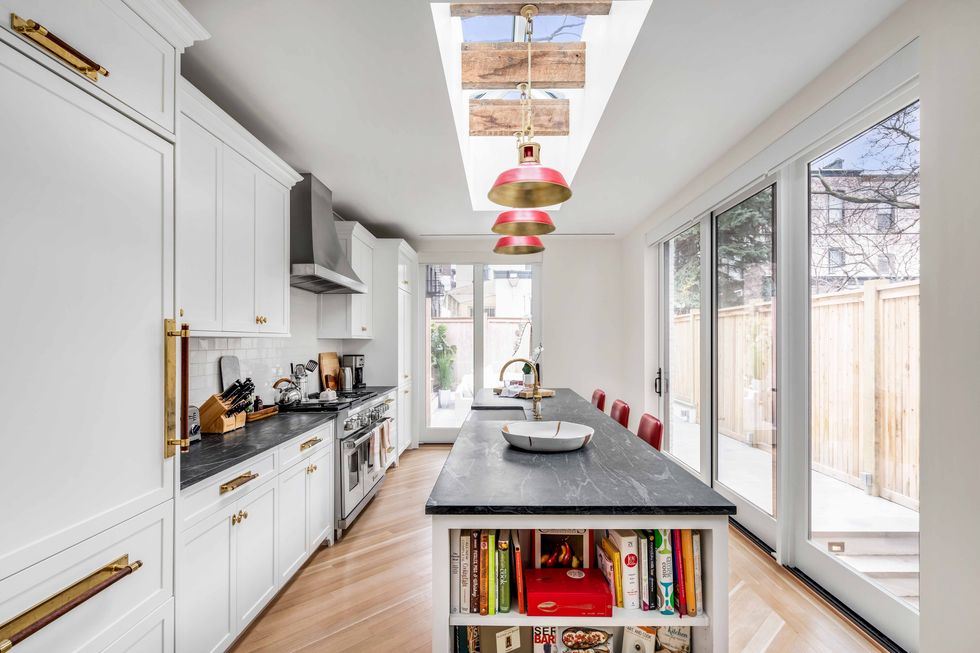 Source
Back in 2016, supercouple John Krasinski and Emily Blunt put their family home on the market and we managed to catch a glimpse of their beautiful kitchen design. Again, their kitchen demonstrates how you can add just a touch of darkness to make an impact – the black marbled worktops look sophisticated and effortlessly chic juxtaposed with the pristine white cabinets. Dark shades also bring out metallic accents beautifully, as seen here with the brass handles and taps.
The floor-to-ceiling windows and full-length skylight add copious amounts of natural light – a key thing to consider when choosing your colour scheme is the type of lighting you'll have in your own space.
7. Rylan Clark-Neal
Rylan Clark-Neal exhibits that dark kitchen aesthetic, partnering with experienced interior designers to make his dream kitchen a reality.
If you dare to be bold, dark cabinetry is the way to go. With floor-to-ceiling units and a handle-less design, Rylan's kitchen is the epitome of contemporary-cool and makes a real style statement. Play with contrasting textures in your design - from glossy flooring and worktops to matte-finished cabinets - to elevate the sense of space and depth.


Already feeling inspired by the dark kitchen trend? Or are you still afraid of the dark? Take our quiz to find out...
Header Image Source: Caesarstone