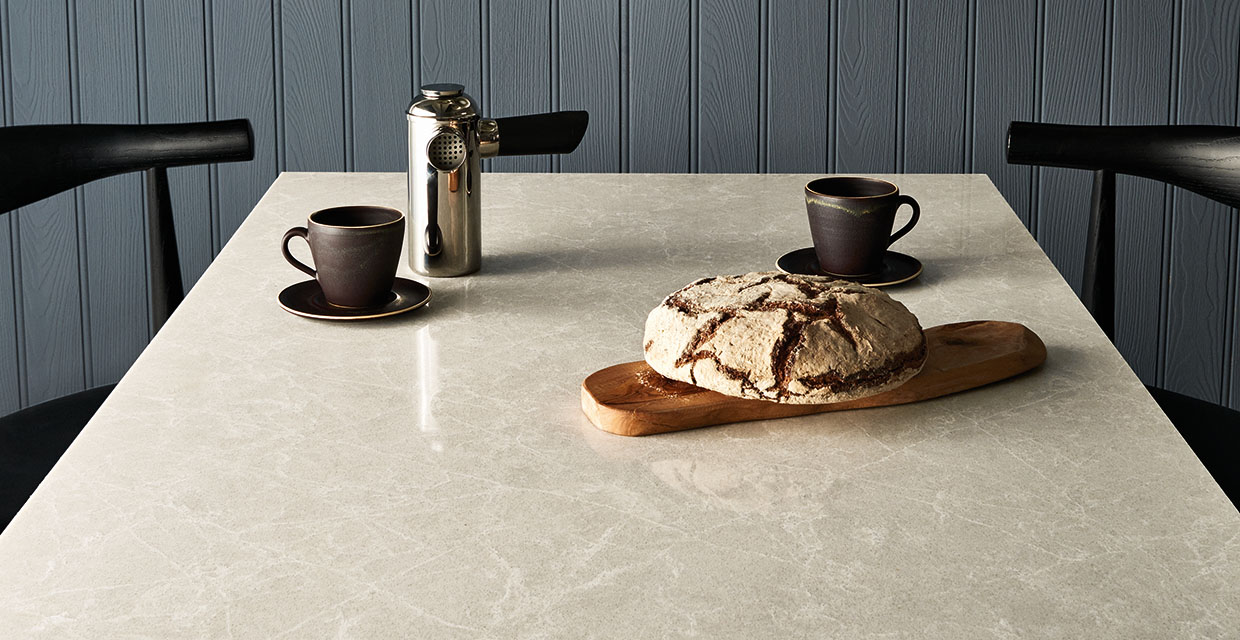 When we think of kitchen colour schemes, there are many elements that spring to mind. The first may be the cabinetry – whether it's a contemporary high gloss lacquered finish or traditional painted timber, there are so many shades and variations to choose from. Sleek, slab-style doors offer a seamless look for modern schemes with everything from graphite greys to the richness of a plum or aubergine tone. Shaker kitchens on the other hand provide a modern take on the classic in-frame design and can easily be updated with vibrant accessories and small appliances.
After the furniture, our thoughts turn to kitchen surfaces. Think walls, floors and worktops and it's clear to see that our surfaces take up a lot of the kitchen design and therefore need careful consideration, not only for their practicality but also the overall impact they will have on the space.
Going green
Trend forecasters and influencers are experts in knowing what's going to be big news in interiors way ahead of the game and this year there were two colours that really stood out. Pantone's Colour of the Year 2017 is Greenery; fresh and revitalizing, it's the perfect tone for pepping up our interiors and is ideal for the summer months. Green connects us to nature and we've seen a lot of kitchens embracing this trend, whether it's cabinetry or feature walls in an emerald or racing green; it's all about bringing depth and drama into the room.
There are plenty of quartz surfaces to complement or contrast, such as Montblanc, Turbine Grey and Rugged Concrete from Caesarstone's latest kitchen worktops launch. The industrial feel of the Concrete Series lends itself well to natural kitchen colours, as does the marble effect of the Supernatural range. Finish with a few potted plants – succulents and ferns are the current fauna of choice – and you have a warm, inviting space that blurs the boundaries between indoors and out.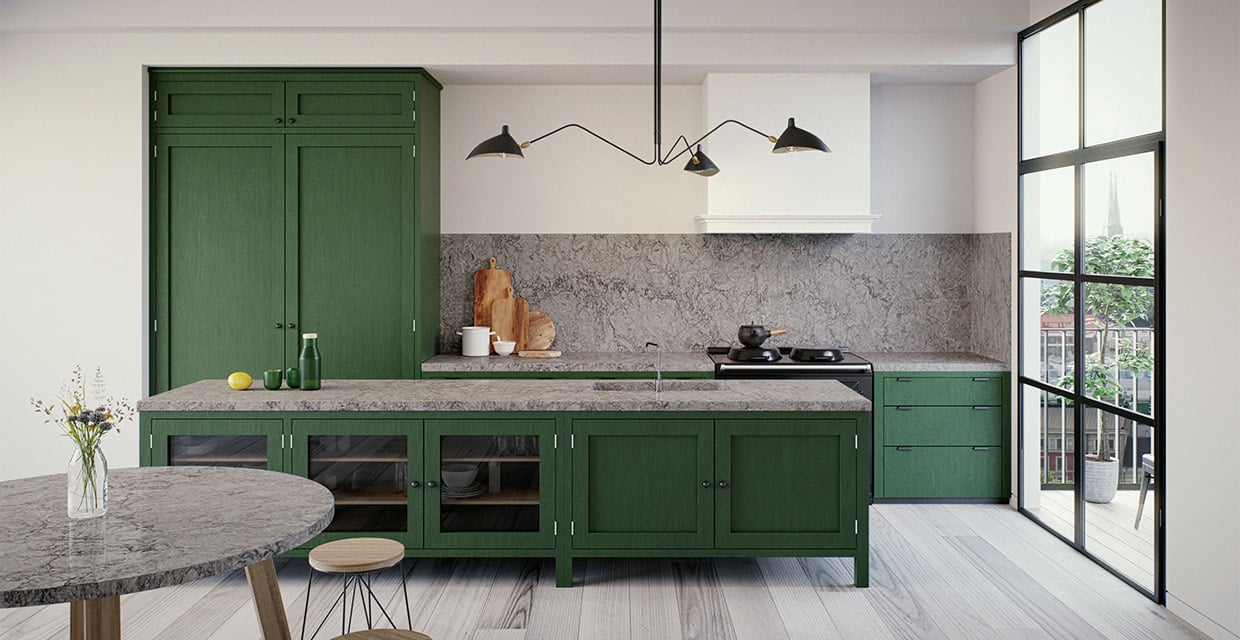 Pantone's Colour of the Year is ideal for adding the natural look to open-plan kitchens which lead out on to the garden, helping to bring the outside in. Here, green is teamed with Turbine Grey worktops and splashback.

See blue
The second leading colour trend this year is Denim Drift from Dulux; another perfect shade for the kitchen as it's so versatile and works wonderfully with a wide variety of kitchen surfaces. It's deemed to be the colour of the moment after a review of international architecture, fashion and design trends and it's easy to see the appeal. Blue speaks of sky and sea; a feeling of being free and this can easily translate to your kitchen colours, too. Whether you go for all-out blue on the furniture or stick to accent pieces with curtains, cushions and kitchen textiles, there are so many surfaces that will suit this shade.
Use our visualiser to try out new kitchen design ideas >>
The great thing about quartz surfaces in particular is that there's a huge choice in tones and textured looks, with classic and contemporary surfaces that suit every space. As well as offering plenty of practical qualities – being highly heat and cold resistant and impervious to scratches and stains – quality quartz can co-ordinate across any number of different kitchen colour schemes.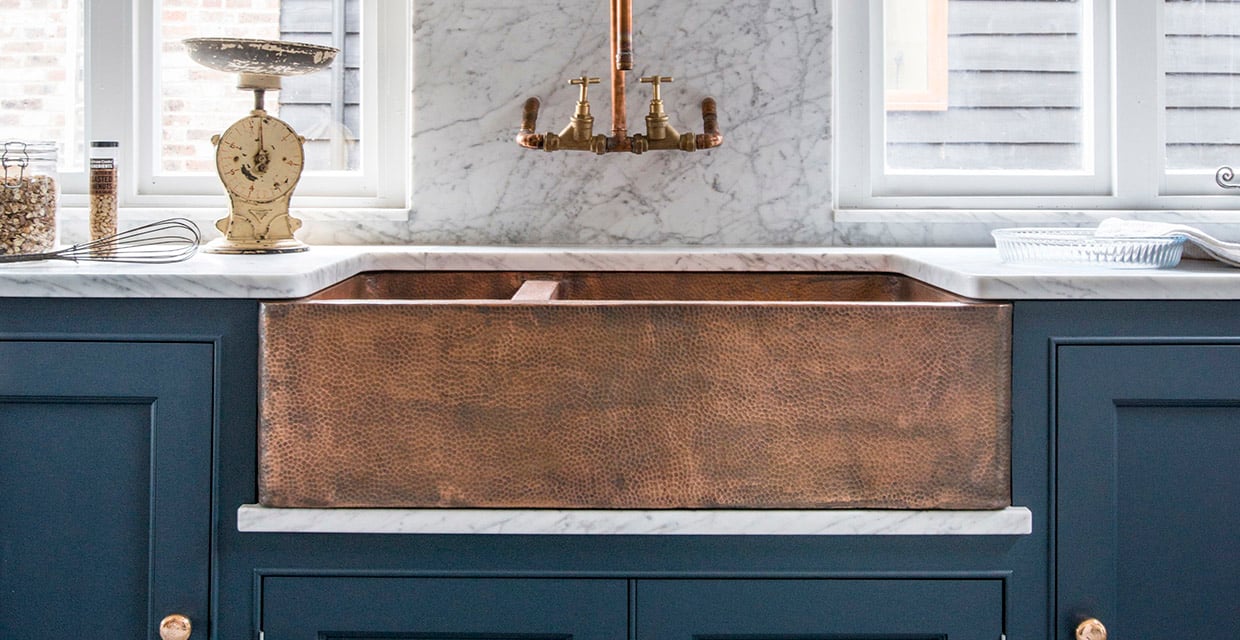 This kitchen cabinetry is painted in a smart Bond Street blue from Mylands
Level thinking
As well as the floorcovering, kitchen worktops play a major part in creating your chosen look and feel; whether it's an on-trend industrial vintage vibe or something ultra-contemporary. Consider which activities your kitchen plays host to. As well as prepping and cooking food, it may be that your space needs to be a relaxing area for chilling out, somewhere to entertain family and friends or even a place for working at home or helping the children with their homework.

What sort of ambience do you wish to create - something calming or invigorating? Worktops with wow factor or surfaces that seamlessly blend into their surroundings? Neutrals and whites are still most sought after and you really can't go wrong with Caesarstone's Supernaturals and Ultra Naturals – fresh chalky whites with the look of natural stone. For earthy tones, check out the Classico collection with its Mink, Ginger and Wild Rice tones. By selecting kitchen colours that you love, you'll love your kitchen for years to come.
A soft, neutral creamy colour such as Caesarstone's Cosmopolitan White quartz worktop works well against sophisticated blue walls


Topics