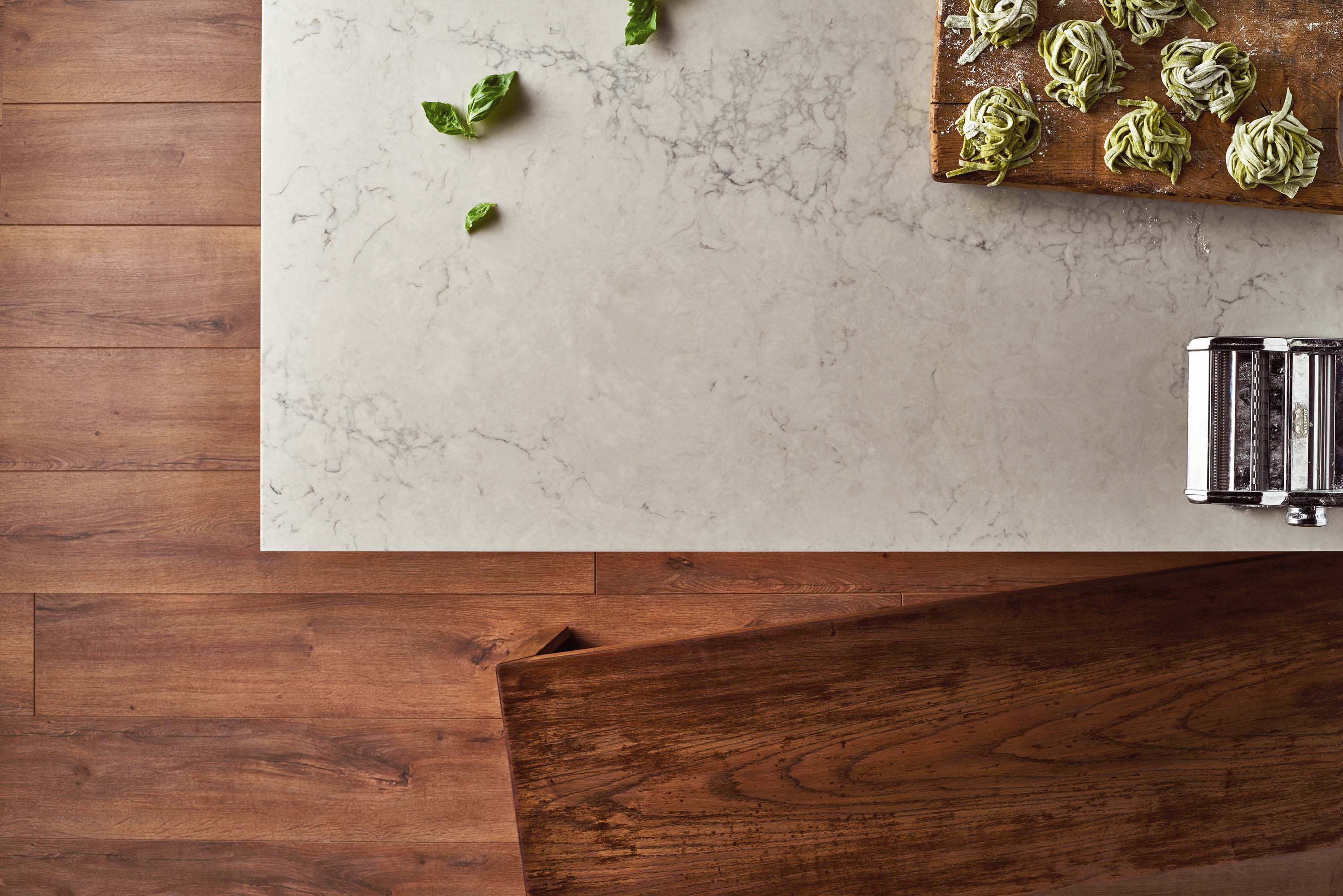 If you're looking for a traditional kitchen, a few words quickly spring to mind – timeless, sophisticated, elegant. Despite the definition of traditional, it doesn't necessarily have to mean conventional when it comes to the design and aesthetic of your space. A traditional kitchen can feel homely and familiar, with subtle features – like simple moulding to the cabinetry or a solid brass handle – able to soften the entire design and create an effortlessly cosy and welcoming kitchen.
Whether you want a completely traditional kitchen or are looking to add a twist to a timeless style, we've picked out six examples of where quartz has been used in different ways to help conceptualise your ideas.

This bright and airy kitchen showcases how traditional doesn't have to be dark or dull. The use of glossy white cabinets with inset panels combines both classic and contemporary, with polished brass hardware frames adding a unique twist. The beautiful island showcases 5211 Noble Grey quartz, featuring deep grey veining that sweeps across a light grey base.
Here, quartz takes centre stage – displaying 5031 Statuario Maximus across the worktops as well as a show-stopping backsplash and wall cladding around the hob. The marble-inspired patina brings an effortless touch of grandeur to the design, alongside inset cabinetry, pastel hues and metallic accents that remain true to a traditionalist style.
Nothing says country kitchen more than a Belfast sink. As part of a period renovation, this design carefully treads the balance of tradition and modernisation, bringing together clean lines and a sophisticated colour scheme with polished white quartz.
In this example, you can see how quartz works well with a vintage style, providing a sleek surface that flows seamlessly with the white colour scheme. You can also see how an undermount sink can be cut in, creating a clean and uncluttered appearance. Quaint accessories, handmade pewter door handles and grille windows finish the look.
https://www.instagram.com/p/BUSJB4SBOXT/
Whoever said traditional had to mean neutral? This inspiring design by Sweeney Handcrafted Furniture presents the 6046 Moorland Fog, a granite-inspired quartz surface with undulating textures of light and dark brown veins set upon a creamy base, contrasted with a striking teal blue. A 'waterfall' island is a stunning option that will elevate a traditional island, alongside windowed cabinets for artful displays.
One of the most unique ways that quartz can work within a traditional theme is through the beautiful edging that can be carved into the stone. Below, 4141 Misty Carrera boasts an elaborate semi-bullnose design that complements the intricate woodwork of the cabinets. The perfect finishing touch to a classic style!
Another fine example of a traditional kitchen with quartz worktops would have to be that of Lily Pebbles. The gleaming white surface of 5031 Statuario Maximus mirrors the look of traditional marble, paired with rich, blue-hued cabinetry that makes the design feel modern and fresh. Again, metallic touches provide a new take on classic hardware.
The beauty of quartz as a worktop material is that it can adopt such a vast range of colours and finishes, which means there's bound to be one that will suit your traditional theme. You may love the look of granite or marble but not so much the associated upkeep and cons. Because of the man-made manufacturing process of quartz, it can perfectly replicate the natural aesthetic with minimal maintenance required.
Download our brochure to explore all of the different quartz options Caesarstone has to offer to find the perfect fit for your theme.
Header Image Source: Caesarstone